Academic enterprises seeking to support society's efforts to achieve global sustainability need to change their legacy reward systems. We need new structures to foster knowledge that is deeply integrated across disciplines and co-produced with non-academic stakeholders.
Access options
Subscribe to Journal
Get full journal access for 1 year
$104.00
only $8.67 per issue
All prices are NET prices.
VAT will be added later in the checkout.
Rent or Buy article
Get time limited or full article access on ReadCube.
from$8.99
All prices are NET prices.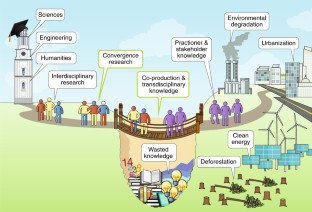 References
1.

Miller, T. R. et al. Sustain. Sci. 9, 239–246 (2014).

2.

Boahene, K. Land Degrad. Dev. 9, 247–258 (1998).

3.

Amy, G. et al. Desalination 401, 16–21 (2017).

4.

Weber, E. U. Clim. Change 77, 103–120 (2006).

5.

Advisory Committee for Environmental Research and Education Sustainable Urban Systems: Articulating a Long-Term Convergence Research Agenda (The National Science Foundation, 2018); https://www.nsf.gov/ere/ereweb/ac-ere/sustainable-urban-systems.pdf

6.

National Research Council Convergence: Facilitating Transdisciplinary Integration of Life Sciences, Physical Sciences, Engineering, and Beyond (National Academies Press, Washington DC, 2014).

7.

Dedeurwaerdere, T. Sustainability 5, 3783–3801 (2013).

8.

Brandt, P. et al. Ecol. Econ. 92, 1–15 (2013).

9.

Sharp, P. A. et al. The Third Revolution: The Convergence of the Life Sciences, Physical Sciences, and Engineering (Massachusetts Institute of Technology, Washington DC, 2011).

10.

Hoffman, A. & Axson, J. Examining Interdisciplinary Sustainability Institutes at Major Research Universities: Innovations in Cross-Campus and Cross-Disciplinary Models (Univ. Michigan, AnnArbor, MI, 2017).

11.

Mirtl, M. et al. Sci. Total Environ. 626, 1439–1462 (2018).

12.

Reilly, A. H. & Hynan, K. A. Bus. Horiz. 57, 747–758 (2014).

13.

Bentley, P. J., Gulbrandsen, M. & Kyvik, S. High. Educ. 70, 689–709 (2015).

14.

Leahey, E. Am. Sociol. Rev. 72, 533–561 (2007).

15.

Schellnhuber, H. J. Nature 402, 19–23 (1999).
Acknowledgements
The development of this opinion arose from discussions held during the International Forum on 'Re-thinking interdisciplinary research for global sustainability' organized by Nature Sustainability and Tsinghua University from 14 to 16 January 2018, in Beijing, China. The authors thank the organizers of the workshop and fellow participants for lively discussions on the nature and role of sustainability research. Any opinions, findings and conclusions expressed in this opinion piece are those of the authors and not meant to represent the views of any supporting institution.
About this article
Cite this article
Irwin, E.G., Culligan, P.J., Fischer-Kowalski, M. et al. Bridging barriers to advance global sustainability. Nat Sustain 1, 324–326 (2018). https://doi.org/10.1038/s41893-018-0085-1