Caged neurotransmitters are widely used to study neurobiological processes such as synaptic transmission and plasticity. However, uncaging has been primarily restricted to in vitro and ex vivo experimental systems. Using caged neurotransmitters in vivo has posed a huge hurdle because photoactivatable cages bind to GABA-A receptors, acting as competitive antagonists towards GABA. This reduced inhibition leads to epileptiform-like activity, which can cause problems for circuit level studies in vivo. To circumvent this off-target effect, a recent publication introduces a new caged glutamate: G5-MNI-glutamate. Using a novel technique called 'cloaking,' GABA-A receptor antagonism is abolished, opening up new possibilities for future in vivo studies with caged neurotransmitters.
Access options
Subscribe to Journal
Get full journal access for 1 year
We are sorry, but there is no personal subscription option available for your country.
Rent or Buy article
Get time limited or full article access on ReadCube.
from$8.99
All prices are NET prices.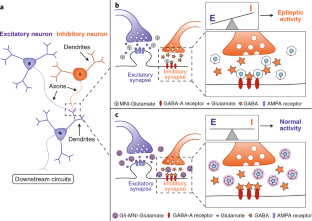 Acknowledgements
This work was supported by a NARSAD Young Investigator Award (W.C.O.) and a Neuroscience Training Grant T32 NS099042 (R.O.).
About this article
Cite this article
Ogelman, R., Hwang, IW. & Oh, W.C. Cloaked caged glutamate eliminates off-target GABA-A receptor antagonism and opens a new door in neuroscience. Lab Anim 49, 177–179 (2020). https://doi.org/10.1038/s41684-020-0555-8