Differential gene expression based on the parental origin can have a big impact on phenotype
Access options
Subscribe to Journal
Get full journal access for 1 year
We are sorry, but there is no personal subscription option available for your country.
Buy article
Get time limited or full article access on ReadCube.
$32.00
All prices are NET prices.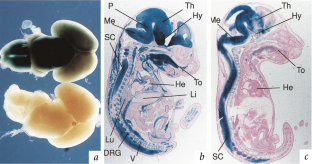 References
Monk, D., Mackay, D. J. G., Eggermann, T., Maher, E. R. & Riccio, A. Nat. Rev. Genet. 20, 235–248, https://doi.org/10.1038/s41576-018-0092-0 (2019).

Gérard, M., Hernandez, L., Wevrick, R. & Stewart, C. L. Nat Genet. 23, 199–202, https://doi.org/10.1038/13828 (1999).

Horsthemke, B. & Wagstaff, J. Am J Med Genet Part A. 146, 2041–2052, https://doi.org/10.1002/ajmg.a.32364 (2008).

Szabó, P. & Mann, J. R. Development. 120, 1651–1660, http://www.ncbi.nlm.nih.gov/pubmed/8050371 (1994). Accessed March 3, 2020.

Steshina, E. Y., Carr, M. S., Glick, E. A., Yevtodiyenko, A., Appelbe, O. K. & Schmidt, J. V. BMC Genet. 7, 44, https://doi.org/10.1186/1471-2156-7-44 (2006).

Takahashi, N., Okamoto, A. & Kobayashi, R. et al. Hum Mol Genet. 18, 1879–1888, https://doi.org/10.1093/hmg/ddp108 (2009).
Acknowledgements
MGD is supported by program project grant HG000330 from the National Human Genome Research Institute (NHGRI) of the National Institutes of Health (NIH).
About this article
Cite this article
Bello, S.M., Perry, M.N. & Smith, C.L. Know Your Model: When parental origin matters. Lab Anim 49, 161–162 (2020). https://doi.org/10.1038/s41684-020-0550-0
Published:

Issue Date:

DOI: https://doi.org/10.1038/s41684-020-0550-0