All animal protocols need quantitative justification of animal numbers, but not all will need power calculations.
Access options
Subscribe to Journal
Get full journal access for 1 year
We are sorry, but there is no personal subscription option available for your country.
Rent or Buy article
Get time limited or full article access on ReadCube.
from$8.99
All prices are NET prices.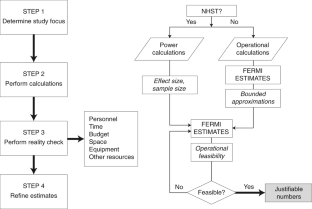 References
1.

The IACUC Handbook 3rd edn (ed. Silverman, J., Suckow, M. & Murthy, S.) (CRC Press, Boca Raton, 2014).

2.

Institute for Laboratory Animal Research. Guide for the Care and Use of Laboratory Animals 8th edn (National Academies Press, Washington, DC, 2011).

3.

Fitzpatrick, B. G., Koustova, E. & Wang, Y. Lab Animal (NY) 47, 175–177 (2018).

4.

Weinstein, L. & Adam, J.A. Guesstimation: Solving the World's Problems on the Back of a Cocktail Napkin (Princeton University Press, Princeton, NJ, 2008).

5.

von Baeyer, H.C. The Fermi solution in The Fermi Solution: Essays on Science pp 3-12 (Dover Publications, Inc., New York, 2001).

6.

Fermi, E. My observations during the explosion at Trinity on july 16, 1945 - E. Fermi. Record Group 227, OSRD-S1 Committee, Box 82 Folder 6, "Trinity." U.S. National Archives (1945), http://nuclearfiles.org/menu/key-issues/nuclear-weapons/history/pre-cold-war/manhattan-project/trinity/eyewitness-enrico-fermi_1945-07-16.htm

7.

Kimmelman, J., Mogil, J. S. & Dirnagl, U. PLoS Biol. 12, e1001863 (2014).

8.

Gosselin, R.-D. Lab. Anim. 53, 28–42 (2018).

9.

Jung, S. H. & Young, S. S. J. Biopharm. Stat. 22, 30–42 (2012).

10.

Johnson, D. H. J. Wildlife Management 66, 272–276 (2002).

11.

Anderson, D. R., Burnham, K. P. & Thompson, W. L. J. Wildlife Management 64, 912–923 (2000).

12.

Pitts, M. (ed.) Institutional Animal Care and Use Committee Guidebook, 210 pp. (Office of Laboratory Animal Welfare, National Institutes of Health, Bethesda, MD, 2002).

13.

Eldridge, S. M. et al. PLoS One 11, e0150205 (2016).

14.

Arain, M., Campbell, M. J., Cooper, C. L. & Lancaster, G. A. BMC Med. Res. Methodol. 10, 67 (2010).

15.

Bowen, D. J. et al. Am. J. Prev. Med. 36, 452–457 (2009).

16.

Festing, M. F. W. & Altman, D. G. ILAR J. 432, 244–258 (2002).

17.

Kistin, C. & Silverstein, M. 314, 1561–1562 (2015).

18.

Moore, C. G., Carter, R. E., Nietert, P. J. & Stewart, P. W. Clin. Transl. Sci. 4, 332–337 (2011).

19.

Lancaster, G. A., Dodd, S. & Williamson, P. R. J. Eval. Clin. Pract. 10, 307–312 (2004).

20.

Whitehead, A. L., Julious, S. A., Cooper, C. L. & Campbell, M. J. Stat. Methods Med. Res. 25, 1057–1063 (2016).

21.

Dell, R. B., Holleran, S. & Ramakrishnan, R. ILAR J. 43, 207–213 (2002).

22.

Altman, D.G., et al. Why do a pilot study? NC3Rs: National Centre for the Replacement, Refinement and Reduction of Animals in Research, 2 pp. (2006).

23.

Reynolds, P.S., et al. Lab. Anim. https://doi.org/10.1177/0023677218802999 (2018).

24.

van Belle, G. Statistical Rules of Thumb (John Wiley & Sons Inc, Hoboken NJ, 2008).

25.

Landis, S. C. et al. Nature 490, 187–191 (2012).
Acknowledgements
The author thanks C. Garvan and T. Vasilopoulos (Statistics in Anesthesiology Research (STAR) Core, University of Florida, USA) for their helpful comments on an earlier version of this manuscript.
Ethics declarations
Competing interests
The author declares no competing interests. The author discloses membership with the University of Florida IACUC committee.
About this article
Cite this article
Reynolds, P.S. When power calculations won't do: Fermi approximation of animal numbers. Lab Anim 48, 249–253 (2019). https://doi.org/10.1038/s41684-019-0370-2
Further reading
Nathalie Percie du Sert

,

Amrita Ahluwalia

,

Sabina Alam

,

Marc T. Avey

,

Monya Baker

,

William J. Browne

,

Alejandra Clark

,

Innes C. Cuthill

,

Ulrich Dirnagl

,

Michael Emerson

,

Paul Garner

,

Stephen T. Holgate

,

David W. Howells

,

Viki Hurst

,

Natasha A. Karp

,

Stanley E. Lazic

,

Katie Lidster

,

Catriona J. MacCallum

,

Malcolm Macleod

,

Esther J. Pearl

,

Ole H. Petersen

,

Frances Rawle

,

Penny Reynolds

,

Kieron Rooney

,

Emily S. Sena

,

Shai D. Silberberg

,

Thomas Steckler

,

Hanno Würbel

&

Isabelle Boutron

PLOS Biology (2020)