Abstract
Herbarium specimens are dried plants mounted onto paper. They are used by a limited number of researchers, such as plant taxonomists, as a source of information on morphology and distribution. Recently, digitised herbarium specimens have begun to be used in comprehensive research to address broader issues. However, some specimens have been misidentified, and if used, there is a risk of drawing incorrect conclusions. In this study, we successfully developed a system for identifying taxon names with high accuracy using an image recognition system. We developed a system with an accuracy of 96.4% using 500,554 specimen images of 2171 plant taxa (2064 species, 9 subspecies, 88 varieties, and 10 forms in 192 families) that grow in Japan. We clarified where the artificial intelligence is looking to make decisions, and which taxa is being misidentified. As the system can be applied to digitalised images worldwide, it is useful for selecting and correcting misidentified herbarium specimens.
Data availability
Some of the data used in this study can be downloaded from the database (Fig. 2a). The processed and other data for which we have the copyright are available upon reasonable request emailed to the corresponding author. However, data for which we do not have the copyright are unavailable.
References
Stefanaki, A. et al. Breaking the silence of the 500-year-old smiling garden of everlasting flowers the En Tibi book herbarium. PLoS One 14, e0217779 (2019).

Tan, K. C., Liu, Y., Ambrose, B., Tulig, M. & Belongie, S. The herbarium challenge 2019 dataset. Preprint at https://arxiv.org/abs/1906.05372 (2019).

Raxworthy, C. J. & Smith, B. T. Mining museums for historical DNA: Advances and challenges in museomics. Trends Ecol. Evol. 11, 1049–1060 (2021).

McLauchlan, K. K. et al. Thirteen decades of foliar isotopes indicate declining nitrogen availability in central North American grasslands. New Phytol. 187, 1135–1145 (2010).

Rudin, S. M., Murray, D. W. & Whitfeld, T. J. S. Retrospective analysis of heavy metal contamination in Rhode Island based on old and new herbarium specimens. Appl. Plant Sci. 5(1), 1600108 (2017).

Primack, D. et al. Herbarium specimens demonstrate earlier flowering times in response to warming in Boston. Am. J. Bot. 91, 1260–1264 (2004).

Soltis, D. E. & Soltis, P. S. Mobilizing and integrating big data in studies of spatial and phylogenetic patterns of biodiversity. Plant Divers. 38, 264–270 (2016).

Soltis, P. S. Digitization of herbaria enables novel research. Am. J. Bot. 104, 1281–1284 (2017).

Fukaya, K. et al. Integrating multiple sources of ecological data to unveil macroscale species abundance. Nat. Commun. 11, 1–14 (2020).

Fujii, S. An examination of confidence in open data of specimens: Cuscuta australis (Convolvulaceae). Jpn. J. Ecol. 69, 127–131 (2019).

Sikes, D. S., Copas, K., Hirsch, T., Longino, J. T. & Schigel, D. On natural history collections, digitized and not: A response to Ferro and Flick. ZooKeys 618, 145–158 (2016).

Goodwin, Z. A., Harris, D. J., Filer, D., Wood, J. R. & Scotland, R. W. Widespread mistaken identity in tropical plant collections. Curr. Biol. 25, R1066–R1067 (2015).

Schroff, F., Kalenichenko, D. & Philbin, J. FaceNet: A unified embedding for face recognition and clustering. In Proceedings of the IEEE Conference on CVPR, 815–823 (2015).

Grinblat, G. L., Uzal, L. C., Larese, M. G. & Granitto, P. M. Deep learning for plant identification using vein morphological patterns. Comput. Electron. Agric. 127, 418–424 (2016).

Lee, S. H., Chan, C. S., Mayo, S. J. & Remagnino, P. How deep learning extracts and learns leaf features for plant classification. Patt. Recognit. 71, 1–13 (2017).

Dyrmann, M., Karstoft, H. & Midtiby, H. S. Plant species classification using deep convolutional neural network. Biosyst. Eng. 151, 72–80 (2016).

Ashqar, B. A., Abu-Nasser, B. S. & Abu-Naser, S. S. Plant seedlings classification using deep learning. IJAISR. 3, 7–14 (2019).

Espejo-Garcia, B., Mylonas, N., Athanasakos, L. & Fountas, S. Improving weeds identification with a repository of agricultural pre-trained deep neural networks. Comput. Electron. Agric. 175, 105593 (2020).

Kamilaris, A. & Prenafeta-Boldú, F. X. Deep learning in agriculture: A survey. Comput. Electron. Agric. 147, 70–90 (2018).

Goëau, H., Bonnet, P., & Joly, A. Overview of LifeCLEF Plant Identification task 2019: Diving into data deficient tropical countries. In CLEF 2020- Conference and labs of the Evaluation Forum (2020).

Carranza-Rojas, J., Goeau, H., Bonnet, P., Mata-Montero, E. & Joly, A. Going deeper in the automated identification of herbarium specimens. BMC Evol. Biol. 17, 181 (2017).

Carranza-Rojas, J., Joly, A., Goëau, H., Mata-Montero, E. & Bonnet, P. Automated Identification of Herbarium Specimens at Different Taxonomic Levels. In Prediction, in Multimedia Tools and Applications for Environmental & Biodiversity Informatics (eds Joly, A. et al.) 151–167 (Springer, 2018).

Moriguchi, J. et al. Establishment of high-speed digitization method of herbarium specimen and construction of maintenance-free digital herbarium. Bunrui 12, 41–52 (2011).

Takano, A. et al. Simple but long-lasting: A specimen imaging method applicable for small- and medium-sized herbaria. PhytoKeys 118, 1–14 (2019).

Szegedy, C., Ioffe, S., Vanhoucke, V., & Alemi, A. A. Inception-v4, Inception-ResNet and the impact of residual connections on learning. In Proceedings of 31st AAAI conference on artificial intelligence 4278–4284 (2017).

Ohashi, H. Salicaceae, in Wild Flowers of Japan vol. 3, (eds Ohashi, H., Kadota, Y., Murata, J., Yonekura, K. & Kihara H.) 186–187 (Heibonsha, 2016).

Selvaraju, R. R. et al. Grad-CAM: visual explanations from deep networks via gradient-based localization. In Proceedings of the IEEE international conference on computer vision, 618–626 (2017).

Kurata, S. & Nakaike, T. eds. Illustrations of Pteridophytes of Japan, vol. 1–8 (University of Tokyo Press, 1979–1997).

Ebihara, A. The Standard of Ferns and Lycophytes in Japan I & II (Gakken Plus, 2016–2017).

de Lutio, R., Little, D., Ambrose, B. & Belongie, S. The herbarium 2021 half-earth challenge dataset. Preprint at https://arxiv.org/abs/2105.13808 (2021).

Wäldchen, J., Rzanny, M., Seeland, M. & Mäder, P. Automated plant species identification: Trends and future directions. PLoS Comput. Biol. 14, e1005993 (2018).

Simonyan, K. & Zisserman A. Very deep convolutional networks for large-scale image recognition. Preprint at https://arxiv.org/abs/1409.1556 (2015).

Szegedy, C., Vanhoucke, V., Ioffe, S., Shlens J. & Wojna Z. Rethinking the inception architecture for computer vision. In Proceedings of the IEEE conference on computer vision and pattern recognition, 2818–2826 (2016).

He, K., Zhang, X., Ren, S., Sun, J. Deep residual learning for image recognition. In Proceedings of the IEEE conference on computer vision and pattern recognition, 770–778 (2016).
Acknowledgements
The authors thank Ms. Chikako Yokogi and Dr. S. Mahoro for their help with experiments. The authors thank Rikuzentakata City Museum, National Museum of Nature and Science, Tokyo, Flora of Tokyo and College of Life Science, National Taiwan University for the downloaded data. Rikuzentakata City Museum was destroyed by tsunamis of the Great East Japan Earthquake, and the herbarium specimens used in this study had been rescued and repaired after the disaster. The authors thank the faculty of Life and Environmental Science at Shimane University for their financial assistance in publishing this report. We would like to thank Editage (www.editage.com) for English language editing.
Funding
This work was partially funded by the SEI Group of the CSR Foundation (T.A.) and JSPS Kakenhi (Grant Number 21K06307 to S.T.,19K06832 to A.T., and 18H04146 to T.K.).
Ethics declarations
Competing interests
The authors declare no competing interests.
Additional information
Publisher's note
Springer Nature remains neutral with regard to jurisdictional claims in published maps and institutional affiliations.
Supplementary Information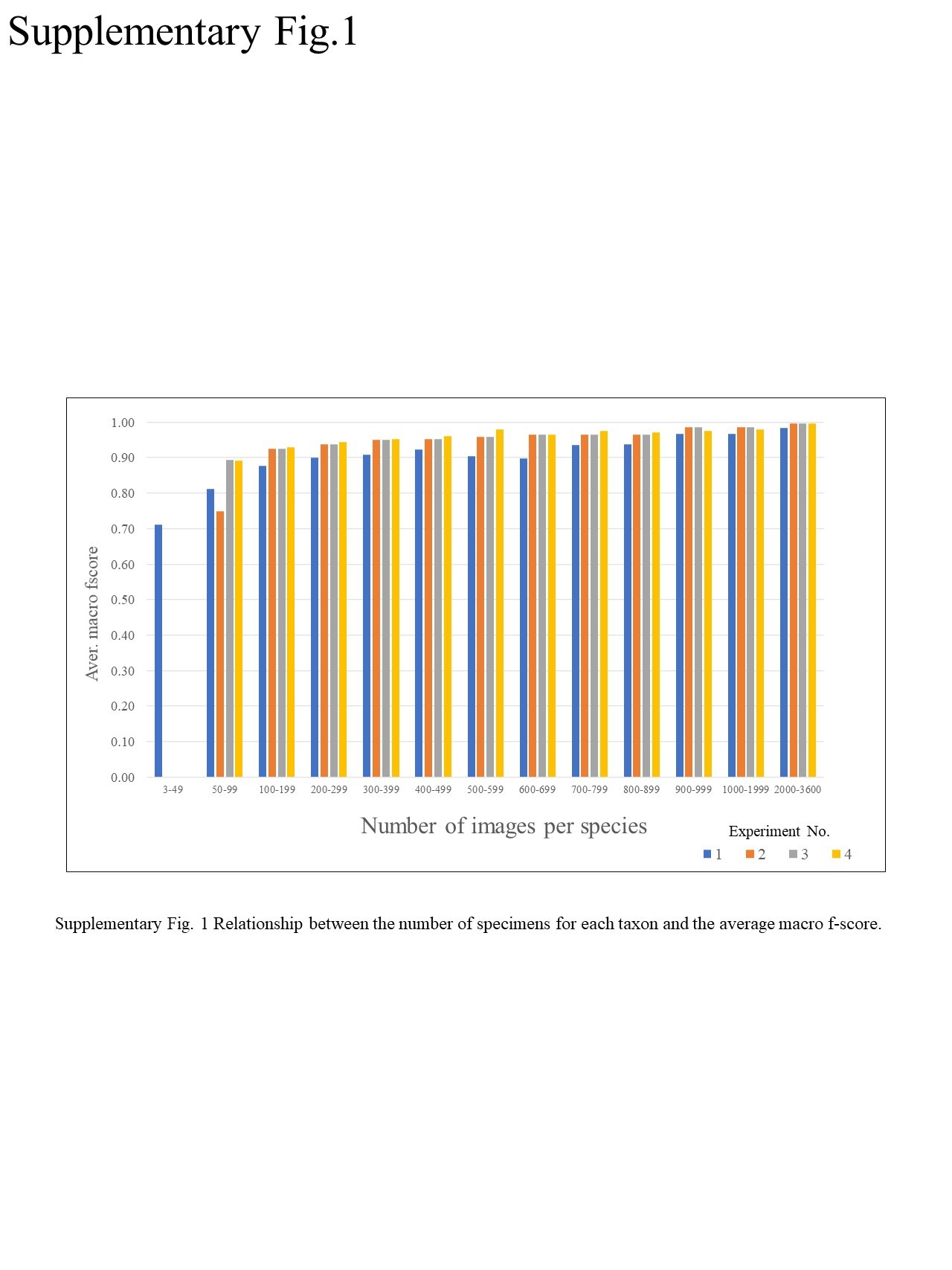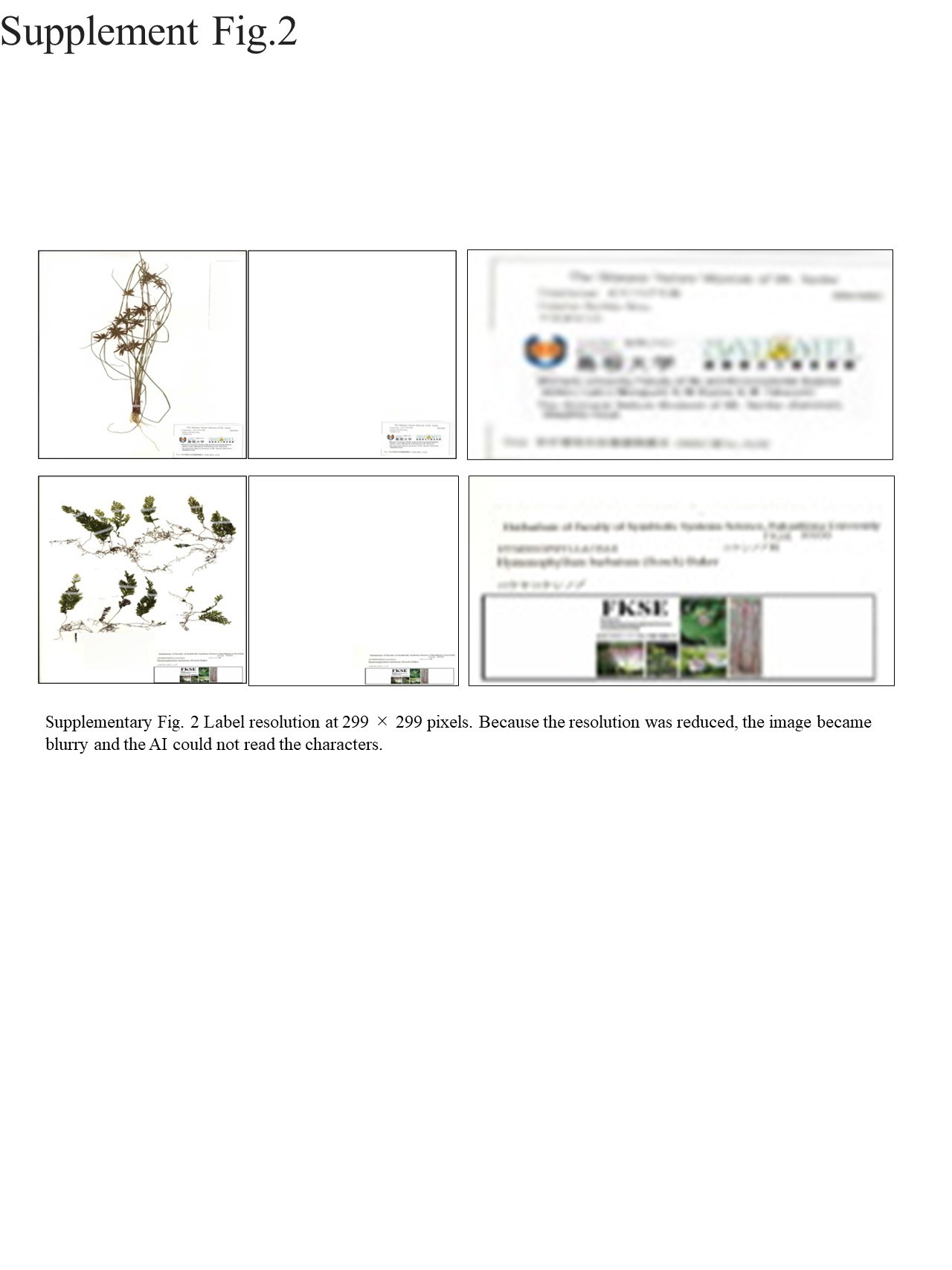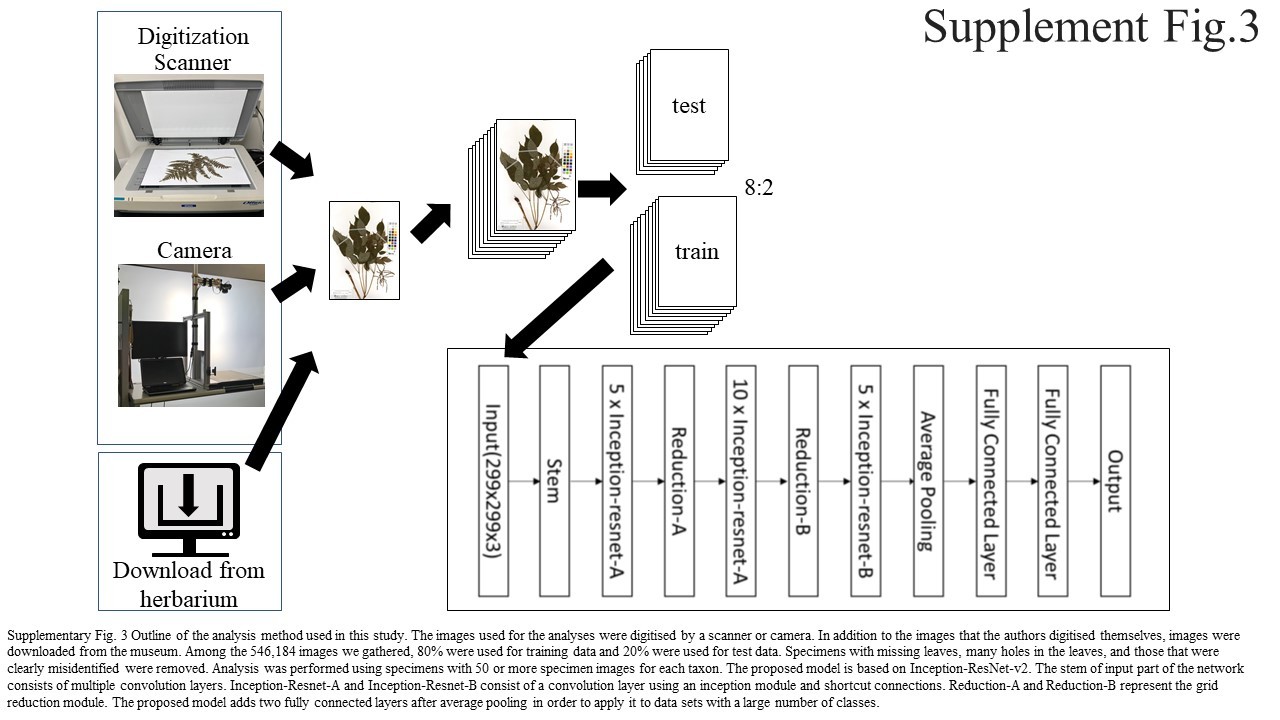 Rights and permissions
Open Access This article is licensed under a Creative Commons Attribution 4.0 International License, which permits use, sharing, adaptation, distribution and reproduction in any medium or format, as long as you give appropriate credit to the original author(s) and the source, provide a link to the Creative Commons licence, and indicate if changes were made. The images or other third party material in this article are included in the article's Creative Commons licence, unless indicated otherwise in a credit line to the material. If material is not included in the article's Creative Commons licence and your intended use is not permitted by statutory regulation or exceeds the permitted use, you will need to obtain permission directly from the copyright holder. To view a copy of this licence, visit http://creativecommons.org/licenses/by/4.0/.
About this article
Cite this article
Shirai, M., Takano, A., Kurosawa, T. et al. Development of a system for the automated identification of herbarium specimens with high accuracy. Sci Rep 12, 8066 (2022). https://doi.org/10.1038/s41598-022-11450-y
Received:

Accepted:

Published:

DOI: https://doi.org/10.1038/s41598-022-11450-y
Comments
By submitting a comment you agree to abide by our Terms and Community Guidelines. If you find something abusive or that does not comply with our terms or guidelines please flag it as inappropriate.