Abstract
Homeostatic and pathological phenomena often affect multiple organs across the whole organism. Tissue clearing methods, together with recent advances in microscopy, have made holistic examinations of biological samples feasible. Here, we report the detailed protocol for nanobody(VHH)-boosted 3D imaging of solvent-cleared organs (vDISCO), a pressure-driven, nanobody-based whole-body immunolabeling and clearing method that renders whole mice transparent in 3 weeks, consistently enhancing the signal of fluorescent proteins, stabilizing them for years. This allows the reliable detection and quantification of fluorescent signal in intact rodents enabling the analysis of an entire body at cellular resolution. Here, we show the high versatility of vDISCO applied to boost the fluorescence signal of genetically expressed reporters and clear multiple dissected organs and tissues, as well as how to image processed samples using multiple fluorescence microscopy systems. The entire protocol is accessible to laboratories with limited expertise in tissue clearing. In addition to its applications in obtaining a whole-mouse neuronal projection map, detecting single-cell metastases in whole mice and identifying previously undescribed anatomical structures, we further show the visualization of the entire mouse lymphatic system, the application for virus tracing and the visualization of all pericytes in the brain. Taken together, our vDISCO pipeline allows systematic and comprehensive studies of cellular phenomena and connectivity in whole bodies.
Access options
Access Nature and 54 other Nature Portfolio journals
Get Nature+, our best-value online-access subscription
$29.99 per month
cancel any time
Subscribe to this journal
Receive 12 print issues and online access
$209.00 per year
only $17.42 per issue
Rent or buy this article
Get just this article for as long as you need it
$39.95
Prices may be subject to local taxes which are calculated during checkout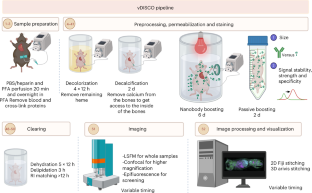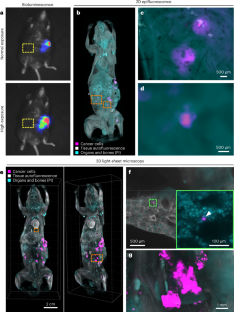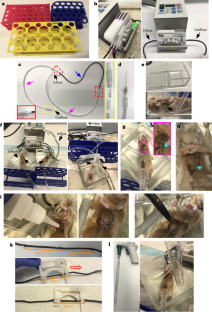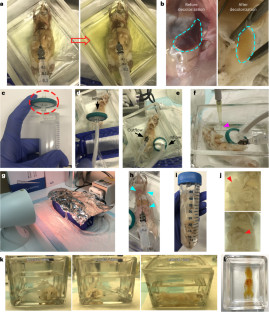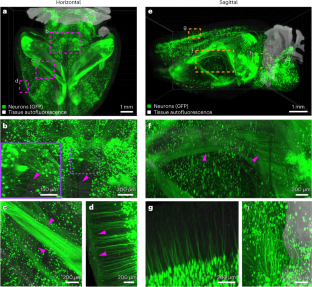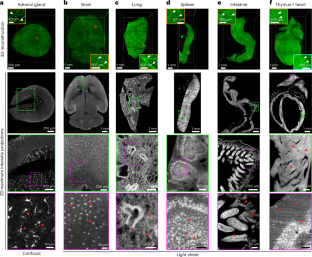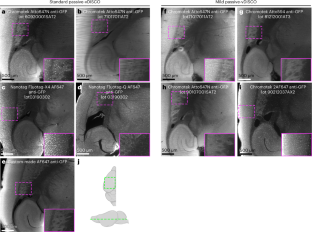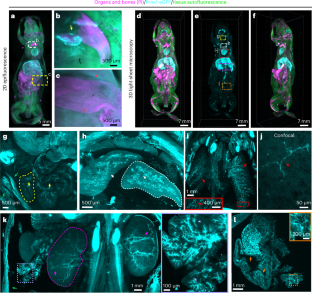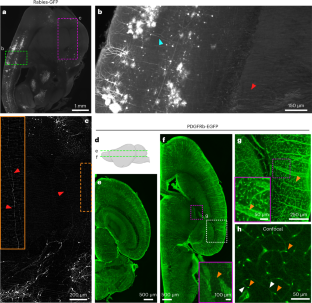 References
Pan, C. et al. Deep learning reveals cancer metastasis and therapeutic antibody targeting in the entire body. Cell 179, 1661–1676.e19 (2019).

Ntziachristos, V. Going deeper than microscopy: the optical imaging frontier in biology. Nat. Methods 7, 603–614 (2010).

James, M. L. & Gambhir, S. S. A molecular imaging primer: modalities, imaging agents, and applications. Physiol. Rev. 92, 897–965 (2012).

Timpson, P., McGhee, E. J. & Anderson, K. I. Imaging molecular dynamics in vivo—from cell biology to animal models. J. Cell Sci. 124, 2877–2890 (2011).

Erturk, A. et al. Three-dimensional imaging of the unsectioned adult spinal cord to assess axon regeneration and glial responses after injury. Nat. Med. 18, 166–171 (2012).

Hama, H. et al. Scale: a chemical approach for fluorescence imaging and reconstruction of transparent mouse brain. Nat. Neurosci. 14, 1481–1488 (2011).

Chung, K. et al. Structural and molecular interrogation of intact biological systems. Nature 497, 332–337 (2013).

Susaki, E. A. et al. Whole-brain imaging with single-cell resolution using chemical cocktails and computational analysis. Cell 157, 726–739 (2014).

Ke, M.-T., Fujimoto, S. & Imai, T. SeeDB: a simple and morphology-preserving optical clearing agent for neuronal circuit reconstruction. Nat. Neurosci. 16, 1154–1161 (2013).

Hama, H. et al. ScaleS: an optical clearing palette for biological imaging. Nat. Neurosci. 18, 1518–1529 (2015).

Renier, N. et al. iDISCO: a simple, rapid method to immunolabel large tissue samples for volume imaging. Cell 159, 896–910 (2014).

Belle, M. et al. Tridimensional visualization and analysis of early human development. Cell 169, 161–173.e12 (2017).

Belle, M. et al. A simple method for 3D analysis of immunolabeled axonal tracts in a transparent nervous system. Cell Rep. 9, 1191–1201 (2014).

Murray, E. et al. Simple, scalable proteomic imaging for high-dimensional profiling of intact systems. Cell 163, 1500–1514 (2015).

Dodt, H.-U. et al. Ultramicroscopy: three-dimensional visualization of neuronal networks in the whole mouse brain. Nat. Methods 4, 331–336 (2007).

Pan, C. et al. Shrinkage-mediated imaging of entire organs and organisms using uDISCO. Nat. Methods 13, 859–867 (2016).

Susaki, E. A. et al. Advanced CUBIC protocols for whole-brain and whole-body clearing and imaging. Nat. Protoc. 10, 1709–1727 (2015).

Tainaka, K. et al. Whole-body imaging with single-cell resolution by tissue decolorization. Cell 159, 911–924 (2014).

Kubota, S. I. et al. Whole-body profiling of cancer metastasis with single-cell resolution. Cell Rep. 20, 236–250 (2017).

Yang, B. et al. Single-cell phenotyping within transparent intact tissue through whole-body clearing. Cell 158, 945–958 (2014).

Treweek, J. B. et al. Whole-body tissue stabilization and selective extractions via tissue–hydrogel hybrids for high-resolution intact circuit mapping and phenotyping. Nat. Protoc. 10, 1860–1896 (2015).

Jing, D. et al. Tissue clearing of both hard and soft tissue organs with the PEGASOS method. Cell Res. 28, 803–818 (2018).

Cai, R. et al. Panoptic imaging of transparent mice reveals whole-body neuronal projections and skull–meninges connections. Nat. Neurosci. 22, 317–327 (2019).

Muyldermans, S. Single domain camel antibodies: current status. Rev. Mol. Biotechnol. 74, 277–302 (2001).

Muyldermans, S. Nanobodies: natural single-domain antibodies. Annu. Rev. Biochem. 82, 775–797 (2013).

Schumacher, D., Helma, J., Schneider, A. F. L., Leonhardt, H. & Hackenberger, C. P. R. Nanobodies: chemical functionalization strategies and intracellular applications. Angew. Chem. Int. Ed. 57, 2314–2333 (2018).

Niess, J. H. et al. CX3CR1-mediated dendritic cell access to the intestinal lumen and bacterial clearance. Science 307, 254–258 (2005).

Gage, G. J., Kipke, D. R. & Shain, W. Whole animal perfusion fixation for rodents. J. Vis. Exp. https://doi.org/10.3791/3564 (2012).

Wang, X. et al. An ocular glymphatic clearance system removes β-amyloid from the rodent eye. Sci. Transl. Med. 12, eaaw3210 (2020).

Louveau, A. et al. Structural and functional features of central nervous system lymphatic vessels. Nature 523, 337–341 (2015).

Hong, G., Antaris, A. L. & Dai, H. Near-infrared fluorophores for biomedical imaging. Nat. Biomed. Eng. 1, 0010 (2017).

Quan, T. et al. NeuroGPS-Tree: automatic reconstruction of large-scale neuronal populations with dense neurites. Nat. Methods 13, 51–54 (2016).

Li, A. et al. Micro-optical sectioning tomography to obtain a high-resolution atlas of the mouse brain. Science 330, 1404–1408 (2010).

Qi, X. et al. Fluorescence micro-optical sectioning tomography using acousto-optical deflector-based confocal scheme. Neurophotonics 2, 041406–041406 (2015).

Ragan, T. et al. Serial two-photon tomography for automated ex vivo mouse brain imaging. Nat. Methods 9, 255–258 (2012).

Feng, G. et al. Imaging neuronal subsets in transgenic mice expressing multiple spectral variants of GFP. Neuron 28, 41–51 (2000).

Zhao, S. et al. Cellular and molecular probing of intact human organs. Cell 180, 796–812.e19 (2020).

Richardson, D. S. et al. Tissue clearing. Nat. Rev. Methods Primer 1, 1–24 (2021).

Erturk, A. et al. Three-dimensional imaging of solvent-cleared organs using 3DISCO. Nat. Protoc. 7, 1983–1995 (2012).

Rothbauer, U. et al. Targeting and tracing antigens in live cells with fluorescent nanobodies. Nat. Methods 3, 887–889 (2006).

Horecker, B. L. The absorption spectra of hemoglobin and its derivatives in the visible and near infra-red regions. J. Biol. Chem. 148, 173–183 (1943).

Tainaka, K., Kuno, A., Kubota, S. I., Murakami, T. & Ueda, H. R. Chemical principles in tissue clearing and staining protocols for whole-body cell profiling. Annu. Rev. Cell Dev. Biol. 32, 713–741 (2016).

Tuchin, V. V. Tissue optics and photonics: light–tissue interaction. J. Biomed. Photonics Eng. 1, 98–134 (2015).

Tainaka, K. et al. Chemical landscape for tissue clearing based on hydrophilic reagents. Cell Rep. 24, 2196–2210.e9 (2018).

Kristinsson, H. G. & Hultin, H. O. Changes in trout hemoglobin conformations and solubility after exposure to acid and alkali pH. J. Agric. Food Chem. 52, 3633–3643 (2004).

Alnuami, A. A., Zeedi, B., Qadri, S. M. & Ashraf, S. S. Oxyradical-induced GFP damage and loss of fluorescence. Int. J. Biol. Macromol. 43, 182–186 (2008).

Fagan, J. M., Sleczka, B. G. & Sohar, I. Quantitation of oxidative damage to tissue proteins. Int. J. Biochem. Cell Biol. 31, 751–757 (1999).

Acar, M. et al. Deep imaging of bone marrow shows non-dividing stem cells are mainly perisinusoidal. Nature 526, 126–130 (2015).

Greenbaum, A. et al. Bone CLARITY: clearing, imaging, and computational analysis of osteoprogenitors within intact bone marrow. Sci. Transl. Med. 9, eaah6518 (2017).

Gonzalez-Chavez, S. A., Pacheco-Tena, C., Macias-Vazquez, C. E. & Luevano-Flores, E. Assessment of different decalcifying protocols on osteopontin and osteocalcin immunostaining in whole bone specimens of arthritis rat model by confocal immunofluorescence. Int. J. Clin. Exp. Pathol. 6, 1972–1983 (2013).

Xiao, X. et al. Antibody incubation at 37°C improves fluorescent immunolabeling in free-floating thick tissue sections. Biotechniques 62, 115–122 (2017).

Weiss, K. R., Voigt, F. F., Shepherd, D. P. & Huisken, J. Tutorial: practical considerations for tissue clearing and imaging. Nat. Protoc. 16, 2732–2748 (2021).

Renier, N. et al. Mapping of brain activity by automated volume analysis of immediate early genes. Cell 165, 1789–1802 (2016).

Voigt, F. F. et al. The mesoSPIM initiative: open-source light-sheet microscopes for imaging cleared tissue. Nat. Methods 16, 1105–1108 (2019).

Welch, A. Technique for high-performance data compression. Computer 17, 8–19 (1984).

Ma, B. et al. A fast algorithm for material image sequential stitching. Comput. Mater. Sci. 158, 1–13 (2019).

Dellatorre, G. & Gadens, G. A. Wide area digital dermoscopy applied to basal cell carcinoma. An. Bras. Dermatol. 95, 379–382 (2020).

Boatright, J. H. et al. Methodologies for analysis of patterning in the mouse RPE sheet. Mol. Vis. 21, 40–60 (2015).

Hörl, D. et al. BigStitcher: reconstructing high-resolution image datasets of cleared and expanded samples. Nat. Methods 16, 870–874 (2019).

Schindelin, J. et al. Fiji: an open-source platform for biological-image analysis. Nat. Methods 9, 676–682 (2012).

Pietzsch, T., Preibisch, S., Tomancak, P. & Saalfeld, S. ImgLib2-generic image processing in Java. Bioinformatics 28, 3009–3011 (2012).

Bria, A. & Iannello, G. TeraStitcher—a tool for fast automatic 3D-stitching of teravoxel-sized microscopy images. BMC Bioinformatics 13, 316 (2012).

Glaser, J. R. & Glaser, E. M. Neuron imaging with neurolucida—a PC-based system for image combining microscopy. Comput. Med. Imaging Graph. 14, 307–317 (1990).

Belthangady, C. & Royer, L. A. Applications, promises, and pitfalls of deep learning for fluorescence image reconstruction. Nat. Methods https://doi.org/10.1038/s41592-019-0458-z (2019).

Moen, E. et al. Deep learning for cellular image analysis. Nat. Methods https://doi.org/10.1038/s41592-019-0403-1 (2019).

Zhou, H. et al. 3D high resolution generative deep-learning network for fluorescence microscopy imaging. Opt. Lett. 45, 1695–1698 (2020).

Mano, T. et al. CUBIC-Cloud provides an integrative computational framework toward community-driven whole-mouse-brain mapping. Cell Rep. Methods 1, 100038 (2021).

Iwasato, T. et al. Cortex-restricted disruption of NMDAR1 impairs neuronal patterns in the barrel cortex. Nature 406, 726–731 (2000).

Takatoh, J. et al. New modules are added to vibrissal premotor circuitry with the emergence of exploratory whisking. Neuron 77, 346–360 (2013).

Wickersham, I. R. et al. Monosynaptic restriction of transsynaptic tracing from single, genetically targeted neurons. Neuron 53, 639–647 (2007).

Reed, H. O. et al. Lymphatic impairment leads to pulmonary tertiary lymphoid organ formation and alveolar damage. J. Clin. Invest. 129, 2514–2526 (2019).

Wigle, J. T. et al. An essential role for Prox1 in the induction of the lymphatic endothelial cell phenotype. EMBO J. 21, 1505–1513 (2002).

Kivelä, R. et al. The transcription factor Prox1 is essential for satellite cell differentiation and muscle fibre-type regulation. Nat. Commun. 7, 13124 (2016).

Iwano, T., Masuda, A., Kiyonari, H., Enomoto, H. & Matsuzaki, F. Prox1 postmitotically defines dentate gyrus cells by specifying granule cell identity over CA3 pyramidal cell fate in the hippocampus. Dev. Camb. Engl. 139, 3051–3062 (2012).
Acknowledgements
This work was supported by the Vascular Dementia Research Foundation, Deutsche Forschungsgemeinschaft (DFG, German Research Foundation) under Germany's Excellence Strategy within the framework of the Munich Cluster for Systems Neurology (EXC 2145 SyNergy, ID 390857198), the ERC Consolidator Grant (AE, 865323), and the Nomis Heart Atlas Project Grant (Nomis Foundation). H.M. is also supported by the China Scholarship Council (CSC) (no. 201806780034). M.M. is supported by the Turkish Ministry of Education for her PhD studies. We thank K. Sleiman, C. Veltkamp and D. Saur for providing the animal bearing pancreatic cancer; M. Voll (Zeiss Microscopy GmbH, Germany) and the Zeiss Microscopy Customer Center Europe for performing the image acquisition with the Lightsheet Z.1; J. Thomas, S. Grade and M. Götz for providing the virus traced sample; J. Shrouder and N. Plesnila for providing the PDGFRb-EGFP mice; A. Ghasemigharagoz, A. Parra-Damas and F.P. Quacquarelli for help during the initial optimization and method development; M. Bralo and B. Forstera for help during the testing of some nanobodies; F. Hellal for critical reading of the manuscript. A.E. and Z.I.K. are members of the Graduate School of Systemic Neurosciences at the Ludwig Maximilian University of Munich.
Ethics declarations
Competing interests
A.E., R.C., C.P. and S.Z. have filed a patent related to vDISCO.
Peer review
Peer review information
Nature Protocols thanks Nicolas Renier and the other, anonymous, reviewer(s) for their contribution to the peer review of this work.
Supplementary information
Rights and permissions
Springer Nature or its licensor (e.g. a society or other partner) holds exclusive rights to this article under a publishing agreement with the author(s) or other rightsholder(s); author self-archiving of the accepted manuscript version of this article is solely governed by the terms of such publishing agreement and applicable law.
About this article
Cite this article
Cai, R., Kolabas, Z.I., Pan, C. et al. Whole-mouse clearing and imaging at the cellular level with vDISCO. Nat Protoc (2023). https://doi.org/10.1038/s41596-022-00788-2
Received:

Accepted:

Published:

DOI: https://doi.org/10.1038/s41596-022-00788-2
Comments
By submitting a comment you agree to abide by our Terms and Community Guidelines. If you find something abusive or that does not comply with our terms or guidelines please flag it as inappropriate.