Abstract
The mouse is a common and cost-effective animal model for basic research, and the number of genetically engineered mouse models with cardiac phenotype is increasing. In vivo electrophysiological study in mice is similar to that performed in humans. It is indispensable for acquiring intracardiac electrocardiogram recordings and determining baseline cardiac cycle intervals. Furthermore, the use of programmed electrical stimulation enables determination of parameters such as sinoatrial conduction time, sinus node recovery time, atrioventricular-nodal conduction properties, Wenckebach periodicity, refractory periods and arrhythmia vulnerability. This protocol describes specific procedures for determining these parameters that were adapted from analogous human protocols for use in mice. We include details of ex vivo electrophysiological study, which provides detailed insights into intrinsic cardiac electrophysiology without external influences from humoral and neural factors. In addition, we describe a heart preparation with intact innervation by the vagus nerve that can be used as an ex vivo model for vagal control of the cardiac conduction system. Data acquisition for in vivo and ex vivo electrophysiological study takes ~1 h per mouse, depending on the number of stimulation protocols applied during the procedure. The technique yields highly reliable results and can be used for phenotyping of cardiac disease models, elucidating disease mechanisms and confirming functional improvements in gene therapy approaches as well as for drug and toxicity testing.
This is a preview of subscription content
Access options
Subscribe to Nature+
Get immediate online access to the entire Nature family of 50+ journals
Subscribe to Journal
Get full journal access for 1 year
$119.00
only $9.92 per issue
All prices are NET prices.
VAT will be added later in the checkout.
Tax calculation will be finalised during checkout.
Buy article
Get time limited or full article access on ReadCube.
$32.00
All prices are NET prices.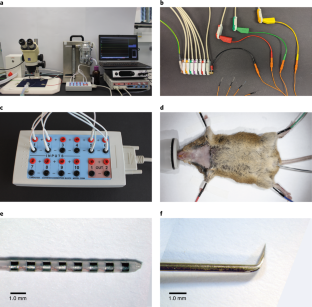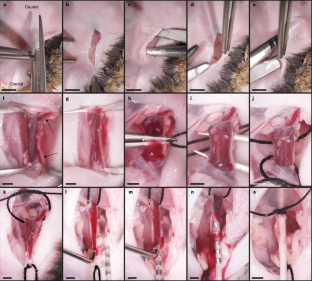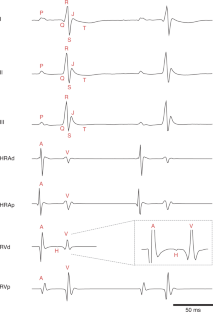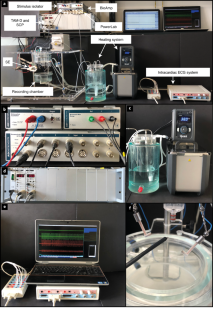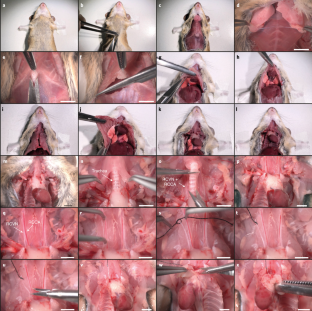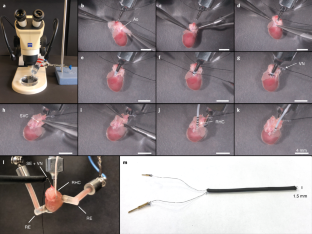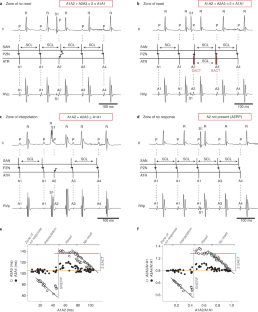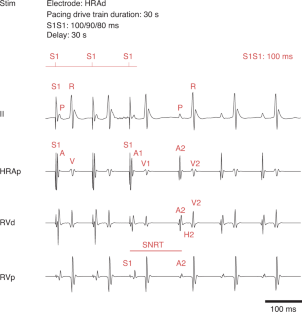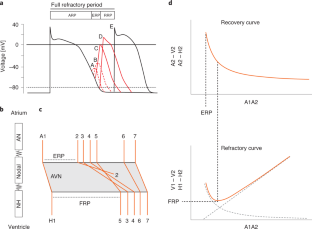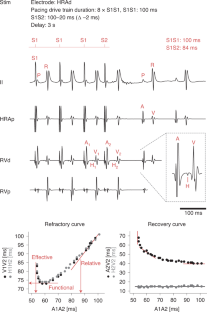 Data availability
The data supporting the findings of this study are available within the paper and its supplementary information files. Source data are provided with this paper.
References
Berul, C. I. Electrophysiological phenotyping in genetically engineered mice. Physiol. Genomics 13, 207–216 (2003).

Berul, C. I., Aronovitz, M. J., Wang, P. J. & Mendelsohn, M. E. In vivo cardiac electrophysiology studies in the mouse. Circulation 94, 2641–2648 (1996).

Li, N. & Wehrens, X.H. Programmed electrical stimulation in mice. J. Vis. Exp. https://doi.org/10.3791/1730 (2010).

Narula, O. S., Samet, P. & Javier, R. P. Significance of the sinus-node recovery time. Circulation 45, 140–158 (1972).

Rosenblueth, A. Functional refractory period of cardiac tissues. Am. J. Physiol. 194, 171–183 (1958).

Simson, M. B., Spear, J. & Moore, E. N. The relationship between atrioventricular nodal refractoriness and the functional refractory period in the dog. Circ. Res. 44, 121–126 (1979).

Strauss, H. C., Saroff, A. L., Bigger, J. T. Jr. & Giardina, E. G. Premature atrial stimulation as a key to the understanding of sinoatrial conduction in man. Presentation of data and critical review of the literature. Circulation 47, 86–93 (1973).

LaBarre, A. et al. Electrophysiologic effects of disopyramide phosphate on sinus node function in patients with sinus node dysfunction. Circulation 59, 226–235 (1979).

Saba, S., Wang, P. J. & Estes, N. A. 3rd. Invasive cardiac electrophysiology in the mouse: techniques and applications. Trends Cardiovasc. Med. 10, 122–132 (2000).

Fenske, S. et al. Sick sinus syndrome in HCN1-deficient mice. Circulation 128, 2585–2594 (2013).

Fenske, S. et al. cAMP-dependent regulation of HCN4 controls the tonic entrainment process in sinoatrial node pacemaker cells. Nat. Commun. 11, 5555 (2020).

Fenske, S. et al. Comprehensive multilevel in vivo and in vitro analysis of heart rate fluctuations in mice by ECG telemetry and electrophysiology. Nat. Protoc. 11, 61–86 (2016).

Hagendorff, A. et al. Conduction disturbances and increased atrial vulnerability in Connexin40-deficient mice analyzed by transesophageal stimulation. Circulation 99, 1508–1515 (1999).

Kaese, S. & Verheule, S. Cardiac electrophysiology in mice: a matter of size. Front. Physiol. 3, 345 (2012).

Verheule, S. et al. Cardiac conduction abnormalities in mice lacking the gap junction protein connexin40. J. Cardiovasc. Electrophysiol. 10, 1380–1389 (1999).

Coates, S. & Thwaites, B. The strength–duration curve and its importance in pacing efficiency: a study of 325 pacing leads in 229 patients. Pacing Clin. Electrophysiol. 23, 1273–1277 (2000).

Clasen, L. et al. A modified approach for programmed electrical stimulation in mice: inducibility of ventricular arrhythmias. PLoS ONE 13, e0201910 (2018).

Reiffel, J. A., Bigger, J. T. Jr. & Konstam, M. A. The relationship between sinoatrial conduction time and sinus cycle length during spontaneous sinus arrhythmia in adults. Circulation 50, 924–934 (1974).

Kugler, J. D., Gillette, P. C., Mullins, C. E. & McNamara, D. G. Sinoatrial conduction in children: an index of sinoatrial node function. Circulation 59, 1266–1276 (1979).

Jalife, J. The sucrose gap preparation as a model of AV nodal transmission: are dual pathways necessary for reciprocation and AV nodal "echoes"? Pacing Clin. Electrophysiol. 6, 1106–1122 (1983).

Rosenblueth, A. The operator of the atrioventricular node. Arch. Inst. Cardiol. Mex. 25, 171–193 (1955).

Paes de Carvalho, A. & de Almeida, D. F. Spread of activity through the atrioventricular node. Circ. Res. 8, 801–809 (1960).

Efimov, I. R. et al. Structure–function relationship in the AV junction. Anat. Rec. A Discov. Mol. Cell Evol. Biol. 280, 952–965 (2004).

Hoffman, B. F., De Carvalho, A. P. & De Mello, W. C. Transmembrane potentials of single fibres of the atrio-ventricular node. Nature 181, 66–67 (1958).

Billette, J. Atrioventricular nodal activation during periodic premature stimulation of the atrium. Am. J. Physiol. 252, H163–H177 (1987).

Katritsis, D. G. & Camm, A. J. Atrioventricular nodal reentrant tachycardia. Circulation 122, 831–840 (2010).

Hoffman, B. F. & Singer, D. H. Effects of digitalis on electrical activity of cardiac fibers. Prog. Cardiovasc. Dis. 7, 226–260 (1964).
Acknowledgements
This work was supported by the German Research Foundation (FE 1929/1-1, FE 1929/2-2, WA 2597/3-1, WA 2597/3-2, BI 484/5-1, BI 484/5-2, project P06 of TRR152).
Ethics declarations
Competing interests
The authors declare no competing interests.
Peer review
Peer review information
Nature Protocols thanks Alicia D'Souza, Roddy Hiram and Na Li for their contribution to the peer review of this work.
Supplementary information
About this article
Cite this article
Hennis, K., Rötzer, R.D., Rilling, J. et al. In vivo and ex vivo electrophysiological study of the mouse heart to characterize the cardiac conduction system, including atrial and ventricular vulnerability. Nat Protoc 17, 1189–1222 (2022). https://doi.org/10.1038/s41596-021-00678-z
Received:

Accepted:

Published:

Issue Date:

DOI: https://doi.org/10.1038/s41596-021-00678-z
Further reading
Konstantin Hennis
Martin Biel
Christian Wahl-Schott

Pflügers Archiv - European Journal of Physiology (2022)
Comments
By submitting a comment you agree to abide by our Terms and Community Guidelines. If you find something abusive or that does not comply with our terms or guidelines please flag it as inappropriate.