Abstract
Hepatic stellate cells (HSCs) are nonparenchymal liver cells responsible for extracellular matrix homeostasis and are the main cells involved in the development of liver fibrosis following injury. The lack of reliable sources of HSCs has hence limited the development of complex in vitro systems to model liver diseases and toxicity. Here we describe a protocol to differentiate human induced pluripotent stem cells (iPSCs) into hepatic stellate cells (iPSC-HSCs). The protocol is based on the addition of several growth factors important for liver development sequentially over 12 d. iPSC-HSCs present phenotypic and functional characteristics of primary HSCs and can be expanded or frozen and used to perform high-throughput in vitro studies. We also describe how to coculture iPSC-HSCs with hepatocytes, which self-assemble into three-dimensional (3D) hepatic spheroids. This protocol enables the generation of HSC-like cells for in vitro modeling and drug screening studies.
Access options
Subscribe to Journal
Get full journal access for 1 year
$99.00
only $8.25 per issue
All prices are NET prices.
VAT will be added later in the checkout.
Tax calculation will be finalised during checkout.
Rent or Buy article
Get time limited or full article access on ReadCube.
from$8.99
All prices are NET prices.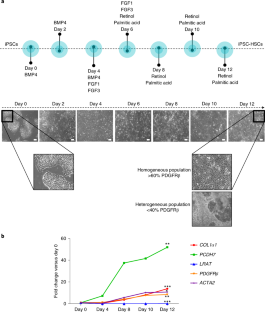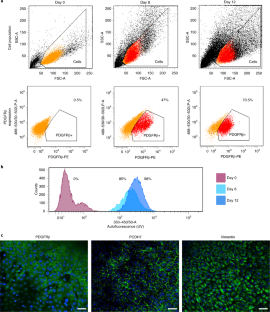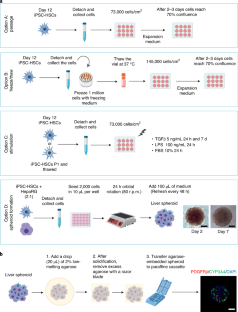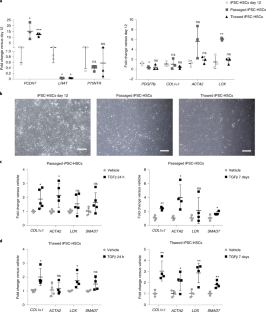 Data availability
The authors declare that all data supporting the findings of this study are available within the paper. Source data are provided with this paper.
Acknowledgements
This work was performed in Center Esther Koplowitz and Vrije Universiteit Brussel. We thank the Advanced Optical Microscopy Unit from the Scientific and Technological Centers of the University of Barcelona for their support with the confocal image technique. We are indebted to the Cytomics Unit of the Institut d'Investigacions Biomèdiques August Pi i Sunyer (IDIBAPS) for flow cytometry analysis. Figures were created using BioRender.com. P.S.-B. is supported by the Fondo de Investigación Sanitaria Carlos III, cofinanced by the Fondo Europeo de Desarrollo Regional (FEDER), Unión Europea, 'Una manera de hacer Europa' (FIS PI20/00765, PI17/00673), DTS18/00088, COST Action H2020 PRO-EURO-DILI-NET CA17112 and Miguel Servet (CPII16/00041) to P.S.-B., PFIS (FI18/00215) to R.M. and APIF to J.V. MC FIS (PI18/00862). I.M. is supported by an FWO–V post-doctoral fellowship (12N5419 N) and S.V. is supported by an FWO–V postdoctoral fellowship (1243121N). L.A.v.G is supported by FWO projects G042719N, FWO-SBO-S001121 'iPSC-LiMiC' and a 'Wetenschappelijk Fonds Willy Gepts' grant from the Vrije Universiteit Brussel. C.M.V. is supported by FWO-G0D9917N; IWT-140045, HILIM-3D; FWO-SBO-S001121, iPSC-LiMiC and the European Union's Horizon 2020 research and innovation program under grant agreement 681002 (EU-ToxRisk).
Ethics declarations
Competing interests
M.C., C.M.V. and P.S.-B. have a patent application PCT/EP2016/079464, and L.A.v.G. has a patent application PCT/EP2015/062551.
Additional information
Peer review information Nature Protocols thanks the anonymous reviewers for their contribution to the peer review of this work.
Publisher's note Springer Nature remains neutral with regard to jurisdictional claims in published maps and institutional affiliations.
Related links
Key reference using this protocol
Coll, M. et al. Cell Stem Cell 23, 101–113.e7 (2018): https://doi.org/10.1016/j.stem.2018.05.027
Supplementary information
About this article
Cite this article
Vallverdú, J., Martínez García de la Torre, R.A., Mannaerts, I. et al. Directed differentiation of human induced pluripotent stem cells to hepatic stellate cells. Nat Protoc 16, 2542–2563 (2021). https://doi.org/10.1038/s41596-021-00509-1
Received:

Accepted:

Published:

Issue Date:
Comments
By submitting a comment you agree to abide by our Terms and Community Guidelines. If you find something abusive or that does not comply with our terms or guidelines please flag it as inappropriate.