Abstract
Gut-associated lymphoid tissues (GALTs) comprise key intestinal immune inductive sites, including the Peyer's patches of the small intestine and different types of isolated lymphoid follicle (ILF) found along the length of the gut. Our understanding of human GALT is limited due to a lack of protocols for their isolation. Here we describe a technique that, uniquely among intestinal cell isolation protocols, allows identification and isolation of all human GALT, as well as GALT-free intestinal lamina propria (LP). The technique involves the mechanical separation of intestinal mucosa from the submucosa, allowing the identification and isolation of submucosal ILF (SM-ILF), LP-embedded mucosal ILF (M-ILF) and LP free of contaminating lymphoid tissue. Individual SM-ILF, M-ILF and Peyer's patch follicles can be subsequently digested for downstream cellular and molecular characterization. The technique, which takes 4–10 h, will be useful for researchers interested in intestinal immune development and function in health and disease.
Access options
Subscribe to Journal
Get full journal access for 1 year
$99.00
only $8.25 per issue
All prices are NET prices.
VAT will be added later in the checkout.
Tax calculation will be finalised during checkout.
Rent or Buy article
Get time limited or full article access on ReadCube.
from$8.99
All prices are NET prices.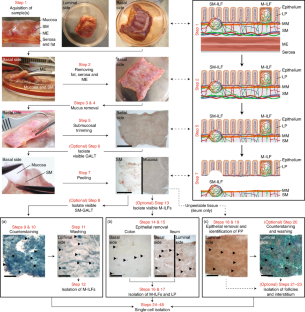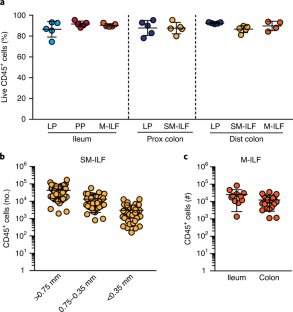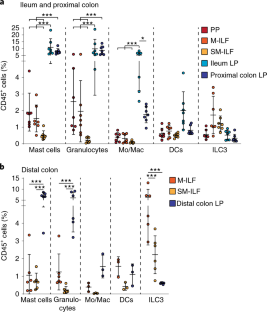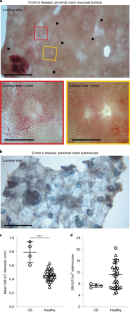 References
1.

Agace, W. W. & Mccoy, K. D. Immunity review regionalized development and maintenance of the intestinal adaptive immune landscape. Immunity 46, 532–548 (2017).

2.

Mowat, A. M. & Agace, W. W. Regional specialization within the intestinal immune system. Nat. Rev. Immunol. 14, 667–685 (2014).

3.

Trepel, F. Number and distribution of lymphocytes in man. A critical analysis. Klin. Wochenschr. 52, 511–515 (1974).

4.

Spencer, J. & Sollid, L. M. The human intestinal B-cell response. Mucosal Immunol. 9, 1113–1124 (2016).

5.

Spencer, J., Siu, J. H. Y. & Montorsi, L. Human intestinal lymphoid tissue in time and space. Mucosal Immunol. 12, 296–298 (2019).

6.

Smillie, C. S. et al. Intra- and Inter-cellular rewiring of the human colon during ulcerative colitis. Cell 178, 714–730.e22 (2019).

7.

Martin, J. C. et al. Single-cell analysis of Crohn's disease lesions identifies a pathogenic cellular module associated with resistance to anti-TNF therapy. Cell 178, 1493–1508.e20 (2019).

8.

Fenton, T. M. et al. Immune profiling of human gut-associated lymphoid tissue identifies a role for isolated lymphoid follicles in priming of region-specific immunity. Immunity 52, 557–570.e6 (2020).

9.

O'Leary, A. D. & Sweeney, E. C. Lymphoglandular complexes of the colon: structure and distribution. Histopathology 10, 267–283 (1986).

10.

Moghaddami, M., Cummins, A. & Mayrhofer, G. Lymphocyte-filled villi: comparison with other lymphoid aggregations in the mucosa of the human small intestine. Gastroenterology 115, 1414–1425 (1998).

11.

Senda, T. et al. Microanatomical dissection of human intestinal T-cell immunity reveals site-specific changes in gut-associated lymphoid tissues over life. Mucosal Immunol. 12, 378–389 (2019).

12.

Fujimura, Y., Hosobe, M. & Kihara, T. Ultrastructural study of M cells from colonic lymphoid nodules obtained by colonoscopic biopsy. Dig. Dis. Sci. 37, 1089–1098 (1992).

13.

Junker, Y. et al. Comparative analysis of mononuclear cells isolated from mucosal lymphoid follicles of the human ileum and colon. Clin. Exp. Immunol. 156, 232–237 (2009).

14.

Meier, D. et al. Immunological status of isolated lymphoid follicles after intestinal transplantation. Am. J. Transplant. 14, 2148–2158 (2014).

15.

Scott, C. L., Wright, P. B., Milling, S. W. F. & Mowat, A. M. Isolation and identification of conventional dendritic cell subsets from the intestine of mice and men. Methods Mol. Biol. 1423, 101–118 (2016).

16.

Dunne, M. R. Flow cytometric analysis of human small intestinal lymphoid cells. WebMD 1326, 61–66 (2016).

17.

Sitohy, B., Hammarström, S., Danielsson, Å. & Hammarström, M. L. Basal lymphoid aggregates in ulcerative colitis colon: a site for regulatory T cell action. Clin. Exp. Immunol. 151, 326–333 (2008).

18.

Gullberg, E. & Söderholm, J. D. Peyer's patches and M cells as potential sites of the inflammatory onset in Crohn's disease. Ann. NY Acad. Sci. 1072, 218–232 (2006).

19.

Liebler-Tenoria, E. M. & Pabst, R. MALT structure and function in farm animals. Vet. Res. 37, 257–280 (2006).

20.

Tang, S. & Wu, R. Ilececum: a comprehensive review. Can. J. Gastroenterol. Hepatol. 2019, 1–21 (2019).

21.

Matsui, A. et al. Real-time, near-infrared, fluorescence-guided identification of the ureters using methylene blue. Surgery 148, 78–86 (2010).

22.

Singhal, G. S. & Rabinowitch, E. Changes in the absorption spectrum of methylene blue with pH. J. Phys. Chem. 71, 3347–3349 (1967).

23.

Schreurs, R. R. C. E. et al. Quantitative comparison of human intestinal mononuclear leukocyte isolation techniques for flow cytometric analyses. J. Immunol. Methods 445, 45–52 (2017).

24.

Cornes, J. S. Number, size, and distribution of Peyer's patches in the human small intestine: Part I The development of Peyer's patches. Gut 6, 225–229 (1965).

25.

Cornes, J. S. Peyer's patches in the human gut. J. R. Soc. Med 58, 716 (1965).

26.

Van Kruiningen, H. J., West, A. B., Freda, B. J. & Holmes, K. A. Distribution of Peyer's patches in the distal ileum. Inflamm. Bowel Dis. 8, 180–185 (2002).

27.

Hellman, T. Untersuchung über die Menge des Lymphoide Gewebes, besonder des Darmes beim Menschen mittels einer quantitativen Bestimmungsmethode. Zeitschrift für die gesamte Anat 2, 191–219 (1922).

28.

Davies, J. et al. Methylene blue but not indigo carmine causes DNA damage to colonocytes in vitro and in vivo at concentrations used in clinical chromoendoscopy. Gut 56, 155–156 (2007).

29.

Hiraku, Y., Goto, H., Kohno, M., Kawanishi, S. & Murata, M. Metal-mediated oxidative DNA damage induced by methylene blue. Biochim. Biophys. Acta 1840, 2776–2782 (2014).

30.

Goodyear, A. W., Kumar, A., Dow, S. & Ryan, E. P. Optimization of murine small intestine leukocyte isolation for global immune phenotype analysis. J. Immunol. Methods 405, 97–108 (2014).

31.

Pimenta, E. M. & Barnes, B. J. Role of tertiary lymphoid structures (TLS) in anti-tumor immunity: Potential tumor-induced cytokines/chemokines that regulate TLS formation in epithelial-derived cancers. Cancers (Basel) 6, 969–997 (2014).

32.

Colbeck, E. J., Ager, A., Gallimore, A. & Jones, G. W. Tertiary lymphoid structures in cancer: drivers of antitumor immunity, immunosuppression, or bystander sentinels in disease? Front. Immunol. 8, 1–18 (2017).

33.

McNamee, E. N. & Rivera-Nieves, J. Ectopic tertiary lymphoid tissue in inflammatory bowel disease: protective or provocateur? Front. Immunol. 7, 308 (2016).

34.

Maoz, A., Dennis, M. & Greenson, J. K. The Crohn's-like lymphoid reaction to colorectal cancer-tertiary lymphoid structures with immunologic and potentially therapeutic relevance in colorectal cancer. Front. Immunol. 10, 1–9 (2019).
Acknowledgements
We thank all patients and collaborating staff at Herlev hospital and, in particular, the Gastroenterology Team (Department of Pathology) for help in providing tissue samples. We thank A. Mowat (Glasgow University) for valuable feedback during preparation of the manuscript and J. Vandamme for video editing assistance. This work was supported by grants from the Lundbeck Foundation (R155-2014-4184), Denmark, the Gut Cell Atlas, an initiative funded by the Leona M. and Harry B. Helmsley Charitable Trust, US, the Swedish Research Council (2017-02072) and the Swedish Cancerfonden (18 0598) to W.W.A.
Ethics declarations
Competing interests
The authors declare no competing interests.
Additional information
Peer review information Nature Protocols thanks the anonymous reviewers for their contribution to the peer review of this work.
Publisher's note Springer Nature remains neutral with regard to jurisdictional claims in published maps and institutional affiliations.
Related links
Key reference using this protocol
Fenton, T. M. et al. Immunity 17, 557–570.e6 (2020): https://doi.org/10.1016/j.immuni.2020.02.001
Supplementary information
About this article
Cite this article
Jørgensen, P.B., Fenton, T.M., Mörbe, U.M. et al. Identification, isolation and analysis of human gut-associated lymphoid tissues. Nat Protoc 16, 2051–2067 (2021). https://doi.org/10.1038/s41596-020-00482-1
Received:

Accepted:

Published:

Issue Date:
Further reading
Urs M. Mörbe

,

Peter B. Jørgensen

,

Thomas M. Fenton

,

Nicole von Burg

,

Lene B. Riis

,

Jo Spencer

&

William W. Agace

Mucosal Immunology (2021)
Comments
By submitting a comment you agree to abide by our Terms and Community Guidelines. If you find something abusive or that does not comply with our terms or guidelines please flag it as inappropriate.