Abstract
Lignin is one of the most promising sources of renewable aromatic hydrocarbons. Current methods for its extraction from lignocellulosic biomass—which include the kraft, sulfite, and organosolv processes—result in the rapid formation of carbon–carbon bonds, leading to a condensed lignin that cannot be effectively depolymerized into its constituent monomers. Treatment of lignocellulosic biomass with aldehydes during lignin extraction generates an aldehyde-stabilized lignin that is uncondensed and can be converted into its monomers at near-theoretical yields. Here, we outline an efficient, reproducible, and scalable process for extracting and purifying this aldehyde-stabilized lignin as a solid, which can easily be re-dissolved in an organic solvent. Upon exposure to hydrogenolysis conditions, this material provides near-theoretical yields of aromatic monomers (~40–50% of the Klason lignin for a typical hardwood). Cellulose and hemicellulose are also efficiently fractionated. This protocol requires 6–7 h for the extraction of the stabilized lignin and a basic proficiency in synthetic chemistry.
Relevant articles
Open Access articles citing this article.
Yuting Zhou

,

Grace E. Klinger

…

James E. Jackson

Nature Communications Open Access 19 April 2022

Zhi-Hua Liu

,

Naijia Hao

…

Joshua S. Yuan

Nature Communications Open Access 23 June 2021

Peng Ning

,

Guofeng Yang

…

Jianming Yang

Biotechnology for Biofuels Open Access 23 April 2021
Access options
Subscribe to Nature+
Get immediate online access to Nature and 55 other Nature journal
Subscribe to Journal
Get full journal access for 1 year
$99.00
only $8.25 per issue
All prices are NET prices.
VAT will be added later in the checkout.
Tax calculation will be finalised during checkout.
Buy article
Get time limited or full article access on ReadCube.
$32.00
All prices are NET prices.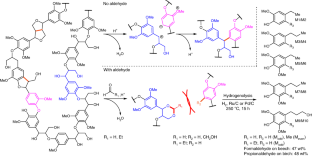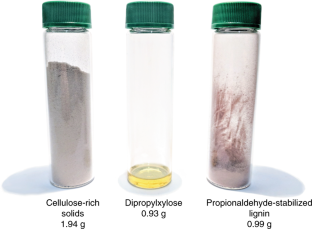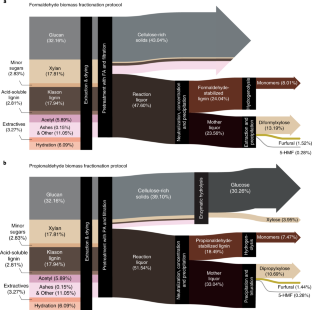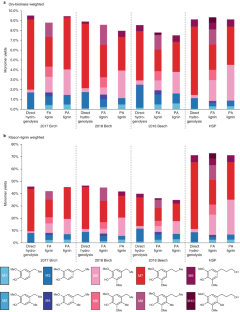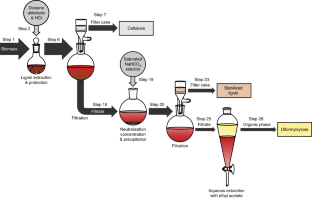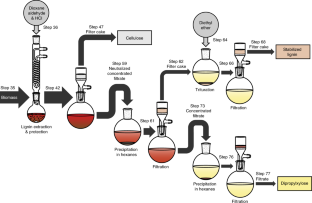 Data availability
The exemplary data that were produced in support of the described procedures are available from the corresponding author upon reasonable request.
References
BP. BP Statistical Review of World Energy. https://www.bp.com/content/dam/bp/business-sites/en/global/corporate/pdfs/energy-economics/statistical-review/bp-stats-review-2018-full-report.pdf (2018).

Cox, P. M., Betts, R. A., Jones, C. D., Spall, S. A. & Totterdell, I. J. Acceleration of global warming due to carbon-cycle feedbacks in a coupled climate model. Nature 408, 184–187 (2000).

Sabine, C. L. et al. The oceanic sink for anthropogenic CO2. Science 305, 367–371 (2004).

Shuai, L. & Luterbacher, J. Organic solvent effects in biomass conversion reactions. ChemSusChem 9, 133–155 (2016).

Van den Bosch, S. et al. Catalytic strategies towards lignin-derived chemicals. Top. Curr. Chem. (Cham). 376, 36 (2018).

Isikgor, F. H. & Becer, C. R. Lignocellulosic biomass: a sustainable platform for the production of bio-based chemicals and polymers. Polym. Chem. 6, 4497–4559 (2015).

Kaparaju, P., Serrano, M., Thomsen, A. B., Kongjan, P. & Angelidaki, I. Bioethanol, biohydrogen and biogas production from wheat straw in a biorefinery concept. Bioresour. Technol. 100, 2562–2568 (2009).

Banerjee, A., Dick, G. R., Yoshino, T. & Kanan, M. W. Carbon dioxide utilization via carbonate-promoted C–H carboxylation. Nature 531, 215–219 (2016).

Dick, G. R., Frankhouser, A. D., Banerjee, A. & Kanan, M. W. A scalable carboxylation route to furan-2,5-dicarboxylic acid. Green Chem 19, 2966–2972 (2017).

Zakzeski, J., Bruijnincx, P. C. A., Jongerius, A. L. & Weckhuysen, B. M. The catalytic valorization of lignin for the production of renewable chemicals. Chem. Rev. 110, 3552–3599 (2010).

Alvira, P., Tomás-Pejó, E., Ballesteros, M. & Negro, M. J. Pretreatment technologies for an efficient bioethanol production process based on enzymatic hydrolysis: a review. Bioresour. Technol. 101, 4851–4861 (2010).

Ragnar, M. et al. Pulp. in Ullmann's Encyclopedia of Industrial Chemistry (ed. Elvers, B. et al.) 1–92 (Wiley-VCH, Weinheim, Germany, 2014).

Luterbacher, J. S., Martin Alonso, D. & Dumesic, J. A. Targeted chemical upgrading of lignocellulosic biomass to platform molecules. Green Chem. 16, 4816–4838 (2014).

Tadesse, H. & Luque, R. Advances on biomass pretreatment using ionic liquids: an overview. Energy Environ. Sci. 4, 3913–3929 (2011).

Luterbacher, J. S. et al. Nonenzymatic sugar production from biomass using biomass-derived γ-valerolactone. Science 343, 277–280 (2014).

Shuai, L., Questell-Santiago, Y. M. & Luterbacher, J. S. A mild biomass pretreatment using γ-valerolactone for concentrated sugar production. Green Chem. 18, 937–943 (2016).

Ragauskas, A. J. et al. Lignin valorization: improving lignin processing in the biorefinery. Science 344, 1246843–1246843 (2014).

Sturgeon, M. R. et al. A mechanistic investigation of acid-catalyzed cleavage of aryl-ether linkages: Implications for lignin depolymerization in acidic environments. ACS Sustain. Chem. Eng. 2, 472–485 (2014).

Van den Bosch, S. et al. Integrating lignin valorization and bio-ethanol production: on the role of Ni-Al 2 O 3 catalyst pellets during lignin-first fractionation. Green Chem. 19, 3313–3326 (2017).

Xu, C., Arancon, R. A. D., Labidi, J. & Luque, R. Lignin depolymerisation strategies: towards valuable chemicals and fuels. Chem. Soc. Rev. 43, 7485–7500 (2014).

Roberts, V. M. et al. Towards quantitative catalytic lignin depolymerization. Chem. Eur. J. 17, 5939–5948 (2011).

Lai, C. et al. Lignin alkylation enhances enzymatic hydrolysis of lignocellulosic biomass. Energy Fuels 31, 12317–12326 (2017).

Shuai, L. et al. Formaldehyde stabilization facilitates lignin monomer production during biomass depolymerization. Science 354, 329–333 (2016).

Lan, W., Amiri, M. T., Hunston, C. M. & Luterbacher, J. S. Protection group effects during α,γ-diol lignin stabilization promote high-selectivity monomer production. Angew. Chem. Int. Ed. 57, 1356–1360 (2018).

Sluiter, J. & Sluiter, A. Summative Mass Closure: Laboratory Analytical Procedure (LAP) Review and Integration. https://www.nrel.gov/docs/gen/fy11/48087.pdf (National Renewable Energy Laboratory, 2011).

Galkin, M. V. & Samec, J. S. M. Selective route to 2-propenyl aryls directly from wood by a tandem Organosolv and palladium-catalysed transfer hydrogenolysis. ChemSusChem 7, 2154–2158 (2014).

Yan, N. et al. Selective degradation of wood lignin over noble‐metal catalysts in a two‐step process. ChemSusChem 1, 626–629 (2008).

Parsell, T. et al. A synergistic biorefinery based on catalytic conversion of lignin prior to cellulose starting from lignocellulosic biomass. Green Chem. 17, 1492–1499 (2015).

Van den Bosch, S. et al. Reductive lignocellulose fractionation into soluble lignin-derived phenolic monomers and dimers and processable carbohydrate pulps. Energy Environ. Sci. 8, 1748–1763 (2015).

Phongpreecha, T. et al. Predicting lignin depolymerization yields from quantifiable properties using fractionated biorefinery lignins. Green Chem. 19, 5131–5143 (2017).

Schutyser, W. et al. Chemicals from lignin: an interplay of lignocellulose fractionation, depolymerisation, and upgrading. Chem. Soc. Rev. 47, 852–908 (2018).

Van Den Bosch, S. et al. Tuning the lignin oil OH-content with Ru and Pd catalysts during lignin hydrogenolysis on birch wood. Chem. Commun. 51, 13158–13161 (2015).

Van Den Bosch, S. et al. Reductive lignocellulose fractionation into soluble lignin-derived phenolic monomers and dimers and processable carbohydrate pulps. Energy Environ. Sci. 8, 1748–1763 (2015).

Pepper, J. M. & Lee, Y. W. Lignin and related compounds. I. A comparative study of catalysts for lignin hydrogenolysis. Can. J. Chem. 47, 723–727 (1969).

Chang, H., Cowling, E. B. & Brown, W. Comparative studies on cellulolytic enzyme lignin and milled wood lignin of sweetgum and spruce. Holzforschung 29, 153–159 (1975).

Maekawa, E., Ichizawa, T. & Koshijima, T. An evaluation of the acid-soluble lignin determination in analyses of lignin by the sulfuric acid method. J. Wood Chem. Technol. 9, 549–567 (1989).

Kaar, W. E. & Brink, D. L. Simplified analysis of acid soluble lignin. J. Wood Chem. Technol. 11, 465–477 (1991).

Yuan, G., Qi, C., Wu, W. & Jiang, H. Recent advances in organic synthesis with CO2 as C1 synthon. Curr. Opin. Green Sustain. Chem. 3, 22–27 (2017).
Acknowledgements
This work was supported by the European Research Council (ERC) under the European Union's Horizon 2020 research and innovation program (starting grant: CATACOAT, no. 758653), the Swiss National Science Foundation through grant PYAPP2_154281, and the École Polytechnique Fédérale de Lausanne. This work was also accomplished within the framework of the Swiss Competence Center for Bioenergy Research (SCCER-BIOSWEET). We thank L. Menin and D. Ortiz of the SSMI mass spectrometry facility at EPFL for their assistance. We thank W. Lan for helpful discussions during the preparation of the manuscript, especially for the structural assignments of the lignin NMRs.
Ethics declarations
Competing interests
The authors declare competing interests. J.S.L. is an inventor on a European patent application (EP16165180.7) that was submitted by EPFL and covers methods for producing lignin monomers from biomass during biomass depolymerization.
Additional information
Journal peer review information: Nature Protocols thanks Robert Brown and other (anonymous) reviewer(s) for their contribution to the peer review of this work.
Publisher's note: Springer Nature remains neutral with regard to jurisdictional claims in published maps and institutional affiliations.
Related links
Key references using this protocol
Shuai, L. et al. Science. 354, 329–333 (2016): http://science.sciencemag.org/content/354/6310/329
Lan, W. et al. Angew. Chem. Int. Ed. 57, 1356–1360 (2018): https://onlinelibrary.wiley.com/doi/abs/10.1002/anie.201710838
Integrated supplementary information
Supplementary information
Supplementary Figures 1–16
About this article
Cite this article
Talebi Amiri, M., Dick, G.R., Questell-Santiago, Y.M. et al. Fractionation of lignocellulosic biomass to produce uncondensed aldehyde-stabilized lignin. Nat Protoc 14, 921–954 (2019). https://doi.org/10.1038/s41596-018-0121-7
Received:

Accepted:

Published:

Issue Date:

DOI: https://doi.org/10.1038/s41596-018-0121-7
Comments
By submitting a comment you agree to abide by our Terms and Community Guidelines. If you find something abusive or that does not comply with our terms or guidelines please flag it as inappropriate.