Abstract
Human induced pluripotent stem cells (hiPSCs) have a number of potential applications in stem cell biology and regenerative medicine, including precision medicine. However, their potential clinical application is hampered by the low efficiency, high costs, and heavy workload of the reprogramming process. Here we describe a protocol to reprogram human somatic cells to hiPSCs with high efficiency in 15 d using microfluidics. We successfully downscaled an 8-d protocol based on daily transfections of mRNA encoding for reprogramming factors and immune evasion proteins. Using this protocol, we obtain hiPSC colonies (up to 160 ± 20 mean ± s.d (n = 48)) in a single 27-mm2 microfluidic chamber) 15 d after seeding ~1,500 cells per independent chamber and under xeno-free defined conditions. Only ~20 µL of medium is required per day. The hiPSC colonies extracted from the microfluidic chamber do not require further stabilization because of the short lifetime of mRNA. The high success rate of reprogramming in microfluidics, under completely defined conditions, enables hundreds of cells to be simultaneously reprogrammed, with an ~100-fold reduction in costs of raw materials compared to those for standard multiwell culture conditions. This system also enables the generation of hiPSCs suitable for clinical translation or further research into the reprogramming process.
Relevant articles
Open Access articles citing this article.
Giovanni Marco Nocera

,

Gaetano Viscido

…

Diego di Bernardo

Communications Biology Open Access 29 September 2022

Araceli Rivera-Ordaz

,

Valeria Peli

…

Lorenza Lazzari

BioDrugs Open Access 02 November 2021

Onelia Gagliano

,

Camilla Luni

…

Nicola Elvassore

Nature Communications Open Access 26 October 2021
Access options
Subscribe to Nature+
Get immediate online access to Nature and 55 other Nature journal
Subscribe to Journal
Get full journal access for 1 year
$99.00
only $8.25 per issue
All prices are NET prices.
VAT will be added later in the checkout.
Tax calculation will be finalised during checkout.
Buy article
Get time limited or full article access on ReadCube.
$32.00
All prices are NET prices.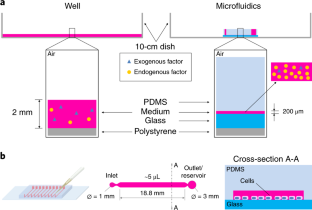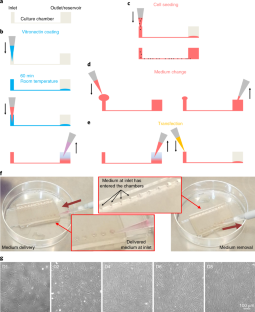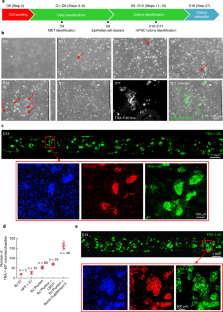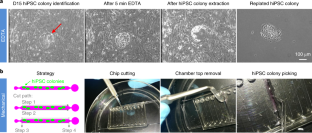 References
Takahashi, K. et al. Induction of pluripotent stem cells from adult human fibroblasts by defined factors. Cell 131, 861–872 (2007).

Luni, C. et al. High-efficiency cellular reprogramming with microfluidics. Nat. Methods 13, 446–452 (2016).

Banito, A. et al. Senescence impairs successful reprogramming to pluripotent stem cells. Genes Dev. 23, 2134–2139 (2009).

Luni, C., Serena, E. & Elvassore, N. Human-on-chip for therapy development and fundamental science. Curr. Opin. Biotechnol. 25, 45–50 (2014).

Giobbe, G. G. et al. Functional differentiation of human pluripotent stem cells on a chip. Nat. Methods 12, 1–7 (2015).

Gagliano, O., Elvassore, N. & Luni, C. Microfluidic technology enhances the potential of human pluripotent stem cells. Biochem. Biophys. Res. Commun. 473, 683–687 (2016).

Poleganov, M. A. et al. Efficient reprogramming of human fibroblasts and blood-derived endothelial progenitor cells using nonmodified RNA for reprogramming and immune evasion. Hum. Gene Ther. 26, 751–766 (2015).

Yoshida, Y., Takahashi, K., Okita, K., Ichisaka, T. & Yamanaka, S. Hypoxia enhances the generation of induced pluripotent stem cells. Cell Stem Cell 5, 237–241 (2009).

Beers, J. et al. Passaging and colony expansion of human pluripotent stem cells by enzyme-free dissociation in chemically defined culture conditions. Nat. Protoc. 7, 2029–2040 (2012).

Fusaki, N., Ban, H., Nishiyama, A., Saeki, K. & Hasegawa, M. Efficient induction of transgene-free human pluripotent stem cells using a vector based on Sendaivirus, an RNA virus that does not integrate into the host genome. Proc. Japan Acad. Ser. B 85, 348–362 (2009).

Schlaeger, T. M. et al. A comparison of non-integrating reprogramming methods. Nat. Biotechnol. 33, 58–63 (2015).

Churko, J. M. et al. Transcriptomic and epigenomic differences in human induced pluripotent stem cells generated from six reprogramming methods. Nat. Biomed. Eng. 1, 826–837 (2017).

Okita, K. et al. A more efficient method to generate integration-free human iPS cells. Nat. Methods 8, 409–412 (2011).

Yoshioka, N. et al. Efficient generation of human iPSCs by a synthetic self-replicative RNA. Cell Stem Cell 13, 246–254 (2013).

Warren, L. et al. Highly efficient reprogramming to pluripotency and directed differentiation of human cells with synthetic modified mRNA. Cell Stem Cell 7, 618–630 (2010).

Mandal, P. K. & Rossi, D. J. Reprogramming human fibroblasts to pluripotency using modified mRNA. Nat. Protoc. 8, 568–582 (2013).

Kogut, I. et al. High-efficiency RNA-based reprogramming of human primary fibroblasts. Nat. Commun. 9, 745 (2018).

Melin, J. & Quake, S. R. Microfluidic large-scale integration: the evolution of design rules for biological automation. Annu. Rev. Biophys. Biomol. Struct. 36, 213–231 (2007).

Qin, D., Xia, Y. & Whitesides, G. M. Soft lithography for micro- and nanoscale patterning. Nat. Protoc. 5, 491–502 (2010).

Martí, M. et al. Characterization of pluripotent stem cells. Nat. Protoc. 8, 223–253 (2013).

Cacchiarelli, D. et al. Integrative analyses of human reprogramming reveal dynamic nature of induced pluripotency. Cell 162, 412–424 (2015).

Mali, P. et al. Butyrate greatly enhances derivationÿof human induced pluripotent stem cells by promoting epigenetic remodeling and the expression of pluripotency-associated genes. Stem Cells 28, 713–720 (2010).

Zhu, S. et al. Reprogramming of human primary somatic cells by OCT4 and chemical compounds. Cell Stem Cell 7, 651–655 (2010).

Ichida, J. K. et al. A small-molecule inhibitor of Tgf-β signaling replaces Sox2 in reprogramming by inducing Nanog. Cell Stem Cell 5, 491–503 (2009).
Acknowledgements
This work was supported by the Natural Science Foundation of China (31601178), ShanghaiTech University, the University of Padova (TRANSAC and PRAT), the CaRiPaRo Foundation, the Telethon Foundation (GGP15275), and an Oak Foundation Award (W1095/OCAY-14-191).
Ethics declarations
Competing interests
O.G., C.L., and N.E. are co-inventors on patent applications describing the reprogramming and differentiation processes in microfluidics: application nos. PD2013A000220, IT UA20162645 and 102016000039189, and PCT/IB2017/052167. O.G. and N.E. are cofounders of uSTEM Srl and Onyel Biotech Srl.
Integrated supplementary information
Supplementary information
About this article
Cite this article
Gagliano, O., Luni, C., Qin, W. et al. Microfluidic reprogramming to pluripotency of human somatic cells. Nat Protoc 14, 722–737 (2019). https://doi.org/10.1038/s41596-018-0108-4
Received:

Accepted:

Published:

Issue Date:

DOI: https://doi.org/10.1038/s41596-018-0108-4
Comments
By submitting a comment you agree to abide by our Terms and Community Guidelines. If you find something abusive or that does not comply with our terms or guidelines please flag it as inappropriate.