Abstract
N-methyl-d-aspartate (NMDA) receptors are heterotetramers comprising two GluN1 and two alternate GluN2 (N2A-N2D) subunits. Here we report full-length cryo-EM structures of the human N1-N2D di-heterotetramer (di-receptor), rat N1-N2C di-receptor and N1-N2A-N2C tri-heterotetramer (tri-receptor) at a best resolution of 3.0 Å. The bilobate N-terminal domain (NTD) in N2D intrinsically adopts a closed conformation, leading to a compact NTD tetramer in the N1-N2D receptor. Additionally, crosslinking the ligand-binding domain (LBD) of two N1 protomers significantly elevated the channel open probability (Po) in N1-N2D di-receptors. Surprisingly, the N1-N2C di-receptor adopted both symmetric (minor) and asymmetric (major) conformations, the latter further locked by an allosteric potentiator, PYD-106, binding to a pocket between the NTD and LBD in only one N2C protomer. Finally, the N2A and N2C subunits in the N1-N2A-N2C tri-receptor display a conformation close to one protomer in the N1-N2A and N1-N2C di-receptors, respectively. These findings provide a comprehensive structural understanding of diverse function in major NMDA receptor subtypes.
Relevant articles
Open Access articles citing this article.
Jesse E. Hanson

,

Hongjie Yuan

…

Stephen F. Traynelis

Neuropsychopharmacology Open Access 27 June 2023
Access options
Access Nature and 54 other Nature Portfolio journals
Get Nature+, our best-value online-access subscription
$29.99 / 30 days
cancel any time
Subscribe to this journal
Receive 12 print issues and online access
$189.00 per year
only $15.75 per issue
Rent or buy this article
Prices vary by article type
from$1.95
to$39.95
Prices may be subject to local taxes which are calculated during checkout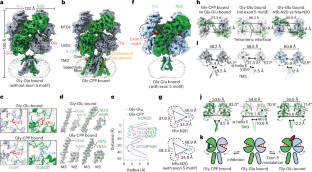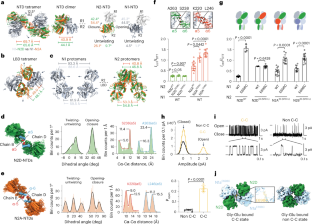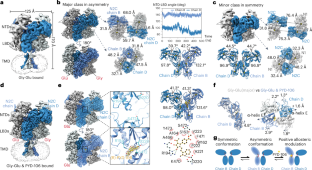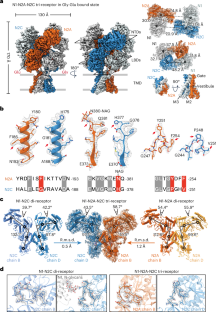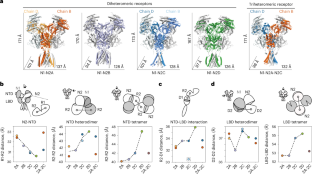 Data availability
Cryo-EM density maps and structural coordinates have been deposited in the Electron Microscopy Database and Protein Data Bank under accession codes EMD-33792 and PDB 7YFL for Gly-Glu bound N1a-N2D, EMD-33788 and PDB 7YFF for Gly-CPP bound N1a-N2D, EMD-33795 and PDB 7YFO for crosslinked N1aE698C-N2D, EMD-33798 and PDB 7YFR for non-crosslinked N1aE698C-N2D, EMD-33793 and PDB 7YFM for Gly-Glu bound N1b-N2D, EMD-33789 and PDB 7YFG for Gly-Glu bound N1a-N2C in the asymmetric conformation, EMD-34674 and PDB 8HDK for Gly-Glu bound N1a-N2C in the symmetric conformation, EMD-33790 and PDB 7YFH for PYD-106 bound N1a-GluN2C, and EMD-33791 and PDB 7YFI for Gly-Glu bound N1a-N2A-N2C receptors, respectively. Additional data that support the findings of this study are available from the corresponding author upon request. Source data are provided with this paper.
References
Traynelis, S. F. et al. Glutamate receptor ion channels: structure, regulation and function. Pharm. Rev. 62, 405–496 (2010).

Paoletti, P., Bellone, C. & Zhou, Q. NMDA receptor subunit diversity: impact on receptor properties, synaptic plasticity and disease. Nat. Rev. Neurosci. 14, 383–400 (2013).

Zhu, S. & Paoletti, P. Allosteric modulators of NMDA receptors: multiple sites and mechanisms. Curr. Opin. Pharmacol. 20, 14–23 (2015).

Stroebel, D. & Paoletti, P. Architecture and function of NMDA receptors: an evolutionary perspective. J. Physiol. 599, 2615–2638 (2021).

Monyer, H., Burnashev, N., Laurie, D. J., Sakmann, B. & Seeburg, P. H. Developmental and regional expression in the rat brain and functional properties of four NMDA receptors. Neuron 12, 529–540 (1994).

Lu, C. et al. NMDA receptor subtypes at autaptic synapses of cerebellar granule neurons. J. Neurophysiol. 96, 2282–2294 (2006).

Ravikrishnan, A. et al. Region-specific expression of NMDA receptor GluN2C subunit in parvalbumin-positive neurons and astrocytes: analysis of GluN2C expression using a novel reporter model. Neuroscience 380, 49–62 (2018).

Yamasaki, M. et al. Opposing role of NMDA receptor GluN2B and GluN2D in somatosensory development and maturation. J. Neurosci. 34, 11534–11548 (2014).

Mao, Z. et al. NMDA receptors containing GluN2C and GluN2D subunits have opposing roles in modulating neuronal oscillations; potential mechanism for bidirectional feedback. Brain Res. 1727, 146571 (2020).

Tsuchida, N. et al. GRIN2D variants in three cases of developmental and epileptic encephalopathy. Clin. Genet. 94, 538–547 (2018).

XiangWei, W. et al. Heterogeneous clinical and functional features of GRIN2D-related developmental and epileptic encephalopathy. Brain 142, 3009–3027 (2019).

Zhang, X., Feng, Z. J. & Chergui, K. GluN2D-containing NMDA receptors inhibit neurotransmission in the mouse striatum through a cholinergic mechanism: implication for Parkinson's disease. J. Neurochem. 129, 581–590 (2014).

Feng, Z. J., Zhang, X. & Chergui, K. Allosteric modulation of NMDA receptors alters neurotransmission in the striatum of a mouse model of Parkinson's disease. Exp. Neurol. 255, 154–160 (2014).

Liu, J. et al. Facilitation of GluN2C-containing NMDA receptors in the external globus pallidus increases firing of fast spiking neurons and improves motor function in a hemiparkinsonian mouse model. Neurobiol. Dis. 150, 105254 (2021).

Khlestova, E., Johnson, J. W., Krystal, J. H. & Lisman, J. The role of GluN2C-containing NMDA receptors in ketamine's psychotogenic action and in schizophrenia models. J. Neurosci. 36, 11151–11157 (2016).

Shelkar, G. P., Gandhi, P. J., Liu, J. & Dravid, S. M. Cocaine preference and neuroadaptations are maintained by astrocytic NMDA receptors in the nucleus accumbens. Sci. Adv. 8, eabo6574 (2022).

Salimando, G. J., Hyun, M., Boyt, K. M. & Winder, D. G. BNST GluN2D-containing NMDA receptors influence anxiety- and depressive-like behaviors and modulate cell-specific excitatory/inhibitory synaptic balance. J. Neurosci. 40, 3949–3968 (2020).

Karakas, E. & Furukawa, H. Crystal structure of a heterotetrameric NMDA receptor ion channel. Science 344, 992–997 (2014).

Lee, C. H. et al. NMDA receptor structures reveal subunit arrangement and pore architecture. Nature 511, 191–197 (2014).

Tajima, N. et al. Activation of NMDA receptors and the mechanism of inhibition by ifenprodil. Nature 534, 63–68 (2016).

Zhu, S. et al. Mechanism of NMDA receptor inhibition and activation. Cell 165, 704–714 (2016).

Jalali-Yazdi, F., Chowdhury, S., Yoshioka, C. & Gouaux, E. Mechanisms for zinc and proton inhibition of the GluN1/GluN2A NMDA receptor. Cell 175, 1520–1532 (2018).

Zhang, J. B. et al. Structural basis of the proton sensitivity of human GluN1-GluN2A NMDA receptors. Cell Rep. 25, 3582–3590 (2018).

Chou, T. H., Tajima, N., Romero-Hernandez, A. & Furukawa, H. Structural basis of functional transitions in mammalian NMDA receptors. Cell 182, 357–371 (2020).

Wang, H. et al. Gating mechanism and a modulatory niche of human GluN1-GluN2A NMDA receptors. Neuron 109, 2443–2456 (2021).

Zhang, Y. et al. Structural basis of ketamine action on human NMDA receptors. Nature 596, 301–305 (2021).

Regan, M. C. et al. Structural mechanism of functional modulation by gene splicing in NMDA receptors. Neuron 98, 521–529 (2018).

Vance, K. M., Hansen, K. B. & Traynelis, S. F. GluN1 splice variant control of GluN1/GluN2D NMDA receptors. J. Physiol. 590, 3857–3875 (2012).

Gielen, M., Siegler Retchless, B., Mony, L., Johnson, J. W. & Paoletti, P. Mechanism of differential control of NMDA receptor activity by NR2 subunits. Nature 459, 703–707 (2009).

Yuan, H., Hansen, K. B., Vance, K. M., Ogden, K. K. & Traynelis, S. F. Control of NMDA receptor function by the NR2 subunit amino-terminal domain. J. Neurosci. 29, 12045–12058 (2009).

Rachline, J., Perin-Dureau, F., Le Goff, A., Neyton, J. & Paoletti, P. The micromolar zinc-binding domain on the NMDA receptor subunit NR2B. J. Neurosci. 25, 308–317 (2005).

Sullivan, J. M. et al. Identification of two cysteine residues that are required for redox modulation of the NMDA subtype of glutamate receptor. Neuron 13, 929–936 (1994).

Rosenmund, C., Clements, J. D. & Westbrook, G. L. Nonuniform probability of glutamate release at a hippocampal synapse. Science 262, 754–757 (1993).

Zhu, S., Stroebel, D., Yao, C. A., Taly, A. & Paoletti, P. Allosteric signaling and dynamics of the clamshell-like NMDA receptor GluN1 N-terminal domain. Nat. Struct. Mol. Biol. 20, 477–485 (2013).

Riou, M., Stroebel, D., Edwardson, J. M. & Paoletti, P. An alternating GluN1-2-1-2 subunit arrangement in mature NMDA receptors. PLoS ONE 7, e35134 (2012).

Esmenjaud, J. B. et al. An inter-dimer allosteric switch controls NMDA receptor activity. EMBO J. 38, e99894 (2019).

Dravid, S. M., Prakash, A. & Traynelis, S. F. Activation of recombinant NR1/NR2C NMDA receptors. J. Physiol. 586, 4425–4439 (2008).

Zimmerman, S. S. et al. Design, synthesis and structure-activity relationship of a novel series of GluN2C-selective potentiators. J. Med. Chem. 57, 2334–2356 (2014).

Khatri, A. et al. Structural determinants and mechanism of action of a GluN2C-selective NMDA receptor positive allosteric modulator. Mol. Pharmacol. 86, 548–560 (2014).

Bhattacharya, S. et al. Triheteromeric GluN1/GluN2A/GluN2C NMDARs with unique single-channel properties are the dominant receptor population in cerebellar granule cells. Neuron 99, 315–328 (2018).

Kaiser, T. M. et al. The bioactive protein-ligand conformation of GluN2C-selective positive allosteric modulators bound to the NMDA receptor. Mol. Pharmacol. 93, 141–156 (2018).

Cathala, L., Misra, C. & Cull-Candy, S. Developmental profile of the changing properties of NMDA receptors at cerebellar mossy fiber-granule cell synapses. J. Neurosci. 20, 5899–5905 (2000).

Jalali-Yazdi, F. & Gouaux, E. NMDA receptors' structural asymmetry. Microsc. Microanal. 25, 1218–1219 (2019).

Lu, W., Du, J., Goehring, A. & Gouaux, E. Cryo-EM structures of the triheteromeric NMDA receptor and its allosteric modulation. Science 355, eaal3729 (2017).

Goehring, A. et al. Screening and large-scale expression of membrane proteins in mammalian cells for structural studies. Nat. Protoc. 9, 2574–2585 (2014).

Li, D. et al. GRIN2D recurrent de novo dominant mutation causes a severe epileptic encephalopathy treatable with NMDA receptor channel blockers. Am. J. Hum. Genet. 99, 802–816 (2016).

Zheng, S. Q. et al. MotionCor2: anisotropic correction of beam-induced motion for improved cryo-electron microscopy. Nat. Methods 14, 331–332 (2017).

Zhang, K. Gctf: real-time CTF determination and correction. J. Struct. Biol. 193, 1–12 (2016).

Scheres, S. H. RELION: implementation of a Bayesian approach to cryo-EM structure determination. J. Struct. Biol. 180, 519–530 (2012).

Fernandez-Leiro, R. & Scheres, S. H. W. A pipeline approach to single-particle processing in RELION. Acta Crystallogr. D Struct. Biol. 73, 496–502 (2017).

Punjani, A., Rubinstein, J. L., Fleet, D. J. & Brubaker, M. A. cryoSPARC: algorithms for rapid unsupervised cryo-EM structure determination. Nat. Methods 14, 290–296 (2017).

Arnold, K., Bordoli, L., Kopp, J. & Schwede, T. The SWISS-MODEL workspace: a web-based environment for protein structure homology modelling. Bioinformatics 22, 195–201 (2006).

Pettersen, E. F. et al. UCSF ChimeraX: structure visualization for researchers, educators and developers. Protein Sci. 30, 70–82 (2021).

Trabuco, L. G., Villa, E., Mitra, K., Frank, J. & Schulten, K. Flexible fitting of atomic structures into electron microscopy maps using molecular dynamics. Structure 16, 673–683 (2008).

Huang, J. et al. CHARMM36m: an improved force field for folded and intrinsically disordered proteins. Nat. Methods 14, 71–73 (2017).

Allen, M. P. & Tildesley, D. J. Computer Simulation of Liquids 2nd edn (Oxford Univ. Press, 2017); https://doi.org/10.1093/oso/9780198803195.001.0001

Ghosh, A., Rapp, C. S. & Friesner, R. A. Generalized Born model based on a surface integral formulation. J. Phys. Chem. B 102, 10983–10990 (1998).

Tsui, V. C. & Case, D. A. Molecular dynamics simulations of nucleic acids with a generalized Born solvation model. J. Am. Chem. Soc. 122, 2489–2498 (2000).

Emsley, P. & Cowtan, K. Coot: model-building tools for molecular graphics. Acta Crystallogr. D Biol. Crystallogr. 60, 2126–2132 (2004).

Afonine, P. V. et al. Real-space refinement in PHENIX for cryo-EM and crystallography. Acta Crystallogr. D Struct. Biol. 74, 531–544 (2018).

Kucukelbir, A., Sigworth, F. J. & Tagare, H. D. Quantifying the local resolution of cryo-EM density maps. Nat. Methods 11, 63–65 (2014).

Battle, A. R., Petrov, E., Pal, P. & Martinac, B. Rapid and improved reconstitution of bacterial mechanosensitive ion channel proteins MscS and MscL into liposomes using a modified sucrose method. FEBS Lett. 583, 407–412 (2009).

Jo, S., Kim, T., Iyer, V. G. & Im, W. CHARMM-GUI: a web-based graphical user interface for CHARMM. J. Comput. Chem. 29, 1859–1865 (2008).

Abraham, M. J. et al. GROMACS: high performance molecular simulations through multi-level parallelism from laptops to supercomputers. SoftwareX 1–2, 19–25 (2015).

Lee, J. et al. CHARMM-GUI input generator for NAMD, GROMACS, AMBER, OpenMM and CHARMM/OpenMM simulations using the CHARMM36 additive force field. J. Chem. Theory Comput. 12, 405–413 (2016).

Jorgensen W, C. J. & Madura, J. Comparison of simple potential functions for simulating liquid water. J. Chem. Phys. 79, 926–935 (1983).

Essmann, U. et al. A smooth particle mesh Ewald method. J. Chem. Phys. 103, 8577–8593 (1995).

Bussi, G., Donadio, D. & Parrinello, M. Canonical sampling through velocity rescaling. J. Chem. Phys. 126, 014101 (2007).

Parrinello, M. & Rahman, A. Polymorphic transitions in single crystals: a new molecular dynamics method. J. Appl. Phys. 52, 7182–7190 (1981).

Hess, B., Bekker, H., Berendsen, H. J. C. C. & Fraaije, J. G. E. M. E. M. LINCS: a linear constraint solver for molecular simulations. J. Comput. Chem. 18, 1463–1472 (1997).

Zeng, W. F., Cao, W. Q., Liu, M. Q., He, S. M. & Yang, P. Y. Precise, fast and comprehensive analysis of intact glycopeptides and modified glycans with pGlyco3. Nat. Methods 18, 1515–1523 (2021).
Acknowledgements
We thank Y. Kong and L. Pan at the Electron Microscopy Facilities of the Center for Excellence in Brain Science and Technology, Chinese Academy of Sciences for assistance with sample screen. We thank B. Zhu and X. Li at the Center for Biological Imaging (CBI), Institute of Biophysics, Chinese Academy of Sciences, Q. Wang and Y. Zhou at the Electron Microscopy Facility, Shanghai Institute of Materia Medica (SIMM), Chinese Academy of Sciences, and Q. Sun and Y. Wang at the Bio-Electron Microscopy Facility, ShanghaiTech University for their help in cryo-EM data collection. We thank Y. Jia at Fudan University for assistance with single-channel recordings. We acknowledge the technological support of the biological mass spectrometry station of Dalian Coherent Light Source. We are grateful to M. Poo for proofreading. We gratefully acknowledge financial support from the STI2030-Major Project (2022ZD0212700), the National Natural Science Foundation of China (32221003), the Lingang Laboratory (LG 202106-02), the Strategic Priority Research Program of Chinese Academy of Science (XDBS01020000), the Shanghai Municipal Science and Technology Major Project (2018SHZDZX05) and the CAS Youth Interdisciplinary Team to S.Z.
Ethics declarations
Competing interests
The authors declare no competing interests.
Peer review
Peer review information
Nature Structural & Molecular Biology thanks Albert Lau, Lonnie P Wollmuth and the other, anonymous, reviewer(s) for their contribution to the peer review of this work. Primary Handling Editor: Katarzyna Ciazynska, in collaboration with the Nature Structural & Molecular Biology team. Peer reviewer reports are available.
Additional information
Publisher's note Springer Nature remains neutral with regard to jurisdictional claims in published maps and institutional affiliations.
Supplementary information
This video displays the conformational change of the asymmetric N1-N2C di-heteromeric receptor from Gly-Glu to Gly-Glu and PYD-106 bound states, aligned with entire extracellular domains. N1 and N2C subunits are colored in grey and blue, respectively. Upon PYD-106 binding to the N2C of chain B, the relative rotation between NTD and LBD is illustrated.
This video shows the top-down views of asymmetric N1-N2C and N1-N2A (PDB, 6MMP) di-receptors, with N2C (chain B, D) and N2A (chain B, D) colored in blue and orange, respectively. For N1-N2A-N2C tri-receptors, chain B of N2A and chain D of N2C are integrated into the tri-heteromeric receptor assemble.
Rights and permissions
Springer Nature or its licensor (e.g. a society or other partner) holds exclusive rights to this article under a publishing agreement with the author(s) or other rightsholder(s); author self-archiving of the accepted manuscript version of this article is solely governed by the terms of such publishing agreement and applicable law.
About this article
Cite this article
Zhang, J., Zhang, M., Wang, Q. et al. Distinct structure and gating mechanism in diverse NMDA receptors with GluN2C and GluN2D subunits. Nat Struct Mol Biol 30, 629–639 (2023). https://doi.org/10.1038/s41594-023-00959-z
Received:

Accepted:

Published:

Issue Date:

DOI: https://doi.org/10.1038/s41594-023-00959-z
This article is cited by
Jesse E. Hanson
Hongjie Yuan
Stephen F. Traynelis

Neuropsychopharmacology (2023)