Abstract
HIV-1 Gag metamorphoses inside each virion, from an immature lattice that forms during viral production to a mature capsid that drives infection. Here we show that the immature lattice is required to concentrate the cellular metabolite inositol hexakisphosphate (IP6) into virions to catalyze mature capsid assembly. Disabling the ability of HIV-1 to enrich IP6 does not prevent immature lattice formation or production of the virus. However, without sufficient IP6 molecules inside each virion, HIV-1 can no longer build a stable capsid and fails to become infectious. IP6 cannot be replaced by other inositol phosphate (IP) molecules, as substitution with other IPs profoundly slows mature assembly kinetics and results in virions with gross morphological defects. Our results demonstrate that while HIV-1 can become independent of IP6 for immature assembly, it remains dependent upon the metabolite for mature capsid formation.
Access options
Subscribe to Nature+
Get immediate online access to Nature and 55 other Nature journal
Subscribe to Journal
Get full journal access for 1 year
$99.00
only $8.25 per issue
All prices are NET prices.
VAT will be added later in the checkout.
Tax calculation will be finalised during checkout.
Buy article
Get time limited or full article access on ReadCube.
$32.00
All prices are NET prices.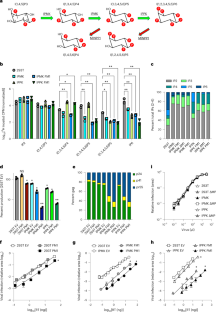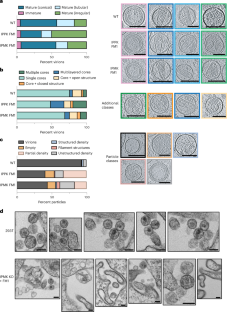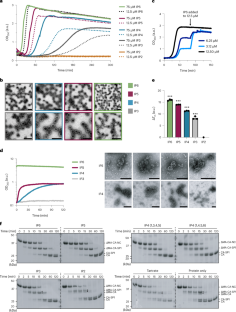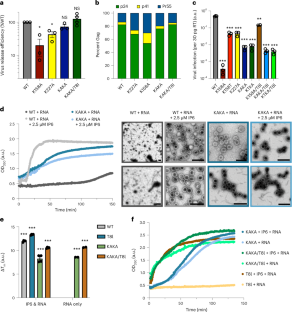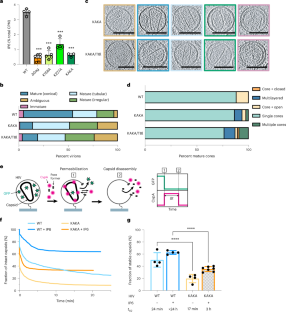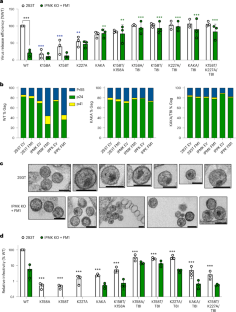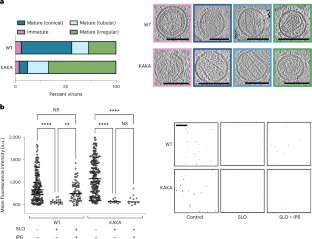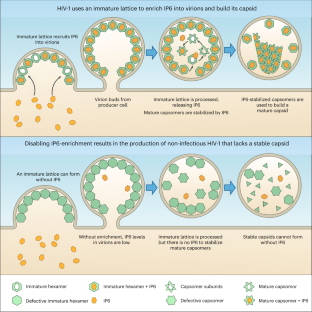 References
Dick, R. A. et al. Inositol phosphates are assembly co-factors for HIV-1. Nature 560, 509–512 (2018).

Mallery, D. L. et al. IP6 is an HIV pocket factor that prevents capsid collapse and promotes DNA synthesis. eLife 7, e35335 (2018).

Mallery, D. L. et al. Cellular IP6 levels limit HIV production while viruses that cannot efficiently package IP6 are attenuated for infection and replication. Cell Rep. 29, 3983–3996 (2019).

Ricana, C. L., Lyddon, T. D., Dick, R. A. & Johnson, M. C. Primate lentiviruses require inositol hexakisphosphate (IP6) or inositol pentakisphosphate (IP5) for the production of viral particles. PLoS Pathog. 16, e1008646 (2020).

Sowd, G. A. & Aiken, C. Inositol phosphates promote HIV-1 assembly and maturation to facilitate viral spread in human CD4+ T cells. PLoS Pathog. 17, e1009190 (2021).

Qiu, D. et al. Analysis of inositol phosphate metabolism by capillary electrophoresis electrospray ionization mass spectrometry. Nat. Commun. 11, 6035 (2020).

Letcher, A. J., Schell, M. J. & Irvine, R. F. Do mammals make all their own inositol hexakisphosphate? Biochem. J. 416, 263–270 (2008).

Mallery, D. L. et al. A stable immature lattice packages IP6 for HIV capsid maturation. Sci. Adv. 7, eabe4716 (2021).

Xu, C. et al. Permeability of the HIV-1 capsid to metabolites modulates viral DNA synthesis. PLoS Biol. 18, e3001015 (2020).

Jacques, D. A. et al. HIV-1 uses dynamic capsid pores to import nucleotides and fuel encapsidated DNA synthesis. Nature 536, 349–353 (2016).

Lanman, J., Sexton, J., Sakalian, M. & Prevelige, P. E.Jr. Kinetic analysis of the role of intersubunit interactions in human immunodeficiency virus type 1 capsid protein assembly in vitro. J. Virol. 76, 6900–6908 (2002).

Kucharska, I. et al. Biochemical reconstitution of HIV-1 assembly and maturation. J. Virol. 94, e01844-19 (2020).

Endres, D. & Zlotnick, A. Model-based analysis of assembly kinetics for virus capsids or other spherical polymers. Biophys. J. 83, 1217–1230 (2002).

Chi, H. et al. Targeted deletion of Minpp1 provides new insight into the activity of multiple inositol polyphosphate phosphatase in vivo. Mol. Cell. Biol. 20, 6496–6507 (2000).

Clift, D. et al. A method for the acute and rapid degradation of endogenous proteins. Cell 171, 1692–1706 (2017).

Dostalkova, A. et al. In vitro quantification of the effects of IP6 and other small polyanions on immature HIV-1 particle assembly and core stability. J. Virol. 94, e00991-20 (2020).

Marquez, C. L. et al. Kinetics of HIV-1 capsid uncoating revealed by single-molecule analysis. eLife 7, e34772 (2018).

Loeb, D. D. et al. Complete mutagenesis of the HIV-1 protease. Nature 340, 397–400 (1989).

Marquez, C. L. et al. Fluorescence microscopy assay to measure HIV-1 capsid uncoating kinetics in vitro. Bio Protoc. 9, e3297 (2019).

Renner, N. et al. A lysine ring in HIV capsid pores coordinates IP6 to drive mature capsid assembly. PLoS Pathog. 17, e1009164 (2021).

Veiga, N. et al. The behaviour of myo-inositol hexakisphosphate in the presence of magnesium(II) and calcium(II): protein-free soluble InsP6 is limited to 49 μM under cytosolic/nuclear conditions. J. Inorg. Biochem. 100, 1800–1810 (2006).

Obr, M. et al. Structure of the mature Rous sarcoma virus lattice reveals a role for IP6 in the formation of the capsid hexamer. Nat. Commun. 12, 3226 (2021).

Azevedo, C. & Saiardi, A. Extraction and analysis of soluble inositol polyphosphates from yeast. Nat. Protoc. 1, 2416–2422 (2006).

Zennou, V., Perez-Caballero, D., Gottlinger, H. & Bieniasz, P. D. APOBEC3G incorporation into human immunodeficiency virus type 1 particles. J. Virol. 78, 12058–12061 (2004).

Naldini, L. et al. In vivo gene delivery and stable transduction of nondividing cells by a lentiviral vector. Science 272, 263–267 (1996).

Price, A. J. et al. Host cofactors and pharmacologic ligands share an essential interface in HIV-1 capsid that is lost upon disassembly. PLoS Pathog. 10, e1004459 (2014).

Vermeire, J. et al. Quantification of reverse transcriptase activity by real-time PCR as a fast and accurate method for titration of HIV, lenti- and retroviral vectors. PLoS ONE 7, e50859 (2012).

Waheed, A. A., Ono, A. & Freed, E. O. Methods for the study of HIV-1 assembly. Methods Mol. Biol. 485, 163–184 (2009).

Toohey, K., Wehrly, K., Nishio, J., Perryman, S. & Chesebro, B. Human immunodeficiency virus envelope V1 and V2 regions influence replication efficiency in macrophages by affecting virus spread. Virology 213, 70–79 (1995).

Wehrly, K. & Chesebro, B. p24 antigen capture assay for quantification of human immunodeficiency virus using readily available inexpensive reagents. Methods 12, 288–293 (1997).

Mastronarde, D. N. Automated electron microscope tomography using robust prediction of specimen movements. J. Struct. Biol. 152, 36–51 (2005).

Kremer, J. R., Mastronarde, D. N. & McIntosh, J. R. Computer visualization of three-dimensional image data using IMOD. J. Struct. Biol. 116, 71–76 (1996).

Nguyen, H. L. et al. An efficient procedure for the expression and purification of HIV-1 protease from inclusion bodies. Protein Expr. Purif. 116, 59–65 (2015).
Acknowledgements
This work was supported by the Medical Research Council (MRC UK; U105181010), a Wellcome Trust Investigator Award (200594/Z/16/Z), a Wellcome Trust Collaborator Award (214344/A/18/Z) to L.C.J. and an NHMRC grant (APP1182212) to T.B. Research in the Freed laboratory is supported by the Intramural Research Program of the Center for Cancer Research, National Cancer Institute, National Institutes of Health. A.K. was supported in part by an Intramural AIDS Research Fellowship. A.S. is supported by MRC UK grant no. MR/T028904/1. We are grateful to the MRC-LMB Electron Microscopy Facility for access and support with electron microscopy sample preparation and data collection, the MRC-LMB Light Microscopy facility, in particular J. Boulanger, for help with TIRF image analysis and the MRC-LMB Visual Aids department. We thank V. Shah for help with particle production and TIRF assays at UNSW.
Ethics declarations
Competing interests
The authors declare no competing interests.
Peer review
Peer review information
Nature Structural & Molecular Biology thanks Alan Engelman, Hans-Georg Kräusslich and the other, anonymous, reviewer(s) for their contribution to the peer review of this work. Primary Handling Editor: Beth Moorefield, in collaboration with the Nature Structural & Molecular Biology team. Peer reviewer reports are available.
Additional information
Publisher's note Springer Nature remains neutral with regard to jurisdictional claims in published maps and institutional affiliations.
Supplementary information
Supplementary Table 1 Calculated IP5 and IP6 levels in modified 293T cell lines. Based on quantified levels in 293T cells as published (33247133) and relative IP levels measured from IPs extracted from modified cells grown in tritiated inositol, as shown in Fig. 2b.
Rights and permissions
Springer Nature or its licensor (e.g. a society or other partner) holds exclusive rights to this article under a publishing agreement with the author(s) or other rightsholder(s); author self-archiving of the accepted manuscript version of this article is solely governed by the terms of such publishing agreement and applicable law.
About this article
Cite this article
Renner, N., Kleinpeter, A., Mallery, D.L. et al. HIV-1 is dependent on its immature lattice to recruit IP6 for mature capsid assembly. Nat Struct Mol Biol (2023). https://doi.org/10.1038/s41594-022-00887-4
Received:

Accepted:

Published:

DOI: https://doi.org/10.1038/s41594-022-00887-4