Abstract
Serotonin receptors are important targets for established therapeutics and drug development as they are expressed throughout the human body and play key roles in cell signaling. There are 12 serotonergic G protein-coupled receptor members encoded in the human genome, of which the 5-hydroxytryptamine (5-HT)5A receptor (5-HT5AR) is the least understood and lacks selective tool compounds. Here, we report four high-resolution (2.73–2.80 Å) structures of human 5-HT5ARs, including an inactive state structure bound to an antagonist AS2674723 by crystallization and active state structures bound to a partial agonist lisuride and two full agonists, 5-carboxamidotryptamine (5-CT) and methylergometrine, by cryo-EM. Leveraging the new structures, we developed a highly selective and potent antagonist for 5-HT5AR. Collectively, these findings both enhance our understanding of this enigmatic receptor and provide a roadmap for structure-based drug discovery for 5-HT5AR.
Access options
Subscribe to Nature+
Get immediate online access to the entire Nature family of 50+ journals
Subscribe to Journal
Get full journal access for 1 year
$99.00
only $8.25 per issue
All prices are NET prices.
VAT will be added later in the checkout.
Tax calculation will be finalised during checkout.
Buy article
Get time limited or full article access on ReadCube.
$32.00
All prices are NET prices.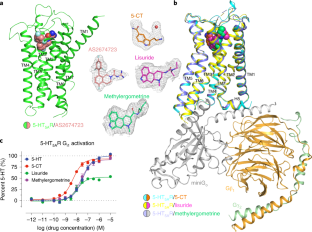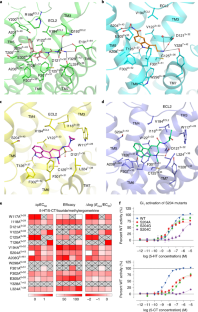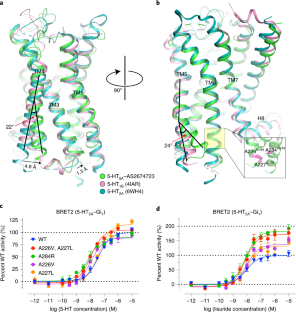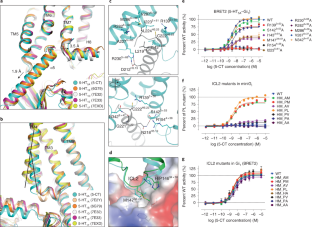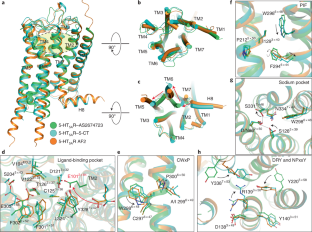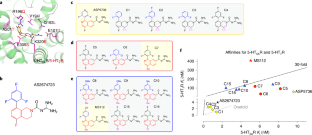 Data availability
The structures of 5-HT5AR–AS2674723, 5-HT5AR–miniGo–5-CT, 5-HT5AR–miniGo–lisuride and 5-HT5AR–miniGo–methylergometrine have been deposited in the PDB (EMDB) under accession codes 7UM4, 7UM5 (EMD-26597), 7UM6 (EMD-26598) and 7UM7 (EMD-26599). The cryo-EM micrographs of 5-HT5AR–miniGo–5-CT, 5-HT5AR–miniGo–lisuride and 5-HT5AR–miniGo–methylergometrine have been deposited in the EMPIAR database (https://www.ebi.ac.uk/empiar/) with accession numbers EMPIAR-11033, EMPIAR-11036 and EMPIAR-11039, respectively. Source data are provided with this paper.
References
Barnes, N. M. et al. International Union of Basic and Clinical Pharmacology. CX. Classification of receptors for 5-hydroxytryptamine; pharmacology and function. Pharmacol. Rev. 73, 310–520 (2021).

Berger, M., Gray, J. A. & Roth, B. L. The expanded biology of serotonin. Annu. Rev. Med. 60, 355–366 (2009).

Grailhe, R. et al. Increased exploratory activity and altered response to LSD in mice lacking the 5-HT5A receptor. Neuron 22, 581–591 (1999).

Pierce, P. A., Xie, G. X., Levine, J. D. & Peroutka, S. J. 5-Hydroxytryptamine receptor subtype messenger RNAs in rat peripheral sensory and sympathetic ganglia: a polymerase chain reaction study. Neuroscience 70, 553–559 (1996).

Sagi, Y. et al. Emergence of 5-HT5A signaling in parvalbumin neurons mediates delayed antidepressant action. Mol. Psychiatry 25, 1191–1201 (2020).

Pasqualetti, M. et al. Distribution of the 5-HT5A serotonin receptor mRNA in the human brain. Brain Res. Mol. Brain Res. 56, 1–8 (1998).

Corbett, D. F. et al. Discovery of a potent and selective 5-HT5A receptor antagonist by high-throughput chemistry. Bioorg. Med. Chem. Lett. 15, 4014–4018 (2005).

Yamazaki, M., Okabe, M., Yamamoto, N., Yarimizu, J. & Harada, K. Novel 5-HT5A receptor antagonists ameliorate scopolamine-induced working memory deficit in mice and reference memory impairment in aged rats. J. Pharmacol. Sci. 127, 362–369 (2015).

Yamazaki, M. et al. ASP5736, a novel 5-HT5A receptor antagonist, ameliorates positive symptoms and cognitive impairment in animal models of schizophrenia. Eur. Neuropsychopharmacol. 24, 1698–1708 (2014).

Levit Kaplan, A. et al. Structure-based design of a chemical probe set for the 5-HT5A serotonin receptor. J. Med. Chem. 65, 4201–4217 (2022).

Erlander, M. G. et al. Two members of a distinct subfamily of 5-hydroxytryptamine receptors differentially expressed in rat brain. Proc. Natl Acad. Sci. USA 90, 3452–3456 (1993).

Rees, S. et al. Cloning and characterisation of the human 5-HT5A serotonin receptor. FEBS Lett. 355, 242–246 (1994).

Francken, B. J., Jurzak, M., Vanhauwe, J. F., Luyten, W. H. & Leysen, J. E. The human 5-HT5A receptor couples to Gi/Go proteins and inhibits adenylate cyclase in HEK 293 cells. Eur. J. Pharmacol. 361, 299–309 (1998).

Chun, E. et al. Fusion partner toolchest for the stabilization and crystallization of G protein-coupled receptors. Structure 20, 967–976 (2012).

Isberg, V. et al. Generic GPCR residue numbers—aligning topology maps while minding the gaps. Trends Pharmacol. Sci. 36, 22–31 (2015).

Popov, P. et al. Computational design of thermostabilizing point mutations for G protein-coupled receptors. eLife 7, e34729 (2018).

Olsen, R. H. J. et al. TRUPATH, an open-source biosensor platform for interrogating the GPCR transducerome. Nat. Chem. Biol. 16, 841–849 (2020).

Garcia-Nafria, J., Nehme, R., Edwards, P. C. & Tate, C. G. Cryo-EM structure of the serotonin 5-HT1B receptor coupled to heterotrimeric Go. Nature 558, 620–623 (2018).

Duan, J. et al. Cryo-EM structure of an activated VIP1 receptor–G protein complex revealed by a NanoBiT tethering strategy. Nat. Commun. 11, 4121 (2020).

Xu, P. et al. Structural insights into the lipid and ligand regulation of serotonin receptors. Nature 592, 469–473 (2021).

Bach, T. et al. 5HT4(a) and 5-HT4(b) receptors have nearly identical pharmacology and are both expressed in human atrium and ventricle. Naunyn Schmiedebergs Arch. Pharmacol. 363, 146–160 (2001).

Grailhe, R., Grabtree, G. W. & Hen, R. Human 5-HT5 receptors: the 5-HT5A receptor is functional but the 5-HT5B receptor was lost during mammalian evolution. Eur. J. Pharmacol. 418, 157–167 (2001).

Kim, K. et al. Structure of a hallucinogen-activated Gq-coupled 5-HT2A serotonin receptor. Cell 182, 1574–1588 (2020).

Wan, Q. et al. Mini G protein probes for active G protein-coupled receptors (GPCRs) in live cells. J. Biol. Chem. 293, 7466–7473 (2018).

Wacker, D., Stevens, R. C. & Roth, B. L. How ligands illuminate GPCR molecular pharmacology. Cell 170, 414–427 (2017).

Weis, W. I. & Kobilka, B. K. The molecular basis of G protein-coupled receptor activation. Annu. Rev. Biochem. 87, 897–919 (2018).

Katritch, V., Cherezov, V. & Stevens, R. C. Structure–function of the G protein-coupled receptor superfamily. Annu. Rev. Pharmacol. Toxicol. 53, 531–556 (2013).

Che, T. et al. Structure of the nanobody-stabilized active state of the κ opioid receptor. Cell 172, 55–67 (2018).

White, K. L. et al. Structural connection between activation microswitch and allosteric sodium site in GPCR signaling. Structure 26, 259–269 (2018).

Katritch, V. et al. Allosteric sodium in class A GPCR signaling. Trends Biochem. Sci. 39, 233–244 (2014).

Jumper, J. et al. Highly accurate protein structure prediction with AlphaFold. Nature 596, 583–589 (2021).

Hamaguchi, W. et al. Tetrahydroisoquinoline derivative. US patent 8,962,612 B2 (2015).

Kinoyama, I. et al. Nitrogenous-ring acylguanidine derivative. US patent 8,853,242 B2 (2014).

Cournia, Z., Allen, B. & Sherman, W. Relative binding free energy calculations in drug discovery: recent advances and practical considerations. J. Chem. Inf. Model. 57, 2911–2937 (2017).

Schrödinger Release 2020-4: FEP+ (Schrödinger, 2021).

Caffrey, M. & Cherezov, V. Crystallizing membrane proteins using lipidic mesophases. Nat. Protoc. 4, 706–731 (2009).

Cao, C. et al. Structure, function and pharmacology of human itch GPCRs. Nature 600, 170–175 (2021).

Peck, J. V., Fay, J. F. & Strauss, J. D. High-speed high-resolution data collection on a 200 keV cryo-TEM. IUCrJ 9, 243–252 (2022).

Mastronarde, D. N. Automated electron microscope tomography using robust prediction of specimen movements. J. Struct. Biol. 152, 36–51 (2005).

Bepler, T., Kelley, K., Noble, A. J. & Berger, B. Topaz-Denoise: general deep denoising models for cryoEM and cryoET. Nat. Commun. 11, 5208 (2020).

Punjani, A., Rubinstein, J. L., Fleet, D. J. & Brubaker, M. A. cryoSPARC: algorithms for rapid unsupervised cryo-EM structure determination. Nat. Methods 14, 290–296 (2017).

Punjani, A., Zhang, H. & Fleet, D. J. Non-uniform refinement: adaptive regularization improves single-particle cryo-EM reconstruction. Nat. Methods 17, 1214–1221 (2020).

Rosenthal, P. B. & Henderson, R. Optimal determination of particle orientation, absolute hand, and contrast loss in single-particle electron cryomicroscopy. J. Mol. Biol. 333, 721–745 (2003).

Heymann, J. B. & Belnap, D. M. Bsoft: image processing and molecular modeling for electron microscopy. J. Struct. Biol. 157, 3–18 (2007).

Sanchez-Garcia, R. et al. DeepEMhancer: a deep learning solution for cryo-EM volume post-processing. Commun. Biol. 4, 874 (2021).

Pettersen, E. F. et al. UCSF Chimera—a visualization system for exploratory research and analysis. J. Comput. Chem. 25, 1605–1612 (2004).

Emsley, P. & Cowtan, K. Coot: model-building tools for molecular graphics. Acta Crystallogr. D Biol. Crystallogr. 60, 2126–2132 (2004).

Adams, P. D. et al. PHENIX: a comprehensive Python-based system for macromolecular structure solution. Acta Crystallogr. D Biol. Crystallogr. 66, 213–221 (2010).

Chen, V. B. et al. MolProbity: all-atom structure validation for macromolecular crystallography. Acta Crystallogr. D Biol. Crystallogr. 66, 12–21 (2010).

Olsson, M. H., Sondergaard, C. R., Rostkowski, M. & Jensen, J. H. PROPKA3: consistent treatment of internal and surface residues in empirical pKa predictions. J. Chem. Theory Comput. 7, 525–537 (2011).

Harder, E. et al. OPLS3: a force field providing broad coverage of drug-like small molecules and proteins. J. Chem. Theory Comput. 12, 281–296 (2016).

Abel, R., Wang, L., Harder, E. D., Berne, B. J. & Friesner, R. A. Advancing drug discovery through enhanced free energy calculations. Acc. Chem. Res. 50, 1625–1632 (2017).
Acknowledgements
This work was supported by US National Institutes of Health grants RO1MH112205 and U24DK1169195 (to B.L.R.) and by R35GM122481 (to B.K.S.). This work also used the NMR spectrometer systems at Mount Sinai, acquired with funding from National Institutes of Health SIG grants 1S10OD025132 and 1S10OD028504 (to J.J.). We gratefully acknowledge M.J. Miley and the UNC macromolecular crystallization core for the use of their equipment for crystal collection and transport along with the UNC Flow Cytometry Core Facility. Both facilities are supported in part by a P30 CA016086 Cancer Center Core Support Grant to the UNC Lineberger Comprehensive Cancer Center. We also thank the staff of GM/CA@APS, which has been funded with federal funds from the National Cancer Institute (ACB-12002) and the National Institute of General Medical Sciences (AGM-12006). This research used resources of the Advanced Photon Source, a US Department of Energy Office of Science User Facility operated for the Department of Energy Office of Science by Argonne National Laboratory under contract no. DE-AC02-06CH11357. We thank J. Peck and J. Strauss of the UNC CryoEM Core Facility for their excellent technical assistance with this project. We are grateful to Schrödinger for the academic grant of FEP+ and multiple other tools in their software suite. The Titan X Pascal used for this research was kindly donated to J.F.F. by Nvidia.
Ethics declarations
Competing interests
B.K.S. serves on the SAB of Schrödinger. The remaining authors declare no competing interests.
Peer review
Peer review information
Nature Structural and Molecular Biology thanks Yunje Cho and the other, anonymous, reviewer(s) for their contribution to the peer review of this work. Primary Handling Editor: Florian Ullrich, in collaboration with the Nature Structural & Molecular Biology team. Peer reviewer reports are available.
Additional information
Publisher's note Springer Nature remains neutral with regard to jurisdictional claims in published maps and institutional affiliations.
Supplementary information
About this article
Cite this article
Zhang, S., Chen, H., Zhang, C. et al. Inactive and active state structures template selective tools for the human 5-HT5A receptor. Nat Struct Mol Biol 29, 677–687 (2022). https://doi.org/10.1038/s41594-022-00796-6
Received:

Accepted:

Published:

Issue Date:

DOI: https://doi.org/10.1038/s41594-022-00796-6