Abstract
Many organisms sense light using rhodopsins, photoreceptive proteins containing a retinal chromophore. Here we report the discovery, structure and biophysical characterization of bestrhodopsins, a microbial rhodopsin subfamily from marine unicellular algae, in which one rhodopsin domain of eight transmembrane helices or, more often, two such domains in tandem, are C-terminally fused to a bestrophin channel. Cryo-EM analysis of a rhodopsin-rhodopsin-bestrophin fusion revealed that it forms a pentameric megacomplex (~700 kDa) with five rhodopsin pseudodimers surrounding the channel in the center. Bestrhodopsins are metastable and undergo photoconversion between red- and green-absorbing or green- and UVA-absorbing forms in the different variants. The retinal chromophore, in a unique binding pocket, photoisomerizes from all-trans to 11-cis form. Heterologously expressed bestrhodopsin behaves as a light-modulated anion channel.
Access options
Access Nature and 54 other Nature Portfolio journals
Get Nature+, our best-value online-access subscription
$29.99 / 30 days
cancel any time
Subscribe to this journal
Receive 12 print issues and online access
$189.00 per year
only $15.75 per issue
Rent or buy this article
Prices vary by article type
from$1.95
to$39.95
Prices may be subject to local taxes which are calculated during checkout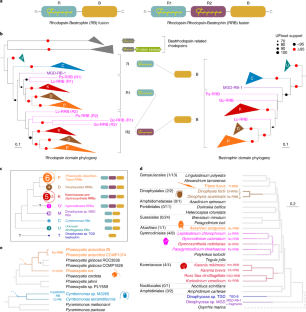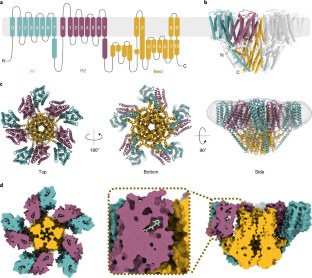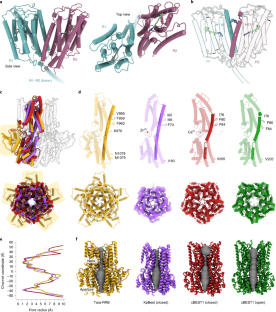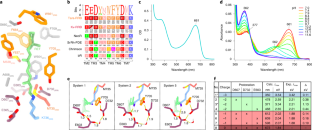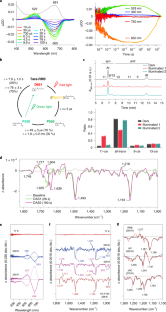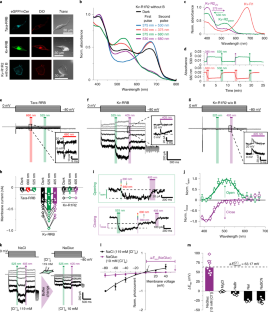 Data availability
The collected bestrhodopsin and bestrhodopsin-related sequences as annotated genbank files, alignments in fasta format, metadata for searched data sources and species phylogeny data are available at https://doi.org/10.5281/zenodo.5119843. Metadata for the detected bestrhodopsin genes and details about the assemblies used in the search and for species phylogeny, as well annotated nucleotide sequences of the bestrhodopsin and bestrhodopsin-related genes, are provided in Supplementary Data Files 1–3. Optimized nucleotide sequences of bestrhodopsin genes used for expression are available from GenBank under accession numbers MZ740266–MZ740270. The cryo-EM density map has been deposited in the Electron Microscopy Data Bank (EMDB) under accession code EMD-13485, and model coordinates have been deposited in the Protein Data Bank (PDB) under accession no. 7PL9. All other data are available in the manuscript or in the Supplementary Information. Source data are provided with this paper.
References
Spudich, J. L., Yang, C.-S., Jung, K.-H. & Spudich, E. N. Retinylidene proteins: structures and functions from archaea to humans. Annu. Rev. Cell Dev. Biol. 16, 365–392 (2000).

Ernst, O. P. et al. Microbial and animal rhodopsins: structures, functions, and molecular mechanisms. Chem. Rev. 114, 126–163 (2014).

Kandori, H. Retinal proteins: photochemistry and optogenetics. Bull. Chem. Soc. Jpn. 93, 76–85 (2020).

Rozenberg, A., Inoue, K., Kandori, H. & Béjà, O. Microbial rhodopsins: the last two decades. Annu. Rev. Microbiol. 75, 427–447 (2021).

Wolf, S. & Grünewald, S. Sequence, structure and ligand binding evolution of rhodopsin-Like G protein-coupled receptors: a crystal structure-based phylogenetic analysis. PLoS ONE 10, e0123533 (2015).

Govorunova, E. G., Sineshchekov, O. A., Li, H. & Spudich, J. L. Microbial rhodopsins: diversity, mechanisms, and optogenetic applications. Annu. Rev. Biochem. 86, 845–872 (2017).

Deisseroth, K. & Hegemann, P. The form and function of channelrhodopsin. Science 357, eaan5544 (2017).

Kateriya, S., Nagel, G., Bamberg, E. & Hegemann, P. 'Vision' in single-celled algae. Physiology 19, 133–137 (2004).

Mukherjee, S., Hegemann, P. & Broser, M. Enzymerhodopsins: novel photoregulated catalysts for optogenetics. Curr. Opin. Struct. Biol. 57, 118–126 (2019).

Tsunoda, S. P., Sugiura, M. & Kandori, H. in Optogenetics: Light-Sensing Proteins and Their Applications in Neuroscience and Beyond vol. 1293 (eds. Yawo, H., Kandori, H., Koizumi, A. & Kageyama, R.) 153–165 (Springer, 2021).

Yizhar, O., Fenno, L., Zhang, F., Hegemann, P. & Deisseroth, K. Microbial opsins: a family of single-component tools for optical control of neural activity. Cold Spring Harb. Protoc. 2011, top102 (2011).

Xiao, Q., Hartzell, H. C. & Yu, K. Bestrophins and retinopathies. Pflüg. Arch. Eur. J. Physiol. 460, 559–569 (2010).

Hartzell, H. C., Qu, Z., Yu, K., Xiao, Q. & Chien, L.-T. Molecular physiology of bestrophins: multifunctional membrane proteins linked to best disease and other retinopathies. Physiol. Rev. 88, 639–672 (2008).

Yang, T. et al. Structure and selectivity in bestrophin ion channels. Science 346, 355–359 (2014).

Roberts, S. K., Milnes, J. & Caddick, M. Characterisation of AnBEST1, a functional anion channel in the plasma membrane of the filamentous fungus Aspergillus nidulans. Fungal Genet. Biol. 48, 928–938 (2011).

Mukherjee, A. et al. Thylakoid localized bestrophin-like proteins are essential for the CO2 concentrating mechanism of Chlamydomonas reinhardtii. Proc. Natl Acad. Sci. USA 116, 16915–16920 (2019).

Herdean, A. et al. A voltage-dependent chloride channel fine-tunes photosynthesis in plants. Nat. Commun. 7, 11654 (2016).

Taylor, W. R. & Sadowski, M. I. n Evolution after Gene Duplication 133–162 (John Wiley & Sons, 2010).

Gao, S. et al. Optogenetic manipulation of cGMP in cells and animals by the tightly light-regulated guanylyl-cyclase opsin CyclOp. Nat. Commun. 6, 8046 (2015).

Tian, Y., Gao, S., von der Heyde, E. L., Hallmann, A. & Nagel, G. Two-component cyclase opsins of green algae are ATP-dependent and light-inhibited guanylyl cyclases. BMC Biol. 16, 144 (2018).

Ikuta, T. et al. Structural insights into the mechanism of rhodopsin phosphodiesterase. Nat. Commun. 11, 5605 (2020).

Kane Dickson, V., Pedi, L. & Long, S. B. Structure and insights into the function of a Ca2+-activated Cl− channel. Nature 516, 213–218 (2014).

Chien, L.-T. & Hartzell, H. C. Drosophila bestrophin-1 chloride current is dually regulated by calcium and cell volume. J. Gen. Physiol. 130, 513–524 (2007).

Hallegraeff, G., Enevoldsen, H. & Zingone, A. Global harmful algal bloom status reporting. Harmful Algae 102, 101992 (2021).

Sunagawa, S. et al. Structure and function of the global ocean microbiome. Science 348, 1261359 (2015).

Penzkofer, A., Scheib, U., Stehfest, K. & Hegemann, P. Absorption and emission spectroscopic investigation of thermal dynamics and photo-dynamics of the rhodopsin domain of the rhodopsin-guanylyl cyclase from the nematophagous fungus Catenaria anguillulae. Int. J. Mol. Sci. 18, 2099 (2017).

Owji, A. P. et al. Structural and functional characterization of the bestrophin-2 anion channel. Nat. Struct. Mol. Biol. 27, 382–391 (2020).

Miller, A. N., Vaisey, G. & Long, S. B. Molecular mechanisms of gating in the calcium-activated chloride channel bestrophin. eLife 8, e43231 (2019).

Bratanov, D. et al. Unique structure and function of viral rhodopsins. Nat. Commun. 10, 4939 (2019).

Hirschi, S., Kalbermatter, D., Ucurum, Z., Lemmin, T. & Fotiadis, D. Cryo-EM structure and dynamics of the green-light absorbing proteorhodopsin. Nat. Commun. 12, 4107 (2021).

Morizumi, T. et al. X-ray crystallographic structure and oligomerization of Gloeobacter rhodopsin. Sci. Rep. 9, 11283 (2019).

Kovalev, K. et al. Structure and mechanisms of sodium-pumping KR2 rhodopsin. Sci. Adv. 5, eaav2671 (2019).

Vaisey, G., Miller, A. N. & Long, S. B. Distinct regions that control ion selectivity and calcium-dependent activation in the bestrophin ion channel. Proc. Natl Acad. Sci. USA 113, E7399–E7408 (2016).

Broser, M. et al. NeoR, a near-infrared absorbing rhodopsin. Nat. Commun. 11, 5682 (2020).

Hara, T. & Hara, R. Regeneration of squid retinochrome. Nature 219, 450–454 (1968).

Furutani, Y., Terakita, A., Shichida, Y. & Kandori, H. FTIR studies of the photoactivation processes in squid retinochrome. Biochemistry 44, 7988–7997 (2005).

Smith, S. O. et al. Vibrational analysis of the all-trans retinal protonated Schiff base. Biophys. J. 47, 653–664 (1985).

Ehlenbeck, S., Gradmann, D., Braun, F.-J. & Hegemann, P. Evidence for a light-induced H+ conductance in the eye of the green alga Chlamydomonas reinhardtii. Biophys. J. 82, 740–751 (2002).

Rozenberg, A. et al. Lateral gene transfer of anion-conducting channelrhodopsins between green algae and giant viruses. Curr. Biol. 30, 4910–4920(2020).

Roenneberg, T. The complex circadian system of Gonyaulax polyedra. Physiol. Plant. 96, 733–737 (1996).

Forward, R. B. Phototaxis by the dinoflagellate Gymnodinium splendens Lebour. J. Protozool. 21, 312–315 (1974).

Kandori, H. Polarized FTIR spectroscopy distinguishes peptide backbone changes in the M and N photointermediates of bacteriorhodopsin. J. Am. Chem. Soc. 120, 4546–4547 (1998).

Carradec, Q. et al. A global ocean atlas of eukaryotic genes. Nat. Commun. 9, 373 (2018).

Keeling, P. J. et al. The Marine Microbial Eukaryote Transcriptome Sequencing Project (MMETSP): illuminating the functional diversity of eukaryotic life in the oceans through transcriptome sequencing. PLoS Biol. 12, e1001889 (2014).

Johnson, L. K., Alexander, H. & Brown, C. T. Re-assembly, quality evaluation, and annotation of 678 microbial eukaryotic reference transcriptomes. GigaScience 8, 1–12 (2019).

Leebens-Mack, J. H. et al. One thousand plant transcriptomes and the phylogenomics of green plants. Nature 574, 679–685 (2019).

Philosof, A. et al. Novel abundant oceanic viruses of uncultured marine group II Euryarchaeota. Curr. Biol. 27, 1362–1368 (2017).

Jones, P. et al. InterProScan 5: genome-scale protein function classification. Bioinformatics 30, 1236–1240 (2014).

Altschul, S. F., Gish, W., Miller, W., Myers, E. W. & Lipman, D. J. Basic local alignment search tool. J. Mol. Biol. 215, 403–410 (1990).

Buchfink, B., Reuter, K. & Drost, H.-G. Sensitive protein alignments at tree-of-life scale using DIAMOND. Nat. Methods 18, 366–368 (2021).

Grabherr, M. G. et al. Full-length transcriptome assembly from RNA-seq data without a reference genome. Nat. Biotechnol. 29, 644–652 (2011).

Langmead, B. & Salzberg, S. L. Fast gapped-read alignment with Bowtie 2. Nat. Methods 9, 357–359 (2012).

Hahn, C., Bachmann, L. & Chevreux, B. Reconstructing mitochondrial genomes directly from genomic next-generation sequencing reads—a baiting and iterative mapping approach. Nucleic Acids Res. 41, e129(2013).

Zhang, H. et al. Spliced leader RNA trans-splicing in dinoflagellates. Proc. Natl Acad. Sci. USA 104, 4618–4623 (2007).

Martin, M. Cutadapt removes adapter sequences from high-throughput sequencing reads. EMBnet. J. 17, 10–12 (2011).

Almagro Armenteros, J. J. et al. SignalP 5.0 improves signal peptide predictions using deep neural networks. Nat. Biotechnol. 37, 420–423 (2019).

Armenteros, J. J. A. et al. Detecting sequence signals in targeting peptides using deep learning. Life Sci. Alliance 2, e201900429 (2019).

Katoh, K. MAFFT: a novel method for rapid multiple sequence alignment based on fast Fourier transform. Nucleic Acids Res. 30, 3059–3066 (2002).

Whelan, S., Allen, J. E., Blackburne, B. P. & Talavera, D. ModelOMatic: fast and automated model selection between RY, ncleotide, amino acid, and codon substitution models. Syst. Biol. 64, 42–55 (2015).

Minh, B. Q. et al. IQ-TREE 2: new models and efficient methods for phylogenetic inference in the genomic era. Mol. Biol. Evol. 37, 1530–1534 (2020).

Hoang, D. T., Chernomor, O., von Haeseler, A., Minh, B. Q. & Vinh, L. S. UFBoot2: improving the ultrafast bootstrap approximation. Mol. Biol. Evol. 35, 518–522 (2018).

Bettisworth, B. & Stamatakis, A. Root Digger: a root placement program for phylogenetic trees. BMC Bioinformatics 22, 225 (2021).

Pond, S. L. K., Frost, S. D. W. & Muse, S. V. HyPhy: hypothesis testing using phylogenies. Bioinformatics 21, 676–679 (2005).

Kosakovsky Pond, S. L., Posada, D., Gravenor, M. B., Woelk, C. H. & Frost, S. D. W. Automated phylogenetic detection of recombination using a genetic algorithm. Mol. Biol. Evol. 23, 1891–1901 (2006).

Sawyer, S. Statistical tests for detecting gene conversion. Mol. Biol. Evol. 6, 526–538 (1989).

Li, W. & Godzik, A. Cd-hit: a fast program for clustering and comparing large sets of protein or nucleotide sequences. Bioinformatics 22, 1658–1659 (2006).

Capella-Gutiérrez, S., Silla-Martínez, J. M. & Gabaldón, T. trimAl: a tool for automated alignment trimming in large-scale phylogenetic analyses. Bioinformatics 25, 1972–1973 (2009).

Eddy, S. R. Profile hidden Markov models. Bioinformatics 14, 755–763 (1998).

Dunn, C. D. SequenceBouncer: a method to remove outlier entries from a multiple sequence alignment. Preprint at bioRxiv https://doi.org/10.1101/2020.11.24.395459 (2020).

Gruber, A., Rocap, G., Kroth, P. G., Armbrust, E. V. & Mock, T. Plastid proteome prediction for diatoms and other algae with secondary plastids of the red lineage. Plant J. 81, 519–528 (2015).

Huson, D. H. SplitsTree: analyzing and visualizing evolutionary data. Bioinformatics 14, 68–73 (1998).

Nettling, M. et al. DiffLogo: a comparative visualization of sequence motifs. BMC Bioinformatics 16, 387 (2015).

Steinegger, M. et al. HH-suite3 for fast remote homology detection and deep protein annotation. BMC Bioinformatics 20, 473 (2019).

Janouškovec, J. et al. Major transitions in dinoflagellate evolution unveiled by phylotranscriptomics. Proc. Natl Acad. Sci. USA 114, E171–E180 (2017).

Kamikawa, R. et al. Plastid genome-based phylogeny pinpointed the origin of the green-colored plastid in the dinoflagellate Lepidodinium chlorophorum. Genome Biol. Evol. 7, 1133–1140 (2015).

Stephens, T. G., Ragan, M. A., Bhattacharya, D. & Chan, C. X. Core genes in diverse dinoflagellate lineages include a wealth of conserved dark genes with unknown functions. Sci. Rep. 8, 17175 (2018).

Simão, F. A., Waterhouse, R. M., Ioannidis, P., Kriventseva, E. V. & Zdobnov, E. M. BUSCO: assessing genome assembly and annotation completeness with single-copy orthologs. Bioinformatics 31, 3210–3212 (2015).

Mai, U. & Mirarab, S. TreeShrink: fast and accurate detection of outlier long branches in collections of phylogenetic trees. BMC Genomics 19, 272 (2018).

Zhang, C., Rabiee, M., Sayyari, E. & Mirarab, S. ASTRAL-III: polynomial time species tree reconstruction from partially resolved gene trees. BMC Bioinformatics 19, 153 (2018).

Binet, M., Gascuel, O., Scornavacca, C., P. Douzery, E. J. & Pardi, F. Fast and accurate branch lengths estimation for phylogenomic trees. BMC Bioinformatics 17, 23 (2016).

Paradis, E. & Schliep, K. ape 5.0: an environment for modern phylogenetics and evolutionary analyses in R. Bioinformatics 35, 526–528 (2019).

Lechner, M. et al. Proteinortho: detection of (co-)orthologs in large-scale analysis. BMC Bioinformatics 12, 124 (2011).

Erijman, A., Dantes, A., Bernheim, R., Shifman, J. M. & Peleg, Y. Transfer-PCR (TPCR): a highway for DNA cloning and protein engineering. J. Struct. Biol. 175, 171–177 (2011).

Punjani, A., Rubinstein, J. L., Fleet, D. J. & Brubaker, M. A. cryoSPARC: algorithms for rapid unsupervised cryo-EM structure determination. Nat. Methods 14, 290–296 (2017).

Zivanov, J. et al. New tools for automated high-resolution cryo-EM structure determination in RELION-3. eLife 7, e42166 (2018).

Kucukelbir, A., Sigworth, F. J. & Tagare, H. D. Quantifying the local resolution of cryo-EM density maps. Nat. Methods 11, 63–65 (2014).

Tang, G. et al. EMAN2: an extensible image processing suite for electron microscopy. J. Struct. Biol. 157, 38–46 (2007).

Waterhouse, A. et al. SWISS-MODEL: homology modelling of protein structures and complexes. Nucleic Acids Res. 46, W296–W303 (2018).

Pettersen, E. F. et al. UCSF Chimera—a visualization system for exploratory research and analysis. J. Comput. Chem. 25, 1605–1612 (2004).

Jones, T. A. Interactive electron-density map interpretation: from INTER to O. Acta Crystallogr. Sect. D. 60, 2115–2125 (2004).

Emsley, P., Lohkamp, B., Scott, W. G. & Cowtan, K. Features and development of Coot. Acta Crystallogr. Sect. D. 66, 486–501 (2010).

Moriarty, N. W., Grosse-Kunstleve, R. W. & Adams, P. D.Electronic Ligand Builder and Optimization Workbench (eLBOW): a tool for ligand coordinate and restraint generation. Acta Crystallogr. D. Biol. Crystallogr. 65, 1074–1080 (2009).

Afonine, P. V. et al. Real-space refinement in PHENIX for cryo-EM and crystallography. Acta Crystallogr. Sect. Struct. Biol. 74, 531–544 (2018).

Williams, C. J. et al. MolProbity: more and better reference data for improved all-atom structure validation. Protein Sci. 27, 293–315 (2018).

Smart, O. S., Neduvelil, J. G., Wang, X., Wallace, B. A. & Sansom, M. S. P. HOLE: a program for the analysis of the pore dimensions of ion channel structural models. J. Mol. Graph. 14, 354–360 (1996).

Pavelka, A. et al. CAVER: algorithms for analyzing dynamics of tunnels in macromolecules. IEEE/ACM Trans. Comput. Biol. Bioinform. 13, 505–517 (2016).

Armougom, F. et al. Expresso: automatic incorporation of structural information in multiple sequence alignments using 3D-Coffee. Nucleic Acids Res. 34, W604–W608 (2006).

Kabsch, W. & Sander, C. Dictionary of protein secondary structure: pattern recognition of hydrogen-bonded and geometrical features. Biopolymers 22, 2577–2637 (1983).

Baek, M. et al. Accurate prediction of protein structures and interactions using a three-track neural network. Science 373, 871–876 (2021).

Lomize, M. A., Pogozheva, I. D., Joo, H., Mosberg, H. I. & Lomize, A. L. OPM database and PPM web server: resources for positioning of proteins in membranes. Nucleic Acids Res. 40, D370–D376 (2012).

Inoue, K. et al. A light-driven sodium ion pump in marine bacteria. Nat. Commun. 4, 1678 (2013).

Trehan, A. et al. On retention of chromophore configuration of rhodopsin isomers derived from three dicis retinal isomers. Bioorg. Chem. 18, 30–40 (1990).

Shihoya, W. et al. Crystal structure of heliorhodopsin. Nature 574, 132–136 (2019).

Hashimoto, M., Katayama, K., Furutani, Y. & Kandori, H. Zinc binding to heliorhodopsin. J. Phys. Chem. Lett. 11, 8604–8609 (2020).

Tian, C. et al. ff19SB: amino-ccid-specific protein backbone parameters trained against quantum mechanics energy surfaces in solution. J. Chem. Theory Comput. 16, 528–552 (2020).

Metz, S., Kästner, J., Sokol, A. A., Keal, T. W. & Sherwood, P. ChemShell—a modular software package for QM/MM simulations. Wiley Interdiscip. Rev. Comput. Mol. Sci. 4, 101–110 (2014).

Neese, F. Software update: the ORCA program system, version 4.0. Wiley Interdiscip. Rev. Comput. Mol. Sci. 8, e1327 (2018).

Schirmer, J. Beyond the random-phase approximation: A new approximation scheme for the polarization propagator. Phys. Rev. A 26, 2395–2416 (1982).

Balasubramani, S. G. et al. TURBOMOLE: Modular program suite for ab initio quantum-chemical and condensed-matter simulations. J. Chem. Phys. 152, 184107 (2020).

Grimm, C., Vierock, J., Hegemann, P. & Wietek, J. Whole-cell patch-clamp recordings for electrophysiological determination of ion selectivity in channelrhodopsins. JoVE J. Vis. Exp. e55497 (2017).

Longo, P. A., Kavran, J. M., Kim, M.-S. & Leahy, D. J. in Methods in Enzymology vol. 529 (ed. Lorsch, J.) 227–240 (Academic Press, 2013).
Acknowledgements
We thank all the research initiatives that produced sequencing data used in this study, D. Bleiberg and S. Larom from the Faculty of Biology at the Technion, N. Elad at the electron microscopy unit at the Weizmann Institute of Science, and the staff at the Research Instrument and Equipment Center, Kagawa University, for their technical support. This work was supported by the Israel Science Foundation (F.I.R.S.T. program no. 3592/19 to O. B. and a Research Center grant no. 3131/20 to O. B., I. S., and O. Y.), the Kimmelman center for Biomolecular Structure and Assembly (M. Sheves), Grants-in-Aid from the Japan Society for the Promotion of Science (JSPS) for Scientific Research (KAKENHI grant nos. 17H03007 and 20K21383 to K. I.; 20K21416 to T. N.; 18H03986 and 21H04969 to H. K.), Grant-in-Aid for Transformative Research areas (b) 'Low-Energy Manipulation' from MEXT, Japan (KAKENHI grant no. 20H05758 to K. I.), Grant-in-Aid for Scientific Research on Innovative Areas 'Non-equilibrium-state molecular movies and their applications (Molecular Movies)' from MEXT, Japan (KAKENHI grant no. 19H05784 to Y. Furutani) and the Japan Science and Technology Agency (JST), Japan, PRESTO (grant nos. JPMJPR1888 to T. N.; JPMJPR1903 to M. K.; and JPMJPR19G4 to K. K.), CREST (grant nos. JPMJCR1753 to H. K; and JPMJCR17N5 to Y. Furuani), Takeda Science Foundation (Y. Fujiwara), German Research Foundation (SPP1926 no. 425994138 to P. H.), the Zuckerman STEM Leadership Program (M. S.-B.), the Yeda-Sela-SABRA-WRC grant (M. S.-B.), the European Research Council (ERC) under the European Union's Horizon 2020 research and innovation program (No. 949364 to M. S.-B., and 693742 to P. H.) and the German research foundation DFG (SFB1315 to P. H.). P. H. is Hertie Professor for Biophysics and is supported by the Hertie Foundation, J. D. is incumbent of the Achar Research Fellow Chair in Electrophysiology, M. Sheves holds the Katzir-Makineni Chair in Chemistry, O. B. holds the Louis and Lyra Richmond Chair in Life Sciences, and M. S.-B. holds the Tauro Career Development Chair in Biomedical Research. Y. Furuani is supported by the Equipment Sharing Division in the Organization for Co-Creation Research and Social Contributions in Nagoya Institute of Technology.
Ethics declarations
Competing interests
The authors declare no competing interests.
Peer review
Peer review information
Nature Structural and Molecular Biology thanks Wayne Hendrickson and the other, anonymous, reviewer(s) for their contribution to the peer review of this work. Primary Handling editor: Florian Ullrich, in collaboration with the Nature Structural and Molecular Biology team.
Additional information
Publisher's note Springer Nature remains neutral with regard to jurisdictional claims in published maps and institutional affiliations.
Supplementary information
About this article
Cite this article
Rozenberg, A., Kaczmarczyk, I., Matzov, D. et al. Rhodopsin-bestrophin fusion proteins from unicellular algae form gigantic pentameric ion channels. Nat Struct Mol Biol 29, 592–603 (2022). https://doi.org/10.1038/s41594-022-00783-x
Received:

Accepted:

Published:

Issue Date:

DOI: https://doi.org/10.1038/s41594-022-00783-x