Abstract
Meiotic cells invoke breast cancer susceptibility gene 2 (BRCA2) to repair programmed double-stranded DNA breaks and accomplish homologous recombination. The meiosis-specific protein MEILB2 facilitates BRCA2 recruitment to meiotic recombination sites. Here, we combine crystallography, biochemical analysis and a mouse meiosis model to reveal a robust architecture that ensures meiotic BRCA2 recruitment. The crystal structure of the MEILB2–BRCA2 complex reveals how two MEILB2 homodimers sandwich two chains of BRCA2 to afford a 4:2 architecture. The sandwich lacks close contact between the two MEILB2 dimers or the two BRCA2 chains. Instead, the two halves of each BRCA2 chain bridge two MEILB2 subunits from different homodimers to form the MEILB2–BRCA2–MEILB2 sandwich. Several identical residues from the two MEILB2 subunits are employed to engage the BRCA2 halves, justifying their strict conservation. Mutational analysis of the interface reveals a synergistic mechanism for MEILB2–BRCA2 recruitment during meiosis. Overall, these studies demonstrate how BRCA2 efficiently localizes in the cell to facilitate meiosis.
Access options
Subscribe to Nature+
Get immediate online access to Nature and 55 other Nature journal
Subscribe to Journal
Get full journal access for 1 year
$99.00
only $8.25 per issue
All prices are NET prices.
VAT will be added later in the checkout.
Tax calculation will be finalised during checkout.
Buy article
Get time limited or full article access on ReadCube.
$32.00
All prices are NET prices.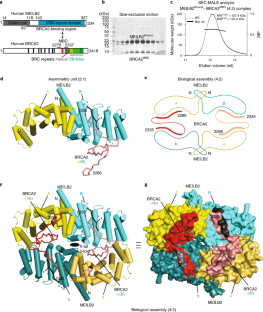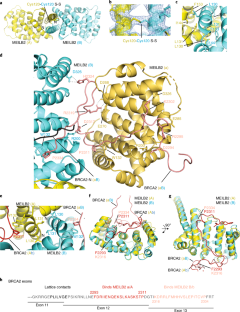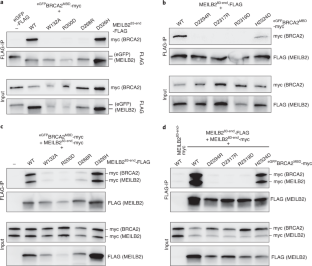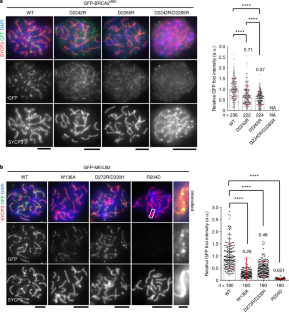 Data availability
Coordinates and structure factors of the MEILB283-end–BRCA2MBD crystal structure are deposited in the Protein Data Bank (PDB) under accession code 7LDG. Source data are provided with this paper.
References
Kowalczykowski, S. C. & Eggleston, A. K. Homologous pairing and DNA strand-exchange proteins. Annu. Rev. Biochem. 63, 991–1043 (1994).

West, S. C. Molecular views of recombination proteins and their control. Nat. Rev. Mol. Cell Biol. 4, 435–445 (2003).

San Filippo, J., Sung, P. & Klein, H. Mechanism of eukaryotic homologous recombination. Annu. Rev. Biochem. 77, 229–257 (2008).

Pellegrini, L. & Venkitaraman, A. Emerging functions of BRCA2 in DNA recombination. Trends Biochem. Sci. 29, 310–316 (2004).

Moynahan, M. E. & Jasin, M. Mitotic homologous recombination maintains genomic stability and suppresses tumorigenesis. Nat. Rev. Mol. Cell Biol. 11, 196–207 (2010).

Zhao, W., Wiese, C., Kwon, Y., Hromas, R. & Sung, P. The BRCA tumor suppressor network in chromosome damage repair by homologous recombination. Annu. Rev. Biochem. 88, 221–245 (2019).

Li, M. L. & Greenberg, R. A. Links between genome integrity and BRCA1 tumor suppression. Trends Biochem. Sci. 37, 418–424 (2012).

Wooster, R. & Weber, B. L. Breast and ovarian cancer. N. Engl. J. Med. 348, 2339–2347 (2003).

Stracker, T. H. & Petrini, J. H. The MRE11 complex: starting from the ends. Nat. Rev. Mol. Cell Biol. 12, 90–103 (2011).

Syed, A. & Tainer, J. A. The MRE11–RAD50–NBS1 complex conducts the orchestration of damage signaling and outcomes to stress in DNA replication and repair. Annu. Rev. Biochem. 87, 263–294 (2018).

Wold, M. S. Replication protein A: a heterotrimeric, single-stranded DNA-binding protein required for eukaryotic DNA metabolism. Annu. Rev. Biochem. 66, 61–92 (1997).

Neale, M. J. & Keeney, S. Clarifying the mechanics of DNA strand exchange in meiotic recombination. Nature 442, 153–158 (2006).

Scully, R., Panday, A., Elango, R. & Willis, N. A. DNA double-strand break repair-pathway choice in somatic mammalian cells. Nat. Rev. Mol. Cell Biol. 20, 698–714 (2019).

Zickler, D. & Kleckner, N. Recombination, pairing and synapsis of homologs during meiosis. Cold Spring Harb. Perspect. Biol. https://doi.org/10.1101/cshperspect.a016626 (2015).

Hassold, T. & Hunt, P. To err (meiotically) is human: the genesis of human aneuploidy. Nat. Rev. Genet. 2, 280–291 (2001).

Keeney, S., Giroux, C. N. & Kleckner, N. Meiosis-specific DNA double-strand breaks are catalyzed by Spo11, a member of a widely conserved protein family. Cell 88, 375–384 (1997).

Lange, J. et al. The landscape of mouse meiotic double-strand break formation, processing and repair. Cell 167, 695–708 (2016).

Robert, T. et al. The TopoVIB-like protein family is required for meiotic DNA double-strand break formation. Science 351, 943–949 (2016).

Zhang, J., Fujiwara, Y., Yamamoto, S. & Shibuya, H. A meiosis-specific BRCA2 binding protein recruits recombinases to DNA double-strand breaks to ensure homologous recombination. Nat. Commun. 10, 722 (2019).

Zhang, J. et al. The BRCA2–MEILB2–BRME1 complex governs meiotic recombination and impairs the mitotic BRCA2–RAD51 function in cancer cells. Nat. Commun. 11, 2055 (2020).

Brandsma, I. et al. HSF2BP interacts with a conserved domain of BRCA2 and is required for mouse spermatogenesis. Cell Rep. 27, 3790–3798 (2019).

Krissinel, E. & Henrick, K. Inference of macromolecular assemblies from crystalline state. J. Mol. Biol. 372, 774–797 (2007).

Shahid, T. et al. Structure and mechanism of action of the BRCA2 breast cancer tumor suppressor. Nat. Struct. Mol. Biol. 21, 962–968 (2014).

Corbett, K. D. et al. The monopolin complex crosslinks kinetochore components to regulate chromosome-microtubule attachments. Cell 142, 556–567 (2010).

Endres, N. F., Barros, T., Cantor, A. J. & Kuriyan, J. Emerging concepts in the regulation of the EGF receptor and other receptor tyrosine kinases. Trends Biochem. Sci. 39, 437–446 (2014).

Wiesmann, C., Ultsch, M. H., Bass, S. H. & de Vos, A. M. Crystal structure of nerve growth factor in complex with the ligand-binding domain of the TrkA receptor. Nature 401, 184–188 (1999).

Liu, M. & Grigoriev, A. Protein domains correlate strongly with exons in multiple eukaryotic genomes—evidence of exon shuffling? Trends Genet. 20, 399–403 (2004).

Souquet, B. et al. MEIOB targets single-strand DNA and is necessary for meiotic recombination. PLoS Genet. 9, e1003784 (2013).

Thorslund, T. et al. The breast cancer tumor suppressor BRCA2 promotes the specific targeting of RAD51 to single-stranded DNA. Nat. Struct. Mol. Biol. 17, 1263–1265 (2010).

Luo, M. et al. MEIOB exhibits single-stranded DNA-binding and exonuclease activities and is essential for meiotic recombination. Nat. Commun. 4, 2788 (2013).

Ishishita, S., Matsuda, Y. & Kitada, K. Genetic evidence suggests that Spata22 is required for the maintenance of Rad51 foci in mammalian meiosis. Sci. Rep. 4, 6148 (2014).

Mossessova, E. & Lima, C. D. Ulp1-SUMO crystal structure and genetic analysis reveal conserved interactions and a regulatory element essential for cell growth in yeast. Mol. Cell 5, 865–876 (2000).

Leahy, D. J., Hendrickson, W. A., Aukhil, I. & Erickson, H. P. Structure of a fibronectin type III domain from tenascin phased by MAD analysis of the selenomethionyl protein. Science 258, 987–991 (1992).

Kabsch, W. XDS. Acta Crystallogr. D Biol. Crystallogr. 66, 125–132 (2010).

Kabsch, W. Integration, scaling, space-group assignment and post-refinement. Acta Crystallogr. D Biol. Crystallogr. 66, 133–144 (2010).

Adams, P. D. et al. PHENIX: a comprehensive Python-based system for macromolecular structure solution. Acta Crystallogr. D Biol. Crystallogr. 66, 213–221 (2010).

Emsley, P. & Cowtan, K. Coot: model-building tools for molecular graphics. Acta Crystallogr. D Biol. Crystallogr. 60, 2126–2132 (2004).

Afonine, P. V. et al. Towards automated crystallographic structure refinement with phenix.refine. Acta Crystallogr. D Biol. Crystallogr. 68, 352–367 (2012).

Shibuya, H., Morimoto, A. & Watanabe, Y. The dissection of meiotic chromosome movement in mice using an in vivo electroporation technique. PLoS Genet. 10, e1004821 (2014).
Acknowledgements
We thank J. S. Brunzelle at the Life Sciences Collaborative Access Team (LS-CAT) beamline of the Argonne National Laboratory for help with X-ray diffraction data collection and initial processing, the University of Michigan Structural Biology Supergroup for helpful suggestions, V. M. Tesmer of the Nandakumar laboratory for help with collection of crystals and input on figures, and the members of the Nandakumar laboratory for critical feedback on the manuscript. This work was supported by NIH grants R01-AG050509 (J.N.) and R01-GM120094 (J.N.), American Cancer Society Research Scholar grant RSG-17-037-01-DMC (J.N.), an American Heart Association predoctoral fellowship award ID 830111 (R.A.), Assar Gabrielssons Foundation grant FB-20-57 (J.Z.), European Research Council grant StG-801659 (H.S.), Swedish Research Council grant 2018-03426 (H.S.), Cancerfonden grant 2018/326 (H.S.) and the Knut och Alice Wallensbergs Stiftelse KAW2019.0180 (H.S.).
Ethics declarations
Competing interests
The authors declare no competing interests.
Additional information
Peer review information Nature Structural & Molecular Biology thanks Mark Glover, John Weir and the other, anonymous, reviewer(s) for their contribution to the peer review of this work.
Publisher's note Springer Nature remains neutral with regard to jurisdictional claims in published maps and institutional affiliations.
Supplementary information
About this article
Cite this article
Pendlebury, D.F., Zhang, J., Agrawal, R. et al. Structure of a meiosis-specific complex central to BRCA2 localization at recombination sites. Nat Struct Mol Biol 28, 671–680 (2021). https://doi.org/10.1038/s41594-021-00635-0
Received:

Accepted:

Published:

Issue Date:

DOI: https://doi.org/10.1038/s41594-021-00635-0