Abstract
Fanconi anemia (FA) is a devastating hereditary disease characterized by bone marrow failure (BMF) and acute myeloid leukemia (AML). As FA-deficient cells are hypersensitive to DNA interstrand crosslinks (ICLs), ICLs are widely assumed to be the lesions responsible for FA symptoms. Here, we show that FA-mutated cells are hypersensitive to persistent replication stress and that FA proteins play a role in the break-induced-replication (BIR)-like pathway for fork restart. Both the BIR-like pathway and ICL repair share almost identical molecular mechanisms of 53BP1–BRCA1-controlled signaling response, SLX4- and FAN1-mediated fork cleavage and POLD3-dependent DNA synthesis, suggesting that the FA pathway is intrinsically one of the BIR-like pathways. Replication stress not only triggers BMF in FA-deficient mice, but also specifically induces monosomy 7, which is associated with progression to AML in patients with FA, in FA-deficient cells.
Access options
Subscribe to Journal
Get full journal access for 1 year
$59.00
only $4.92 per issue
All prices are NET prices.
VAT will be added later in the checkout.
Tax calculation will be finalised during checkout.
Rent or Buy article
Get time limited or full article access on ReadCube.
from$8.99
All prices are NET prices.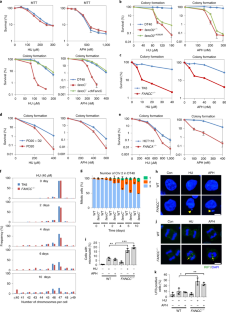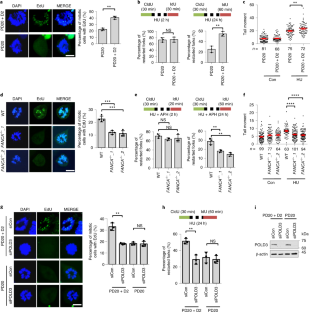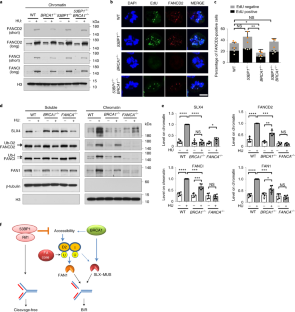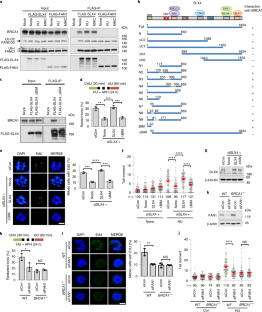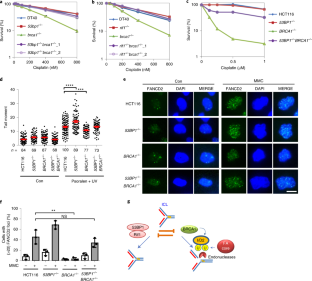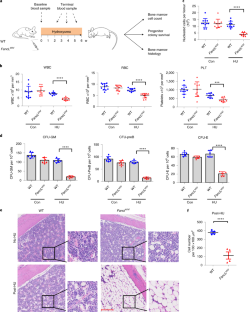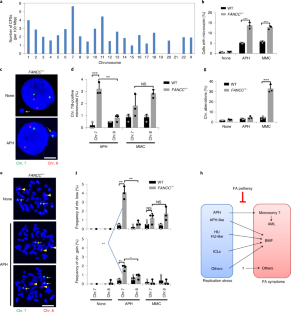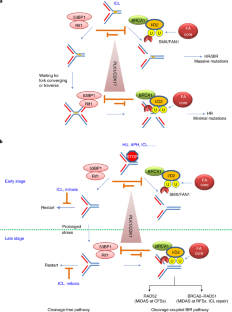 Data availability
All data supporting the findings of this study are available from the corresponding author upon reasonable request. Source data are provided with this paper.
References
1.

Ceccaldi, R., Sarangi, P. & D'Andrea, A. D. The Fanconi anaemia pathway: new players and new functions. Nat. Rev. Mol. Cell Biol. 17, 337–349 (2016).

2.

Okamoto, Y., Hejna, J. & Takata, M. Regulation of R-loops and genome instability in Fanconi anemia. J. Biochem. 165, 465–470 (2019).

3.

Langevin, F., Crossan, G. P., Rosado, I. V., Arends, M. J. & Patel, K. J. Fancd2 counteracts the toxic effects of naturally produced aldehydes in mice. Nature 475, 53–58 (2011).

4.

Hira, A. et al. Variant ALDH2 is associated with accelerated progression of bone marrow failure in Japanese Fanconi anemia patients. Blood 122, 3206–3209 (2013).

5.

Hubal, E. A., Schlosser, P. M., Conolly, R. B. & Kimbell, J. S. Comparison of inhaled formaldehyde dosimetry predictions with DNA–protein cross-link measurements in the rat nasal passages. Toxicol. Appl. Pharmacol. 143, 47–55 (1997).

6.

Duxin, J. P. & Walter, J. C. What is the DNA repair defect underlying Fanconi anemia? Curr. Opin. Cell Biol. 37, 49–60 (2015).

7.

García-Calderón, C. B. et al. Genotoxicity of tetrahydrofolic acid to hematopoietic stem and progenitor cells. Cell Death Differ. 25, 1967–1979 (2018).

8.

Oberbeck, N. et al. Maternal aldehyde elimination during pregnancy preserves the fetal genome. Mol. Cell 55, 807–817 (2014).

9.

Rosado, I. V., Langevin, F., Crossan, G. P., Takata, M. & Patel, K. J. Formaldehyde catabolism is essential in cells deficient for the Fanconi anemia DNA-repair pathway. Nat. Struct. Mol. Biol. 18, 1432–1434 (2011).

10.

Rochowski, A. et al. Patients with Fanconi anemia and AML have different cytogenetic clones than de novo cases of AML. Pediatr. Blood Cancer 59, 922–924 (2012).

11.

Nagamachi, A. et al. Haploinsufficiency of SAMD9L, an endosome fusion facilitator, causes myeloid malignancies in mice mimicking human diseases with monosomy 7. Cancer Cell 24, 305–317 (2013).

12.

Asou, H. et al. Identification of a common microdeletion cluster in 7q21.3 subband among patients with myeloid leukemia and myelodysplastic syndrome. Biochem. Biophys. Res. Commun. 383, 245–251 (2009).

13.

Mehta, P. A. et al. Numerical chromosomal changes and risk of development of myelodysplastic syndrome–acute myeloid leukemia in patients with Fanconi anemia. Cancer Genet. Cytogen. 203, 180–186 (2010).

14.

Howlett, N. G., Taniguchi, T., Durkin, S. G., D'Andrea, A. D. & Glover, T. W. The Fanconi anemia pathway is required for the DNA replication stress response and for the regulation of common fragile site stability. Hum. Mol. Genet. 14, 693–701 (2005).

15.

Okamoto, Y. et al. Replication stress induces accumulation of FANCD2 at central region of large fragile genes. Nucleic Acids Res. 46, 2932–2944 (2018).

16.

Chan, K. L., Palmai-Pallag, T., Ying, S. & Hickson, I. D. Replication stress induces sister-chromatid bridging at fragile site loci in mitosis. Nat. Cell Biol. 11, 753–760 (2009).

17.

Naim, V. & Rosselli, F. The FANC pathway and BLM collaborate during mitosis to prevent micro-nucleation and chromosome abnormalities. Nat. Cell Biol. 11, 761–768 (2009).

18.

García-Rubio, M. L. et al. The Fanconi anemia pathway protects genome integrity from R-loops. PLoS Genet. 11, e1005674 (2015).

19.

Schwab, R. A. et al. The Fanconi anemia pathway maintains genome stability by coordinating replication and transcription. Mol. Cell 60, 351–361 (2015).

20.

Schlacher, K., Wu, H. & Jasin, M. A distinct replication fork protection pathway connects Fanconi anemia tumor suppressors to RAD51-BRCA1/2. Cancer Cell 22, 106–116 (2012).

21.

Suhasini, A. N. et al. Interaction between the helicases genetically linked to Fanconi anemia group J and Bloom's syndrome. EMBO J. 30, 692–705 (2011).

22.

Tian, Y. et al. Constitutive role of the Fanconi anemia D2 gene in the replication stress response. J. Biol. Chem. 292, 20184–20195 (2017).

23.

Chen, X., Bosques, L., Sung, P. & Kupfer, G. M. A novel role for non-ubiquitinated FANCD2 in response to hydroxyurea-induced DNA damage. Oncogene 35, 22–34 (2016).

24.

Xu, Y. et al. 53BP1 and BRCA1 control pathway choice for stalled replication restart. Elife 6, https://doi.org/10.7554/eLife.30523 (2017).

25.

Kramara, J., Osia, B. & Malkova, A. Break-induced replication: the where, the why, and the how. Trends Genet. 34, 518–531 (2018).

26.

Hirota, K. et al. SUMO-targeted ubiquitin ligase RNF4 plays a critical role in preventing chromosome loss. Genes Cells 19, 743–754 (2014).

27.

Minocherhomji, S. et al. Replication stress activates DNA repair synthesis in mitosis. Nature 528, 286–290 (2015).

28.

Zhang, J. & Walter, J. C. Mechanism and regulation of incisions during DNA interstrand cross-link repair. DNA Repair 19, 135–142 (2014).

29.

Wang, W. Emergence of a DNA-damage response network consisting of Fanconi anaemia and BRCA proteins. Nat. Rev. Genet. 8, 735–748 (2007).

30.

Costantino, L. et al. Break-induced replication repair of damaged forks induces genomic duplications in human cells. Science 343, 88–91 (2014).

31.

Dungrawala, H. et al. The replication checkpoint prevents two types of fork collapse without regulating replisome stability. Mol. Cell 59, 998–1010 (2015).

32.

Alcón, P. et al. FANCD2–FANCI is a clamp stabilized on DNA by monoubiquitination of FANCD2 during DNA repair. Nat. Struct. Mol. Biol. 27, 240–248 (2020).

33.

Wang, R., Wang, S., Dhar, A., Peralta, C. & Pavletich, N. P. DNA clamp function of the monoubiquitinated Fanconi anaemia ID complex. Nature 580, 278–282 (2020).

34.

Tan, W. et al. Monoubiquitination by the human Fanconi anemia core complex clamps FANCI:FANCD2 on DNA in filamentous arrays. Elife https://doi.org/10.7554/eLife.54128 (2020).

35.

Bunting, S. F. et al. BRCA1 functions independently of homologous recombination in DNA interstrand crosslink repair. Mol. Cell 46, 125–135 (2012).

36.

Huang, J. et al. The DNA translocase FANCM/MHF promotes replication traverse of DNA interstrand crosslinks. Mol. Cell 52, 434–446 (2013).

37.

Eastman, A. Reevaluation of interaction of cis-dichloro(ethylenediamine)platinum(II) with DNA. Biochemistry 25, 3912–3915 (1986).

38.

Vandenberg, C. J. et al. BRCA1-independent ubiquitination of FANCD2. Mol. Cell 12, 247–254 (2003).

39.

Garcia-Higuera, I. et al. Interaction of the Fanconi anemia proteins and BRCA1 in a common pathway. Mol. Cell 7, 249–262 (2001).

40.

Long, D. T., Joukov, V., Budzowska, M. & Walter, J. C. BRCA1 promotes unloading of the CMG helicase from a stalled DNA replication fork. Mol. Cell 56, 174–185 (2014).

41.

Houghtaling, S. et al. Epithelial cancer in Fanconi anemia complementation group D2 (Fancd2) knockout mice. Genes Dev. 17, 2021–2035 (2003).

42.

Dubois, E. L. et al. A Fanci knockout mouse model reveals common and distinct functions for FANCI and FANCD2. Nucleic Acids Res. 47, 7532–7547 (2019).

43.

Parmar, K., D'Andrea, A. & Niedernhofer, L. J. Mouse models of Fanconi anemia. Mutat. Res. 668, 133–140 (2009).

44.

Van den Berg, C. L. et al. Pharmacokinetics of hydroxyurea in nude mice. Anti-Cancer Drugs 5, 573–578 (1994).

45.

Durkin, S. G. & Glover, T. W. Chromosome fragile sites. Annu. Rev. Genet. 41, 169–192 (2007).

46.

Wu, R. A. et al. TRAIP is a master regulator of DNA interstrand crosslink repair. Nature 567, 267–272 (2019).

47.

Sonneville, R. et al. TRAIP drives replisome disassembly and mitotic DNA repair synthesis at sites of incomplete DNA replication. Elife 8, https://doi.org/10.7554/eLife.48686 (2019).

48.

Budzowska, M., Graham, T. G., Sobeck, A., Waga, S. & Walter, J. C. Regulation of the Rev1–pol ζ complex during bypass of a DNA interstrand cross-link. EMBO J. 34, 1971–1985 (2015).

49.

McVey, M., Khodaverdian, V. Y., Meyer, D., Cerqueira, P. G. & Heyer, W. D. Eukaryotic DNA polymerases in homologous recombination. Annu. Rev. Genet. 50, 393–421 (2016).

50.

Yamaguchi-Iwai, Y. et al. Homologous recombination, but not DNA repair, is reduced in vertebrate cells deficient in RAD52. Mol. Cell. Biol. 18, 6430–6435 (1998).

51.

Garribba, L. et al. Folate stress induces SLX1- and RAD51-dependent mitotic DNA synthesis at the fragile X locus in human cells. Proc. Natl Acad. Sci. USA 117, 16527–16536 (2020).

52.

Rickman, K. A. et al. Distinct roles of BRCA2 in replication fork protection in response to hydroxyurea and DNA interstrand cross-links. Genes Dev. 34, 832–846 (2020).

53.

Luebben, S. W., Kawabata, T., Johnson, C. S., O'Sullivan, M. G. & Shima, N. A concomitant loss of dormant origins and FANCC exacerbates genome instability by impairing DNA replication fork progression. Nucleic Acids Res. 42, 5605–5615 (2014).

54.

Flach, J. et al. Replication stress is a potent driver of functional decline in ageing haematopoietic stem cells. Nature 512, 198–202 (2014).

55.

Alvarez, S. et al. Replication stress caused by low MCM expression limits fetal erythropoiesis and hematopoietic stem cell functionality. Nat. Commun. 6, 8548 (2015).

56.

Flach, J. & Milyavsky, M. Replication stress in hematopoietic stem cells in mouse and man. Mutat. Res. 808, 74–82 (2018).

57.

Ahuja, A. K. et al. A short G1 phase imposes constitutive replication stress and fork remodelling in mouse embryonic stem cells. Nat. Commun. 7, 10660 (2016).

58.

Dingler, F. A. et al. Two aldehyde clearance systems are essential to prevent lethal formaldehyde accumulation in mice and humans. Mol. Cell 80, 996–1012.e9 (2020).

59.

Shen, X. et al. A surge of DNA damage links transcriptional reprogramming and hematopoietic deficit in Fanconi anemia. Mol. Cell 80, 1013–1024.e6 (2020).

60.

Hodskinson, M. R. et al. Alcohol-derived DNA crosslinks are repaired by two distinct mechanisms. Nature 579, 603–608 (2020).

61.

Escribano-Díaz, C. et al. A cell cycle-dependent regulatory circuit composed of 53BP1-RIF1 and BRCA1-CtIP controls DNA repair pathway choice. Mol. Cell 49, 872–883 (2013).

62.

Hirota, K. et al. The POLD3 subunit of DNA polymerase δ can promote translesion synthesis independently of DNA polymerase ζ. Nucleic Acids Res. 43, 1671–1683 (2015).

63.

Seki, S. et al. A requirement of FancL and FancD2 monoubiquitination in DNA repair. Genes Cells 12, 299–310 (2007).

64.

Hoa, N. N. et al. Relative contribution of four nucleases, CtIP, Dna2, Exo1 and Mre11, to the initial step of DNA double-strand break repair by homologous recombination in both the chicken DT40 and human TK6 cell lines. Genes Cells 20, 1059–1076 (2015).

65.

Gao, S. et al. An OB-fold complex controls the repair pathways for DNA double-strand breaks. Nat. Commun. 9, 3925 (2018).

66.

Xue, Y., Li, Y., Guo, R., Ling, C. & Wang, W. FANCM of the Fanconi anemia core complex is required for both monoubiquitination and DNA repair. Hum. Mol. Genet. 17, 1641–1652 (2008).

67.

Feng, S. et al. Ewing tumor-associated antigen 1 interacts with replication protein A to promote restart of stalled replication forks. J. Biol. Chem. 291, 21956–21962 (2016).
Acknowledgements
We thank W. Wang for his advice about the paper and antibodies, J. Huang for BRCA1- and FAN1-expressing plasmids and L. Zuo for the SLX4-expressing plasmid. We thank the Imaging Core at the National Center for Protein Sciences at Peking University. This work was supported in part by the Beijing Outstanding Young Scientist Program (BJJWZYJH01201910001005) to Q.L.; the National Natural Science Foundation of China (81672773 and 31870807) to D.X. and Rong Guo; a China Postdoctoral Science Foundation grant (no. 2018M641078) and the National Natural Science Foundation of China (grant no. 31900928) to Y.X.; JSPS KAKENHI (grant no. JP16H06306 to S.T. and JP19H04267 to H.S.) and the JSPS Core-to-Core Program to S.T.
Ethics declarations
Competing interests
The authors declare no competing interests.
Additional information
Peer review information Nature Structural & Molecular Biology thanks the anonymous reviewers for their contribution to the peer review of this work. Beth Moorefield was the primary editor on this article and managed its editorial process and peer review in collaboration with the rest of the editorial team.
Publisher's note Springer Nature remains neutral with regard to jurisdictional claims in published maps and institutional affiliations.
Supplementary information
About this article
Cite this article
Xu, X., Xu, Y., Guo, R. et al. Fanconi anemia proteins participate in a break-induced-replication-like pathway to counter replication stress. Nat Struct Mol Biol 28, 487–500 (2021). https://doi.org/10.1038/s41594-021-00602-9
Received:

Accepted:

Published:

Issue Date: