Abstract
GDP-mannose (GDP-Man) is a key metabolite essential for protein glycosylation and glycophosphatidylinositol anchor synthesis, and aberrant cellular GDP-Man levels have been associated with multiple human diseases. How cells maintain homeostasis of GDP-Man is unknown. Here, we report the cryo-EM structures of human GMPPA–GMPPB complex, the protein machinery responsible for GDP-Man synthesis, in complex with GDP-Man or GTP. Unexpectedly, we find that the catalytically inactive subunit GMPPA displays a much higher affinity to GDP-Man than the active subunit GMPPB and, subsequently, inhibits the catalytic activity of GMPPB through a unique C-terminal loop of GMPPA. Importantly, disruption of the interactions between GMPPA and GMPPB or the binding of GDP-Man to GMPPA in zebrafish leads to abnormal brain development and muscle abnormality, analogous to phenotypes observed in individuals carrying GMPPA or GMPPB mutations. We conclude that GMPPA acts as a cellular sensor to maintain mannose homeostasis through allosterically regulating GMPPB.
Relevant articles
Open Access articles citing this article.
Zhe Liu

,

Shuai Tan

…

Da Jia

Signal Transduction and Targeted Therapy Open Access 02 January 2023

Hang Li

,

Tuo Ji

…

Chengdong Huang

Cell Discovery Open Access 30 August 2022
Access options
Access Nature and 54 other Nature Portfolio journals
Get Nature+, our best-value online-access subscription
$29.99 / 30 days
cancel any time
Subscribe to this journal
Receive 12 print issues and online access
$189.00 per year
only $15.75 per issue
Rent or buy this article
Prices vary by article type
from$1.95
to$39.95
Prices may be subject to local taxes which are calculated during checkout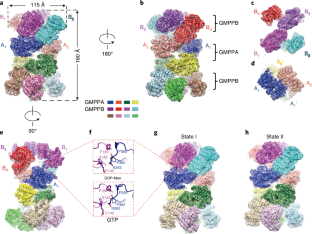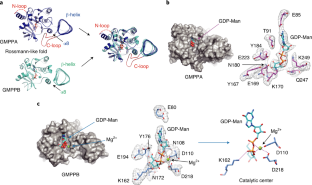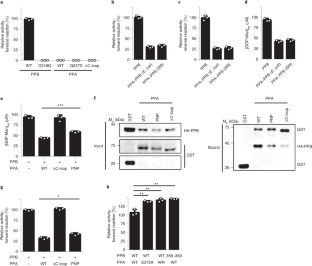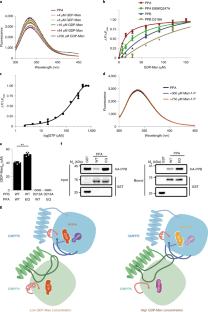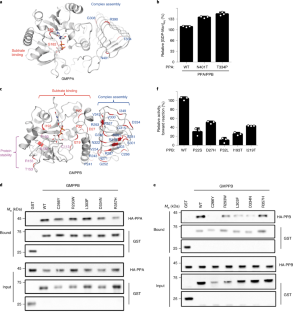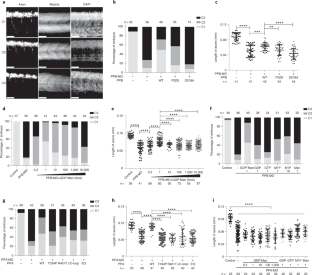 Data availability
Structural data of GMPPA/GMPPB bound to GDP-Man and GTP are deposited in the Protein Data Bank (PDB) under accession nos. 7D72 (GDP-Man), 7D73 (state I) and 7D74 (state II), respectively. The cryo-EM maps are deposited in the Electron Microscopy Data Bank with accession codes 30599 (GDP-Man), 30600 (state I) and 30601 (state II), respectively. All other data are available from the authors on reasonable request. Source data are provided with this paper.
References
Efeyan, A., Comb, W. C. & Sabatini, D. M. Nutrient-sensing mechanisms and pathways. Nature 517, 302–310 (2015).

Gonzalez, A., Hall, M. N., Lin, S. C. & Hardie, D. G. AMPK and TOR: the Yin and Yang of cellular nutrient sensing and growth control. Cell Metab. 31, 472–492 (2020).

Li, X. et al. Structural basis of AMPK regulation by adenine nucleotides and glycogen. Cell Res. 25, 50–66 (2015).

Xiao, B. et al. Structure of mammalian AMPK and its regulation by ADP. Nature 472, 230–233 (2011).

Sun, Q. et al. Structural and functional insights into sorting nexin 5/6 interaction with bacterial effector IncE. Signal Transduct. Target Ther. 2, 17030 (2017).

Hirayama, H. & Suzuki, T. GDP-mannose pyrophosphorylase A,B (GMPPA,B). In Handbook of Glycosyltransferases and Related Genes (eds Taniguchi, N. et al.) 1599–1606 (Springer, 2014).

Sharma, V., Ichikawa, M. & Freeze, H. H. Mannose metabolism: more than meets the eye. Biochem. Biophys. Res. Commun. 453, 220–228 (2014).

Conklin, P. L. et al. Genetic evidence for the role of GDP-mannose in plant ascorbic acid (vitamin C) biosynthesis. Proc. Natl Acad. Sci. USA 96, 4198–4203 (1999).

Warit, S. et al. Glycosylation deficiency phenotypes resulting from depletion of GDP-mannose pyrophosphorylase in two yeast species. Mol. Microbiol. 36, 1156–1166 (2000).

Barth, C., Gouzd, Z. A., Steele, H. P. & Imperio, R. M. A mutation in GDP-mannose pyrophosphorylase causes conditional hypersensitivity to ammonium, resulting in Arabidopsis root growth inhibition, altered ammonium metabolism and hormone homeostasis. J. Exp. Bot. 61, 379–394 (2010).

Koehler, K. et al. Mutations in GMPPA cause a glycosylation disorder characterized by intellectual disability and autonomic dysfunction. Am. J. Hum. Genet. 93, 727–734 (2013).

Carss, K. J. et al. Mutations in GDP-mannose pyrophosphorylase B cause congenital and limb-girdle muscular dystrophies associated with hypoglycosylation of α-dystroglycan. Am. J. Hum. Genet. 93, 29–41 (2013).

Freeze, H. H., Chong, J. X., Bamshad, M. J. & Ng, B. G. Solving glycosylation disorders: fundamental approaches reveal complicated pathways. Am. J. Hum. Genet. 94, 161–175 (2014).

Matthijs, G. et al. Mutations in PMM2, a phosphomannomutase gene on chromosome 16p13, in carbohydrate-deficient glycoprotein type I syndrome (Jaeken syndrome). Nat. Genet. 16, 88–92 (1997).

Jaeken, J. et al. Phosphomannose isomerase deficiency: a carbohydrate-deficient glycoprotein syndrome with hepatic-intestinal presentation. Am. J. Hum. Genet. 62, 1535–1539 (1998).

Ning, B. & Elbein, A. D. Cloning, expression and characterization of the pig liver GDP-mannose pyrophosphorylase. Evidence that GDP-mannose and GDP-Glc pyrophosphorylases are different proteins. Eur. J. Biochem. 267, 6866–6874 (2000).

Szumilo, T., Drake, R. R., York, J. L. & Elbein, A. D. GDP-mannose pyrophosphorylase. Purification to homogeneity, properties and utilization to prepare photoaffinity analogs. J. Biol. Chem. 268, 17943–17950 (1993).

Pelissier, M. C., Lesley, S. A., Kuhn, P. & Bourne, Y. Structural insights into the catalytic mechanism of bacterial guanosine-diphospho-d-mannose pyrophosphorylase and its regulation by divalent ions. J. Biol. Chem. 285, 27468–27476 (2010).

Raetz, C. R. H. & Roderick, S. L. A left-handed parallel β-helix in the structure of UDP-N-acetylglucosamine acyltransferase. Science 270, 997–1000 (1995).

Descoteaux, A., Luo, Y., Turco, S. J. & Beverley, S. M. A specialized pathway affecting virulence glycoconjugates of Leishmania. Science 269, 1869–1872 (1995).

Ning, B. & Elbein, A. D. Purification and properties of mycobacterial GDP-mannose pyrophosphorylase. Arch. Biochem. Biophys. 362, 339–345 (1999).

Nakajima, K. et al. Simultaneous determination of nucleotide sugars with ion-pair reversed-phase HPLC. Glycobiology 20, 865–871 (2010).

Harada, Y. et al. Metabolically programmed quality control system for dolichol-linked oligosaccharides. Proc. Natl Acad. Sci. USA 110, 19366–19371 (2013).

Rush, J. S., Panneerselvam, K., Waechter, C. J. & Freeze, H. H. Mannose supplementation corrects GDP-mannose deficiency in cultured fibroblasts from some patients with congenital disorders of glycosylation (CDG). Glycobiology 10, 829–835 (2000).

Sun, L. et al. Limb-girdle muscular dystrophy due to GMPPB mutations: a case report and comprehensive literature review. Bosn. J. Basic Med. Sci. 20, 275–280 (2020).

Diaz, J., Kane, T. D. & Leon, E. Evidence of GMPPA founder mutation in indigenous Guatemalan population associated with alacrima, achalasia and mental retardation syndrome. Am. J. Med. Genet. A 182, 425–430 (2020).

Huang, W. et al. Structural and functional studies of TBC1D23 C-terminal domain provide a link between endosomal trafficking and PCH. Proc. Natl Acad. Sci. USA 116, 22598–22608 (2019).

Qin, J. et al. Structural and mechanistic insights into secretagogin-mediated exocytosis. Proc. Natl Acad. Sci. USA 117, 6559–6570 (2020).

Arkhipova, V. et al. Characterization and regulation of the hb9/mnx1 β-cell progenitor specific enhancer in zebrafish. Dev. Biol. 365, 290–302 (2012).

Kaslin, J. et al. Stem cells in the adult zebrafish cerebellum: initiation and maintenance of a novel stem cell niche. J. Neurosci. 29, 6142–6153 (2009).

Becker, D. J. & Lowe, J. B. Fucose: biosynthesis and biological function in mammals. Glycobiology 13, 41R–53R (2003).

Sharma, V. & Freeze, H. H. Mannose efflux from the cells: a potential source of mannose in blood. J. Biol. Chem. 286, 10193–10200 (2011).

Mastronarde, D. N. Automated electron microscope tomography using robust prediction of specimen movements. J. Struct. Biol. 152, 36–51 (2005).

Zheng, S. Q. et al. MotionCor2: anisotropic correction of beam-induced motion for improved cryo-electron microscopy. Nat. Methods 14, 331–332 (2017).

Zhang, K. Gctf: real-time CTF determination and correction. J. Struct. Biol. 193, 1–12 (2016).

Zivanov, J. et al. New tools for automated high-resolution cryo-EM structure determination in RELION-3. Elife 7, e42166 (2018).

Emsley, P., Lohkamp, B., Scott, W. G. & Cowtan, K. Features and development of Coot. Acta Crystallogr. D Biol. Crystallogr. 66, 486–501 (2010).

Pettersen, E. F. et al. UCSF chimera—a visualization system for exploratory research and analysis. J. Comput. Chem. 25, 1605–1612 (2004).

Adams, P. D. et al. PHENIX: a comprehensive Python-based system for macromolecular structure solution. Acta Crystallogr. D Struct. Biol. 66, 213–221 (2010).

Chen, V. B. et al. MolProbity: all-atom structure validation for macromolecular crystallography. Acta Crystallogr. D Struct. Biol. 66, 12–21 (2010).

Liu, D. et al. Structure of TBC1D23 N-terminus reveals a novel role for rhodanese domain. PLoS Biol. 18, e3000746 (2020).

Yao, J. et al. Mechanism of inhibition of retromer transport by the bacterial effector RidL. Proc. Natl Acad. Sci. USA 115, E1446–E1454 (2018).

Mao, L. et al. Phosphorylation of SNX27 by MAPK11/14 links cellular stress-signaling pathways with endocytic recycling. J. Cell Biol. 220, e202010048 (2021).

Tsay, F. R. et al. Generic anion-exchange chromatography method for analytical and preparative separation of nucleotides in the development and manufacture of drug substances. J. Chromatogr. A 1587, 129–135 (2019).

Mao, W. et al. Biochemical analysis of leishmanial and human GDP-mannose pyrophosphorylases and selection of inhibitors as new leads. Sci. Rep. 7, 751 (2017).

Jia, D. et al. Structural and mechanistic insights into regulation of the retromer coat by TBC1d5. Nat. Commun. 7, 13305 (2016).

Link, V., Shevchenko, A. & Heisenberg, C. P. Proteomics of early zebrafish embryos. BMC Dev. Biol. 6, 1 (2006).

Garcia, A. D., Chavez, J. L. & Mechref, Y. Sugar nucleotide quantification using multiple reaction monitoring liquid chromatography/tandem mass spectrometry. Rapid Commun. Mass Spectrom. 27, 1794–1800 (2013).

Robu, M. E. et al. p53 activation by knockdown technologies. PLoS Genet. 3, e78 (2007).
Acknowledgements
We thank the Core Facilities of Peking University School of Life Sciences for assistance with negative-staining electron microscopy; the Cryo-EM Platform of Peking University and the Electron Microscopy Laboratory of Peking University for cryo-EM data collection; and the High-performance Computing Platform of Peking University for help with computation. The studies were supported by the National Science Foundation of China (grants 31725007 and 31630087 to N.G., and 91854121 and 31871429 to D.J.), the National Key Research and Development Program of China (grants 2019YFA0508904 to N.G. and 2018YFC1005004 to D.J.), Sichuan Science and Technology Program (grant 2018RZ0128 to D.J.) and the Qidong-SLS Innovation Fund (to N.G.).
Ethics declarations
Competing interests
The authors declare no competing interests.
Additional information
Peer review information Nature Structural & Molecular Biology thanks Jon Agirre, Hudson Freeze and the other, anonymous, reviewer(s) for their contribution to the peer review of this work. Peer reviewer reports are available. Beth Moorefield was the primary editor on this article and managed its editorial process and peer review in collaboration with the rest of the editorial team.
Publisher's note Springer Nature remains neutral with regard to jurisdictional claims in published maps and institutional affiliations.
Supplementary information
About this article
Cite this article
Zheng, L., Liu, Z., Wang, Y. et al. Cryo-EM structures of human GMPPA–GMPPB complex reveal how cells maintain GDP-mannose homeostasis. Nat Struct Mol Biol 28, 1–12 (2021). https://doi.org/10.1038/s41594-021-00591-9
Received:

Accepted:

Published:

Issue Date:

DOI: https://doi.org/10.1038/s41594-021-00591-9