Abstract
Early mammalian development entails genome-wide epigenome remodeling, including DNA methylation erasure and reacquisition, which facilitates developmental competence. To uncover the mechanisms that orchestrate DNA methylation dynamics, we coupled a single-cell ratiometric DNA methylation reporter with unbiased CRISPR screening in murine embryonic stem cells (ESCs). We identify key genes and regulatory pathways that drive global DNA hypomethylation, and characterize roles for Cop1 and Dusp6. We also identify Dppa2 and Dppa4 as essential safeguards of focal epigenetic states. In their absence, developmental genes and evolutionarily young LINE1 elements, which are specifically bound by DPPA2, lose H3K4me3 and gain ectopic de novo DNA methylation in pluripotent cells. Consequently, lineage-associated genes and LINE1 acquire a repressive epigenetic memory, which renders them incompetent for activation during future lineage specification. Dppa2/4 thereby sculpt the pluripotent epigenome by facilitating H3K4me3 and bivalency to counteract de novo methylation, a function co-opted by evolutionarily young LINE1 to evade epigenetic decommissioning.
Relevant articles
Open Access articles citing this article.
Dounia Djeghloul

,

Andrew Dimond

…

Amanda G. Fisher

Nature Structural & Molecular Biology Open Access 20 March 2023

P. Auvinen

,

J. Vehviläinen

…

N. Kaminen-Ahola

BMC Medicine Open Access 30 December 2022
Access options
Access Nature and 54 other Nature Portfolio journals
Get Nature+, our best-value online-access subscription
$29.99 / 30 days
cancel any time
Subscribe to this journal
Receive 12 print issues and online access
$189.00 per year
only $15.75 per issue
Rent or buy this article
Prices vary by article type
from$1.95
to$39.95
Prices may be subject to local taxes which are calculated during checkout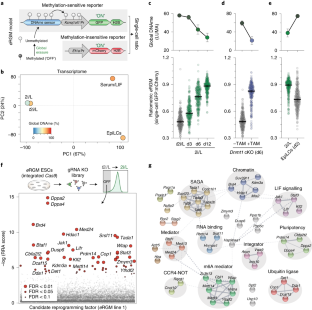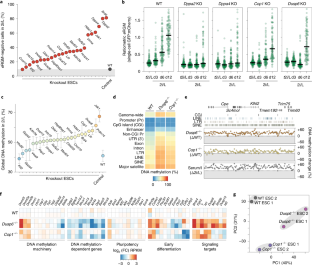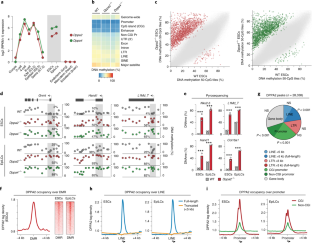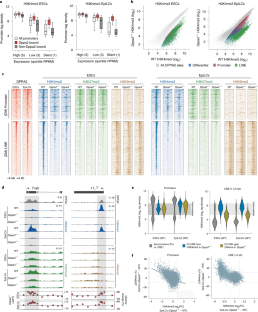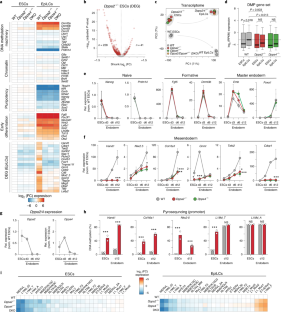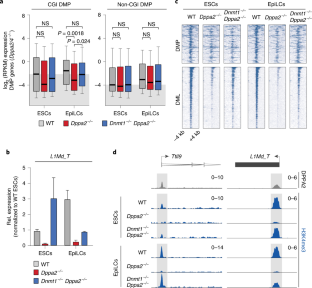 References
Wang, L. et al. Programming and inheritance of parental DNA methylomes in mammals. Cell 157, 979–991 (2014).

Smith, Z. D. et al. DNA methylation dynamics of the human preimplantation embryo. Nature 511, 611–615 (2014).

Xia, W. et al. Resetting histone modifications during human parental-to-zygotic transition. Science 365, 353–360 (2019).

Cantone, I. & Fisher, A. G. Epigenetic programming and reprogramming during development. Nat. Struct. Mol. Biol. 20, 282–289 (2013).

Reik, W. Stability and flexibility of epigenetic gene regulation in mammalian development. Nature 447, 425–432 (2007).

Xiang, Y. et al. Epigenomic analysis of gastrulation identifies a unique chromatin state for primed pluripotency. Nat. Genet. 52, 95–105 (2019).

Smith, Z. D., Sindhu, C. & Meissner, A. Molecular features of cellular reprogramming and development. Nat. Rev. Mol. Cell Biol. 17, 139–154 (2016).

Yamanaka, S. & Blau, H. M. Nuclear reprogramming to a pluripotent state by three approaches. Nature 465, 704–712 (2010).

Greenberg, M. V. C. & Bourc'his, D. The diverse roles of DNA methylation in mammalian development and disease. Nat. Rev. Mol. Cell Biol. 20, 590–607 (2019).

Maenohara, S. et al. Role of UHRF1 in de novo DNA methylation in oocytes and maintenance methylation in preimplantation embryos. PLoS Genet. 13, e1007042 (2017).

von Meyenn, F. et al. Impairment of DNA methylation maintenance is the main cause of global demethylation in naive embryonic stem cells. Mol. Cell 62, 848–861 (2016).

Funaki, S. et al. Inhibition of maintenance DNA methylation by Stella. Biochem. Biophys. Res. Commun. 453, 455–460 (2014).

Li, Y. et al. Stella safeguards the oocyte methylome by preventing de novo methylation mediated by DNMT1. Nature 564, 136–140 (2018).

Mulholland, C. B. et al. Recent evolution of a TET-controlled and DPPA3/STELLA-driven pathway of passive demethylation in mammals. Preprint at bioRxiv https://doi.org/10.1101/321604 (2020).

Leitch, H. G. et al. Naive pluripotency is associated with global DNA hypomethylation. Nat. Struct. Mol. Biol. 20, 311–316 (2013).

Hackett, J. A. et al. Synergistic mechanisms of DNA demethylation during transition to ground-state pluripotency. Stem Cell Rep. 1, 518–531 (2013).

Amouroux, R. et al. De novo DNA methylation drives 5hmC accumulation in mouse zygotes. Nat. Cell Biol. 18, 225–233 (2016).

Jachowicz, J. W. et al. LINE-1 activation after fertilization regulates global chromatin accessibility in the early mouse embryo. Nat. Genet. 49, 1502–1510 (2017).

Chow, J. C. et al. LINE-1 activity in facultative heterochromatin formation during X chromosome inactivation. Cell 141, 956–969 (2010).

Percharde, M. et al. A LINE1-Nucleolin partnership regulates early development and ESC identity. Cell 174, 391–405 (2018).

Garcia-Perez, J. L., Widmann, T. J. & Adams, I. R. The impact of transposable elements on mammalian development. Development 143, 4101–4114 (2016).

Rodriguez-Terrones, D. & Torres-Padilla, M. E. Nimble and ready to mingle: transposon outbursts of early development. Trends Genet. 34, 806–820 (2018).

Stelzer, Y., Shivalila, C. S., Soldner, F., Markoulaki, S. & Jaenisch, R. Tracing dynamic changes of DNA methylation at single-cell resolution. Cell 163, 218–229 (2015).

Marks, H. et al. The transcriptional and epigenomic foundations of ground state pluripotency. Cell 149, 590–604 (2012).

Walter, M., Teissandier, A., Perez-Palacios, R. & Bourc'his, D. An epigenetic switch ensures transposon repression upon dynamic loss of DNA methylation in embryonic stem cells. Elife 5, e11418 (2016).

Hackett, J. A., Kobayashi, T., Dietmann, S. & Surani, M. A. Activation of lineage regulators and transposable elements across a pluripotent spectrum. Stem Cell Rep. 8, 1645–1658 (2017).

Sharif, J. et al. Activation of endogenous retroviruses in Dnmt1 −/− ESCs involves disruption of SETDB1-mediated repression by NP95 binding to hemimethylated DNA. Cell Stem Cell 19, 81–94 (2016).

Doench, J. G. et al. Optimized sgRNA design to maximize activity and minimize off-target effects of CRISPR-Cas9. Nat. Biotechnol. 34, 184–191 (2016).

Nady, N. et al. ETO family protein Mtgr1 mediates Prdm14 functions in stem cell maintenance and primordial germ cell formation. Elife 4, e10150 (2015).

Tu, S. et al. Co-repressor CBFA2T2 regulates pluripotency and germline development. Nature 534, 387–390 (2016).

Habibi, E. et al. Whole-genome bisulfite sequencing of two distinct interconvertible DNA methylomes of mouse embryonic stem cells. Cell Stem Cell 13, 360–369 (2013).

Li, C., Scott, D. A., Hatch, E., Tian, X. & Mansour, S. L. Dusp6 (Mkp3) is a negative feedback regulator of FGF-stimulated ERK signaling during mouse development. Development 134, 167–176 (2007).

Dornan, D. et al. The ubiquitin ligase COP1 is a critical negative regulator of p53. Nature 429, 86–92 (2004).

Vaisvila, R. et al. EM-seq: detection of DNA methylation at single base resolution from picograms of DNA. Preprint at bioRxiv https://doi.org/10.1101/2019.12.20.884692 (2019).

Ooi, S. K. et al. DNMT3L connects unmethylated lysine 4 of histone H3 to de novo methylation of DNA. Nature 448, 714–717 (2007).

Guo, X. et al. Structural insight into autoinhibition and histone H3-induced activation of DNMT3A. Nature 517, 640–644 (2015).

De Iaco, A., Coudray, A., Duc, J. & Trono, D. DPPA2 and DPPA4 are necessary to establish a 2C-like state in mouse embryonic stem cells. EMBO Rep. 20, e47382 (2019).

Brumbaugh, J. et al. Nudt21 controls cell fate by connecting alternative polyadenylation to chromatin signaling. Cell 172, 106–120 (2018).

Choi, J. et al. Prolonged Mek1/2 suppression impairs the developmental potential of embryonic stem cells. Nature 548, 219–223 (2017).

Choi, J. et al. DUSP9 modulates DNA hypomethylation in female mouse pluripotent stem cells. Cell Stem Cell 20, 706–719 (2017).

Hamilton, W. B. et al. Dynamic lineage priming is driven via direct enhancer regulation by ERK. Nature 575, 355–360 (2019).

Eckersley-Maslin, M. et al. Dppa2 and Dppa4 directly regulate the Dux-driven zygotic transcriptional program. Genes Dev. 33, 194–208 (2019).

Hernandez, C. et al. Dppa2/4 facilitate epigenetic remodeling during reprogramming to pluripotency. Cell Stem Cell. 23, 396–411 (2018).

Nakamura, T., Nakagawa, M., Ichisaka, T., Shiota, A. & Yamanaka, S. Essential roles of ECAT15-2/Dppa2 in functional lung development. Mol. Cell. Biol. 31, 4366–4378 (2011).

Engelen, E. et al. Proteins that bind regulatory regions identified by histone modification chromatin immunoprecipitations and mass spectrometry. Nat. Commun. 6, 7155 (2015).

Eckersley-Maslin, M. A. et al. Dppa2/4 target chromatin bivalency enabling multi-lineage commitment. Preprint at bioRxiv https://doi.org/10.1101/832873 (2019).

Du, J., Johnson, L. M., Jacobsen, S. E. & Patel, D. J. DNA methylation pathways and their crosstalk with histone methylation. Nat. Rev. Mol. Cell Biol. 16, 519–532 (2015).

Noh, K. M. et al. Engineering of a histone-recognition domain in Dnmt3a alters the epigenetic landscape and phenotypic features of mouse ESCs. Mol. Cell 59, 89–103 (2015).

Boulard, M., Edwards, J. R. & Bestor, T. H. FBXL10 protects Polycomb-bound genes from hypermethylation. Nat. Genet. 47, 479–485 (2015).

Reddington, J. P. et al. Redistribution of H3K27me3 upon DNA hypomethylation results in de-repression of Polycomb target genes. Genome Biol. 14, R25 (2013).

Lindroth, A. M. et al. Antagonism between DNA and H3K27 methylation at the imprinted Rasgrf1 locus. PLoS Genet. 4, e1000145 (2008).

Atlasi, Y. & Stunnenberg, H. G. The interplay of epigenetic marks during stem cell differentiation and development. Nat. Rev. Genet. 18, 643–658 (2017).

Kano, H. et al. L1 retrotransposition occurs mainly in embryogenesis and creates somatic mosaicism. Genes Dev. 23, 1303–1312 (2009).

Ying, Q. L. et al. The ground state of embryonic stem cell self-renewal. Nature 453, 519–523 (2008).

Borowiak, M. et al. Small molecules efficiently direct endodermal differentiation of mouse and human embryonic stem cells. Cell Stem Cell 4, 348–358 (2009).

Hackett, J. A. et al. Tracing the transitions from pluripotency to germ cell fate with CRISPR screening. Nat. Commun. 9, 4292 (2018).

Brinkman, E. K., Chen, T., Amendola, M. & van Steensel, B. Easy quantitative assessment of genome editing by sequence trace decomposition. Nucleic Acids Res. 42, e168 (2014).

Chen, B. H. et al. Dynamic imaging of genomic loci in living human cells by an optimized CRISPR/Cas system. Cell 155, 1479–1491 (2013).

Skene, P. J., Henikoff, J. G. & Henikoff, S. Targeted in situ genome-wide profiling with high efficiency for low cell numbers. Nat. Protoc. 13, 1006–1019 (2018).

Martin, M. Cutadapt removes adapter sequences from high-throughput sequencing reads. EMBnet J. 17, 10–12 (2011).

Li, W. et al. MAGeCK enables robust identification of essential genes from genome-scale CRISPR/Cas9 knockout screens. Genome Biol. 15, 554 (2014).

Berrens, R. V. et al. An endosiRNA-based repression mechanism counteracts transposon activation during global DNA demethylation in embryonic stem cells. Cell Stem Cell 21, 694–703 (2017).

Huang, D. W., Sherman, B. T. & Lempicki, R. A. Systematic and integrative analysis of large gene lists using DAVID bioinformatics resources. Nat. Protoc. 4, 44–57 (2009).
Acknowledgements
We thank C. Policarpi for advice on CUT&RUN and all members of the Hackett laboratory for experimental support. We thank M. Boulard and P. Avner for critical reading of the manuscript and E. Magnusdottir and A. Aulehla for their contributions to thesis advisory committee discussions. We thank H. Koseki and J. Sharif for kindly sharing floxed Dnmt1 ESCs. We thank European Molecular Biology Laboratory (EMBL) core facilities and, in particular, those of genetic and viral engineering (J. Sawitzke) and flow cytometry (C. Chaddick), for key experimental assistance. This study was funded by an EMBL program grant to J.A.H.
Ethics declarations
Competing interests
The authors declare no competing interests.
Additional information
Peer review information Peer reviewer reports are available. Anke Sparmann was the primary editor on this article and managed its editorial process and peer review in collaboration with the rest of the editorial team.
Publisher's note Springer Nature remains neutral with regard to jurisdictional claims in published maps and institutional affiliations.
Supplementary information
Table containing a list of candidate reprogramming factors identified by the CRISPR screen, a list of DMPs following Dppa2/4 knockout and a list of gRNA sequences used to generate knockouts in this study.
About this article
Cite this article
Gretarsson, K.H., Hackett, J.A. Dppa2 and Dppa4 counteract de novo methylation to establish a permissive epigenome for development. Nat Struct Mol Biol 27, 706–716 (2020). https://doi.org/10.1038/s41594-020-0445-1
Received:

Accepted:

Published:

Issue Date:

DOI: https://doi.org/10.1038/s41594-020-0445-1