Abstract
RNA-binding sites (RBSs) can be identified by liquid chromatography and tandem mass spectrometry analyses of the protein–RNA conjugates created by crosslinking, but RBS mapping remains highly challenging due to the complexity of the formed RNA adducts. Here, we introduce RBS-ID, a method that uses hydrofluoride to fully cleave RNA into mono-nucleosides, thereby minimizing the search space to drastically enhance coverage and to reach single amino acid resolution. Moreover, the simple mono-nucleoside adducts offer a confident and quantitative measure of direct RNA–protein interaction. Using RBS-ID, we profiled ~2,000 human RBSs and probed Streptococcus pyogenes Cas9 to discover residues important for genome editing.
Your institute does not have access to this article
Relevant articles
Open Access articles citing this article.
Liang-Cui Chu

,

Pedro Arede

…

Sander Granneman

Nature Communications Open Access 24 May 2022

Anna Knörlein

,

Chris P. Sarnowski

…

Jonathan Hall

Nature Communications Open Access 17 May 2022

Jong Woo Bae

,

Sangtae Kim

…

Jong-Seo Kim

Nature Communications Open Access 15 October 2021
Access options
Subscribe to Nature+
Get immediate online access to the entire Nature family of 50+ journals
Subscribe to Journal
Get full journal access for 1 year
$99.00
only $8.25 per issue
All prices are NET prices.
VAT will be added later in the checkout.
Tax calculation will be finalised during checkout.
Buy article
Get time limited or full article access on ReadCube.
$32.00
All prices are NET prices.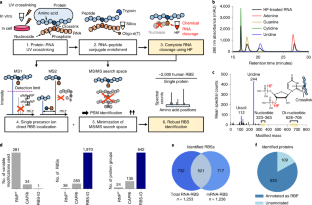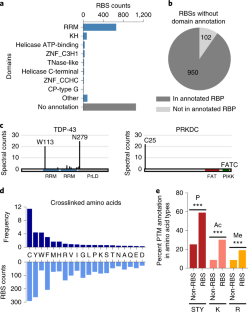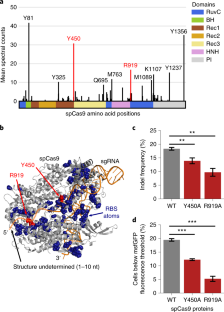 References
Castello, A. et al. Insights into RNA biology from an atlas of mammalian mRNA-binding proteins. Cell 149, 1393–1406 (2012).

Baltz, A. G. et al. The mRNA-bound proteome and its global occupancy profile on protein-coding transcripts. Mol. Cell 46, 674–690 (2012).

Leitner, A., Dorn, G. & Allain, F. H. T. Combining mass spectrometry (MS) and nuclear magnetic resonance (NMR) spectroscopy for integrative structural biology of protein–RNA complexes. Cold Spring Harb. Perspect. Biol. 11, a032359 (2019).

Castello, A. et al. Comprehensive identification of RNA-binding domains in human cells. Mol. Cell 63, 696–710 (2016).

He, C. et al. High-resolution mapping of RNA-binding regions in the nuclear proteome of embryonic stem cells. Mol. Cell 64, 416–430 (2016).

Kramer, K. et al. Photo-cross-linking and high-resolution mass spectrometry for assignment of RNA-binding sites in RNA-binding proteins. Nat. Methods 11, 1064–1070 (2014).

Panhale, A. et al. CAPRI enables comparison of evolutionarily conserved RNA interacting regions. Nat. Commun. 10, 2682 (2019).

Shchepachev, V. et al. Defining the RNA interactome by total RNA-associated protein purification. Mol. Syst. Biol. 15, e8689 (2019).

Jeong, K., Kim, S. & Bandeira, N. False discovery rates in spectral identification. BMC Bioinformatics 13(Suppl. 16), S2 (2012).

Bogdanow, B., Zauber, H. & Selbach, M. Systematic errors in peptide and protein identification and quantification by modified peptides. Mol. Cell Proteom. 15, 2791–2801 (2016).

Trendel, J. et al. The human RNA-binding proteome and its dynamics during translational arrest. Cell 176, 391–403 (2019).

Crean, C., Uvaydov, Y., Geacintov, N. E. & Shafirovich, V. Oxidation of single-stranded oligonucleotides by carbonate radical anions: generating intrastrand cross-links between guanine and thymine bases separated by cytosines. Nucleic Acids Res. 36, 742–755 (2008).

Woo, E. M., Fenyo, D., Kwok, B. H., Funabiki, H. & Chait, B. T. Efficient identification of phosphorylation by mass spectrometric phosphopeptide fingerprinting. Anal. Chem. 80, 2419–2425 (2008).

Na, S., Bandeira, N. & Paek, E. Fast multi-blind modification search through tandem mass spectrometry. Mol. Cell Proteom. 11, 010199 (2012).

Kong, A. T., Leprevost, F. V., Avtonomov, D. M., Mellacheruvu, D. & Nesvizhskii, A. I. MSFragger: ultrafast and comprehensive peptide identification in mass spectrometry-based proteomics. Nat. Methods 14, 513–520 (2017).

Kim, S. & Pevzner, P. A. MS-GF+ makes progress towards a universal database search tool for proteomics. Nat. Commun. 5, 5277 (2014).

Edwards, N. J. PepArML: a meta-search peptide identification platform for tandem mass spectra. Curr. Protoc. Bioinformatics 44, 13.23.1–13.23.23 (2013).

Chalkley, R. J. & Clauser, K. R. Modification site localization scoring: strategies and performance. Mol. Cell Proteom. 11, 3–14 (2012).

Chang, C. et al. PANDA: a comprehensive and flexible tool for quantitative proteomics data analysis. Bioinformatics 35, 898–900 (2019).

UniProt Consortium. UniProt: a worldwide hub of protein knowledge. Nucleic Acids Res. 47, D506–D515 (2019).

Huang, D. W., Sherman, B. T. & Lempicki, R. A. Systematic and integrative analysis of large gene lists using DAVID bioinformatics resources. Nat. Protoc. 4, 44–57 (2009).

Schafer, I. B. et al. Molecular basis for poly(A) RNP architecture and recognition by the Pan2-Pan3 deadenylase. Cell 177, 1619–1631 (2019).

Kuhn, U. & Pieler, T. Xenopus poly(A) binding protein: functional domains in RNA binding and protein–protein interaction. J. Mol. Biol. 256, 20–30 (1996).

Hawley, B. R., Lu, W. T., Wilczynska, A. & Bushell, M. The emerging role of RNAs in DNA damage repair. Cell Death Differ. 24, 580–587 (2017).

Shetlar, M. D., Carbone, J., Steady, E. & Hom, K. Photochemical addition of amino acids and peptides to polyuridylic acid. Photochem. Photobiol. 39, 141–144 (1984).

Hornbeck, P. V. et al. PhosphoSitePlus, 2014: mutations, PTMs and recalibrations. Nucleic Acids Res. 43, D512–D520 (2015).

Yoon, J. H. et al. Tyrosine phosphorylation of HuR by JAK3 triggers dissociation and degradation of HuR target mRNAs. Nucleic Acids Res. 42, 1196–1208 (2014).

Jiang, F., Zhou, K., Ma, L., Gressel, S. & Doudna, J. A. A Cas9–guide RNA complex preorganized for target DNA recognition. Science 348, 1477–1481 (2015).

Anders, C., Niewoehner, O., Duerst, A. & Jinek, M. Structural basis of PAM-dependent target DNA recognition by the Cas9 endonuclease. Nature 513, 569–573 (2014).

Ran, F. A. et al. Genome engineering using the CRISPR-Cas9 system. Nat. Protoc. 8, 2281–2308 (2013).

Leonetti, M. D., Sekine, S., Kamiyama, D., Weissman, J. S. & Huang, B. A scalable strategy for high-throughput GFP tagging of endogenous human proteins. Proc. Natl Acad. Sci. USA 113, E3501–3508 (2016).

He, L., Diedrich, J., Chu, Y. Y. & Yates, J. R. III. Extracting accurate precursor information for tandem mass spectra by RawConverter. Anal. Chem. 87, 11361–11367 (2015).

Chambers, M. C. et al. A cross-platform toolkit for mass spectrometry and proteomics. Nat. Biotechnol. 30, 918–920 (2012).

Vizcaino, J. A. et al. The PRoteomics IDEntifications (PRIDE) database and associated tools: status in 2013. Nucleic Acids Res. 41, D1063–D1069 (2013).
Acknowledgements
We thank S. Shin, K. Baeg and S. Lee for insightful comments and discussion. We are also grateful to J. Kim, J. Yang, D. Choi and E. Kim for technical help, and all members of our laboratories for helpful discussion. We thank J. S. Kim (Seoul National University), Pacific Northwest National Laboratory and the OMICS.PNL.GOV for providing valuable plasmid and software. This work was supported by IBS-R008-D1 of the Institute for Basic Science from the Ministry of Science and ICT of Korea (J.W.B., S.-C.K., Y.N., V.N.K. and J.-S.K.) and BK21 Research Fellowships (J.W.B.) from the Ministry of Education, Science and Technology of Korea.
Ethics declarations
Competing interests
The authors declare no competing interests.
Additional information
Peer review information Peer reviewer reports are available. Anke Sparmann was the primary editor on this article and managed its editorial process and peer review in collaboration with the rest of the editorial team.
Publisher's note Springer Nature remains neutral with regard to jurisdictional claims in published maps and institutional affiliations.
Supplementary information
About this article
Cite this article
Bae, J.W., Kwon, S.C., Na, Y. et al. Chemical RNA digestion enables robust RNA-binding site mapping at single amino acid resolution. Nat Struct Mol Biol 27, 678–682 (2020). https://doi.org/10.1038/s41594-020-0436-2
Received:

Accepted:

Published:

Issue Date:

DOI: https://doi.org/10.1038/s41594-020-0436-2