Abstract
Protein arginine methyltransferase 5 (PRMT5) has emerged as a promising cancer drug target, and three PRMT5 inhibitors are currently in clinical trials for multiple malignancies. In this study, we investigated the role of PRMT5 in human acute myeloid leukemia (AML). Using an enzymatic dead version of PRMT5 and a PRMT5-specific inhibitor, we demonstrated the requirement of the catalytic activity of PRMT5 for the survival of AML cells. We then identified PRMT5 substrates using multiplexed quantitative proteomics and investigated their role in the survival of AML cells. We found that the function of the splicing regulator SRSF1 relies on its methylation by PRMT5 and that loss of PRMT5 leads to changes in alternative splicing of multiple essential genes. Our study proposes a mechanism for the requirement of PRMT5 for leukemia cell survival and provides potential biomarkers for the treatment response to PRMT5 inhibitors.
Access options
Subscribe to Journal
Get full journal access for 1 year
$225.00
only $18.75 per issue
All prices are NET prices.
VAT will be added later in the checkout.
Rent or Buy article
Get time limited or full article access on ReadCube.
from$8.99
All prices are NET prices.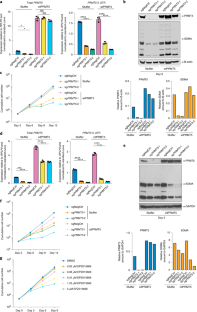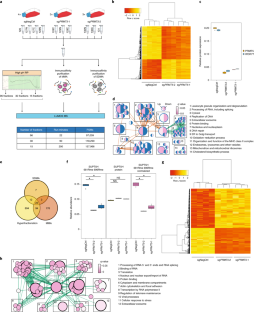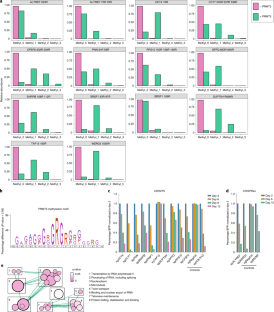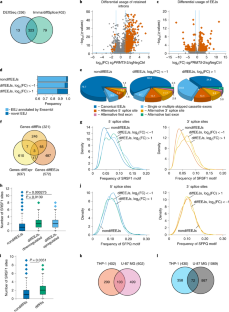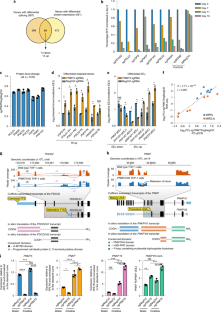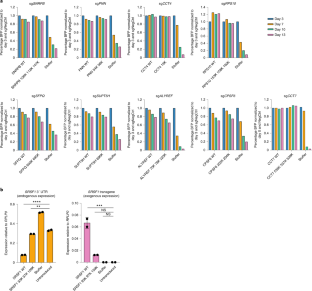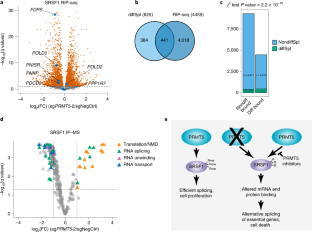 Data availability
Next-generation sequencing has been submitted to the Gene Expression Omnibus (accession number GSE129652). Proteomics data has been submitted to ProteomeXchange (accession number PXD013611). Source data for all the main Figures and Extended Data Figs. 1, 2, 4, 6, 7 are available with the paper online either as Source Data or in Supplementary Tables. All other data will be made available on request.
References
1.

Larsen, S. C. et al. Proteome-wide analysis of arginine monomethylation reveals widespread occurrence in human cells. Sci. Signal 9, rs9 (2016).

2.

Blanc, R. S. & Richard, S. Arginine methylation: the coming of age. Mol. Cell 65, 8–24 (2017).

3.

Gayatri, S. & Bedford, M. T. Readers of histone methylarginine marks. Biochim. Biophys. Acta 1839, 702–710 (2014).

4.

Li, X., Wang, C., Jiang, H. & Luo, C. A patent review of arginine methyltransferase inhibitors (2010–2018). Expert Opin. Ther. Pat. 29, 97–114 (2019).

5.

Stopa, N., Krebs, J. E. & Shechter, D. The PRMT5 arginine methyltransferase: many roles in development, cancer and beyond. Cell. Mol. Life Sci. 72, 2041–2059 (2015).

6.

Shailesh, H., Zakaria, Z. Z., Baiocchi, R. & Sif, S. Protein arginine methyltransferase 5 (PRMT5) dysregulation in cancer. Oncotarget 9, 36705–36718 (2018).

7.

Kryukov, G. V. et al. MTAP deletion confers enhanced dependency on the PRMT5 arginine methyltransferase in cancer cells. Science 351, 1214–1218 (2016).

8.

Marjon, K. et al. MTAP deletions in cancer create vulnerability to targeting of the MAT2A/PRMT5/RIOK1 axis. Cell Rep. 15, 574–587 (2016).

9.

Mavrakis, K. J. et al. Disordered methionine metabolism in MTAP/CDKN2A-deleted cancers leads to dependence on PRMT5. Science 351, 1208–1213 (2016).

10.

Beroukhim, R. et al. The landscape of somatic copy-number alteration across human cancers. Nature 463, 899–905 (2010).

11.

Branscombe, T. L. et al. PRMT5 (Janus kinase-binding protein 1) catalyzes the formation of symmetric dimethylarginine residues in proteins. J. Biol. Chem. 276, 32971–32976 (2001).

12.

Rho, J. et al. Prmt5, which forms distinct homo-oligomers, is a member of the protein-arginine methyltransferase family. J. Biol. Chem. 276, 11393–11401 (2001).

13.

Friesen, W. J. et al. A novel WD repeat protein component of the methylosome binds Sm proteins. J. Biol. Chem. 277, 8243–8247 (2002).

14.

Antonysamy, S. et al. Crystal structure of the human PRMT5:MEP50 complex. Proc. Natl Acad. Sci. USA 109, 17960–17965 (2012).

15.

Burgos, E. S. et al. Histone H2A and H4 N-terminal tails are positioned by the MEP50 WD repeat protein for efficient methylation by the PRMT5 arginine methyltransferase. J. Biol. Chem. 290, 9674–9689 (2015).

16.

Gilbert, L. A. et al. CRISPR-mediated modular RNA-guided regulation of transcription in eukaryotes. Cell 154, 442–451 (2013).

17.

Gilbert, L. A. et al. Genome-scale CRISPR-mediated control of gene repression and activation. Cell 159, 647–661 (2014).

18.

Thompson, A. et al. Tandem mass tags: a novel quantification strategy for comparative analysis of complex protein mixtures by MS/MS. Anal. Chem. 75, 1895–1904 (2003).

19.

McAlister, G. C. et al. MultiNotch MS3 enables accurate, sensitive, and multiplexed detection of differential expression across cancer cell line proteomes. Anal. Chem. 86, 7150–7158 (2014).

20.

Wang, T. et al. Gene essentiality profiling reveals gene networks and synthetic lethal interactions with oncogenic ras. Cell 168, 890–903.e15 (2017).

21.

Braun, C. J. et al. Coordinated splicing of regulatory detained introns within oncogenic transcripts creates an exploitable vulnerability in malignant glioma. Cancer Cell 32, 411–426.e11 (2017).

22.

Hamard, P.-J. et al. PRMT5 regulates DNA repair by controlling the alternative splicing of histone-modifying enzymes. Cell Rep. 24, 2643–2657 (2018).

23.

Rengasamy, M. et al. The PRMT5/WDR77 complex regulates alternative splicing through ZNF326 in breast cancer. Nucleic Acids Res. 45, 11106–11120 (2017).

24.

Koh, C. M. et al. MYC regulates the core pre-mRNA splicing machinery as an essential step in lymphomagenesis. Nature 523, 96–100 (2015).

25.

Bezzi, M. et al. Regulation of constitutive and alternative splicing by PRMT5 reveals a role for Mdm4 pre-mRNA in sensing defects in the spliceosomal machinery. Genes Dev. 27, 1903–1916 (2013).

26.

Love, M. I., Huber, W. & Anders, S. Moderated estimation of fold change and dispersion for RNA-seq data with DESeq2. Genome Biol. 15, 550 (2014).

27.

Robinson, M. D., McCarthy, D. J. & Smyth, G. K. edgeR: a bioconductor package for differential expression analysis of digital gene expression data. Bioinformatics 26, 139–140 (2010).

28.

Ritchie, M. E. et al. limma powers differential expression analyses for RNA-sequencing and microarray studies. Nucleic Acids Res. 43, e47 (2015).

29.

Trapnell, C. et al. Transcript assembly and quantification by RNA-Seq reveals unannotated transcripts and isoform switching during cell differentiation. Nat. Biotechnol. 28, 511–515 (2010).

30.

Anders, S., Reyes, A. & Huber, W. Detecting differential usage of exons from RNA-seq data. Genome Res. 22, 2008–2017 (2012).

31.

Hartley, S. W. & Mullikin, J. C. Detection and visualization of differential splicing in RNA-Seq data with JunctionSeq. Nucleic Acids Res. 44, e127 (2016).

32.

Chandler, S. D., Mayeda, A., Yeakley, J. M., Krainer, A. R. & Fu, X. D. RNA splicing specificity determined by the coordinated action of RNA recognition motifs in SR proteins. Proc. Natl Acad. Sci. USA 94, 3596–3601 (1997).

33.

Hall-Pogar, T., Liang, S., Hague, L. K. & Lutz, C. S. Specific trans-acting proteins interact with auxiliary RNA polyadenylation elements in the COX-2 3′-UTR. RNA 13, 1103–1115 (2007).

34.

Melton, A. A., Jackson, J., Wang, J. & Lynch, K. W. Combinatorial control of signal-induced exon repression by hnRNP L and PSF. Mol. Cell. Biol. 27, 6972–6984 (2007).

35.

Sinha, R. et al. Arginine methylation controls the subcellular localization and functions of the oncoprotein splicing factor SF2/ASF. Mol. Cell. Biol. 30, 2762–2774 (2010).

36.

Das, S. & Krainer, A. R. Emerging functions of SRSF1, splicing factor and oncoprotein, in RNA metabolism and cancer. Mol. Cancer Res. 12, 1195–1204 (2014).

37.

Twyffels, L., Gueydan, C. & Kruys, V. Shuttling SR proteins: more than splicing factors. FEBS J. 278, 3246–3255 (2011).

38.

Zhang, Z. & Krainer, A. R. Involvement of SR proteins in mRNA surveillance. Mol. Cell 16, 597–607 (2004).

39.

Kaushik, S. et al. Genetic deletion or small-molecule inhibition of the arginine methyltransferase PRMT5 exhibit anti-tumoral activity in mouse models of MLL-rearranged AML. Leukemia 32, 499–509 (2018).

40.

Musiani, D. et al. Proteomics profiling of arginine methylation defines PRMT5 substrate specificity. Sci. Signal 12, eaat8388 (2019).

41.

Christoforou, A. L. & Lilley, K. S. Isobaric tagging approaches in quantitative proteomics: the ups and downs. Anal. Bioanal. Chem. 404, 1029–1037 (2012).

42.

Cáceres, J. F., Screaton, G. R. & Krainer, A. R. A specific subset of SR proteins shuttles continuously between the nucleus and the cytoplasm. Genes Dev. 12, 55–66 (1998).

43.

Krainer, A. R., Conway, G. C. & Kozak, D. Purification and characterization of pre-mRNA splicing factor SF2 from HeLa cells. Genes Dev. 4, 1158–1171 (1990).

44.

Krainer, A. R., Conway, G. C. & Kozak, D. The essential pre-mRNA splicing factor SF2 influences 5′ splice site selection by activating proximal sites. Cell 62, 35–42 (1990).

45.

Ge, H. & Manley, J. L. A protein factor, ASF, controls cell-specific alternative splicing of SV40 early pre-mRNA in vitro. Cell 62, 25–34 (1990).

46.

da Silva, M. R. et al. Splicing regulators and their roles in cancer biology and therapy. Biomed. Res. Int. 2015, 150514 (2015).

47.

Xiang, S. et al. Phosphorylation drives a dynamic switch in serine/arginine-rich proteins. Structure 21, 2162–2174 (2013).

48.

Aubol, B. E. et al. Processive phosphorylation of alternative splicing factor/splicing factor 2. Proc. Natl Acad. Sci. USA 100, 12601–12606 (2003).

49.

Boutz, P. L., Bhutkar, A. & Sharp, P. A. Detained introns are a novel, widespread class of post-transcriptionally spliced introns. Genes Dev. 29, 63–80 (2015).

50.

Jacob, A. G. & Smith, C. W. J. Intron retention as a component of regulated gene expression programs. Hum. Genet. 136, 1043–1057 (2017).

51.

Weatheritt, R. J., Sterne-Weiler, T. & Blencowe, B. J. The ribosome-engaged landscape of alternative splicing. Nat. Struct. Mol. Biol. 23, 1117–1123 (2016).

52.

Radzisheuskaya, A., Shlyueva, D., Müller, I. & Helin, K. Optimizing sgRNA position markedly improves the efficiency of CRISPR/dCas9-mediated transcriptional repression. Nucleic Acids Res. 44, e141 (2016).
Acknowledgements
We thank members of the Helin laboratory for discussions, S. Teed and H. Damhofer for technical assistance, I. Comet for advice on nuclear-cytoplasm fractionation and S. Fujisawa and the rest of the Molecular Cytology Core at the MSKCC for microscopy assistance. A.R. and D.S. were funded by the European Union's Horizon 2020 research and innovation program under the Marie Sklodowska-Curie grant (agreement nos. 659171 and 749362, respectively). The work in the Helin laboratory was supported by the Danish Cancer Society (grant no. R167-A10877), through a center grant from the NNF to the NNF Center for Stem Cell Biology (no. NNF17CC0027852), and through the Memorial Sloan Kettering Cancer Center Support Grant (no. NIH P30 CA008748). Experimental and computational proteomics work at SDU (P.S., V. Gorshkov, S.K. and O.N.J) was supported by the research infrastructure provided by the Danish National Mass Spectrometry Platform for Functional Proteomics (grant nos. PRO-MS and 5072-00007B) and the VILLUM Center for Bioanalytical Sciences (grant no. 7292). P.S. was supported by a postdoctoral fellowship from the Lundbeck Foundation (no. R231-2016-3093). S.K. was supported by a research grant from Independent Research Fund Denmark (grant no. 4181-00172B to O.N.J.). Research in the V. Grinev laboratory was supported in part by the Ministry of Education of the Republic of Belarus (grant no. 3.08.3 469/54).
Ethics declarations
Competing interests
The authors declare no competing interests
Additional information
Peer review information Anke Sparmann was the primary editor on this article and managed its editorial process and peer review in collaboration with the rest of the editorial team.
Publisher's note Springer Nature remains neutral with regard to jurisdictional claims in published maps and institutional affiliations.
Supplementary Information
About this article
Cite this article
Radzisheuskaya, A., Shliaha, P.V., Grinev, V. et al. PRMT5 methylome profiling uncovers a direct link to splicing regulation in acute myeloid leukemia. Nat Struct Mol Biol 26, 999–1012 (2019) doi:10.1038/s41594-019-0313-z
Received

Accepted

Published

Issue Date