Abstract
Bacterial locomotion by rotating flagella is achieved through the hook, which transmits torque from the motor to the filament. The hook is a tubular structure composed of a single type of protein, yet it adopts a curved shape. To perform its function, it must be simultaneously flexible and torsionally rigid. The molecular mechanism by which chemically identical subunits form such a dynamic structure is unknown. Here, we show the complete structure of the hook from Salmonella enterica in its supercoiled 'curved' state, at 2.9 Å resolution. Subunits in the curved hook are grouped into 11 distinctive conformations, each shared along 11 protofilaments. The domains of the elongated hook subunit behave as rigid bodies connected by two hinge regions. The reconstituted model demonstrates how identical subunits can dynamically change conformation by physical interactions while bending. These multiple subunit states contradict the two-state model, which is a key feature of flagellar polymorphism.
Your institute does not have access to this article
Relevant articles
Open Access articles citing this article.
Ashley L. Nord

,

Anaïs Biquet-Bisquert

…

Francesco Pedaci

Nature Communications Open Access 25 May 2022

Lavinia Gambelli

,

Michail N. Isupov

…

Bertram Daum

Nature Communications Open Access 07 February 2022

Takayuki Kato

,

Fumiaki Makino

…

Keiichi Namba

Nature Communications Open Access 22 November 2019
Access options
Subscribe to Nature+
Get immediate online access to the entire Nature family of 50+ journals
Subscribe to Journal
Get full journal access for 1 year
$99.00
only $8.25 per issue
All prices are NET prices.
VAT will be added later in the checkout.
Tax calculation will be finalised during checkout.
Buy article
Get time limited or full article access on ReadCube.
$32.00
All prices are NET prices.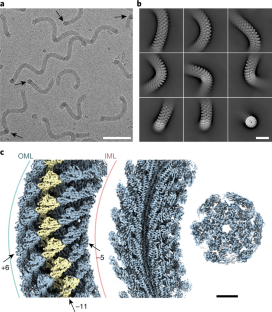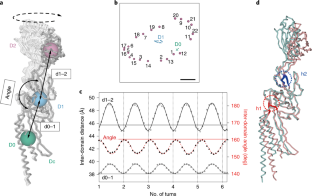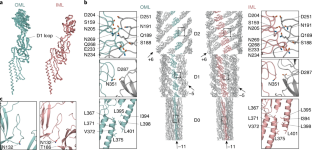 Data availability
The cryo-EM map of the curved hook has been deposited in the Electron Microscopy Data Bank under accession no. EMD-9909. The atomic coordinates of all 66 subunit models have been deposited in the wwPDB as a single file in mmCIF format under accession no. 6K3I. Source data for Fig. 2c are available with the online version of this paper.
References
World Health Organization WHO Estimates of the Global Burden of Foodborne Diseases : Foodborne Disease Burden Epidemiology Reference Group 2007–2015 (World Health Organization, 2015).

Fischer Walker, C. L., Perin, J., Aryee, M. J., Boschi-Pinto, C. & Black, R. E. Diarrhea incidence in low- and middle-income countries in 1990 and 2010: a systematic review. BMC Public Health 12, 220 (2012).

Hoffmann, S., Batz, M. B. & Morris, J. G. Annual cost of illness and quality-adjusted life year losses in the United States due to 14 foodborne pathogens. J. Food Prot. 75, 1292–1302 (2012).

Aizawa, S. I. The Flagellar World: Electron Microscopic Images of Bacterial Flagella and Related Surface Structures from More than 30 Species (Academic Press, 2014); https://doi.org/10.1016/C2013-0-06810-7

Aizawa, S.-I. Flagellar assembly in Salmonella typhimurium. Mol. Microbiol. 19, 1–5 (1996).

Fujii, M., Shibata, S. & Aizawa, S.-I. Polar, peritrichous, and lateral flagella belong to three distinguishable flagellar families. J. Mol. Biol. 379, 273–283 (2008).

Kamiya, R. & Asakura, S. Helical transformations of Salmonella flagella in vitro. J. Mol. Biol. 106, 167–186 (1976).

Shimada, K., Kamiya, R. & Asakura, S. Left-handed to right-handed helix conversion in Salmonella flagella. Nature 254, 332–334 (1975).

Kamiya, R., Asakura, S. & Yamaguchi, S. Formation of helical filaments by copolymerization of two types of 'straight' flagellins. Nature 286, 628–630 (1980).

Asakura, S. Polymerization of flagellin and polymorphism of flagella. Adv. Biophys. 1, 99–155 (1970).

Monod, J., Wyman, J. & Changeux, J. P. On the nature of allosteric transitions: a plausible model. J. Mol. Biol. 12, 88–118 (1965).

Changeux, J.-P. Allostery and the Monod–Wyman–Changeux model after 50 years. Annu. Rev. Biophys. 41, 103–133 (2012).

Calladine, C. R. Construction of bacterial flagella. Nature 255, 121–124 (1975).

Kato, S., Okamoto, M. & Asakura, S. Polymorphic transition of the flagellar polyhook from Escherichia coli and Salmonella typhimurium. J. Mol. Biol. 173, 463–476 (1984).

Egelman, E. H. The iterative helical real space reconstruction method: surmounting the problems posed by real polymers. J. Struct. Biol. 157, 83–94 (2007).

Williams, A. W. et al. Mutations in fliK and flhB affecting flagellar hook and filament assembly in Salmonella typhimurium. J. Bacteriol. 178, 2960–2970 (1996).

Barker, C. S., Meshcheryakova, I. V., Kostyukova, A. S., Freddolino, P. L. & Samatey, F. A. An intrinsically disordered linker controlling the formation and the stability of the bacterial flagellar hook. BMC Biol. 15, 97 (2017).

Moriya, N. et al. Role of the Dc domain of the bacterial hook protein FlgE in hook assembly and function. Biophysics 9, 63–72 (2013).

Samatey, F. A. et al. Structure of the bacterial flagellar hook and implication for the molecular universal joint mechanism. Nature 431, 1062–1068 (2004).

Matsunami, H., Barker, C. S., Yoon, Y.-H. H., Wolf, M. & Samatey, F. A. Complete structure of the bacterial flagellar hook reveals extensive set of stabilizing interactions. Nat. Commun. 7, 13425 (2016).

Sakai, T., Inoue, Y., Terahara, N., Namba, K. & Minamino, T. A triangular loop of domain D1 of FlgE is essential for hook assembly but not for the mechanical function. Biochem. Biophys. Res. Commun. 495, 1789–1794 (2018).

Fujii, T., Matsunami, H., Inoue, Y. & Namba, K. Evidence for the hook supercoiling mechanism of the bacterial flagellum. Biophys. Phys. 15, 28–32 (2018).

Yonekura, K., Maki-Yonekura, S. & Namba, K. Complete atomic model of the bacterial flagellar filament by electron cryomicroscopy. Nature 424, 643–650 (2003).

Berg, H. C. Bacterial flagellar motor. Curr. Biol. 18, R689–R691 (2008).

Calladine, C. R. New twists for bacterial flagella. Nat. Struct. Mol. Biol. 17, 395–396 (2010).

Fujii, T., Kato, T. & Namba, K. Specific arrangement of α-helical coiled coils in the core domain of the bacterial flagellar hook for the universal joint function. Structure 17, 1485–1493 (2009).

Koshland, D. E., Némethy, G. & Filmer, D. Comparison of experimental binding data and theoretical models in proteins containing subunits. Biochemistry 5, 365–385 (1966).

Schenk, M. & Guest, S. D. On zero stiffness. Proc. Institution Mechanical Engineers C: J. Mechanical Engineering Sci. 228, 1701–1714 (2013).

Speier, C., Vogel, R. & Stark, H. Modeling the bacterial flagellum by an elastic network of rigid bodies. Phys. Biol. 8, 046009 (2011).

Aizawa, S., Kato, S., Asakura, S., Kagawa, H. & Yamaguchi, S. In vitro polymerization of polyhook protein from Salmonella SJW880. Biochim. Biophys. Acta Protein Struct. 625, 291–303 (1980).

Zheng, S. Q. et al. MotionCor2: anisotropic correction of beam-induced motion for improved cryo-electron microscopy. Nat. Methods 14, 331–332 (2017).

Grant, T., Rohou, A. & Grigorieff, N. cisTEM, user-friendly software for single-particle image processing. Elife 7, e35383 (2018).

van Heel, M., Harauz, G., Orlova, E. V., Schmidt, R. & Schatz, M. A new generation of the IMAGIC image processing system. J. Struct. Biol. 116, 17–24 (1996).

Rosenthal, P. B. & Henderson, R. Optimal determination of particle orientation, absolute hand and contrast loss in single-particle electron cryomicroscopy. J. Mol. Biol. 333, 721–745 (2003).

Winn, M. D. et al. Overview of the CCP4 suite and current developments. Acta Crystallogr. D 67, 235–242 (2011).

Wriggers, W. Conventions and workflows for using Situs. Acta Crystallogr. D 68, 344–351 (2012).

Emsley, P., Lohkamp, B., Scott, W. G. & Cowtan, K. Features and development of COOT. Acta Crystallogr. D 66, 486–501 (2010).

Afonine, P. V. et al. Real-space refinement in PHENIX for cryo-EM and crystallography. Acta Crystallogr. D 74, 531–544 (2018).

Webb, B. & Sali, A. in Protein Structure Modeling with MODELLER 39–54 (Humana Press, 2017); https://doi.org/10.1007/978-1-4939-7231-9_4

Chen, V. B. et al. MolProbity: all-atom structure validation for macromolecular crystallography. Acta Crystallogr. D 66, 12–21 (2010).

Barad, B. A. et al. EMRinger: side chain-directed model and map validation for 3D cryo-electron microscopy. Nat. Methods 12, 943–946 (2015).

Pettersen, E. F. et al. UCSF Chimera—a visualization system for exploratory research and analysis. J. Comput. Chem. 25, 1605–1612 (2004).

Goddard, T. D. et al. UCSF ChimeraX: meeting modern challenges in visualization and analysis. Protein Sci. 27, 14–25 (2018).
Acknowledgements
We thank M. Bandi for helpful discussions about the mechanical function of the hook and S.D. Aird for technical editing of the manuscript. This work was supported by the Platform Project for Supporting Drug Discovery and Life Science Research (BINDS) from AMED, under grant nos. 19am0101076 and 19am0101116 (to M.W.), by JSPS KAKENHI grants 17K17085 and 19K10083 (to S.S.) and by a JSPS KAKENHI grant 17K07318 (to H.M.). M.W. was supported by direct funding from the Okinawa Institute of Science and Technology Graduate University.
Ethics declarations
Competing interests
The authors declare no competing interests.
Additional information
Peer review information Ines Chen was the primary editor on this article and managed its editorial process and peer review in collaboration with the rest of the editorial team.
Publisher's note Springer Nature remains neutral with regard to jurisdictional claims in published maps and institutional affiliations.
Integrated supplementary information
Supplementary information
About this article
Cite this article
Shibata, S., Matsunami, H., Aizawa, SI. et al. Torque transmission mechanism of the curved bacterial flagellar hook revealed by cryo-EM. Nat Struct Mol Biol 26, 941–945 (2019). https://doi.org/10.1038/s41594-019-0301-3
Received:

Accepted:

Published:

Issue Date:

DOI: https://doi.org/10.1038/s41594-019-0301-3