Researchers have sought to understand the function and regulation of the motor protein dynein since its discovery more than 50 years ago1. Dynein-2 is one of the motors that move the intraflagellar transport (IFT) trains ― large protein complexes that are needed for the assembly and function of eukaryotic cilia and flagella. Toropova et al. report the single-particle cryo-EM structure of the human dynein-2 complex2, which unexpectedly reveals two different conformations of the motor subunit tails. One tail forms a zigzag that matches the periodicity of the IFT trains, which reinforces the auto-inhibition of dynein motor activity and the binding of multiple dynein-2 complexes along the train during anterograde transport.
This is a preview of subscription content
Access options
Subscribe to Journal
Get full journal access for 1 year
$99.00
only $8.25 per issue
All prices are NET prices.
VAT will be added later in the checkout.
Tax calculation will be finalised during checkout.
Rent or Buy article
Get time limited or full article access on ReadCube.
from$8.99
All prices are NET prices.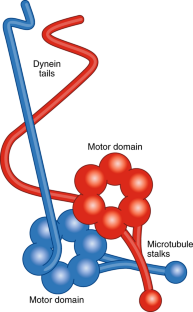 References
1.

Gibbons, I. R. & Rowe, A. J. Science 149, 424–426 (1965).

2.

Toropova, K. et al. Nat. Struct. Mol. Biol. https://doi.org/10.1038/s41594-019-0286-y (2019).

3.

Li, J. B. et al. Cell 117, 541–552 (2004).

4.

Hoh, R. A., Stowe, T. R., Turk, E. & Stearns, T. PLoS One 7, e52166 (2012).

5.

Blackburn, K., Bustamante-Marin, X., Yin, W., Goshe, M. B. & Ostrowski, L. E. J. Proteome Res. 16, 1579–1592 (2017).

6.

Rosenbaum, J. L. & Witman, G. B. Nat. Rev. Mol. Cell Biol. 3, 813–825 (2002).

7.

Reiter, J. F. & Leroux, M. R. Nat. Rev. Mol. Cell Biol. 18, 533–547 (2017).

8.

Jordan, M. A., Diener, D. R., Stepanek, L. & Pigino, G. Nat. Cell Biol. 20, 1250–1255 (2018).

9.

Taschner, M. & Lorentzen, E. Cold Spring Harb. Perspect. Biol. 8, a028092 (2016).

10.

Iomini, C., Babaev-Khaimov, V., Sassaroli, M. & Piperno, G. J. Cell Biol. 153, 13–24 (2001).

11.

Roberts, A. J. Biochem. Soc. Trans. 46, 967–982 (2018).

12.

Schmidts, M. et al. J. Med. Genet. 50, 309–323 (2013).

13.

Schmidts, M. et al. Am. J. Hum. Genet. 93, 932–944 (2013).

14.

McInerney-Leo, A. M. et al. Am. J. Hum. Genet. 93, 515–523 (2013).

15.

Kessler, K. et al. Sci. Rep. 5, 11649 (2015).

16.

Schmidts, M. et al. Nat. Commun. 6, 7074 (2015).
Ethics declarations
Competing interests
The author declares no competing interests.
About this article
Cite this article
Dutcher, S.K. Dynein tails: how to hitch a ride on an IFT train. Nat Struct Mol Biol 26, 760–761 (2019). https://doi.org/10.1038/s41594-019-0285-z