Abstract
The RNA-guided Cas9 endonuclease from Streptococcus pyogenes is a single-turnover enzyme that displays a stable product state after double-stranded-DNA cleavage. Here, we present cryo-EM structures of precatalytic, postcatalytic and product states of the active Cas9–sgRNA–DNA complex in the presence of Mg2+. In the precatalytic state, Cas9 adopts the 'checkpoint' conformation with the HNH nuclease domain positioned far away from the DNA. Transition to the postcatalytic state involves a dramatic ~34-Å swing of the HNH domain and disorder of the REC2 recognition domain. The postcatalytic state captures the cleaved substrate bound to the catalytically competent HNH active site. In the product state, the HNH domain is disordered, REC2 returns to the precatalytic conformation, and additional interactions of REC3 and RuvC with nucleic acids are formed. The coupled domain motions and interactions between the enzyme and the RNA-DNA hybrid provide new insights into the mechanism of genome editing by Cas9.
Relevant articles
Open Access articles citing this article.
Martin Pacesa

,

Luuk Loeff

…

Martin Jinek

Nature Open Access 24 August 2022

Honghai Tang

,

Daqi Wang

&

Yilai Shu

Signal Transduction and Targeted Therapy Open Access 04 August 2022

Yi-Li Feng

,

Meng Wang

&

An-Yong Xie

Genome Instability & Disease Open Access 23 March 2022
Access options
Subscribe to Nature+
Get immediate online access to the entire Nature family of 50+ journals
Subscribe to Journal
Get full journal access for 1 year
$99.00
only $8.25 per issue
All prices are NET prices.
VAT will be added later in the checkout.
Tax calculation will be finalised during checkout.
Buy article
Get time limited or full article access on ReadCube.
$32.00
All prices are NET prices.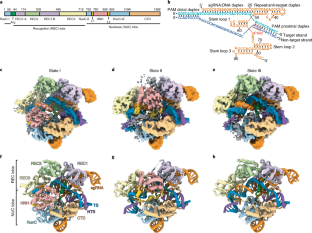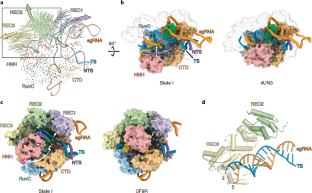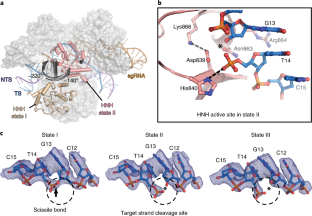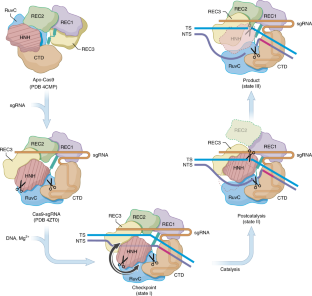 Data availability
All data needed to assess and evaluate the conclusions in the paper are available in the main text and supplementary information. The coordinates and electron density maps are deposited in the Protein Data Bank and EMDB with the following accession numbers (respectively): 6O0Z and 0585 for precatalytic complex (state I), 6O0Y and 0584 for postcatalytic complex (state II) and 6O0X and 0583 for product complex (state III). Uncropped gel images for Supplementary Fig. 3 are shown in Supplementary Data Set 1. All other data are available upon request.
References
Cong, L. et al. Multiplex genome engineering using CRISPR/Cas systems. Science 339, 819–823 (2013).

Mali, P. et al. RNA-guided human genome engineering via Cas9. Science 339, 823–826 (2013).

Boyle, E. A. et al. High-throughput biochemical profiling reveals sequence determinants of dCas9 off-target binding and unbinding. Proc. Natl Acad. Sci. USA 114, 5461–5466 (2017).

Sternberg, S. H., LaFrance, B., Kaplan, M. & Doudna, J. A. Conformational control of DNA target cleavage by CRISPR-Cas9. Nature 527, 110–113 (2015).

Dagdas, Y. S., Chen, J. S., Sternberg, S. H., Doudna, J. A. & Yildiz, A. A conformational checkpoint between DNA binding and cleavage by CRISPR-Cas9. Sci. Adv. 3, eaao0027 (2017).

Sternberg, S. H., Redding, S., Jinek, M., Greene, E. C. & Doudna, J. A. DNA interrogation by the CRISPR RNA-guided endonuclease Cas9. Nature 507, 62–67 (2014).

Chen, J. S. et al. Enhanced proofreading governs CRISPR-Cas9 targeting accuracy. Nature 550, 407–410 (2017).

Sung, K., Park, J., Kim, Y., Lee, N. K. & Kim, S. K. Target specificity of Cas9 nuclease via DNA rearrangement regulated by the REC2 domain. J. Am. Chem. Soc. 140, 7778–7781 (2018).

Jinek, M. et al. Structures of Cas9 endonucleases reveal RNA-mediated conformational activation. Science 343, 1247997 (2014).

Jiang, F. et al. Structures of a CRISPR-Cas9 R-loop complex primed for DNA cleavage. Science 351, 867–871 (2016).

Anders, C., Niewoehner, O., Duerst, A. & Jinek, M. Structural basis of PAM-dependent target DNA recognition by the Cas9 endonuclease. Nature 513, 569–573 (2014).

Nishimasu, H. et al. Crystal structure of Cas9 in complex with guide RNA and target DNA. Cell 156, 935–949 (2014).

Palermo, G., Miao, Y., Walker, R. C., Jinek, M. & McCammon, J. A. Striking plasticity of CRISPR-Cas9 and key role of non-target DNA, as revealed by molecular simulations. ACS Cent. Sci. 2, 756–763 (2016).

Gong, S., Yu, H. H., Johnson, K. A. & Taylor, D. W. DNA unwinding is the primary determinant of CRISPR-Cas9 activity. Cell Rep. 22, 359–371 (2018).

Raper, A. T., Stephenson, A. A. & Suo, Z. Functional insights revealed by the kinetic mechanism of CRISPR/Cas9. J. Am. Chem. Soc. 140, 2971–2984 (2018).

Palermo, G., Miao, Y., Walker, R. C., Jinek, M. & McCammon, J. A. CRISPR-Cas9 conformational activation as elucidated from enhanced molecular simulations. Proc. Natl Acad. Sci. USA 114, 7260–7265 (2017).

Zuo, Z. & Liu, J. Structure and dynamics of Cas9 HNH domain catalytic state. Sci. Rep. 7, 17271 (2017).

Brinkman, E. K. et al. Kinetics and fidelity of the repair of Cas9-induced double-strand DNA breaks. Mol. Cell 70, 801–813 e806 (2018).

Clarke, R. et al. Enhanced bacterial immunity and mammalian genome editing via RNA-polymerase-mediated dislodging of Cas9 from double-strand DNA breaks. Mol. Cell 71, 42–55.e48 (2018).

Jiang, F., Zhou, K., Ma, L., Gressel, S. & Doudna, J. A. A Cas9-guide RNA complex preorganized for target DNA recognition. Science 348, 1477–1481 (2015).

Kleinstiver, B. P. et al. Engineered CRISPR-Cas9 nucleases with altered PAM specificities. Nature 523, 481–485 (2015).

Hu, J. H. et al. Evolved Cas9 variants with broad PAM compatibility and high DNA specificity. Nature 556, 57–63 (2018).

Kleinstiver, B. P. et al. High-fidelity CRISPR-Cas9 nucleases with no detectable genome-wide off-target effects. Nature 529, 490–495 (2016).

Adli, M. The CRISPR tool kit for genome editing and beyond. Nat. Commun. 9, 1911 (2018).

Wilkinson, R. A., Martin, C., Nemudryi, A. A. & Wiedenheft, B. CRISPR RNA-guided autonomous delivery of Cas9. Nat. Struct. Mol. Biol. 26, 14–24 (2019).

Shen, B. W., Landthaler, M., Shub, D. A. & Stoddard, B. L. DNA binding and cleavage by the HNH homing endonuclease I-HmuI. J. Mol. Biol. 342, 43–56 (2004).

Anders, C. & Jinek, M. In vitro enzymology of Cas9. Meth. Enzymol. 546, 1–20 (2014).

Scheres, S. H. RELION: implementation of a Bayesian approach to cryo-EM structure determination. J. Struct. Biol. 180, 519–530 (2012).

Zheng, S. Q. et al. MotionCor2: anisotropic correction of beam-induced motion for improved cryo-electron microscopy. Nat. Methods 14, 331–332 (2017).

Punjani, A., Rubinstein, J. L., Fleet, D. J. & Brubaker, M. A. cryoSPARC: algorithms for rapid unsupervised cryo-EM structure determination. Nat. Methods 14, 290–296 (2017).

Adams, P. D. et al. PHENIX: a comprehensive Python-based system for macromolecular structure solution. Acta Crystallogr. D 66, 213–221 (2010).

Emsley, P., Lohkamp, B., Scott, W. G. & Cowtan, K. Features and development of Coot. Acta Crystallogr. D 66, 486–501 (2010).
Acknowledgements
This work was supported by the intramural research program of the National Cancer Institute (X.Z., S.C. and S.S.), NIH grants (no. GM097042 to M.S. and no. HD081534 to B.J.M.), UIC Center for Clinical and Translational Sciences (R.C. and A.K.P.) and a Canada Excellence Research Chair Award (to S.S.).
Ethics declarations
Competing interests
The authors declare no competing interests.
Additional information
Peer review information: Katarzyna Marcinkiewicz was the primary editor on this article and managed its editorial process and peer review in collaboration with the rest of the editorial team.
Publisher's note: Springer Nature remains neutral with regard to jurisdictional claims in published maps and institutional affiliations.
Integrated supplementary information
Supplementary information
About this article
Cite this article
Zhu, X., Clarke, R., Puppala, A.K. et al. Cryo-EM structures reveal coordinated domain motions that govern DNA cleavage by Cas9. Nat Struct Mol Biol 26, 679–685 (2019). https://doi.org/10.1038/s41594-019-0258-2
Received:

Accepted:

Published:

Issue Date:

DOI: https://doi.org/10.1038/s41594-019-0258-2