Abstract
Influenza virus RNA-dependent RNA polymerase uses unique mechanisms to transcribe its single-stranded genomic viral RNA (vRNA) into messenger RNA. The polymerase is initially bound to a promoter comprising the partially base-paired 3′ and 5′ extremities of the RNA. A short, capped primer, ′cap-snatched′ from a nascent host polymerase II transcript, is directed towards the polymerase active site to initiate RNA synthesis. Here we present structural snapshots, as determined by X-ray crystallography and cryo-electron microscopy, of actively initiating influenza polymerase as it transitions towards processive elongation. Unexpected conformational changes unblock the active site cavity to allow establishment of a nine-base-pair template–product RNA duplex before the strands separate into distinct exit channels. Concomitantly, as the template translocates, the promoter base pairs are broken and the template entry region is remodeled. These structures reveal details of the influenza polymerase active site that will help optimize nucleoside analogs or other compounds that directly inhibit viral RNA synthesis.
This is a preview of subscription content
Access options
Subscribe to Nature+
Get immediate online access to the entire Nature family of 50+ journals
Subscribe to Journal
Get full journal access for 1 year
$99.00
only $8.25 per issue
All prices are NET prices.
VAT will be added later in the checkout.
Tax calculation will be finalised during checkout.
Buy article
Get time limited or full article access on ReadCube.
$32.00
All prices are NET prices.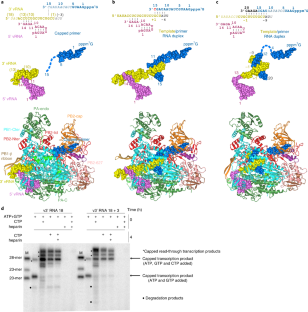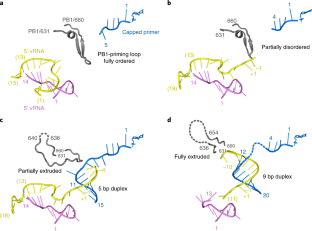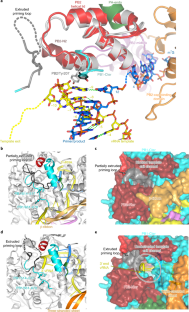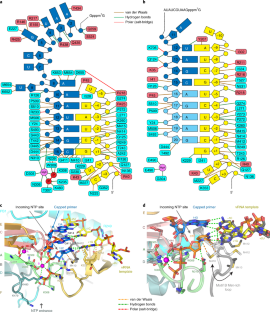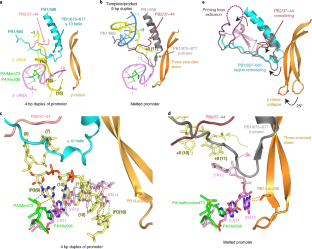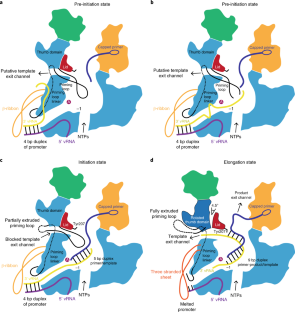 Data availability
Coordinates and structure factors or maps have been deposited in the Protein Data Bank or the Electron Microscopy Data Bank.
FluB polymerase-initiation complex 15-mer primer (X-ray) PDB ID 6QCX
FluB polymerase-initiation complex 14-mer primer (X-ray) PDB ID 6QCW
FluB polymerase-initiation complex 14-mer primer + CTP (X-ray) PDB ID 6QCV
FluB pre-initiation complex with primer (cryo-EM) EMD-4511, PDB ID 6QCS
References
Eisfeld, A. J., Neumann, G. & Kawaoka, Y. At the centre: influenza A virus ribonucleoproteins. Nat. Rev. Microbiol. 13, 28–41 (2015).

Pflug, A., Lukarska, M., Resa-Infante, P., Reich, S. & Cusack, S. Structural insights into RNA synthesis by the influenza virus transcription-replication machine. Virus Res. 234, 103–117 (2017).

Te Velthuis, A. J. & Fodor, E. Influenza virus RNA polymerase: insights into the mechanisms of viral RNA synthesis. Nat. Rev. Microbiol. 14, 479–493 (2016).

Zhang, J., Hu, Y., Musharrafieh, R. G., Yin, H. & Wang, J. Focusing on the influenza virus polymerase complex: recent progress in drug discovery and assay development. Curr. Med. Chem. https://doi.org/10.2174/0929867325666180706112940 (2018).

Hayden, F. G. et al. Baloxavir marboxil for uncomplicated influenza in adults and adolescents. New Engl. J. Med. 379, 913–923 (2018).

Plotch, S. J., Bouloy, M., Ulmanen, I. & Krug, R. M. A unique cap(m7GpppXm)-dependent influenza virion endonuclease cleaves capped RNAs to generate the primers that initiate viral RNA transcription. Cell 23, 847–858 (1981).

Lukarska, M. et al. Structural basis of an essential interaction between influenza polymerase and Pol II CTD. Nature 541, 117–121 (2017).

Poon, L. L., Pritlove, D. C., Fodor, E. & Brownlee, G. G. Direct evidence that the poly(A) tail of influenza A virus mRNA is synthesized by reiterative copying of a U track in the virion RNA template. J. Virol. 73, 3473–3476 (1999).

Pflug, A. et al. Capped RNA primer binding to influenza polymerase and implications for the mechanism of cap-binding inhibitors. Nucleic Acids Res. 46, 956–971 (2018).

Geerts-Dimitriadou, C., Zwart, M. P., Goldbach, R. & Kormelink, R. Base-pairing promotes leader selection to prime in vitro influenza genome transcription. Virology 409, 17–26 (2011).

Reich, S., Guilligay, D. & Cusack, S. An in vitro fluorescence based study of initiation of RNA synthesis by influenza B polymerase. Nucleic Acids Res. 45, 3353–3368 (2017).

Klumpp, K., Ford, M. J. & Ruigrok, R. W. Variation in ATP requirement during influenza virus transcription. J. Gen. Virol. 79, 1033–1045 (1998).

Robb, N. C. et al. Single-molecule FRET reveals the pre-initiation and initiation conformations of influenza virus promoter RNA. Nucleic Acids Res. 44, 10304–10315 (2016).

Reich, S. et al. Structural insight into cap-snatching and RNA synthesis by influenza polymerase. Nature 516, 361–366 (2014).

Pflug, A., Guilligay, D., Reich, S. & Cusack, S. Structure of influenza A polymerase bound to the viral RNA promoter. Nature 516, 355–360 (2014).

Te Velthuis, A. J., Robb, N. C., Kapanidis, A. N. & Fodor, E. The role of the priming loop in influenza A virus RNA synthesis. Nat. Microbiol. 1, 16029 (2016).

Tickle, I.J. et al. STARANISO (http://staraniso.globalphasing.org/cgi-bin/staraniso.cgi). Global Phasing Ltd., Cambridge, UK (2018).

Gourse, R. L. Visualization and quantitative analysis of complex formation between E. coli RNA polymerase and an rRNA promoter in vitro. Nucleic Acids Res. 16, 9789–9809 (1988).

Borukhov, S., Sagitov, V., Josaitis, C. A., Gourse, R. L. & Goldfarb, A. Two modes of transcription initiation in vitro at the rrnB P1 promoter of Escherichia coli. J. Biol. Chem. 268, 23477–23482 (1993).

Butcher, S. J., Grimes, J. M., Makeyev, E. V., Bamford, D. H. & Stuart, D. I. A mechanism for initiating RNA-dependent RNA polymerization. Nature 410, 235–240 (2001).

Appleby, T. C. et al. Viral replication. Structural basis for RNA replication by the hepatitis C virus polymerase. Science 347, 771–775 (2015).

Te Velthuis, A. J. W. & Oymans, J. Initiation, elongation and realignment during influenza virus mRNA synthesis. J. Virol. 92, https://doi.org/10.1128/JVI.01775-17 (2017).

Oymans, J. & Te Velthuis, A. J. W. A mechanism for priming and realignment during influenza A virus replication. J. Virol. 92, https://doi.org/10.1128/JVI.01773-17 (2018).

te Velthuis, A. J. Common and unique features of viral RNA-dependent polymerases. Cell. Mol. Life Sci. 71, 4403–4420 (2014).

Shu, B. & Gong, P. Structural basis of viral RNA-dependent RNA polymerase catalysis and translocation. Proc. Natl Acad. Sci. USA 113, E4005–E4014 (2016).

Thierry, E. et al. Influenza polymerase can adopt an alternative configuration involving a radical repacking of PB2 domains. Mol. Cell 61, 125–137 (2016).

Braam, J., Ulmanen, I. & Krug, R. M. Molecular model of a eucaryotic transcription complex: functions and movements of influenza P proteins during capped RNA-primed transcription. Cell 34, 609–618 (1983).

Mosley, R. T. et al. Structure of hepatitis C virus polymerase in complex with primer-template RNA. J. Virol. 86, 6503–6511 (2012).

Yin, Y. W. & Steitz, T. A. Structural basis for the transition from initiation to elongation transcription in T7 RNA polymerase. Science 298, 1387–1395 (2002).

Murakami, K. S., Masuda, S. & Darst, S. A. Structural basis of transcription initiation: RNA polymerase holoenzyme at 4 A resolution. Science 296, 1280–1284 (2002).

Vassylyev, D. G. et al. Crystal structure of a bacterial RNA polymerase holoenzyme at 2.6 A resolution. Nature 417, 712–719 (2002).

Kostrewa, D. et al. RNA polymerase II-TFIIB structure and mechanism of transcription initiation. Nature 462, 323–330 (2009).

Vassylyev, D. G., Vassylyeva, M. N., Perederina, A., Tahirov, T. H. & Artsimovitch, I. Structural basis for transcription elongation by bacterial RNA polymerase. Nature 448, 157–162 (2007).

Gnatt, A. L., Cramer, P., Fu, J., Bushnell, D. A. & Kornberg, R. D. Structural basis of transcription: an RNA polymerase II elongation complex at 3.3 A resolution. Science 292, 1876–1882 (2001).

Liu, C. & Martin, C. T. Promoter clearance by T7 RNA polymerase. Initial bubble collapse and transcript dissociation monitored by base analog fluorescence. J. Biol. Chem. 277, 2725–2731 (2002).

Jordan, P. C., Stevens, S. K. & Deval, J. Nucleosides for the treatment of respiratory RNA virus infections. Antivir. Chem. Chemother. 26, 2040206618764483 (2018).

Furuta, Y., Komeno, T. & Nakamura, T. Favipiravir (T-705), a broad spectrum inhibitor of viral RNA polymerase. Proc. Jpn Acad. Ser. B 93, 449–463 (2017).

McCoy, A. J. et al. Phaser crystallographic software. J. Appl. Crystallogr. 40, 658–674 (2007).

Emsley, P. & Cowtan, K. Coot: model-building tools for molecular graphics. Acta Crystallogr. D 60, 2126–2132 (2004).

Murshudov, G. N. Refinement of macromolecular structures by the maximum-likelihood method. Acta Crystallogr. D 53, 240–255 (1997).

Chen, V. B. et al. MolProbity: all-atom structure validation for macromolecular crystallography. Acta Crystallogr. D 66, 12–21 (2010).

Zheng, S. Q. et al. MotionCor2: anisotropic correction of beam-induced motion for improved cryo-electron microscopy. Nat. Methods 14, 331–332 (2017).

Zhang, K. Gctf: real-time CTF determination and correction. J. Struct. Biol. 193, 1–12 (2016).

Scheres, S. H. RELION: implementation of a Bayesian approach to cryo-EM structure determination. J. Struct. Biol. 180, 519–530 (2012).

Burnley, T., Palmer, C. M. & Winn, M. Recent developments in the CCP-EM software suite. Acta Crystallogr. D 73, 469–477 (2017).

Jakobi, A. J., Wilmanns, M. & Sachse, C. Model-based local density sharpening of cryo-EM maps. eLife 6, https://doi.org/10.7554/eLife.27131 (2017).

Naydenova, K. & Russo, C. J. Measuring the effects of particle orientation to improve the efficiency of electron cryomicroscopy. Nat. Commun. 8, 629 (2017).

Vagin, A. & Teplyakov, A. Molecular replacement with MOLREP. Acta Crystallogr. D 66, 22–25 (2010).

Brown, A. et al. Tools for macromolecular model building and refinement into electron cryo-microscopy reconstructions. Acta Crystallogr. D 71, 136–153 (2015).

Afonine, P. V. et al. Real-space refinement in PHENIX for cryo-EM and crystallography. Acta Crystallogr. D 74, 531–544 (2018).
Acknowledgements
We thank EMBL (especially M. Bowler) and ESRF staff for access to X-ray beamlines; the ESRF (especially E. Kandiah), IBS and EMBL staff for access to the ESRF Krios beamline CM01; the EMBL eukaryotic expression and high-throughput crystallization facilities and the biophysical platform within the EMBL–ESRF–ILL–IBS Partnership for Structural Biology. We thank J. Wandzik (EMBL) for help with transcription experiments and electron microscopy data collection. This work was partly supported by ERC Advanced Grant V-RNA (No. 322586) to S.C. and an ANR grant (No. ANR-18-CE11-0028) to S.C. T.K. holds a fellowship from the EMBL Interdisciplinary Postdocs (EI3POD) initiative, co-funded by Marie Skłodowska-Curie grant agreement No. 664726.
Ethics declarations
Competing interests
T.K., P.D. and S.C. have filed for a patent related to this work.
Additional information
Publisher's note: Springer Nature remains neutral with regard to jurisdictional claims in published maps and institutional affiliations.
Integrated supplementary information
Supplementary information
Supplementary Figs. 1–8, Supplementary Table 1, Supplementary Dataset 1
About this article
Cite this article
Kouba, T., Drncová, P. & Cusack, S. Structural snapshots of actively transcribing influenza polymerase. Nat Struct Mol Biol 26, 460–470 (2019). https://doi.org/10.1038/s41594-019-0232-z
Received:

Accepted:

Published:

Issue Date:

DOI: https://doi.org/10.1038/s41594-019-0232-z