Abstract
Histone lysine methylation is generally performed by SET domain methyltransferases and regulates chromatin structure and gene expression. Here, we identify human C21orf127 (HEMK2, N6AMT1, PrmC), a member of the seven-β-strand family of putative methyltransferases, as a novel histone lysine methyltransferase. C21orf127 functions as an obligate heterodimer with TRMT112, writing the methylation mark on lysine 12 of histone H4 (H4K12) in vitro and in vivo. We characterized H4K12 recognition by solving the crystal structure of human C21orf127–TRMT112, hereafter termed 'lysine methyltransferase 9' (KMT9), in complex with S-adenosyl-homocysteine and H4K12me1 peptide. Additional analyses revealed enrichment for KMT9 and H4K12me1 at the promoters of numerous genes encoding cell cycle regulators and control of cell cycle progression by KMT9. Importantly, KMT9 depletion severely affects the proliferation of androgen receptor–dependent, as well as that of castration- and enzalutamide-resistant prostate cancer cells and xenograft tumors. Our data link H4K12 methylation with KMT9-dependent regulation of androgen-independent prostate tumor cell proliferation, thereby providing a promising paradigm for the treatment of castration-resistant prostate cancer.
Relevant articles
Open Access articles citing this article.
Ruochen Liu

,

Erhu Zhao

…

Hongjuan Cui

Signal Transduction and Targeted Therapy Open Access 25 August 2023

Linyuan Yu

,

Tao Ji

…

Dinghua Yang

Clinical Epigenetics Open Access 17 March 2023

Hannah Maria Baumert

,

Eric Metzger

…

Roland Schüle

Cancer Cell International Open Access 17 February 2020
Access options
Access Nature and 54 other Nature Portfolio journals
Get Nature+, our best-value online-access subscription
$29.99 / 30 days
cancel any time
Subscribe to this journal
Receive 12 print issues and online access
$189.00 per year
only $15.75 per issue
Rent or buy this article
Prices vary by article type
from$1.95
to$39.95
Prices may be subject to local taxes which are calculated during checkout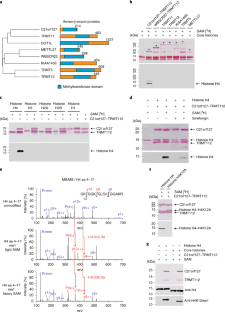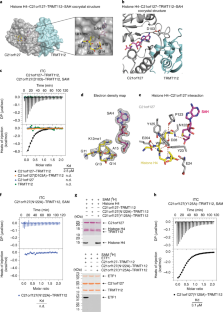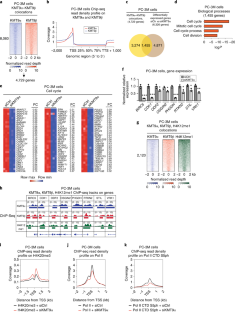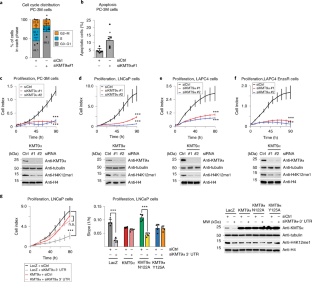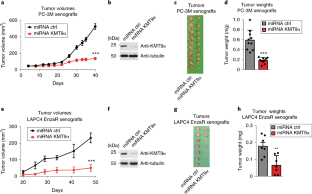 Data availability
RNA-seq and ChIP-seq data have been deposited in the GEO under accession code GSE117536. The crystallographic data have been deposited in the Protein Data Bank under the accession codes PDB 6H1D and PDB 6H1E. The mass spectrometry proteomics data have been deposited in the ProteomeXchange Consortium via the PRIDE partner repository with the dataset identifier PXD008965. PRM data have been deposited to PASSEL (peptide Atlas platform) with the dataset identifier PASS01154. Source data for Figs. 2c,f,h, 3c–e, 4b,f,i–k, 5a–g, and 6a,d,e,h are available online. All other data are available upon reasonable request.
References
Strahl, B. D. & Allis, C. D. The language of covalent histone modifications. Nature 403, 41–45 (2000).

Arrowsmith, C. H., Bountra, C., Fish, P. V., Lee, K. & Schapira, M. Epigenetic protein families: a new frontier for drug discovery. Nat. Rev. Drug Discov. 11, 384–400 (2012).

Dillon, S. C., Zhang, X., Trievel, R. C. & Cheng, X. The SET-domain protein superfamily: protein lysine methyltransferases. Genome Biol. 6, 227 (2005).

van Leeuwen, F., Gafken, P. R. & Gottschling, D. E. Dot1p modulates silencing in yeast by methylation of the nucleosome core. Cell 109, 745–756 (2002).

Petrossian, T. C. & Clarke, S. G. Uncovering the human methyltransferasome. Mol. Cell Proteomics 10, M110 000976 (2011).

Le Guen, L., Santos, R. & Camadro, J. M. Functional analysis of the hemK gene product involvement in protoporphyrinogen oxidase activity in yeast. FEMS Microbiol. Lett. 173, 175–182 (1999).

Cheng, X. Structure and function of DNA methyltransferases. Ann. Rev. Biophys. Biomol. Struct. 24, 293–318 (1995).

Yang, Z. et al. Structural characterization and comparative phylogenetic analysis of Escherichia coli HemK, a protein (N5)-glutamine methyltransferase. J. Mol. Biol. 340, 695–706 (2004).

Ratel, D. et al. Undetectable levels of N6-methyl adenine in mouse DNA: Cloning and analysis of PRED28, a gene coding for a putative mammalian DNA adenine methyltransferase. FEBS Lett. 580, 3179–3184 (2006).

Xiao, C. L. et al. N(6)-methyladenine DNA modification in the human genome. Mol. Cell 71, 306–318.e7 (2018).

Schiffers, S. et al. Quantitative LC-MS provides no evidence for m(6) dA or m(4) dC in the genome of mouse embryonic stem cells and tissues. Angew Chem. Int. Ed. Engl. 56, 11268–11271 (2017).

Liu, P. et al. Deficiency in a glutamine-specific methyltransferase for release factor causes mouse embryonic lethality. Mol. Cell Biol. 30, 4245–4253 (2010).

Heurgue-Hamard, V. et al. The zinc finger protein Ynr046w is plurifunctional and a component of the eRF1 methyltransferase in yeast. J. Biol. Chem. 281, 36140–36148 (2006).

Figaro, S., Scrima, N., Buckingham, R. H. & Heurgue-Hamard, V. HemK2 protein, encoded on human chromosome 21, methylates translation termination factor eRF1. FEBS Lett. 582, 2352–2356 (2008).

Zorbas, C. et al. The human 18S rRNA base methyltransferases DIMT1L and WBSCR22-TRMT112 but not rRNA modification are required for ribosome biogenesis. Mol. Biol. Cell 26, 2080–2095 (2015).

Cai, X. C., Kapilashrami, K. & Luo, M. Synthesis and assays of inhibitors of methyltransferases. Methods Enzymol. 574, 245–308 (2016).

Schubert, H. L., Blumenthal, R. M. & Cheng, X. Many paths to methyltransfer: a chronicle of convergence. Trends Biochem. Sci. 28, 329–335 (2003).

Liger, D. et al. Mechanism of activation of methyltransferases involved in translation by the Trm112 'hub' protein. Nucleic Acids Res. 39, 6249–6259 (2011).

Schubert, H. L., Phillips, J. D. & Hill, C. P. Structures along the catalytic pathway of PrmC/HemK, an N5-glutamine AdoMet-dependent methyltransferase. Biochemistry 42, 5592–5599 (2003).

Graille, M. et al. Molecular basis for bacterial class I release factor methylation by PrmC. Mol. Cell 20, 917–927 (2005).

Nadal, R. & Bellmunt, J. The evolving role of enzalutamide on the treatment of prostate cancer. Future Oncol. 12, 607–616 (2016).

Leroy, G. et al. A quantitative atlas of histone modification signatures from human cancer cells. Epigenetics Chromatin 6, 20 (2013).

Feller, C., Forne, I., Imhof, A. & Becker, P. B. Global and specific responses of the histone acetylome to systematic perturbation. Mol. Cell 57, 559–571 (2015).

Ong, S. E., Mittler, G. & Mann, M. Identifying and quantifying in vivo methylation sites by heavy methyl SILAC. Nat. Methods 1, 119–126 (2004).

Liu, X., Kraus, W. L. & Bai, X. Ready, pause, go: regulation of RNA polymerase II pausing and release by cellular signaling pathways. Trends Biochem. Sci. 40, 516–525 (2015).

Kusevic, D., Kudithipudi, S. & Jeltsch, A. Substrate specificity of the HEMK2 protein glutamine methyltransferase and identification of novel substrates. J. Biol. Chem. 291, 6124–6133 (2016).

Hoefer, J. et al. Critical role of androgen receptor level in prostate cancer cell resistance to new generation antiandrogen enzalutamide. Oncotarget 7, 59781–59794 (2016).

Metzger, E. et al. LSD1 demethylates repressive histone marks to promote androgen-receptor-dependent transcription. Nature 437, 436–439 (2005).

Dobin, A. et al. STAR: ultrafast universal RNA-seq aligner. Bioinformatics 29, 15–21 (2013).

Zhang, Y. et al. Model-based analysis of ChIP-Seq (MACS). Genome Biol. 9, R137 (2008).

Thorvaldsdottir, H., Robinson, J. T. & Mesirov, J. P. Integrative Genomics Viewer (IGV): high-performance genomics data visualization and exploration. Brief Bioinform. 14, 178–192 (2013).

Heinz, S. et al. Simple combinations of lineage-determining transcription factors prime cis-regulatory elements required for macrophage and B cell identities. Mol. Cell 38, 576–589 (2010).

Orlando, D. A. et al. Quantitative ChIP-Seq normalization reveals global modulation of the epigenome. Cell Rep. 9, 1163–1170 (2014).

Metzger, E. et al. Assembly of methylated KDM1A and CHD1 drives androgen receptor-dependent transcription and translocation. Nat. Struct. Mol. Biol. 23, 132–139 (2016).

Robinson, M. D. & Smyth, G. K. Small-sample estimation of negative binomial dispersion, with applications to SAGE data. Biostatistics 9, 321–332 (2008).

Gross, A., Geresh, S. & Whitesides, G. M. Enzymatic synthesis of S-adenosyl-L-methionine from L-methionine and ATP. Appl. Biochem. Biotechnol. 8, 415–422 (1983).

Schmid-Burgk, J. L. et al. OutKnocker: a web tool for rapid and simple genotyping of designer nuclease edited cell lines. Genome Res. 24, 1719–1723 (2014).

Schmidt, T., Schmid-Burgk, J. L. & Hornung, V. Synthesis of an arrayed sgRNA library targeting the human genome. Sci. Rep. 5, 14987 (2015).

Alabert, C. et al. Two distinct modes for propagation of histone PTMs across the cell cycle. Genes Dev. 29, 585–590 (2015).

Battye, T. G., Kontogiannis, L., Johnson, O., Powell, H. R. & Leslie, A. G. iMOSFLM: a new graphical interface for diffraction-image processing with MOSFLM. Acta Crystallogr. D Biol. Crystallogr. 67, 271–281 (2011).

Evans, P. R. & Murshudov, G. N. How good are my data and what is the resolution? Acta Crystallogr. D Biol. Crystallogr. 69, 1204–1214 (2013).

McCoy, A. J. et al. Phaser crystallographic software. J. Appl. Crystallogr. 40, 658–674 (2007).

Emsley, P., Lohkamp, B., Scott, W. G. & Cowtan, K. Features and development of Coot. Acta Crystallogr. D Biol. Crystallogr. 66, 486–501 (2010).

Afonine, P. V. et al. Towards automated crystallographic structure refinement with phenix.refine. Acta Crystallogr. D Biol. Crystallogr. 68, 352–367 (2012).

Adams, P. D. et al. PHENIX: a comprehensive Python-based system for macromolecular structure solution. Acta Crystallogr. D Biol. Crystallogr. 66, (213–221 (2010).

Chen, V. B. et al. MolProbity: all-atom structure validation for macromolecular crystallography. Acta Crystallogr. D Biol. Crystallogr. 66, 12–21 (2010).
Acknowledgements
We thank Z. Culig (Department of Urology, Medical University of Innsbruck, Innsbruck, Austria) and R. Schneider (Institute of Functional Epigenetics, Helmholtz Zentrum München, Ludwig Maximilians Universität, Munich) for providing reagents. We are obliged to A. Rieder for providing excellent technical assistance. We are grateful to Swiss Light Source (SLS) beam line scientists for the technical support. This work was supported by grants of the European Research Council (ERC AdGrant 322844) and the 15-1 to R. SFB 992, 850, 746, and Schu688/15-1 to R.S.
Ethics declarations
Competing interests
The authors declare no competing interests.
Additional information
Publisher's note: Springer Nature remains neutral with regard to jurisdictional claims in published maps and institutional affiliations.
Integrated supplementary information
Supplementary information
Supplementary Figures 1–6, Supplementary Tables 1 and 2 and Supplementary Dataset 1
About this article
Cite this article
Metzger, E., Wang, S., Urban, S. et al. KMT9 monomethylates histone H4 lysine 12 and controls proliferation of prostate cancer cells. Nat Struct Mol Biol 26, 361–371 (2019). https://doi.org/10.1038/s41594-019-0219-9
Received:

Accepted:

Published:

Issue Date:

DOI: https://doi.org/10.1038/s41594-019-0219-9