Abstract
RNA granules are subcellular compartments that are proposed to form by liquid–liquid phase separation (LLPS), a thermodynamic process that partitions molecules between dilute liquid phases and condensed liquid phases. The mechanisms that localize liquid phases in cells, however, are not fully understood. P granules are RNA granules that form in the posterior of Caenorhabditis elegans embryos. Theoretical studies have suggested that spontaneous LLPS of the RNA-binding protein PGL-3 with RNA drives the assembly of P granules. We find that the PGL-3 phase is intrinsically labile and requires a second phase for stabilization in embryos. The second phase is formed by gel-like assemblies of the disordered protein MEG-3 that associate with liquid PGL-3 droplets in the embryo posterior. Co-assembly of gel phases and liquid phases confers local stability and long-range dynamics, both of which contribute to localized assembly of P granules. Our findings suggest that condensation of RNA granules can be regulated spatially by gel-like polymers that stimulate LLPS locally in the cytoplasm.
Your institute does not have access to this article
Relevant articles
Open Access articles citing this article.
Miriam Linsenmeier

,

Maria Hondele

…

Paolo Arosio

Nature Communications Open Access 31 May 2022

Stephen P. Methot

,

Jan Padeken

…

Susan M. Gasser

Nature Cell Biology Open Access 04 November 2021

Archishman Ghosh

,

Divya Kota

&

Huan-Xiang Zhou

Nature Communications Open Access 13 October 2021
Access options
Subscribe to Nature+
Get immediate online access to the entire Nature family of 50+ journals
Subscribe to Journal
Get full journal access for 1 year
$99.00
only $8.25 per issue
All prices are NET prices.
VAT will be added later in the checkout.
Tax calculation will be finalised during checkout.
Buy article
Get time limited or full article access on ReadCube.
$32.00
All prices are NET prices.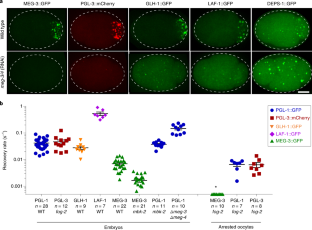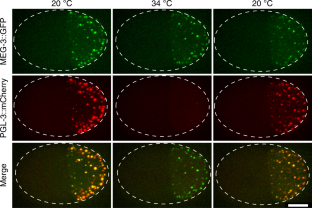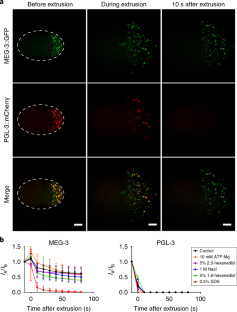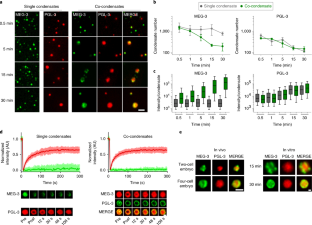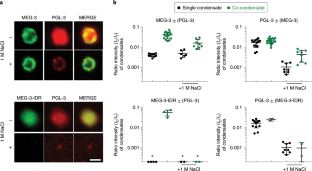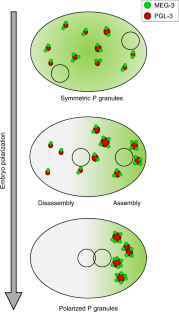 References
Hyman, A. A., Weber, C. A. & Julicher, F. Liquid–liquid phase separation in biology. Annu. Rev. Cell Dev. Biol. 30, 39–58 (2014).

Boeynaems, S. et al. Protein phase separation: a new phase in cell biology. Trends Cell Biol. 28, 420–435 (2018).

Shin, Y. & Brangwynne, C. P. Liquid phase condensation in cell physiology and disease. Science 357, eaaf4382 (2017).

Han, T. W. et al. Cell-free formation of RNA granules: bound RNAs identify features and components of cellular assemblies. Cell 149, 768–779 (2012).

Kato, M. et al. Cell-free formation of RNA granules: low complexity sequence domains form dynamic fibers within hydrogels. Cell 149, 753–767 (2012).

Lin, Y., Protter, D. S., Rosen, M. K. & Parker, R. Formation and maturation of phase-separated liquid droplets by RNA-binding proteins. Mol. Cell 60, 208–219 (2015).

Molliex, A. et al. Phase separation by low complexity domains promotes stress granule assembly and drives pathological fibrillization. Cell 163, 123–133 (2015).

Taylor, J. P., Brown, R. H. Jr & Cleveland, D. W. Decoding ALS: from genes to mechanism. Nature 539, 197–206 (2016).

Jain, S. et al. ATPase-modulated stress granules contain a diverse proteome and substructure. Cell 164, 487–498 (2016).

Wheeler, J. R., Matheny, T., Jain, S., Abrisch, R. & Parker, R. Distinct stages in stress granule assembly and disassembly. eLife 5, e18413 (2016).

Brangwynne, C. P. et al. Germline P granules are liquid droplets that localize by controlled dissolution/condensation. Science 324, 1729–1732 (2009).

Strome, S. in WormBook (ed. The C. elegans Research Community) https://doi.org/10.1895/wormbook.1.9.1 (2005).

Hanazawa, M., Yonetani, M. & Sugimoto, A. PGL proteins self associate and bind RNPs to mediate germ granule assembly in C. elegans. J. Cell Biol. 192, 929–937 (2011).

Kawasaki, I. et al. The PGL family proteins associate with germ granules and function redundantly in Caenorhabditis elegans germline development. Genetics 167, 645–661 (2004).

Spike, C. et al. Genetic analysis of the Caenorhabditis elegans GLH family of P-granule proteins. Genetics 178, 1973–1987 (2008).

Spike, C. A., Bader, J., Reinke, V. & Strome, S. DEPS-1 promotes P-granule assembly and RNA interference in C. elegans germ cells. Development 135, 983–993 (2008).

Elbaum-Garfinkle, S. et al. The disordered P granule protein LAF-1 drives phase separation into droplets with tunable viscosity and dynamics. Proc. Natl Acad. Sci. USA 112, 7189–7194 (2015).

Smith, J. et al. Spatial patterning of P granules by RNA-induced phase separation of the intrinsically disordered protein MEG-3. eLife 5, e21337 (2016).

Wang, J. T. et al. Regulation of RNA granule dynamics by phosphorylation of serine-rich, intrinsically disordered proteins in C. elegans.eLife 3, e04591 (2014).

Sheth, U., Pitt, J., Dennis, S. & Priess, J. R. Perinuclear P granules are the principal sites of mRNA export in adult C. elegans germ cells. Development 137, 1305–1314 (2010).

Pellettieri, J., Reinke, V., Kim, S. K. & Seydoux, G. Coordinate activation of maternal protein degradation during the egg-to-embryo transition in C. elegans. Dev. Cell 5, 451–462 (2003).

Weber, S. C. & Brangwynne, C. P. Getting RNA and protein in phase. Cell 149, 1188–1191 (2012).

Banani, S. F., Lee, H. O., Hyman, A. A. & Rosen, M. K. Biomolecular condensates: organizers of cellular biochemistry. Nat. Rev. Mol. Cell Biol. 18, 285–298 (2017).

Patel, A. et al. ATP as a biological hydrotrope. Science 356, 753–756 (2017).

Lin, Y. et al. Toxic PR poly-dipeptides encoded by the C9orf72 repeat expansion target LC domain polymers. Cell 167, 789–802.e712 (2016).

Saha, S. et al. Polar positioning of phase-separated liquid compartments in cells regulated by an mRNA competition mechanism. Cell 166, 1572–1584.e1516 (2016).

Seydoux, G. The P granules of C. elegans: a genetic model for the study of RNA–protein condensates. J. Mol. Biol. 430, 4702–4710 (2018).

Bracha, D. et al. Mapping local and global liquid phase behavior in living cells using photo-oligomerizable seeds. Cell 175, 1467–1480.e1413 (2018).

Woodruff, J. B., Hyman, A. A. & Boke, E. Organization and function of non-dynamic biomolecular condensates. Trends Biochem. Sci. 43, 81–94 (2018).

Brenner, S. The genetics of Caenorhabditis elegans. Genetics 77, 71–94 (1974).

Paix, A., Folkmann, A., Rasoloson, D. & Seydoux, G. High efficiency, homology-directed genome editing in Caenorhabditis elegans using CRISPR–Cas9 ribonucleoprotein complexes. Genetics 201, 47–54 (2015).

Timmons, L. & Fire, A. Specific interference by ingested dsRNA. Nature 395, 854 (1998).

Alberti, S. et al. A user's guide for phase separation assays with purified proteins. J. Mol. Biol. 430, 4806–4820 (2018).
Acknowledgements
We thank D. Rasoloson who provided strains JH3269 and H. Schmidt who provided strain JH3606, and A. Folkmann for comments on the manuscript. Some strains were provided by the CGC, which is funded by National Institutes of Health (NIH) Office of Research Infrastructure Programs (P40 OD010440). Data acquisition using the Zeiss LSM 800 Confocal reported in this publication was supported by Office of the Director, NIH (OD) of the National Institutes of Health (award number S10OD016374). This work was supported by the NIH (grant number R37 HD37047, G.S.). M.C. was supported by a training grant T32 GM007445 and National Science Foundation Graduate Research Fellowship DGE-1746891. G.S. is an investigator of the Howard Hughes Medical Institute.
Ethics declarations
Competing interests
The authors declare no competing interests.
Additional information
Publisher's note: Springer Nature remains neutral with regard to jurisdictional claims in published maps and institutional affiliations.
Integrated supplementary information
Supplementary information
About this article
Cite this article
Putnam, A., Cassani, M., Smith, J. et al. A gel phase promotes condensation of liquid P granules in Caenorhabditis elegans embryos. Nat Struct Mol Biol 26, 220–226 (2019). https://doi.org/10.1038/s41594-019-0193-2
Received:

Accepted:

Published:

Issue Date:

DOI: https://doi.org/10.1038/s41594-019-0193-2