Abstract
Proteotoxic stress such as heat shock causes heat-shock factor (HSF)-dependent transcriptional upregulation of chaperones. Heat shock also leads to a rapid and reversible downregulation of many genes, a process we term stress-induced transcriptional attenuation (SITA). The mechanism underlying this conserved phenomenon is unknown. Here we report that enhanced recruitment of negative transcription elongation factors to gene promoters in human cell lines induces SITA. A chemical inhibitor screen showed that active translation and protein ubiquitination are required for the response. We further find that proteins translated during heat shock are subjected to ubiquitination and that p38 kinase signaling connects cytosolic translation with gene downregulation. Notably, brain samples of subjects with Huntington's disease also show transcriptional attenuation, which is recapitulated in cellular models of protein aggregation similar to heat shock. Thus our work identifies an HSF-independent mechanism that links nascent-protein ubiquitination to transcriptional downregulation during heat shock, with potential ramifications in neurodegenerative diseases.
Access options
Subscribe to Journal
Get full journal access for 1 year
$209.00
only $17.42 per issue
All prices are NET prices.
VAT will be added later in the checkout.
Rent or Buy article
Get time limited or full article access on ReadCube.
from$8.99
All prices are NET prices.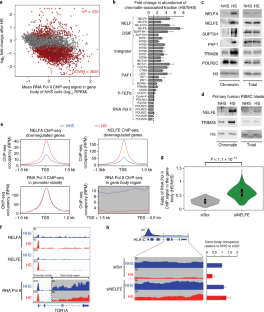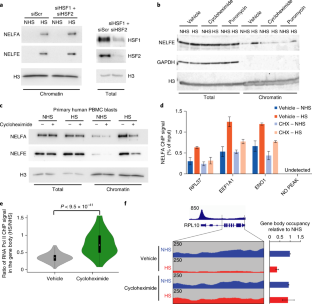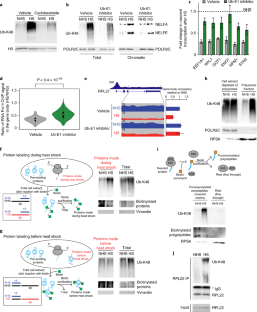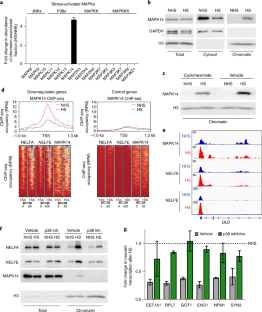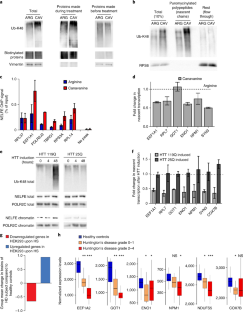 Data availability
All the deep-sequencing data reported in this study are deposited in Gene Expression Omnibus and are available under accession number GSE112379. The mass spectrometry proteomics data have been deposited with the ProteomeXchange Consortium via the PRIDE partner repository with the data set identifier PXD012077. The source data for Figs. 2d, 3c, 4g and 5c,f are available online. Uncropped images of Figs. 1c,d, 2a–c, 3a,b,f–j, 4b,c,f and 5a,b,e are available with the paper online. All other data will be made available upon request.
References
1.

Morimoto, R. I. Regulation of the heat shock transcriptional response: cross talk between a family of heat shock factors, molecular chaperones, and negative regulators. Genes Dev. 12, 3788–3796 (1998).

2.

Akerfelt, M., Morimoto, R. I. & Sistonen, L. Heat shock factors: integrators of cell stress, development and lifespan. Nat. Rev. Mol. Cell Biol. 11, 545–555 (2010).

3.

Gomez-Pastor, R., Burchfiel, E. T. & Thiele, D. J. Regulation of heat shock transcription factors and their roles in physiology and disease. Nat. Rev. Mol. Cell Biol. 19, 4–19 (2018).

4.

Li, J., Labbadia, J. & Morimoto, R. I. Rethinking HSF1 in stress, development, and organismal health. Trends. Cell Biol. 27, 895–905 (2017).

5.

Spradling, A., Penman, S. & Pardue, M. L. Analysis of drosophila mRNA by in situ hybridization: sequences transcribed in normal and heat shocked cultured cells. Cell 4, 395–404 (1975).

6.

Jamrich, M., Greenleaf, A. L. & Bautz, E. K. Localization of RNA polymerase in polytene chromosomes of Drosophila melanogaster. Proc. Natl Acad. Sci. USA 74, 2079–2083 (1977).

7.

Mahat, D. B., Salamanca, H. H., Duarte, F. M., Danko, C. G. & Lis, J. T. Mammalian heat shock response and mechanisms underlying its genome-wide transcriptional regulation. Mol. Cell 62, 63–78 (2016).

8.

Gasch, A. P. et al. Genomic expression programs in the response of yeast cells to environmental changes. Mol. Biol. Cell. 11, 4241–4257 (2000).

9.

Duarte, F. M. et al. Transcription factors GAF and HSF act at distinct regulatory steps to modulate stress-induced gene activation. Genes Dev. 30, 1731–1746 (2016).

10.

Vihervaara, A. et al. Transcriptional response to stress is pre-wired by promoter and enhancer architecture. Nat. Commun. 8, 255 (2017).

11.

Core, L. J. & Lis, J. T. Transcription regulation through promoter-proximal pausing of RNA polymerase II. Science 319, 1791–1792 (2008).

12.

Adelman, K. & Lis, J. T. Promoter-proximal pausing of RNA polymerase II: emerging roles in metazoans. Nat. Rev. Genet. 13, 720–731 (2012).

13.

Kwak, H. & Lis, J. T. Control of transcriptional elongation. Annu. Rev. Genet. 47, 483–508 (2013).

14.

Bunch, H. et al. TRIM28 regulates RNA polymerase II promoter-proximal pausing and pause release. Nat. Struct. Mol. Biol. 21, 876–883 (2014).

15.

Stadelmayer, B. et al. Integrator complex regulates NELF-mediated RNA polymerase II pause/release and processivity at coding genes. Nat. Commun. 5, 5531 (2014).

16.

Chen, F. X. et al. PAF1, a molecular regulator of promoter-proximal pausing by rna polymerase II. Cell 162, 1003–1015 (2015).

17.

Paparidis, N. F., Durvale, M. C. & Canduri, F. The emerging picture of CDK9/P-TEFb: more than 20 years of advances since PITALRE. Mol. Biosyst. 13, 246–276 (2017).

18.

Kwak, H., Fuda, N. J., Core, L. J. & Lis, J. T. Precise maps of RNA polymerase reveal how promoters direct initiation and pausing. Science 339, 950–953 (2013).

19.

Palozola, K. C. et al. Mitotic transcription and waves of gene reactivation during mitotic exit. Science 358, 119–122 (2017).

20.

Ong, S. E. et al. Stable isotope labeling by amino acids in cell culture, SILAC, as a simple and accurate approach to expression proteomics. Mol. Cell. Proteomics 1, 376–386 (2002).

21.

Gilchrist, D. A. et al. NELF-mediated stalling of Pol II can enhance gene expression by blocking promoter-proximal nucleosome assembly. Genes Dev. 22, 1921–1933 (2008).

22.

Chen, F. X. et al. PAF1 regulation of promoter-proximal pause release via enhancer activation. Science 357, 1294–1298 (2017).

23.

Court, S. J., Waclaw, B. & Allen, R. J. Lower glycolysis carries a higher flux than any biochemically possible alternative. Nat. Commun. 6, 8427 (2015).

24.

Bersuker, K., Brandeis, M. & Kopito, R. R. Protein misfolding specifies recruitment to cytoplasmic inclusion bodies. J. Cell Biol. 213, 229–241 (2016).

25.

Santagata, S. et al. Tight coordination of protein translation and HSF1 activation supports the anabolic malignant state. Science 341, 1238303 (2013).

26.

Salomons, F. A. et al. Selective accumulation of aggregation-prone proteasome substrates in response to proteotoxic stress. Mol. Cell. Biol. 29, 1774–1785 (2009).

27.

Xu, G. et al. Vulnerability of newly synthesized proteins to proteostasis stress. J. Cell Sci. 129, 1892–1901 (2016).

28.

Hanna, J., Leggett, D. S. & Finley, D. Ubiquitin depletion as a key mediator of toxicity by translational inhibitors. Mol. Cell. Biol. 23, 9251–9261 (2003).

29.

Abravaya, K., Phillips, B. & Morimoto, R. I. Attenuation of the heat shock response in HeLa cells is mediated by the release of bound heat shock transcription factor and is modulated by changes in growth and in heat shock temperatures. Genes Dev. 5, 2117–2127 (1991).

30.

Duttler, S., Pechmann, S. & Frydman, J. Principles of cotranslational ubiquitination and quality control at the ribosome. Mol. Cell 50, 379–393 (2013).

31.

Wang, F., Durfee, L. A. & Huibregtse, J. M. A cotranslational ubiquitination pathway for quality control of misfolded proteins. Mol. Cell 50, 368–378 (2013).

32.

Cuadrado, A. & Nebreda, A. R. Mechanisms and functions of p38 MAPK signalling. Biochem. J. 429, 403–417 (2010).

33.

Davis, R. J. Signal transduction by the JNK group of MAP kinases. Cell 103, 239–252 (2000).

34.

Hotamisligil, G. S. & Davis, R. J. Cell signaling and stress responses. Cold Spring Harb. Perspect. Biol. 8, a006072 (2016).

35.

Wood, C. D., Thornton, T. M., Sabio, G., Davis, R. A. & Rincon, M. Nuclear localization of p38 MAPK in response to DNA damage. Int. J. Biol. Sci. 5, 428–437 (2009).

36.

de Nadal, E., Ammerer, G. & Posas, F. Controlling gene expression in response to stress. Nat. Rev. Genet. 12, 833–845 (2011).

37.

Young, P. R. et al. Pyridinyl imidazole inhibitors of p38 mitogen-activated protein kinase bind in the ATP site. J. Biol. Chem. 272, 12116–12121 (1997).

38.

Tatham, M. H., Matic, I., Mann, M. & Hay, R. T. Comparative proteomic analysis identifies a role for SUMO in protein quality control. Sci. Signal. 4, rs4 (2011).

39.

Hageman, J. et al. A DNAJB chaperone subfamily with HDAC-dependent activities suppresses toxic protein aggregation. Mol. Cell 37, 355–369 (2010).

40.

Brehme, M. et al. A chaperome subnetwork safeguards proteostasis in aging and neurodegenerative disease. Cell Rep. 9, 1135–1150 (2014).

41.

Hodges, A. et al. Regional and cellular gene expression changes in human Huntington's disease brain. Hum. Mol. Genet. 15, 965–977 (2006).

42.

Hadizadeh Esfahani, A., Sverchkova, A., Saez-Rodriguez, J., Schuppert, A. A. & Brehme, M. A systematic atlas of chaperome deregulation topologies across the human cancer landscape. PLoS Comput. Biol. 14, e1005890 (2018).

43.

Niskanen, E. A. et al. Global SUMOylation on active chromatin is an acute heat stress response restricting transcription. Genome Biol. 16, 1–19 (2015).

44.

Matunis, M. J., Zhang, X. D. & Ellis, N. A. SUMO: the glue that binds. Dev. Cell 11, 596–597 (2006).

45.

Niskanen, E. A. & Palvimo, J. J. Chromatin SUMOylation in heat stress: to protect, pause and organise?: SUMO stress response on chromatin. Bioessays. https://doi.org/10.1002/bies.201600263 (2017).

46.

Borisova, M. E. et al. p38-MK2 signaling axis regulates RNA metabolism after UV-light-induced DNA damage. Nat. Commun. 9, 1017 (2018).

47.

Gianfriddo, M., Melani, A., Turchi, D., Giovannini, M. G. & Pedata, F. Adenosine and glutamate extracellular concentrations and mitogen-activated protein kinases in the striatum of Huntington transgenic mice. Selective antagonism of adenosine A2A receptors reduces transmitter outflow. Neurobiol. Dis. 17, 77–88 (2004).

48.

Taylor, D. M. et al. MAP kinase phosphatase 1 (MKP-1/DUSP1) is neuroprotective in Huntington's disease via additive effects of JNK and p38 inhibition. J. Neurosci. 33, 2313–2325 (2013).

49.

Shalgi, R. et al. Widespread regulation of translation by elongation pausing in heat shock. Mol. Cell 49, 439–452 (2013).

50.

Pavitt, G. D. & Ron, D. New insights into translational regulation in the endoplasmic reticulum unfolded protein response. Cold Spring Harb. Perspect. Biol. 4, a012278 (2012).

51.

Mahat, D. B. & Lis, J. T. Use of conditioned media is critical for studies of regulation in response to rapid heat shock. Cell Stress Chaperones 22, 155–162 (2017).

52.

Margueron, R. et al. Ezh1 and Ezh2 maintain repressive chromatin through different mechanisms. Mol. Cell 32, 503–518 (2008).

53.

Henikoff, S., Henikoff, J. G., Sakai, A., Loeb, G. B. & Ahmad, K. Genome-wide profiling of salt fractions maps physical properties of chromatin. Genome Res. 19, 460–469 (2009).

54.

Kustatscher, G., Wills, K. L., Furlan, C. & Rappsilber, J. Chromatin enrichment for proteomics. Nat. Protoc. 9, 2090–2099 (2014).

55.

Tresini, M. et al. The core spliceosome as target and effector of non-canonical ATM signalling. Nature 523, 53–58 (2015).

56.

Vinayagam, A. et al. Protein complex-based analysis framework for high-throughput data sets. Sci. Signal. 6, rs5 (2013).

57.

Arrigoni, L. et al. Standardizing chromatin research: a simple and universal method for ChIP-seq. Nucleic Acids Res. 44, e67 (2016).

58.

Lee, T. I., Johnstone, S. E. & Young, R. A. Chromatin immunoprecipitation and microarray-based analysis of protein location. Nat. Protoc. 1, 729–748 (2006).

59.

Bonhoure, N. et al. Quantifying ChIP-seq data: a spiking method providing an internal reference for sample-to-sample normalization. Genome Res. 24, 1157–1168 (2014).

60.

Langmead, B. & Salzberg, S. L. Fast gapped-read alignment with Bowtie 2. Nat. Methods 9, 357–359 (2012).

61.

Zhang, Y. et al. Model-based analysis of ChIP-Seq (MACS). Genome Biol. 9, R137 (2008).

62.

Quinlan, A. R. & Hall, I. M. BEDTools: a flexible suite of utilities for comparing genomic features. Bioinformatics 26, 841–842 (2010).

63.

Love, M. I., Huber, W. & Anders, S. Moderated estimation of fold change and dispersion for RNA-seq data with DESeq2. Genome Biol. 15, 550 (2014).

64.

Ramirez, F. et al. deepTools2: a next generation web server for deep-sequencing data analysis. Nucleic Acids Res. 44, W160–W165 (2016).

65.

H. Wickham. ggplot2: Elegant Graphics for Data Analysis. (Springer-Verlag New York, 2009).

66.

Warnes, G. W. et al. gplots: Various R programming tools for plotting data. https://cran.r-project.org/web/packages/gplots/index.html (2016).

67.

Ritchie, M. E. et al. limma powers differential expression analyses for RNA-sequencing and microarray studies. Nucleic Acids Res. 43, e47 (2015).

68.

Adler, D. vioplot: Violin plot. R package version 0.2. https://cran.r-project.org/web/packages/vioplot/index.html (2005).

69.

Mahat, D. B. et al. Base-pair-resolution genome-wide mapping of active RNA polymerases using precision nuclear run-on (PRO-seq). Nat. Protoc. 11, 1455–1476 (2016).

70.

Dieterich, D. C. et al. Labeling, detection and identification of newly synthesized proteomes with bioorthogonal non-canonical amino-acid tagging. Nat. Protoc. 2, 532–540 (2007).

71.

Efron, B. & Tibshirani, R. On testing the significance of sets of genes. Ann. Appl. Stat. 1, 23 (2007).
Acknowledgements
We thank Y.L. Dréan (University of Rennes), H. Kampinga (University of Groningen), R. Kopito (Stanford University), J.T. Lis (Cornell University), R. Paro (ETH), A. Shilatifard (Northwestern University), L. Sistonen (University of Turku), E. Trompouki (Max Planck Institute of Immunobiology and Epigenetics) and U. Wölfle (University of Freiburg) for sharing cell lines, protocols and plasmids; and J. Büscher, G. Mittler and sequencing and bioinformatics facilities for data acquisition and help with the analyses. We acknowledge critical discussions with P. Beli, U. Hartl, J. Palvimo, L. Sistonen and colleagues at the Max Planck Institute of Immunobiology and Epigenetics. Excellent technical assistance from S. Bares and A. Antonova is acknowledged. R.S. acknowledges financial support by the Max Planck Society, the German Research Foundation through the collaborative research center Medical Epigenetics, through the research grant SA 3190 (R.S.) and through Germany's Excellence Strategy (CIBSS, EXC-2189, project ID 390939984).
Ethics declarations
Competing interests
The authors declare no competing interests.
Additional information
Publisher's note: Springer Nature remains neutral with regard to jurisdictional claims in published maps and institutional affiliations.
Integrated supplementary information
Supplementary information
About this article
Cite this article
Aprile-Garcia, F., Tomar, P., Hummel, B. et al. Nascent-protein ubiquitination is required for heat shock–induced gene downregulation in human cells. Nat Struct Mol Biol 26, 137–146 (2019). https://doi.org/10.1038/s41594-018-0182-x
Received:

Accepted:

Published:

Issue Date: