Abstract
Common fragile sites (CFSs) are loci that are hypersensitive to replication stress and hotspots for chromosomal rearrangements in cancers. CFSs replicate late in S phase, are cell-type specific and nest in large genes. The relative impact of transcription–replication conflicts versus a low density in initiation events on fragility is currently debated. Here we addressed the relationships between transcription, replication, and instability by manipulating the transcription of endogenous large genes in chicken and human cells. We found that inducing low transcription with a weak promoter destabilized large genes, whereas stimulating their transcription with strong promoters alleviated instability. Notably, strong promoters triggered a switch to an earlier replication timing, supporting a model in which high transcription levels give cells more time to complete replication before mitosis. Transcription could therefore contribute to maintaining genome integrity, challenging the dominant view that it is exclusively a threat.
This is a preview of subscription content
Access options
Subscribe to Nature+
Get immediate online access to the entire Nature family of 50+ journals
Subscribe to Journal
Get full journal access for 1 year
$99.00
only $8.25 per issue
All prices are NET prices.
VAT will be added later in the checkout.
Tax calculation will be finalised during checkout.
Buy article
Get time limited or full article access on ReadCube.
$32.00
All prices are NET prices.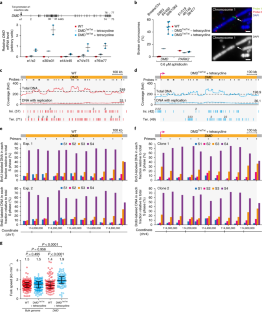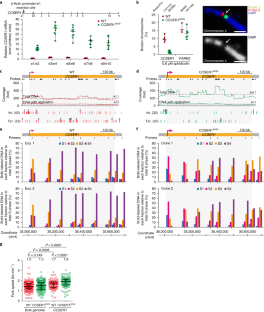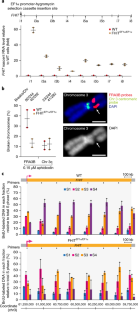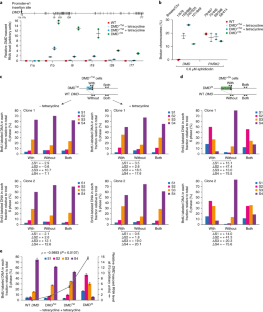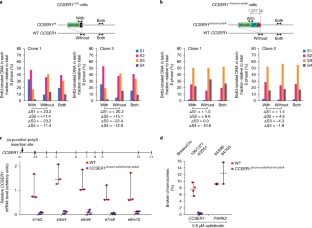 Data availability
The data that support the findings of this study as well as custom R scripts are available from the corresponding authors upon reasonable request.
References
Gaillard, H., Garcia-Muse, T. & Aguilera, A. Replication stress and cancer. Nat. Rev. Cancer 15, 276–289 (2015).

Macheret, M. & Halazonetis, T. D. DNA replication stress as a hallmark of cancer. Annu. Rev. Pathol. 10, 425–448 (2015).

Techer, H., Koundrioukoff, S., Nicolas, A. & Debatisse, M. The impact of replication stress on replication dynamics and DNA damage in vertebrate cells. Nat. Rev. Genet. 18, 535–550 (2017).

Debatisse, M., Le Tallec, B., Letessier, A., Dutrillaux, B. & Brison, O. Common fragile sites: mechanisms of instability revisited. Trends Genet. 28, 22–32 (2012).

Le Tallec, B. et al. Common fragile site profiling in epithelial and erythroid cells reveals that most recurrent cancer deletions lie in fragile sites hosting large genes. Cell Rep. 4, 420–428 (2013).

Letessier, A. et al. Cell-type-specific replication initiation programs set fragility of the FRA3B fragile site. Nature 470, 120–123 (2011).

Le Tallec, B. et al. Molecular profiling of common fragile sites in human fibroblasts. Nat. Struct. Mol. Biol. 18, 1421–1423 (2011).

Smith, D. I., McAvoy, S., Zhu, Y. & Perez, D. S. Large common fragile site genes and cancer. Semin. Cancer Biol. 17, 31–41 (2007).

Helmrich, A., Ballarino, M. & Tora, L. Collisions between replication and transcription complexes cause common fragile site instability at the longest human genes. Mol. Cell 44, 966–977 (2011).

Wilson, T. E. et al. Large transcription units unify copy number variants and common fragile sites arising under replication stress. Genome Res. 25, 189–200 (2015).

Wei, P. C. et al. Long neural genes harbor recurrent DNA break clusters in neural stem/progenitor cells. Cell 164, 644–655 (2016).

Pentzold, C. et al. FANCD2 binding identifies conserved fragile sites at large transcribed genes in avian cells. Nucleic Acids Res. 46, 1280–1294 (2018).

Le Beau, M. M. et al. Replication of a common fragile site, FRA3B, occurs late in S phase and is delayed further upon induction: implications for the mechanism of fragile site induction. Hum. Mol. Genet. 7, 755–761 (1998).

Naim, V., Wilhelm, T., Debatisse, M. & Rosselli, F. ERCC1 and MUS81-EME1 promote sister chromatid separation by processing late replication intermediates at common fragile sites during mitosis. Nat. Cell Biol. 15, 1008–1015 (2013).

Ying, S. et al. MUS81 promotes common fragile site expression. Nat. Cell Biol. 15, 1001–1007 (2013).

Minocherhomji, S. et al. Replication stress activates DNA repair synthesis in mitosis. Nature 528, 286–290 (2015).

Bhowmick, R., Minocherhomji, S. & Hickson, I. D. RAD52 facilitates mitotic DNA synthesis following replication stress. Mol. Cell 64, 1117–1126 (2016).

Sotiriou, S. K. et al. Mammalian RAD52 functions in break-induced replication repair of collapsed DNA replication forks. Mol. Cell 64, 1127–1134 (2016).

Di Marco, S. et al. RECQ5 helicase cooperates with MUS81 endonuclease in processing stalled replication forks at common fragile sites during mitosis. Mol. Cell 66, 658–671.e8 (2017).

Madireddy, A. et al. FANCD2 facilitates replication through common fragile sites. Mol. Cell 64, 388–404 (2016).

Sugimoto, N., Maehara, K., Yoshida, K., Ohkawa, Y. & Fujita, M. Genome-wide analysis of the spatiotemporal regulation of firing and dormant replication origins in human cells. Nucleic Acids Res. 46, 6683–6696 (2018).

Rivera-Mulia, J. C. & Gilbert, D. M. Replication timing and transcriptional control: beyond cause and effect-part III. Curr. Opin. Cell Biol. 40, 168–178 (2016).

Zlotorynski, E. et al. Molecular basis for expression of common and rare fragile sites. Mol. Cell. Biol. 23, 7143–7151 (2003).

Zhang, H. & Freudenreich, C. H. An AT-rich sequence in human common fragile site FRA16D causes fork stalling and chromosome breakage in S. cerevisiae. Mol. Cell 27, 367–379 (2007).

Durkin, S. G. & Glover, T. W. Chromosome fragile sites. Annu. Rev. Genet. 41, 169–192 (2007).

Tubbs, A. et al. Dual roles of poly(dA:dT) tracts in replication initiation and fork collapse. Cell 174, 1127–1142.e19 (2018).

Wahba, L., Costantino, L., Tan, F. J., Zimmer, A. & Koshland, D. S1-DRIP-seq identifies high expression and polyA tracts as major contributors to R-loop formation. Genes Dev. 30, 1327–1338 (2016).

Buerstedde, J. M. & Takeda, S. Increased ratio of targeted to random integration after transfection of chicken B cell lines. Cell 67, 179–188 (1991).

Muntoni, F., Torelli, S. & Ferlini, A. Dystrophin and mutations: one gene, several proteins, multiple phenotypes. Lancet Neurol. 2, 731–740 (2003).

Hassan-Zadeh, V. et al. USF binding sequences from the HS4 insulator element impose early replication timing on a vertebrate replicator. PLoS Biol. 10, e1001277 (2012).

Rivera-Mulia, J. C. et al. Dynamic changes in replication timing and gene expression during lineage specification of human pluripotent stem cells. Genome Res. 25, 1091–1103 (2015).

Petryk, N. et al. Replication landscape of the human genome. Nat. Commun. 7, 10208 (2016).

Powell, S. K. et al. Dynamic loading and redistribution of the Mcm2-7 helicase complex through the cell cycle. EMBO J. 34, 531–543 (2015).

Rodriguez-Martinez, M. et al. The gastrula transition reorganizes replication-origin selection in Caenorhabditis elegans. Nat. Struct. Mol. Biol. 24, 290–299 (2017).

Macheret, M. & Halazonetis, T. D. Intragenic origins due to short G1 phases underlie oncogene-induced DNA replication stress. Nature 555, 112–116 (2018).

Prioleau, M. N. & MacAlpine, D. M. DNA replication origins-where do we begin? Genes Dev. 30, 1683–1697 (2016).

Aladjem, M. I. & Redon, C. E. Order from clutter: selective interactions at mammalian replication origins. Nat. Rev. Genet. 18, 101–116 (2017).

Kurat, C. F., Yeeles, J. T., Patel, H., Early, A. & Diffley, J. F. Chromatin controls DNA replication origin selection, lagging-strand synthesis, and replication fork rates. Mol. Cell 65, 117–130 (2017).

Patel, K. et al. FAM190A deficiency creates a cell division defect. Am. J. Pathol. 183, 296–303 (2013).

Waters, C. E., Saldivar, J. C., Hosseini, S. A. & Huebner, K. The FHIT gene product: tumor suppressor and genome "caretaker". Cell. Mol. Life Sci. 71, 4577–4587 (2014).

Miron, K., Golan-Lev, T., Dvir, R., Ben-David, E. & Kerem, B. Oncogenes create a unique landscape of fragile sites. Nat. Commun. 6, 7094 (2015).

Donato, J. J., Chung, S. C. & Tye, B. K. Genome-wide hierarchy of replication origin usage in Saccharomyces cerevisiae. PLoS Genet. 2, e141 (2006).

Lunyak, V. V., Ezrokhi, M., Smith, H. S. & Gerbi, S. A. Developmental changes in the Sciara II/9A initiation zone for DNA replication. Mol. Cell. Biol. 22, 8426–8437 (2002).

Gros, J. et al. Post-licensing specification of eukaryotic replication origins by facilitated Mcm2-7 sliding along DNA. Mol. Cell 60, 797–807 (2015).

Snyder, M., Sapolsky, R. J. & Davis, R. W. Transcription interferes with elements important for chromosome maintenance in Saccharomyces cerevisiae. Mol. Cell. Biol. 8, 2184–2194 (1988).

Looke, M. et al. Relicensing of transcriptionally inactivated replication origins in budding yeast. J. Biol. Chem. 285, 40004–40011 (2010).

Mori, S. & Shirahige, K. Perturbation of the activity of replication origin by meiosis-specific transcription. J. Biol. Chem. 282, 4447–4452 (2007).

Krummel, K. A., Denison, S. R., Calhoun, E., Phillips, L. A. & Smith, D. I. The common fragile site FRA16D and its associated gene WWOX are highly conserved in the mouse at Fra8E1. Genes Chromosomes Cancer 34, 154–167 (2002).

Debatisse, M., El Achkar, E. & Dutrillaux, B. Common fragile sites nested at the interfaces of early and late-replicating chromosome bands: cis acting components of the G2/M checkpoint? Cell Cycle 5, 578–581 (2006).

Smith, D. I., Zhu, Y., McAvoy, S. & Kuhn, R. Common fragile sites, extremely large genes, neural development and cancer. Cancer Lett. 232, 48–57 (2006).

Gabel, H. W. et al. Disruption of DNA-methylation-dependent long gene repression in Rett syndrome. Nature 522, 89–93 (2015).

Kotsantis, P. et al. Increased global transcription activity as a mechanism of replication stress in cancer. Nat. Commun. 7, 13087 (2016).

Arakawa, H., Lodygin, D. & Buerstedde, J. M. Mutant loxP vectors for selectable marker recycle and conditional knock-outs. BMC Biotechnol. 1, 7 (2001).

Yin, D. X., Zhu, L. & Schimke, R. T. Tetracycline-controlled gene expression system achieves high-level and quantitative control of gene expression. Anal. Biochem. 235, 195–201 (1996).

Smith, K. A., Gorman, P. A., Stark, M. B., Groves, R. P. & Stark, G. R. Distinctive chromosomal structures are formed very early in the amplification of CAD genes in Syrian hamster cells. Cell 63, 1219–1227 (1990).

Anglana, M., Apiou, F., Bensimon, A. & Debatisse, M. Dynamics of DNA replication in mammalian somatic cells: nucleotide pool modulates origin choice and interorigin spacing. Cell 114, 385–394 (2003).

Michalet, X. et al. Dynamic molecular combing: stretching the whole human genome for high-resolution studies. Science 277, 1518–1523 (1997).

Labit, H. et al. A simple and optimized method of producing silanized surfaces for FISH and replication mapping on combed DNA fibers. Biotechniques 45, 649–652 (2008). 654, 656-648.

Lebofsky, R., Heilig, R., Sonnleitner, M., Weissenbach, J. & Bensimon, A. DNA replication origin interference increases the spacing between initiation events in human cells. Mol. Biol. Cell. 17, 5337–5345 (2006).

R Core Team. R: a Language and Environment for Statistical Computing (R Foundation for Statistical Computing, 2017); http://www.r-project.org/.

De Carli, F., Gaggioli, V., Millot, G. A. & Hyrien, O. Single-molecule, antibody-free fluorescent visualisation of replication tracts along barcoded DNA molecules. Int. J. Dev. Biol. 60, 297–304 (2016).
Acknowledgements
We thank S. Lambert and O. Hyrien for critical reading of the manuscript. The authors would like to acknowledge the Cell and Tissue Imaging Platform – PICT-IBiSA (member of France-Bioimaging) of the Genetics and Developmental Biology Department (UMR3215/U934) of Institut Curie for help with light microscopy, the Flow Cytometry Platform Imagoseine of Institut Jacques Monod, Université Paris Diderot, and the Imaging and Cytometry Platform (PFIC) of Institut Gustave Roussy for assistance with cell sorting. The M.D. team is supported by the Agence Nationale de la Recherche (grant ANR-13-BSV6-0008-01/FRA-Dom), the Association pour la Recherche sur le Cancer (grant Subvention Libre Sl220130607073), and the Institut National du Cancer (grants INCa subventions 2013-103 and PLBIO17-194). The M.N.P. team is supported by the Association pour la Recherche sur le Cancer (grant Labellisation PGA120150202272) and the Agence Nationale de la Recherche (grant ANR-15-CE12-0004-01). M.B. was supported by fellowships from the Ministère de l'Enseignement Supérieur et de la Recherche and the Ligue contre le cancer.
Ethics declarations
Competing interests
The authors declare no competing interests.
Additional information
Publisher's note: Springer Nature remains neutral with regard to jurisdictional claims in published maps and institutional affiliations.
Integrated supplementary information
Supplementary information
About this article
Cite this article
Blin, M., Le Tallec, B., Nähse, V. et al. Transcription-dependent regulation of replication dynamics modulates genome stability. Nat Struct Mol Biol 26, 58–66 (2019). https://doi.org/10.1038/s41594-018-0170-1
Received:

Accepted:

Published:

Issue Date:

DOI: https://doi.org/10.1038/s41594-018-0170-1