In a stress-free environment, the histone binding function of 53BP1 is inhibited by TIRR, but upon DNA damage 53BP1 is recruited to chromatin and promotes DNA repair. New structural studies provide insights into the mechanisms underlying 53BP1 inhibition and activation. TIRR physically blocks the methyl-lysine histone-binding site of Tudors, and RNA binding by TIRR alleviates this block.
This is a preview of subscription content
Access options
Subscribe to Journal
Get full journal access for 1 year
$99.00
only $8.25 per issue
All prices are NET prices.
VAT will be added later in the checkout.
Tax calculation will be finalised during checkout.
Rent or Buy article
Get time limited or full article access on ReadCube.
from$8.99
All prices are NET prices.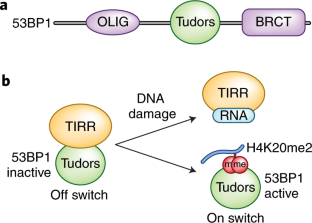 References
1.

Panier, S. & Boulton, S. J. Nat. Rev. Mol. Cell Biol. 15, 7–18 (2014).

2.

Fradet-Turcotte, A. et al. Nature 499, 50–54 (2013).

3.

Botuyan, M. V. et al. Cell 127, 1361–1373 (2006).

4.

Tang, J. et al. Nat. Struct. Mol. Biol. 20, 317–325 (2013).

5.

Wilson, M. D. et al. Nature 536, 100–103 (2016).

6.

Drané, P. et al. Nature 543, 211–216 (2017).

7.

Botuyan, M. V. et al. Nat. Struct. Mol. Biol. 25, 591–600 (2018).

8.

Dai, Y., Zhang, A., Shan, S., Gong, Z. & Zhou, Z. Nat. Commun. 9, 2123 (2018).

9.

Kachirskaia, I. et al. J. Biol. Chem. 283, 34660–34666 (2008).

10.

Huang, J. et al. Nature 449, 105–108 (2007).

11.

Tong, Q. et al. Structure 23, 312–321 (2015).
Ethics declarations
Competing interests
The authors declare no competing interests.
About this article
Cite this article
Zhang, Y., Kutateladze, T.G. Switching 53BP1 on and off via Tudors. Nat Struct Mol Biol 25, 646–647 (2018). https://doi.org/10.1038/s41594-018-0104-y