Abstract
Repairing DNA double-strand breaks (DSBs) by nonhomologous end joining (NHEJ) requires multiple proteins to recognize and bind DNA ends, process them for compatibility, and ligate them together. We constructed novel DNA substrates for single-molecule nanomanipulation, allowing us to mechanically detect, probe, and rupture in real-time DSB synapsis by specific human NHEJ components. DNA-PKcs and Ku allow DNA end synapsis on the 100 ms timescale, and the addition of PAXX extends this lifetime to ~2 s. Further addition of XRCC4, XLF and ligase IV results in minute-scale synapsis and leads to robust repair of both strands of the nanomanipulated DNA. The energetic contribution of the different components to synaptic stability is typically on the scale of a few kilocalories per mole. Our results define assembly rules for NHEJ machinery and unveil the importance of weak interactions, rapidly ruptured even at sub-picoNewton forces, in regulating this multicomponent chemomechanical system for genome integrity.
Relevant articles
Open Access articles citing this article.
Shikang Liang

&

Tom L. Blundell

Nature Structural & Molecular Biology Open Access 05 January 2023

Siyu Chen

,

James P. Lees-Miller

…

Susan P. Lees-Miller

Genome Instability & Disease Open Access 23 July 2021

Maria Jose Cabello-Lobato

,

Christine K. Schmidt

&

Matthew J. Cliff

Biomolecular NMR Assignments Open Access 25 June 2021
Access options
Access Nature and 54 other Nature Portfolio journals
Get Nature+, our best-value online-access subscription
$29.99 / 30 days
cancel any time
Subscribe to this journal
Receive 12 print issues and online access
$189.00 per year
only $15.75 per issue
Rent or buy this article
Prices vary by article type
from$1.95
to$39.95
Prices may be subject to local taxes which are calculated during checkout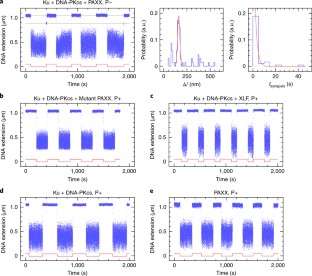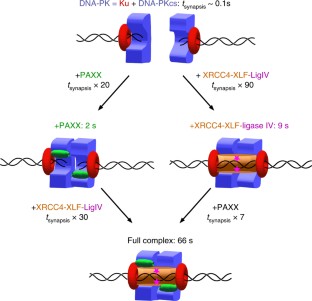 References
Walker, J. R., Corpina, R. A. & Goldberg, J. Structure of the Ku heterodimer bound to DNA and its implications for double-strand break repair. Nature 412, 607–614 (2001).

Smith, G. C. & Jackson, S. P. The DNA-dependent protein kinase. Genes Dev. 13, 916–934 (1999).

Dvir, A., Stein, L. Y., Calore, B. L. & Dynan, W. S. Purification and characterization of a template-associated protein kinase that phosphorylates RNA polymerase II. J. Biol. Chem. 268, 10440–10447 (1993).

Carter, T., Vancurová, I., Sun, I., Lou, W. & DeLeon, S. A DNA-activated protein kinase from HeLa cell nuclei. Mol. Cell. Biol. 10, 6460–6471 (1990).

Sibanda, B. L., Chirgadze, D. Y. & Blundell, T. L. Crystal structure of DNA-PKcs reveals a large open-ring cradle comprised of HEAT repeats. Nature 463, 118–121 (2010).

Hammel, M. et al. Ku and DNA-dependent protein kinase dynamic conformations and assembly regulate DNA binding and the initial non-homologous end joining complex. J. Biol. Chem. 285, 1414–1423 (2010).

Jiang, W. et al. Differential phosphorylation of DNA-PKcs regulates the interplay between end-processing and end-ligation during nonhomologous end-joining. Mol. Cell 58, 172–185 (2015).

Sibanda, B. L., Chirgadze, D. Y., Ascher, D. B. & Blundell, T. L. DNA-PKcs structure suggests an allosteric mechanism modulating DNA double-strand break repair. Science 355, 520–524 (2017).

Moshous, D. et al. Artemis, a novel DNA double-strand break repair/V(D)J recombination protein, is mutated in human severe combined immune deficiency. Cell 105, 177–186 (2001).

Ma, Y., Pannicke, U., Schwarz, K. & Lieber, M. R. Hairpin opening and overhang processing by an Artemis/DNA-dependent protein kinase complex in nonhomologous end joining and V(D)J recombination. Cell 108, 781–794 (2002).

Ochi, T. et al. DNA repair. PAXX, a paralog of XRCC4 and XLF, interacts with Ku to promote DNA double-strand break repair. Science 347, 185–188 (2015).

Xing, M. et al. Interactome analysis identifies a new paralogue of XRCC4 in non-homologous end joining DNA repair pathway. Nat. Commun. 6, 6233 (2015).

Craxton, A. et al. XLS (c9orf142) is a new component of mammalian DNA double-stranded break repair. Cell Death Differ. 22, 890–897 (2015).

Tadi, S. K. et al. PAXX is an accessory c-NHEJ factor that associates with Ku70 and has overlapping functions with XLF. Cell Reports 17, 541–555 (2016).

Ropars, V. et al. Structural characterization of filaments formed by human Xrcc4-Cernunnos/XLF complex involved in nonhomologous DNA end-joining. Proc. Natl Acad. Sci. USA 108, 12663–12668 (2011).

Hammel, M. et al. XRCC4 protein interactions with XRCC4-like factor (XLF) create an extended grooved scaffold for DNA ligation and double strand break repair. J. Biol. Chem. 286, 32638–32650 (2011).

Wu, Q. et al. Non-homologous end-joining partners in a helical dance: structural studies of XLF-XRCC4 interactions. Biochem. Soc. Trans. 39, 1387–1392 (2011). 2, 1392.

Andres, S. N. et al. A human XRCC4-XLF complex bridges DNA. Nucleic Acids Res. 40, 1868–1878 (2012).

Brouwer, I. et al. Sliding sleeves of XRCC4-XLF bridge DNA and connect fragments of broken DNA. Nature 535, 566–569 (2016).

Ahnesorg, P., Smith, P. & Jackson, S. P. XLF interacts with the XRCC4-DNA ligase IV complex to promote DNA nonhomologous end-joining. Cell 124, 301–313 (2006).

Mahaney, B. L., Hammel, M., Meek, K., Tainer, J. A. & Lees-Miller, S. P. XRCC4 and XLF form long helical protein filaments suitable for DNA end protection and alignment to facilitate DNA double strand break repair. Biochem. Cell Biol. 91, 31–41 (2013).

Lieber, M. R. The mechanism of double-strand DNA break repair by the nonhomologous DNA end-joining pathway. Annu. Rev. Biochem. 79, 181–211 (2010).

Liang, S. et al. Achieving selectivity in space and time with DNA double-strand-break response and repair: molecular stages and scaffolds come with strings attached. Struct. Chem. 28, 161–171 (2017).

Yaneva, M., Kowalewski, T. & Lieber, M. R. Interaction of DNA-dependent protein kinase with DNA and with Ku: biochemical and atomic-force microscopy studies. EMBO J. 16, 5098–5112 (1997).

West, R. B., Yaneva, M. & Lieber, M. R. Productive and nonproductive complexes of Ku and DNA-dependent protein kinase at DNA termini. Mol. Cell. Biol. 18, 5908–5920 (1998).

Strick, T. R., Allemand, J. F., Bensimon, D., Bensimon, A. & Croquette, V. The elasticity of a single supercoiled DNA molecule. Science 271, 1835–1837 (1996).

Bouchiat, C. et al. Estimating the persistence length of a worm-like chain molecule from force-extension measurements. Biophys. J. 76, 409–413 (1999).

Yano, K. et al. Ku recruits XLF to DNA double-strand breaks. EMBO Rep. 9, 91–96 (2008).

Grundy, G. J. et al. The Ku-binding motif is a conserved module for recruitment and stimulation of non-homologous end-joining proteins. Nat. Commun. 7, 11242 (2016).

Hammel, M., Yu, Y., Fang, S., Lees-Miller, S. P. & Tainer, J. A. XLF regulates filament architecture of the XRCC4-Ligase IV complex. Structure 18, 1431–1442 (2010).

Balmus, G. et al. Synthetic lethality between PAXX and XLF in mammalian development. Genes Dev. 30, 2152–2157 (2016).

Liu, X., Shao, Z., Jiang, W., Lee, B. J. & Zha, S. PAXX promotes KU accumulation at DNA breaks and is essential for end-joining in XLF-deficient mice. Nat. Commun. 8, 13816 (2017).

Walther, A. P., Gomes, X. V., Lao, Y., Lee, C. G. & Wold, M. S. Replication protein A interactions with DNA. 1. Functions of the DNA-binding and zinc-finger domains of the 70-kDa subunit. Biochemistry 38, 3963–3973 (1999).

Hammel, M. et al. An intrinsically disordered APLF links Ku, DNA-PKcs and XRCC4-DNA ligase IV in an extended flexible non-homologous end joining complex. J. Biol. Chem. 291, 26987–27006 (2016).

Lees-Miller, S. P., Beattie, T. L. & Tainer, J. A. Noncoding RNA joins Ku and DNA-PKcs for DNA-break resistance in breast cancer. Nat. Struct. Mol. Biol. 23, 509–510 (2016).

Graves, E. T. et al. A dynamic DNA-repair complex observed by correlative single-molecule nanomanipulation and fluorescence. Nat. Struct. Mol. Biol. 22, 452–457 (2015).

Bouchiat, C. & Mezard, M. Elasticity model of a supercoiled DNA molecule. Phys. Rev. Lett. 80, 1556 (1998).

Hammarsten, O. & Chu, G. DNA-dependent protein kinase: DNA binding and activation in the absence of Ku. Proc. Natl Acad. Sci. USA 95, 525–530 (1998).

Duboc, C., Fan, J., Graves, E. T. & Strick, T. R. Preparation of DNA substrates and functionalized glass surfaces for correlative nanomanipulation and colocalization (NanoCOSM) of single molecules. Methods Enzymol. 582, 275–296 (2017).

Peränen, J., Rikkonen, M., Hyvönen, M. & Kääriäinen, L. T7 vectors with modified T7lac promoter for expression of proteins in Escherichia coli. Anal. Biochem. 236, 371–373 (1996).

Ochi, T., Wu, Q., Chirgadze, D. Y., Grossmann, J. G., Bolanos-Garcia, V.-M. & Blundell, T. L. Structural insights into the role of domain flexibility in human DNA ligase IV. Structure 20, 1212–1222 (2012).

Li, Y. et al. Crystal structure of human XLF/Cernunnos reveals unexpected differences from XRCC4 with implications for NHEJ. EMBO J. 27, 290–300 (2008).

Murray, J. E. et al. Mutations in the NHEJ component XRCC4 cause primordial dwarfism. Am. J. Hum. Genet. 96, 412–424 (2015).
Acknowledgements
J.L.W. is supported by a PhD scholarship from the China Scholarship Council; C.D. is supported by a PhD scholarship from the University of Paris V and the Frontieres du Vivant doctoral program. For funding and support, we thank the Ligue Nationale Contre le Cancer "Equipes Labellisées" program and PSL University (NanoRep grant), as well as the University of Paris VII, the CNRS, and the Ecole normale supérieure (to T.R.S.); the National Institute of Health (P01CA92584 to S.P.L.-M. and J.A.T. and R01GM110387 to S.E.T.); and the Wellcome Trust for support for T.O., Q.W., and S.L. (093167MA and 200814/Z/16/Z to T.L.B.). J.A.T. is partly supported by a Robert A. Welch Chemistry Chair, the Cancer Prevention and Research Institute of Texas, and the University of Texas System Science and Technology Acquisition and Retention.
Ethics declarations
Competing interests
The authors declare no competing interests.
Additional information
Publisher's note: Springer Nature remains neutral with regard to jurisdictional claims in published maps and institutional affiliations.
Integrated Supplementary Information
Supplementary information
Supplementary Figures 1–6 and Supplementary Tables 1 and 2
About this article
Cite this article
Wang, J.L., Duboc, C., Wu, Q. et al. Dissection of DNA double-strand-break repair using novel single-molecule forceps. Nat Struct Mol Biol 25, 482–487 (2018). https://doi.org/10.1038/s41594-018-0065-1
Received:

Accepted:

Published:

Issue Date:

DOI: https://doi.org/10.1038/s41594-018-0065-1