Abstract
Cytosine methylation is widespread among organisms and essential for mammalian development. In line with early postulations of an epigenetic role in gene regulation, symmetric CpG methylation can be mitotically propagated over many generations with extraordinarily high fidelity. Here, we combine BrdU labeling and immunoprecipitation with genome-wide bisulfite sequencing to explore the inheritance of cytosine methylation onto newly replicated DNA in human cells. Globally, we observe a pronounced lag between the copying of genetic and epigenetic information in embryonic stem cells that is reconsolidated within hours to accomplish faithful mitotic transmission. Populations of arrested cells show a global reduction of lag-induced intermediate CpG methylation when compared to proliferating cells, whereas sites of transcription factor engagement appear cell-cycle invariant. Alternatively, the cancer cell line HCT116 preserves global epigenetic heterogeneity independently of cell-cycle arrest. Taken together, our data suggest that heterogeneous methylation largely reflects asynchronous proliferation, but is intrinsic to actively engaged cis-regulatory elements and cancer.
Access options
Subscribe to Journal
Get full journal access for 1 year
$225.00
only $18.75 per issue
All prices are NET prices.
VAT will be added later in the checkout.
Rent or Buy article
Get time limited or full article access on ReadCube.
from$8.99
All prices are NET prices.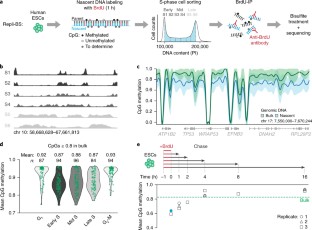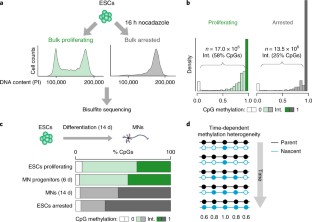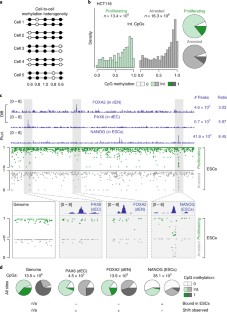 References
1.

Holliday, R. & Pugh, J. E. DNA modification mechanisms and gene activity during development. Science 187, 226–232 (1975).

2.

Riggs, A. D. X inactivation, differentiation, and DNA methylation. Cytogenet. Cell. Genet. 14, 9–25 (1975).

3.

Smith, Z. D. & Meissner, A. DNA methylation: roles in mammalian development. Nat. Rev. Genet. 14, 204–220 (2013).

4.

Prelich, G. & Stillman, B. Coordinated leading and lagging strand synthesis during SV40 DNA replication in vitro requires PCNA. Cell 53, 117–126 (1988).

5.

Bestor, T. H. & Ingram, V. M. Two DNA methyltransferases from murine erythroleukemia cells: purification, sequence specificity, and mode of interaction with DNA. Proc. Natl Acad. Sci. USA 80, 5559–5563 (1983).

6.

Hermann, A., Goyal, R. & Jeltsch, A. The Dnmt1 DNA-(cytosine-C5)-methyltransferase methylates DNA processively with high preference for hemimethylated target sites. J. Biol. Chem. 279, 48350–48359 (2004).

7.

Pradhan, S. et al. Baculovirus-mediated expression and characterization of the full-length murine DNA methyltransferase. Nucleic. Acids. Res. 25, 4666–4673 (1997).

8.

Bostick, M. et al. UHRF1 plays a role in maintaining DNA methylation in mammalian cells. Science 317, 1760–1764 (2007).

9.

Sharif, J. et al. The SRA protein Np95 mediates epigenetic inheritance by recruiting Dnmt1 to methylated DNA. Nature 450, 908–912 (2007).

10.

Qin, W. et al. DNA methylation requires a DNMT1 ubiquitin interacting motif (UIM) and histone ubiquitination. Cell. Res. 25, 911–929 (2015).

11.

Chuang, L. S. et al. Human DNA-(cytosine-5) methyltransferase-PCNA complex as a target for p21WAF1. Science 277, 1996–2000 (1997).

12.

Schermelleh, L. et al. Dynamics of Dnmt1 interaction with the replication machinery and its role in postreplicative maintenance of DNA methylation. Nucleic. Acids. Res. 35, 4301–4312 (2007).

13.

Ziller, M. J. et al. Charting a dynamic DNA methylation landscape of the human genome. Nature 500, 477–481 (2013).

14.

Adams, R. L. The relationship between synthesis and methylation of DNA in mouse fibroblasts. Biochim. Biophys. Acta. 254, 205–212 (1971).

15.

Liang, G. et al. Cooperativity between DNA methyltransferases in the maintenance methylation of repetitive elements. Mol. Cell. Biol. 22, 480–491 (2002).

16.

Woodcock, D. M., Adams, J. K. & Cooper, I. A. Characteristics of enzymatic DNA methylation in cultured cells of human and hamster origin, and the effect of DNA replication inhibition. Biochim. Biophys. Acta. 696, 15–22 (1982).

17.

Woodcock, D. M. et al. Delayed DNA methylation is an integral feature of DNA replication in mammalian cells. Exp. Cell. Res. 166, 103–112 (1986).

18.

Shirodkar, A. V. et al. A mechanistic role for DNA methylation in endothelial cell aECa-enriched gene expression: relationship with DNA replication timing. Blood 121, 3531–3540 (2013).

19.

Jackson, D. A. & Pombo, A. Replicon clusters are stable units of chromosome structure: evidence that nuclear organization contributes to the efficient activation and propagation of S phase in human cells. J. Cell. Biol. 140, 1285–1295 (1998).

20.

Pradhan, S., Bacolla, A., Wells, R. D. & Roberts, R. J. Recombinant human DNA (cytosine-5) methyltransferase. I. Expression, purification, and comparison of de novo and maintenance methylation. J. Biol. Chem. 274, 33002–33010 (1999).

21.

Hansen, R. S. et al. Sequencing newly replicated DNA reveals widespread plasticity in human replication timing. Proc. Natl Acad. Sci. USA 107, 139–144 (2010).

22.

Jeltsch, A. & Jurkowska, R. Z. New concepts in DNA methylation. Trends. Biochem. Sci. 39, 310–318 (2014).

23.

Lei, H. et al. De novo DNA cytosine methyltransferase activities in mouse embryonic stem cells. Development 122, 3195–3205 (1996).

24.

Liao, J. et al. Targeted disruption of DNMT1, DNMT3A and DNMT3B in human embryonic stem cells. Nat. Genet. 47, 469–478 (2015).

25.

Jackson, M. et al. Severe global DNA hypomethylation blocks differentiation and induces histone hyperacetylation in embryonic stem cells. Mol. Cell. Biol. 24, 8862–8871 (2004).

26.

Ziller, M. J. et al. Dissecting the functional consequences of de novo DNA methylation dynamics in human motor neuron differentiation and physiology. Cell Stem Cell (in the press).

27.

Hansen, K. D. et al. Increased methylation variation in epigenetic domains across cancer types. Nat. Genet. 43, 768–775 (2011).

28.

Landau, D. A. et al. Locally disordered methylation forms the basis of intratumor methylome variation in chronic lymphocytic leukemia. Cancer Cell 26, 813–825 (2014).

29.

Stadler, M. B. et al. DNA-binding factors shape the mouse methylome at distal regulatory regions. Nature 480, 490–495, https://doi.org/10.1038/nature10716 (2011).

30.

Elliott, G. et al. Intermediate DNA methylation is a conserved signature of genome regulation. Nat. Commun. 6, 6363 (2015).

31.

Liu, Y., Oakeley, E. J., Sun, L. & Jost, J. P. Multiple domains are involved in the targeting of the mouse DNA methyltransferase to the DNA replication foci. Nucleic. Acids. Res. 26, 1038–1045 (1998).

32.

Jones, P. A. & Baylin, S. B. The epigenomics of cancer. Cell 128, 683–692 (2007).

33.

Smith, Z. D. et al. Epigenetic restriction of extraembryonic lineages mirrors the somatic transition to cancer. Nature 549, 543–547 (2017).

34.

Witte, T., Plass, C. & Gerhauser, C. Pan-cancer patterns of DNA methylation. Genome Med. 6, 66 (2014).

35.

Donaghey, J. et al. Genetic determinants and epigenetic effects of pioneer-factor occupancy. Nat. Genet. 50, 250–258 (2018).

36.

Petruk, S. et al. Delayed accumulation of H3K27me3 on nascent DNA is essential for recruitment of transcription factors at early stages of stem cell differentiation. Mol. Cell 66, 247–257.e245 (2017).

37.

Trombetta, J. J. et al. Preparation of single-cell RNA-seq libraries for next generation sequencing. Curr. Protoc. Mol. Biol. 107, 4.22.1–4.22.17 (2014).

38.

Bolger, A. M., Lohse, M. & Usadel, B. Trimmomatic: a flexible trimmer for Illumina sequence data. Bioinformatics. 30, 2114–2120 (2014).

39.

Langmead, B. & Salzberg, S. L. Fast gapped-read alignment with Bowtie 2. Nat. Methods 9, 357–359 (2012).

40.

Trapnell, C., Pachter, L. & Salzberg, S. L. TopHat: discovering splice junctions with RNA-Seq. Bioinformatics. 25, 1105–1111 (2009).

41.

Kowalczyk, M. S. et al. Single-cell RNA-seq reveals changes in cell cycle and differentiation programs upon aging of hematopoietic stem cells. Genome Res. 25, 1860–1872 (2015).

42.

Xi, Y. & Li, W. BSMAP: whole genome bisulfite sequence MAPping program. BMC Bioinformatics 10, 232 (2009).

43.

Illingworth, R. et al. A novel CpG island set identifies tissue-specific methylation at developmental gene loci. PLoS Biol. 6, e22 (2008).

44.

Saxonov, S., Berg, P. & Brutlag, D. L. A genome-wide analysis of CpG dinucleotides in the human genome distinguishes two distinct classes of promoters. Proc. Natl Acad. Sci. USA 103, 1412–1417 (2006).

45.

Gifford, C. A. et al. Transcriptional and epigenetic dynamics during specification of human embryonic stem cells. Cell 153, 1149–1163 (2013).
Acknowledgements
We thank all members of the Meissner laboratory and in particular R. Karnik. We also thank A. Jeltsch for providing thoughtful feedback on the manuscript. T.L.D. was supported in part by postdoctoral fellowships from the Ford Foundation, UNCF/Merck Science Initiative, Harvard Medical School, and the Broad Institute Diversity Initiative. The Kiskinis lab gratefully acknowledges financial support from the Les Turner ALS Foundation, Muscular Dystrophy Association and the Feinberg School of Medicine. A.M. is a New York Stem Cell Foundation – Robertson Investigator. The Max Planck Society, the New York Stem Cell Foundation, the Broad Institute (SPARC funding to develop single cell RRBS) and NIH grants (1P50HG006193, P01GM099117, R01DA036898) supported this work.
Ethics declarations
Competing interests
The authors declare no competing interests.
Additional information
Publisher's note: Springer Nature remains neutral with regard to jurisdictional claims in published maps and institutional affiliations.
Integrated supplementary information
Supplementary information
About this article
Cite this article
Charlton, J., Downing, T.L., Smith, Z.D. et al. Global delay in nascent strand DNA methylation. Nat Struct Mol Biol 25, 327–332 (2018). https://doi.org/10.1038/s41594-018-0046-4
Received:

Accepted:

Published:

Issue Date: