Abstract
Epigenetic regulation is mediated by protein complexes that couple recognition of chromatin marks to activity or recruitment of chromatin-modifying enzymes. Polycomb repressive complex 2 (PRC2), a gene silencer that methylates lysine 27 of histone H3, is stimulated upon recognition of its own catalytic product and has been shown to be more active on dinucleosomes than H3 tails or single nucleosomes. These properties probably facilitate local H3K27me2/3 spreading, causing heterochromatin formation and gene repression. Here, cryo-EM reconstructions of human PRC2 bound to bifunctional dinucleosomes show how a single PRC2, via interactions with nucleosomal DNA, positions the H3 tails of the activating and substrate nucleosome to interact with the EED subunit and the SET domain of EZH2, respectively. We show how the geometry of the PRC2–DNA interactions allows PRC2 to accommodate varying lengths of the linker DNA between nucleosomes. Our structures illustrate how an epigenetic regulator engages with a complex chromatin substrate.
Access options
Subscribe to Journal
Get full journal access for 1 year
$209.00
only $17.42 per issue
All prices are NET prices.
VAT will be added later in the checkout.
Rent or Buy article
Get time limited or full article access on ReadCube.
from$8.99
All prices are NET prices.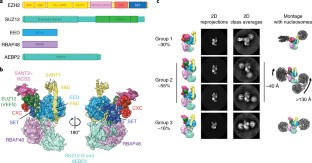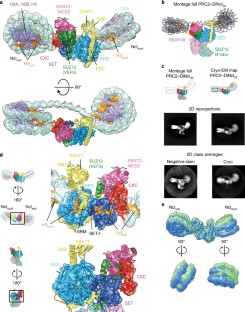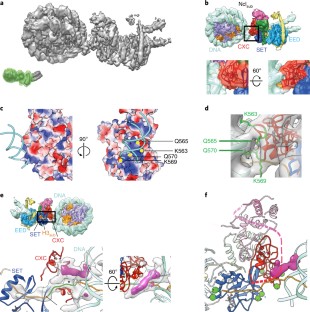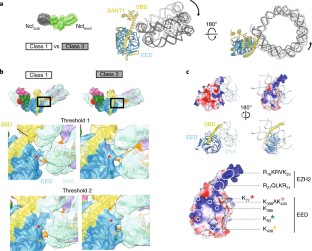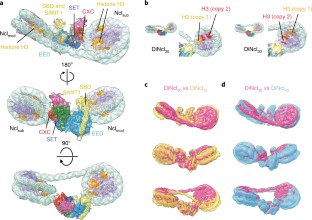 References
1.

Lalonde, M. E., Cheng, X. & Côté, J. Histone target selection within chromatin: an exemplary case of teamwork. Genes. Dev. 28, 1029–1041 (2014).

2.

Liu, X. Y., Li, M. J., Xia, X., Li, X. M. & Chen, Z. C. Mechanism of chromatin remodelling revealed by the Snf2–nucleosome structure. Nature 544, 440–445 (2017).

3.

Wilson, M. D. et al. The structural basis of modified nucleosome recognition by 53BP1. Nature 536, 100–103 (2016).

4.

Cao, R. et al. Role of histone H3 lysine 27 methylation in Polycomb-group silencing. Science 298, 1039–1043 (2002).

5.

Martin, L., Latypova, X. & Terro, F. Post-translational modifications of tau protein: implications for Alzheimer's disease. Neurochem. Int. 58, 458–471 (2011).

6.

Son, J., Shen, S. S., Margueron, R. & Reinberg, D. Nucleosome-binding activities within JARID2 and EZH1 regulate the function of PRC2 on chromatin. Genes. Dev. 27, 2663–2677 (2013).

7.

Margueron, R. et al. Role of the polycomb protein EED in the propagation of repressive histone marks. Nature 461, 762–767 (2009).

8.

Yuan, W. et al. Dense chromatin activates Polycomb repressive complex 2 to regulate H3 lysine 27 methylation. Science 337, 971–975 (2012).

9.

Jiao, L. & Liu, X. Structural basis of histone H3K27 trimethylation by an active polycomb repressive complex 2. Science 350, aac4383 (2015).

10.

Justin, N. et al. Structural basis of oncogenic histone H3K27M inhibition of human polycomb repressive complex 2. Nat. Commun. 7, 11316 (2016).

11.

Schmitges, F. W. et al. Histone methylation by PRC2 is inhibited by active chromatin marks. Mol. Cell. 42, 330–341 (2011).

12.

Yuan, W. et al. H3K36 methylation antagonizes PRC2-mediated H3K27 methylation. J. Biol. Chem. 286, 7983–7989 (2011).

13.

Rinn, J. L. et al. Functional demarcation of active and silent chromatin domains in human HOX loci by noncoding RNAs. Cell 129, 1311–1323 (2007).

14.

Zhao, J., Sun, B. K., Erwin, J. A., Song, J. J. & Lee, J. T. Polycomb proteins targeted by a short repeat RNA to the mouse X chromosome. Science 322, 750–756 (2008).

15.

Kim, H., Kang, K. & Kim, J. AEBP2 as a potential targeting protein for Polycomb Repression Complex PRC2. Nucleic Acids Res. 37, 2940–2950 (2009).

16.

Li, G. et al. Jarid2 and PRC2, partners in regulating gene expression. Genes. Dev. 24, 368–380 (2010).

17.

Ballare, C. et al. Phf19 links methylated Lys36 of histone H3 to regulation of Polycomb activity. Nat. Struct. Mol. Biol. 19, 1257–1265 (2012).

18.

Martin, C., Cao, R. & Zhang, Y. Substrate preferences of the EZH2 histone methyltransferase complex. J. Biol. Chem. 281, 8365–8370 (2006).

19.

Ciferri, C. et al. Molecular architecture of human polycomb repressive complex 2. eLife 1, e00005 (2012).

20.

Kasinath, et al. Structures of human PRC2 with its cofactors AEBP2 and JARID2. https://doi.org/10.1126/science.aar5700 (2018).

21.

Ketel, C. S. et al. Subunit contributions to histone methyltransferase activities of fly and worm polycomb group complexes. Mol. Cell. Biol. 25, 6857–6868 (2005).

22.

Boyer, L. A., Latek, R. R. & Peterson, C. L. The SANT domain: a unique histone-tail-binding module? Nat. Rev. Mol. Cell. Biol. 5, 158–163 (2004).

23.

Bai, X. C., Rajendra, E., Yang, G., Shi, Y. & Scheres, S. H. W. Sampling the conformational space of the catalytic subunit of human γ-secretase. eLife 4, e11182 (2015).

24.

Hansen, K. H. et al. A model for transmission of the H3K27me3 epigenetic mark. Nat. Cell. Biol. 10, 1291–1300 (2008).

25.

Choi, J. et al. DNA binding by PHF1 prolongs PRC2 residence time on chromatin and thereby promotes H3K27 methylation. Nat. Struct. Mol. Biol. 24, 1039–1047 (2017).

26.

Wang, X. et al. Molecular analysis of PRC2 recruitment to DNA in chromatin and its inhibition by RNA. Nat. Struct. Mol. Biol. 24, 1028–1038 (2017).

27.

Wagner, E. J. & Carpenter, P. B. Understanding the language of Lys36 methylation at histone H3. Nat. Rev. Mol. Cell. Biol. 13, 115–126 (2012).

28.

Voigt, P. et al. Asymmetrically modified nucleosomes. Cell 151, 181–193 (2012).

29.

Ou, H. D. et al. ChromEMT: visualizing 3D chromatin structure and compaction in interphase and mitotic cells. Science 357, eaag0025 (2017).

30.

Dyer, P. N. et al. Reconstitution of nucleosome core particles from recombinant histones and DNA. Methods Enzymol. 375, 23–44 (2004).

31.

Luger, K., Rechsteiner, T. J., Flaus, A. J., Waye, M. M. Y. & Richmond, T. J. Characterization of nucleosome core particles containing histone proteins made in bacteria. J. Mol. Biol. 272, 301–311 (1997).

32.

Lowary, P. T. & Widom, J. New DNA sequence rules for high affinity binding to histone octamer and sequence-directed nucleosome positioning. J. Mol. Biol. 276, 19–42 (1998).

33.

McGinty, R. K., Kim, J., Chatterjee, C., Roeder, R. G. & Muir, T. W. Chemically ubiquitylated histone H2B stimulates hDot1L-mediated intranucleosomal methylation. Nature 453, 812–816 (2008).

34.

Simon, M. D. et al. The site-specific installation of methyl-lysine analogs into recombinant histones. Cell 128, 1003–1012 (2007).

35.

Zhang, K. Gctf: Real-time CTF determination and correction. J. Struct. Biol. 193, 1–12 (2016).

36.

Kimanius, D., Forsberg, B. O., Scheres, S. H. W. & Lindahl, E. Accelerated cryo-EM structure determination with parallelisation using GPUs in RELION-2. eLife 5, e18722 (2016).

37.

Rosenthal, P. B. & Henderson, R. Optimal determination of particle orientation, absolute hand, and contrast loss in single-particle electron cryomicroscopy. J. Mol. Biol. 333, 721–745 (2003).

38.

Scheres, S. H. W. & Chen, S. Prevention of overfitting in cryo-EM structure determination. Nat. Methods 9, 853–854 (2012).

39.

Heymann, J. B. & Belnap, D. M. Bsoft: image processing and molecular modeling for electron microscopy. J. Struct. Biol. 157, 3–18 (2007).

40.

Suloway, C. et al. Automated molecular microscopy: the new Leginon system. J. Struct. Biol. 151, 41–60 (2005).

41.

Lander, G. C. et al. Appion: an integrated, database-driven pipeline to facilitate EM image processing. J. Struct. Biol. 166, 95–102 (2009).

42.

Mindell, J. A. & Grigorieff, N. Accurate determination of local defocus and specimen tilt in electron microscopy. J. Struct. Biol. 142, 334–347 (2003).

43.

Voss, N. R., Yoshioka, C. K., Radermacher, M., Potter, C. S. & Carragher, B. DoG Picker and TiltPicker: software tools to facilitate particle selection in single particle electron microscopy. J. Struct. Biol. 166, 205–213 (2009).

44.

Ogura, T., Iwasaki, K. & Sato, C. Topology representing network enables highly accurate classification of protein images taken by cryo electron-microscope without masking. J. Struct. Biol. 143, 185–200 (2003).

45.

Shaikh, T. R. et al. SPIDER image processing for single-particle reconstruction of biological macromolecules from electron micrographs. Nat. Protoc. 3, 1941–1974 (2008).

46.

Zheng, S. Q. et al. MotionCor2: anisotropic correction of beam-induced motion for improved cryo-electron microscopy. Nat. Methods 14, 331–332 (2017).

47.

Scheres, S. H. W. A Bayesian view on cryo-EM structure determination. J. Mol. Biol. 415, 406–418 (2012).

48.

Vasudevan, D., Chua, E. Y. D. & Davey, C. A. Crystal structures of nucleosome core particles containing the '601' strong positioning sequence. J. Mol. Biol. 403, 1–10 (2010).

49.

Goddard, T. D., Huang, C. C. & Ferrin, T. E. Visualizing density maps with UCSF Chimera. J. Struct. Biol. 157, 281–287 (2007).

50.

Lopéz-Blanco, J. R. & Chacón, P. iMODFIT: efficient and robust flexible fitting based on vibrational analysis in internal coordinates. J. Struct. Biol. 184, 261–270 (2013).

51.

van Dijk, M. & Bonvin, A. M. 3D-DART: a DNA structure modelling server. Nucleic Acids Res. 37, W235–W239 (2009).

52.

Emsley, P., Lohkamp, B., Scott, W. G. & Cowtan, K. Features and development of Coot. Acta Crystallogr. D. Biol. Crystallogr. 66, 486–501 (2010).
Acknowledgements
We thank P. Grob and J. Fang for technical support, T. Houweling and A. Chintangal for computer support, and D. King for MS confirmation of histone alkylation. We are thankful to R.M. Glaeser for his support and helpful discussions and to S. M. Sterling, A. Patel, B. LaFrance, D. Lipscomb, R. K. Louder, T. H. D. Nguyen and B. J. Greber for helpful discussions and advice during data acquisition and processing. We also thank T. H. D. Nguyen and B. J. Greber for critical comments on the manuscript. Computational resources were provided in part by the National Energy Research Scientific Computing Center (DE-AC02-05CH11231) and LAWRENCIUM computing cluster at Lawrence Berkeley National Laboratory. This work was in part funded by Eli Lilly through the Lilly Research Award Program. S.P. was supported by the Alexander von Humboldt Foundation (Germany) Feodor-Lynen postdoctoral fellowship. V.K. was supported by a postdoctoral fellowship from the Helen Hay Whitney Foundation. E.N. is supported by the Howard Hughes Medical Institute.
Ethics declarations
Competing interests
The authors declare no competing financial interests.
Additional information
Publisher's note: Springer Nature remains neutral with regard to jurisdictional claims in published maps and institutional affiliations.
Integrated supplementary information
Supplementary information
Supplementary Figures 1–13
About this article
Cite this article
Poepsel, S., Kasinath, V. & Nogales, E. Cryo-EM structures of PRC2 simultaneously engaged with two functionally distinct nucleosomes. Nat Struct Mol Biol 25, 154–162 (2018). https://doi.org/10.1038/s41594-018-0023-y
Received:

Accepted:

Published:

Issue Date: