Abstract
The cerebellum is hypothesized to refine movement through online adjustments. We examined how such predictive control may be generated using a mouse reach paradigm, testing whether the cerebellum uses within-reach information as a predictor to adjust reach kinematics. We first identified a population-level response in Purkinje cells that scales inversely with reach velocity, pointing to the cerebellar cortex as a potential site linking kinematic predictors and anticipatory control. Next, we showed that mice can learn to compensate for a predictable reach perturbation caused by repeated, closed-loop optogenetic stimulation of pontocerebellar mossy fiber inputs. Both neural and behavioral readouts showed adaptation to position-locked mossy fiber perturbations and exhibited aftereffects when stimulation was removed. Surprisingly, position-randomized stimulation schedules drove partial adaptation but no opposing aftereffects. A model that recapitulated these findings suggests that the cerebellum may decipher cause-and-effect relationships through time-dependent generalization mechanisms.
Relevant articles
Open Access articles citing this article.
Xiaolu Wang

,

Zhiqiang Liu

…

Zhenyu Gao

Nature Neuroscience Open Access 20 July 2023
Access options
Access Nature and 54 other Nature Portfolio journals
Get Nature+, our best-value online-access subscription
$29.99 / 30 days
cancel any time
Subscribe to this journal
Receive 12 print issues and online access
$209.00 per year
only $17.42 per issue
Rent or buy this article
Prices vary by article type
from$1.95
to$39.95
Prices may be subject to local taxes which are calculated during checkout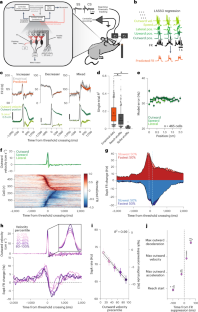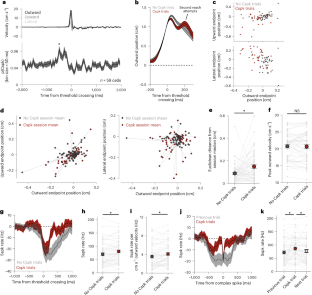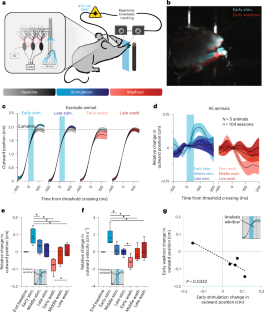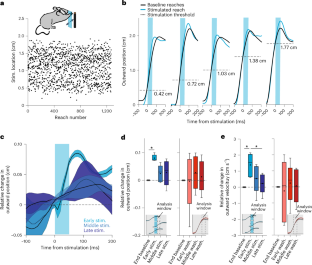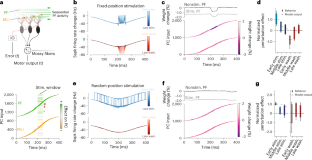 Data availability
Source data used to make each of the figures are provided with this paper. Raw data are available upon reasonable request to the authors.
References
Holmes, G. The symptoms of acute cerebellar injuries due to gunshot injuries. Brain 40, 461–535 (1917).

Becker, M. I. & Person, A. L. Cerebellar control of reach kinematics for endpoint precision. Neuron 103, 335–348.e5 (2019).

Baizer, J. S., Kralj-Hans, I. & Glickstein, M. Cerebellar lesions and prism adaptation in macaque monkeys. J. Neurophysiol. 81, 1960–1965 (1999).

Tseng, Y. W., Diedrichsen, J., Krakauer, J. W., Shadmehr, R. & Bastian, A. J. Sensory prediction errors drive cerebellum-dependent adaptation of reaching. J. Neurophysiol. 98, 54–62 (2007).

Morton, S. M. & Bastian, A. J. Cerebellar contributions to locomotor adaptations during splitbelt treadmill walking. J. Neurosci. 26, 9107–9116 (2006).

Smith, M. A. & Shadmehr, R. Intact ability to learn internal models of arm dynamics in Huntington's disease but not cerebellar degeneration. J. Neurophysiol. 93, 2809–2821 (2005).

Miall, R. & Wolpert, D. Forward models for physiological motor control. Neural Netw. 9, 1265–1279 (1996).

Kawato, M. & Gomi, H. The cerebellum and VOR/OKR learning models. Trends Neurosci. 15, 445–453 (1992).

Ohyama, T., Nores, W. L., Murphy, M. & Mauk, M. D. What the cerebellum computes. Trends Neurosci. 26, 222–227 (2003).

Shadmehr, R., Smith, M. A. & Krakauer, J. W. Error correction, sensory prediction, and adaptation in motor control. Annu. Rev. Neurosci. 33, 89–108 (2010).

Lee, K. H. et al. Circuit mechanisms underlying motor memory formation in the cerebellum. Neuron 86, 529–540 (2015).

Lavond, D. G., Knowlton, B. J., Steinmetz, J. E. & Thompson, R. F. Classical conditioning of the rabbit eyelid response with a mossy-fiber stimulation CS: II. lateral reticular nucleus stimulation. Behav. Neurosci. 101, 676–682 (1987).

Mauk, M. D., Steinmetz, J. E. & Thompson, R. F. Classical conditioning using stimulation of the inferior olive as the unconditioned stimulus. Proc. Natl Acad. Sci. USA 83, 5349–5353 (1986).

Coesmans, M., Weber, J. T., De Zeeuw, C. I. & Hansel, C. Bidirectional parallel fiber plasticity in the cerebellum under climbing fiber control. Neuron 44, 691–700 (2004).

Ito, M. & Kano, M. Long-lasting depression of parallel fiber-Purkinje cell transmission induced by conjunctive stimulation of parallel fibers and climbing fibers in the cerebellar cortex. Neurosci. Lett. 33, 253–258 (1982).

Blazquez, P. M., Hirata, Y., Heiney, S. A., Green, A. M. & Highstein, S. M. Cerebellar signatures of vestibulo-ocular reflex motor learning. J. Neurosci. 23, 9742–9751 (2003).

Yang, Y. & Lisberger, S. G. Interaction of plasticity and circuit organization during the acquisition of cerebellum-dependent motor learning. eLife 2, e01574 (2013).

Herzfeld, D. J., Kojima, Y., Soetedjo, R. & Shadmehr, R. Encoding of error and learning to correct that error by the Purkinje cells of the cerebellum. Nat. Neurosci. 21, 736–743 (2018).

Raymond, J. L., Lisberger, S. G. & Mauk, M. D. The cerebellum: a neuronal learning machine? Science 272, 1126–1131 (1996).

Gandolfo, F., Li, C. S. R., Benda, B. J., Padoa Schioppa, C. & Bizzi, E. Cortical correlates of learning in monkeys adapting to a new dynamical environment. Proc. Natl Acad. Sci. USA 97, 2259–2263 (2000).

Li, C. S. R., Padoa-Schioppa, C. & Bizzi, E. Neuronal correlates of motor performance and motor learning in the primary motor cortex of monkeys adapting to an external force field. Neuron 30, 593–607 (2001).

Mathis, M. W., Mathis, A. & Uchida, N. Somatosensory cortex plays an essential role in forelimb motor adaptation in mice. Neuron 93, 1493–1503.e6 (2017).

Proville, R. D. et al. Cerebellum involvement in cortical sensorimotor circuits for the control of voluntary movements. Nat. Neurosci. 17, 1233–1239 (2014).

Hewitt, A. L., Popa, L. S. & Ebner, T. J. Changes in Purkinje cell simple spike encoding of reach kinematics during adaption to a mechanical perturbation. J. Neurosci. 35, 1106–1124 (2015).

Ito, M. Neural design of the cerebellar motor control system. Brain Res. 40, 81–84 (1972).

Weiler, J., Gribble, P. L. & Pruszynski, J. A. Spinal stretch reflexes support efficient hand control. Nat. Neurosci. 22, 529–533 (2019).

Low, A. Y. T. et al. Precision of discrete and rhythmic forelimb movements requires a distinct neuronal subpopulation in the interposed anterior nucleus. Cell Rep. 22, 2322–2333 (2018).

Guo, J.-Z. et al. Disrupting cortico-cerebellar communication impairs dexterity. eLife 10, e65906 (2021).

Becker, M. I., Calame, D. J., Wrobel, J. & Person, A. L. Online control of reach accuracy in mice. J. Neurophysiol. 124, 1637–1655 (2020).

Tibshirani, R. Regression shrinkage and selection via the lasso. J. R. Stat. Soc. 58, 267–288 (1996).

Popa, L. S., Streng, M. L. & Ebner, T. J. Long-term predictive and feedback encoding of motor signals in the simple spike discharge of Purkinje cells. eNeuro 4, ENEURO.0036-17.2017 (2017).

Streng, M. L., Popa, L. S. & Ebner, T. J. Climbing fibers control Purkinje cell representations of behavior. J. Neurosci. 37, 1997–2009 (2017).

Coltz, J. D., Johnson, M. T. & Ebner, T. J. Cerebellar Purkinje cell simple spike discharge encodes movement velocity in primates during visuomotor arm tracking. J. Neurosci. 19, 1782–1803 (1999).

Hewitt, A. L., Popa, L. S., Pasalar, S., Hendrix, C. M. & Ebner, T. J. Representation of limb kinematics in Purkinje cell simple spike discharge is conserved across multiple tasks. J. Neurophysiol. 106, 2232–2247 (2011).

Roitman, A. V., Pasalar, S., Johnson, M. T. V. & Ebner, T. J. Position, direction of movement, and speed tuning of cerebellar Purkinje cells during circular manual tracking in monkey. J. Neurosci. 25, 9244–9257 (2005).

Musall, S., Kaufman, M. T., Juavinett, A. L., Gluf, S. & Churchland, A. K. Single-trial neural dynamics are dominated by richly varied movements. Nat. Neurosci. 22, 1677–1686 (2019).

Herzfeld, D. J., Kojima, Y., Soetedjo, R. & Shadmehr, R. Encoding of action by the Purkinje cells of the cerebellum. Nature 526, 439–441 (2015).

Brown, S. T. & Raman, I. M. Sensorimotor integration and amplification of reflexive whisking by well-timed spiking in the cerebellar corticonuclear circuit. Neuron 99, 564–575.e2 (2018).

Person, A. L. & Raman, I. M. Purkinje neuron synchrony elicits time-locked spiking in the cerebellar nuclei. Nature 481, 502–505 (2012).

Thier, P., Dicke, P. W., Haas, R. & Barash, S. Encoding of movement time by populations of cerebellar Purkinje cells. Nature 405, 72–76 (2000).

Medina, J. F. & Lisberger, S. G. Links from complex spikes to local plasticity and motor learning in the cerebellum of awake-behaving monkeys. Nat. Neurosci. 11, 1185–1192 (2008).

Kimpo, R. R., Rinaldi, J. M., Kim, C. K., Payne, H. L. & Raymond, J. L. Gating of neural error signals during motor learning. eLife 3, e02076 (2014).

Avraham, G., Taylor, J. A., Breska, A., Ivry, R. B. & McDougle, S. D. Contextual effects in sensorimotor adaptation adhere to associative learning rules. eLife 11, e75801 (2022).

Kitazawa, S., Kimura, T. & Yin, P. B. Cerebellar complex spikes encode both destinations and errors in arm movements. Nature 392, 494–497 (1998).

Gaffield, M. A., Sauerbrei, B. A. & Christie, J. M. Cerebellum encodes and influences the initiation, performance, and termination of discontinuous movements in mice. eLife 11, e71464 (2022).

Chabrol, F. P., Blot, A. & Mrsic-Flogel, T. D. Cerebellar contribution to preparatory activity in motor neocortex. Neuron 103, 506–519.e4 (2019).

Miall, R. C., Keating, J. G., Malkmus, M. & Thach, W. T. Simple spike activity predicts occurrence of complex spikes in cerebellar Purkinje cells. Nat. Neurosci. 1, 13–15 (1998).

Brodal, P. & Bjaalie, J. G. Organization of the pontine nuclei. Neurosci. Res. 13, 83–118 (1992).

Sillitoe, R. V., Fu, Y. H. & Watson, C. in The Mouse Nervous System (eds Watson, C. et al.) Ch. 11 (Elsevier, 2012).

Rasmussen, A., Jirenhed, D. A., Wetmore, D. Z. & Hesslow, G. Changes in complex spike activity during classical conditioning. Front. Neural Circuits 8, 90 (2014).

Herzfeld, D. J., Hall, N. J., Tringides, M. & Lisberger, S. G. Principles of operation of a cerebellar learning circuit. eLife 9, e55217 (2020).

Mauk, M. D. & Buonomano, D. V. The neural basis of temporal processing. Annu. Rev. Neurosci. 27, 307–340 (2004).

Shimansky, Y., Wang, J. J., Bauer, R. A., Bracha, V. & Bloedel, J. R. On-line compensation for perturbations of a reaching movement is cerebellar dependent: Support for the task dependency hypothesis. Exp. Brain Res. 155, 156–172 (2004).

Albergaria, C., Silva, N. T., Darmohray, D. M. & Care, M. R. Locomotor activity modulates associative learning in mouse cerebellum. Nat. Neurosci. 21, 725–735 (2018).

Nashef, A., Cohen, C., Isreal, Z., Harel, R. & Prut, Y. Cerebellar shaping of motor cortical firing is correlated with timing of motor actions. Cell Rep. 23, 1275–1285 (2018).

White, J. J. et al. An optimized surgical approach for obtaining stable extracellular single-unit recordings from the cerebellum of head-fixed behaving mice. J. Neurosci. Methods 262, 21–31 (2016).

TestArduino (2015); https://github.com/cortex-lab/phy

Yu, B., Gabriel, D., Noble, L. & An, K. N. Estimate of the optimum cut-off frequency for the Butterworth low-pass digital filter. J. Appl. Biomech. 15, 318–329 (1999).

Pachitariu, M., Steinmetz, N., Kadir, S., Carandini, M. & Harris, K. D. Kilosort: realtime spike-sorting for extracellular electrophysiology with hundreds of channels. Preprint at bioRxiv https://doi.org/10.1101/061481

Hensbroek, R. A. et al. Identifying Purkinje cells using only their spontaneous simple spike activity. J. Neurosci. Methods 232, 173–180 (2014).

Kennedy, A. et al. A temporal basis for predicting the sensory consequences of motor commands in an electric fish. Nat. Neurosci. 17, 416–422 (2014).

Lanore, F., Cayco-Gajic, N. A., Gurnani, H., Coyle, D. & Silver, R. A. Cerebellar granule cell axons support high-dimensional representations. Nat. Neurosci. 24, 1142–1150 (2021).

Wagner, M. J. et al. Shared cortex-cerebellum dynamics in the execution and learning of a motor task. Cell 177, 669–682 (2019).
Acknowledgements
We thank the members of A.L.P.'s laboratory for critical feedback on the manuscript; the Neurotechnology Center at the University of Colorado Anschutz Medical campus for use of core facilities, including the Advanced Light Microscopy Core and the Optogenetics and Neural Engineering Core. We thank M. Spindle and E. Judd for technical assistance. Work was supported by F31 NS113395-01 to D.J.C.; and NS114430, National Science Foundation CAREER grant 1749568, and by a grant from the Simons Foundation as part of the Simons-Emory International Consortium on Motor Control to A.L.P.
Ethics declarations
Competing interests
The authors declare no competing interests.
Peer review
Peer review information
Nature Neuroscience thanks Kamran Khodakhah and the other, anonymous, reviewer(s) for their contribution to the peer review of this work.
Additional information
Publisher's note Springer Nature remains neutral with regard to jurisdictional claims in published maps and institutional affiliations.
Supplementary information
Example of electrophysiological recording during mouse reaching movements.
Rights and permissions
Springer Nature or its licensor (e.g. a society or other partner) holds exclusive rights to this article under a publishing agreement with the author(s) or other rightsholder(s); author self-archiving of the accepted manuscript version of this article is solely governed by the terms of such publishing agreement and applicable law.
About this article
Cite this article
Calame, D.J., Becker, M.I. & Person, A.L. Cerebellar associative learning underlies skilled reach adaptation. Nat Neurosci 26, 1068–1079 (2023). https://doi.org/10.1038/s41593-023-01347-y
Received:

Accepted:

Published:

Issue Date:

DOI: https://doi.org/10.1038/s41593-023-01347-y
This article is cited by
Xiaolu Wang
Zhiqiang Liu
Zhenyu Gao

Nature Neuroscience (2023)