Abstract
The emergence of consciousness from anesthesia, once assumed to be a passive process, is now considered as an active and controllable process. In the present study, we show in mice that, when the brain is forced into a minimum responsive state by diverse anesthetics, a rapid downregulation of K+/Cl− cotransporter 2 (KCC2) in the ventral posteromedial nucleus (VPM) serves as a common mechanism by which the brain regains consciousness. Ubiquitin-proteasomal degradation is responsible for KCC2 downregulation, which is driven by ubiquitin ligase Fbxl4. Phosphorylation of KCC2 at Thr1007 promotes interaction between KCC2 and Fbxl4. KCC2 downregulation leads to γ-aminobutyric acid type A receptor-mediated disinhibition, enabling accelerated recovery of VPM neuron excitability and emergence of consciousness from anesthetic inhibition. This pathway to recovery is an active process and occurs independent of anesthetic choice. The present study demonstrates that ubiquitin degradation of KCC2 in the VPM is an important intermediate step en route to emergence of consciousness from anesthesia.
Access options
Access Nature and 54 other Nature Portfolio journals
Get Nature+, our best-value online-access subscription
$29.99 / 30 days
cancel any time
Subscribe to this journal
Receive 12 print issues and online access
$189.00 per year
only $15.75 per issue
Rent or buy this article
Get just this article for as long as you need it
$39.95
Prices may be subject to local taxes which are calculated during checkout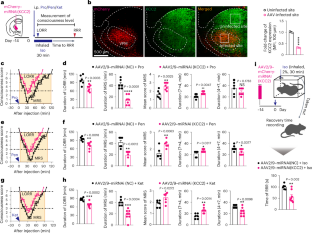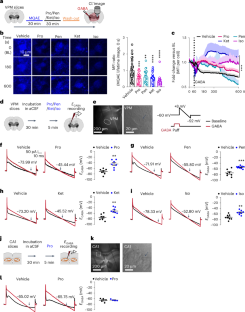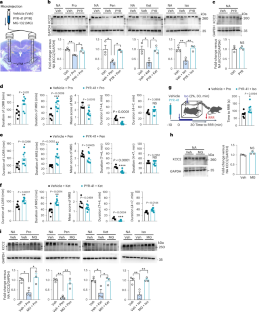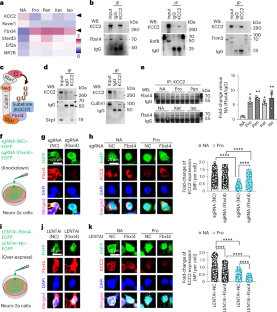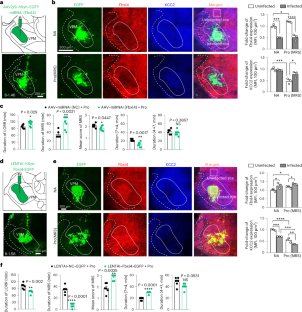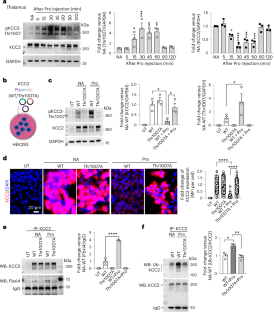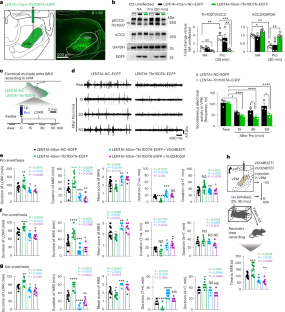 Data availability
The data that support the findings of the present study are available within this paper and its Supplementary Information. Source data are provided with this paper.
References
Reitz, S. L. & Kelz, M. B. Preoptic area modulation of arousal in natural and drug induced unconscious states. Front. Neurosci. 15, 644330 (2021).

Kelz, M. B., Garcia, P. S., Mashour, G. A. & Solt, K. Escape from oblivion: neural mechanisms of emergence from general anesthesia. Anesth. Analg. 128, 726–736 (2019).

Hemmings, H. C. Jr. et al. Towards a comprehensive understanding of anesthetic mechanisms of action: a decade of discovery. Trends Pharmacol. Sci. 40, 464–481 (2019).

Franks, N. P. General anaesthesia: from molecular targets to neuronal pathways of sleep and arousal. Nat. Rev. Neurosci. 9, 370–386 (2008).

Rudolph, U. & Antkowiak, B. Molecular and neuronal substrates for general anaesthetics. Nat. Rev. Neurosci. 5, 709–720 (2004).

Franks, N. P. & Lieb, W. R. Molecular and cellular mechanisms of general anaesthesia. Nature 367, 607–614 (1994).

Kaila, K., Price, T. J., Payne, J. A., Puskarjov, M. & Voipio, J. Cation-chloride cotransporters in neuronal development, plasticity and disease. Nat. Rev. Neurosci. 15, 637–654 (2014).

Delpire, E. Cation-chloride cotransporters in neuronal communication. N. Physiol. Sci. 15, 309–312 (2000).

Hu, J. J. et al. Bumetanide reduce the seizure susceptibility induced by pentylenetetrazol via inhibition of aberrant hippocampal neurogenesis in neonatal rats after hypoxia-ischemia. Brain Res. Bull. 130, 188–199 (2017).

Dzhala, V. I. et al. NKCC1 transporter facilitates seizures in the developing brain. Nat. Med. 11, 1205–1213 (2005).

Boulenguez, P. et al. Down-regulation of the potassium-chloride cotransporter KCC2 contributes to spasticity after spinal cord injury. Nat. Med. 16, 302–307 (2010).

Hasbargen, T. et al. Role of NKCC1 and KCC2 in the development of chronic neuropathic pain following spinal cord injury. Ann. N.Y. Acad. Sci. 1198, 168–172 (2010).

Eftekhari, S. et al. Bumetanide reduces seizure frequency in patients with temporal lobe epilepsy. Epilepsia 54, e9–e12 (2013).

Hinz, L., Torrella Barrufet, J. & Heine, V. M. KCC2 expression levels are reduced in post mortem brain tissue of Rett syndrome patients. Acta Neuropathol. Commun. 7, 196 (2019).

Blaesse, P., Airaksinen, M. S., Rivera, C. & Kaila, K. Cation-chloride cotransporters and neuronal function. Neuron 61, 820–838 (2009).

Williams, J. R. & Payne, J. A. Cation transport by the neuronal K+-Cl− cotransporter KCC2: thermodynamics and kinetics of alternate transport modes. Am. J. Physiol. Cell Physiol. 287, C919–C931 (2004).

Blaesse, P. et al. Oligomerization of KCC2 correlates with development of inhibitory neurotransmission. J. Neurosci. 26, 10407–10419 (2006).

Cancedda, L., Fiumelli, H., Chen, K. & Poo, M. M. Excitatory GABA action is essential for morphological maturation of cortical neurons in vivo. J. Neurosci. 27, 5224–5235 (2007).

Rivera, C. et al. Mechanism of activity-dependent downregulation of the neuron-specific K-Cl cotransporter KCC2. J. Neurosci. 24, 4683–4691 (2004).

Puskarjov, M., Ahmad, F., Kaila, K. & Blaesse, P. Activity-dependent cleavage of the K-Cl cotransporter KCC2 mediated by calcium-activated protease calpain. J. Neurosci. 32, 11356–11364 (2012).

Zhou, H. Y. et al. N-Methyl-d-aspartate receptor- and calpain-mediated proteolytic cleavage of K+-Cl− cotransporter-2 impairs spinal chloride homeostasis in neuropathic pain. J. Biol. Chem. 287, 33853–33864 (2012).

Rivera, C. et al. BDNF-induced TrkB activation down-regulates the K+-Cl− cotransporter KCC2 and impairs neuronal Cl− extrusion. J. Cell Biol. 159, 747–752 (2002).

Lee, H. H., Deeb, T. Z., Walker, J. A., Davies, P. A. & Moss, S. J. NMDA receptor activity downregulates KCC2 resulting in depolarizing GABAA receptor-mediated currents. Nat. Neurosci. 14, 736–743 (2011).

During, M. J. & Spencer, D. D. Extracellular hippocampal glutamate and spontaneous seizure in the conscious human brain. Lancet 341, 1607–1610 (1993).

Boretius, S., Tammer, R., Michaelis, T., Brockmoller, J. & Frahm, J. Halogenated volatile anesthetics alter brain metabolism as revealed by proton magnetic resonance spectroscopy of mice in vivo. NeuroImage 69, 244–255 (2013).

Chen, X., Tamang, S. M., Du, F. & Ongur, D. Glutamate diffusion in the rat brain in vivo under light and deep anesthesia conditions. Magn. Reson. Med. 82, 84–94 (2019).

Roos-Mattjus, P. & Sistonen, L. The ubiquitin-proteasome pathway. Ann. Med. 36, 285–295 (2004).

Mahadevan, V. et al. Native KCC2 interactome reveals PACSIN1 as a critical regulator of synaptic inhibition. eLife https://doi.org/10.7554/eLife.28270 (2017).

Mason, B. & Laman, H. The FBXL family of F-box proteins: variations on a theme. Open Biol. 10, 200319 (2020).

Skaar, J. R., Pagan, J. K. & Pagano, M. Mechanisms and function of substrate recruitment by F-box proteins. Nat. Rev. Mol. Cell Biol. 14, 369–381 (2013).

Padberg, J. & Krubitzer, L. Thalamocortical connections of anterior and posterior parietal cortical areas in New World titi monkeys. J. Comp. Neurol. 497, 416–435 (2006).

Ravid, T. & Hochstrasser, M. Diversity of degradation signals in the ubiquitin-proteasome system. Nat. Rev. Mol. Cell Biol. 9, 679–690 (2008).

Rechsteiner, M. & Rogers, S. W. PEST sequences and regulation by proteolysis. Trends Biochem. Sci. 21, 267–271 (1996).

Rogers, S., Wells, R. & Rechsteiner, M. Amino acid sequences common to rapidly degraded proteins: the PEST hypothesis. Science 234, 364–368 (1986).

Rinehart, J. et al. Sites of regulated phosphorylation that control K-Cl cotransporter activity. Cell 138, 525–536 (2009).

Hemmings, H. C. Jr. et al. Emerging molecular mechanisms of general anesthetic action. Trends Pharmacol. Sci. 26, 503–510 (2005).

Friedel, P. et al. WNK1-regulated inhibitory phosphorylation of the KCC2 cotransporter maintains the depolarizing action of GABA in immature neurons. Sci. Signal 8, ra65 (2015).

Kahle, K. T. et al. WNK protein kinases modulate cellular Cl– flux by altering the phosphorylation state of the Na-K-Cl and K-Cl cotransporters. Physiology 21, 326–335 (2006).

de Los Heros, P. et al. The WNK-regulated SPAK/OSR1 kinases directly phosphorylate and inhibit the K+-Cl− co-transporters. Biochem. J. 458, 559–573 (2014).

Piala, A. T. et al. Chloride sensing by WNK1 involves inhibition of autophosphorylation. Sci. Signal 7, ra41 (2014).

Chen, X., Shu, S. & Bayliss, D. A. HCN1 channel subunits are a molecular substrate for hypnotic actions of ketamine. J. Neurosci. 29, 600–609 (2009).

Patel, A. J. et al. Inhalational anesthetics activate two-pore-domain background K+ channels. Nat. Neurosci. 2, 422–426 (1999).

Pavel, M. A., Petersen, E. N., Wang, H., Lerner, R. A. & Hansen, S. B. Studies on the mechanism of general anesthesia. Proc. Natl Acad. Sci. USA 117, 13757–13766 (2020).

Yanaru, T. et al. Propofol-induced generalized tonic-clonic seizure: a case report. Masui 59, 1036–1038 (2010).

Kim, M. J., Lim, D. G. & Yeo, J. S. Refractory status epilepticus occurred at the end of sevoflurane anesthesia in patient with epilepsy. Korean J. Anesthesiol. 65, 93–94 (2013).

Tuna, Y., Tas, A. & Koklu, S. Propofol-induced myoclonic seizures after endoscopic procedure in an elderly woman. Chin. Med. J. 125, 785 (2012).

Kofke, W. A. Anesthetic management of the patient with epilepsy or prior seizures. Curr. Opin. Anaesthesiol. 23, 391–399 (2010).

Voss, H. U. et al. Possible axonal regrowth in late recovery from the minimally conscious state. J. Clin. Invest. 116, 2005–2011 (2006).

Tatetsu, M., Kim, J., Kina, S., Sunakawa, H. & Takayama, C. GABA/glycine signaling during degeneration and regeneration of mouse hypoglossal nerves. Brain Res. 1446, 22–33 (2012).

Kim, J. et al. Changes in the expression and localization of signaling molecules in mouse facial motor neurons during regeneration of facial nerves. J. Chem. Neuroanat. 88, 13–21 (2018).

Robert, M. G., Michael, G. D., Neil, F. K., John, W. V. & Douglas, L. Chute intracranial cannulation of small animals. Behav. Res. Methods Instrum. 12, 346–348 (1980).

Billups, D. & Attwell, D. Control of intracellular chloride concentration and GABA response polarity in rat retinal ON bipolar cells. J. Physiol. 545, 183–198 (2002).

Langsjo, J. W. et al. S-ketamine anesthesia increases cerebral blood flow in excess of the metabolic needs in humans. Anesthesiology 103, 258–268 (2005).

Guo, Z. V. et al. Maintenance of persistent activity in a frontal thalamocortical loop. Nature 545, 181–186 (2017).

Iaccarino, H. F. et al. Gamma frequency entrainment attenuates amyloid load and modifies microglia. Nature 540, 230–235 (2016).

Fu, A. K. et al. APC(Cdh1) mediates EphA4-dependent downregulation of AMPA receptors in homeostatic plasticity. Nat. Neurosci. 14, 181–189 (2011).

Ferrini, F. et al. Morphine hyperalgesia gated through microglia-mediated disruption of neuronal Cl− homeostasis. Nat. Neurosci. 16, 183–192 (2013).

Heubl, M. et al. GABAA receptor dependent synaptic inhibition rapidly tunes KCC2 activity via the Cl−-sensitive WNK1 kinase. Nat. Commun. 8, 1776 (2017).

Taylor, N. E., Chemali, J. J., Brown, E. N. & Solt, K. Activation of D1 dopamine receptors induces emergence from isoflurane general anesthesia. Anesthesiology 118, 30–39 (2013).

Reitz, S. L., Wasilczuk, A. Z., Beh, G. H., Proekt, A. & Kelz, M. B. Activation of preoptic tachykinin 1 neurons promotes wakefulness over sleep and volatile anesthetic-induced unconsciousness. Curr. Biol. 31, 394–405.e394 2021).

Zhang, Z. et al. Neuronal ensembles sufficient for recovery sleep and the sedative actions of alpha2 adrenergic agonists. Nat. Neurosci. 18, 553–561 (2015).
Acknowledgements
We thank H. Guo for his thoughtful comments and suggestions and W. Song at the University of Pennsylvania Perelman Medical School for manuscript editing. The work was partly supported by Shenzhen Science and Technology Program (grant no. KQTD20200820113040070), the Foundation of Shenzhen Science and Technology Innovation Committee (grant no. JCYJ20200109141433384), the Natural Science Foundation of China (grant no. NSFC81971062) and the Southern University of Science and Technology (grant no. G02416002, all to X.-J.S.).
Ethics declarations
Competing interests
The authors declare no competing interests.
Peer review
Peer review information
Nature Neuroscience thanks Jean-Christophe Poncer and the other, anonymous, reviewer(s) for their contribution to the peer review of this work.
Additional information
Publisher's note Springer Nature remains neutral with regard to jurisdictional claims in published maps and institutional affiliations.
Supplementary information
Statistical details of tests used in all figures and extended data figures.
Rights and permissions
Springer Nature or its licensor (e.g. a society or other partner) holds exclusive rights to this article under a publishing agreement with the author(s) or other rightsholder(s); author self-archiving of the accepted manuscript version of this article is solely governed by the terms of such publishing agreement and applicable law.
About this article
Cite this article
Hu, JJ., Liu, Y., Yao, H. et al. Emergence of consciousness from anesthesia through ubiquitin degradation of KCC2 in the ventral posteromedial nucleus of the thalamus. Nat Neurosci 26, 751–764 (2023). https://doi.org/10.1038/s41593-023-01290-y
Received:

Accepted:

Published:

Issue Date:

DOI: https://doi.org/10.1038/s41593-023-01290-y