Abstract
Stably recording the electrical activity of the same neurons over the adult life of an animal is important to neuroscience research and biomedical applications. Current implantable devices cannot provide stable recording on this timescale. Here, we introduce a method to precisely implant electronics with an open, unfolded mesh structure across multiple brain regions in the mouse. The open mesh structure forms a stable interwoven structure with the neural network, preventing probe drifting and showing no immune response and neuron loss during the year-long implantation. Rigorous statistical analysis, visual stimulus-dependent measurement and unbiased, machine-learning-based analysis demonstrated that single-unit action potentials have been recorded from the same neurons of behaving mice in a very long-term stable manner. Leveraging this stable structure, we demonstrated that the same neurons can be recorded over the entire adult life of the mouse, revealing the aging-associated evolution of single-neuron activities.
Access options
Access Nature and 54 other Nature Portfolio journals
Get Nature+, our best-value online-access subscription
$29.99 per month
cancel any time
Subscribe to this journal
Receive 12 print issues and online access
$189.00 per year
only $15.75 per issue
Rent or buy this article
Get just this article for as long as you need it
$39.95
Prices may be subject to local taxes which are calculated during checkout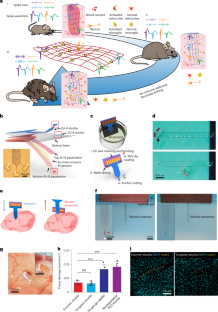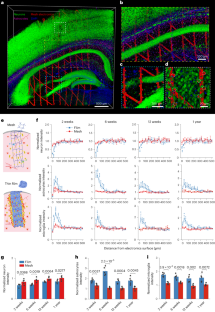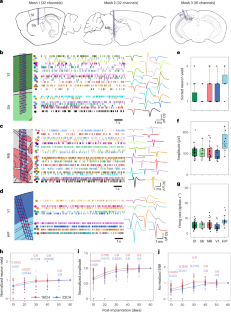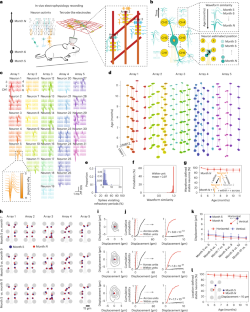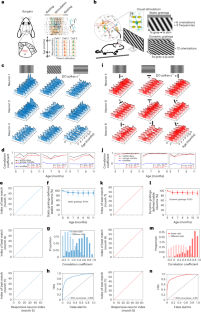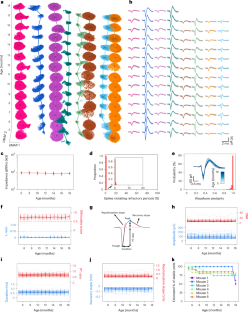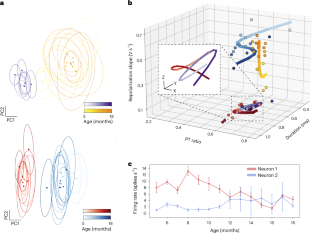 Code availability
Blackrock Research Central Software Suite 7.04 was used to acquire electrophysiology data, available at https://blackrockneurotech.com/research/support/software/. Leica Application Suite X software platform 3.5.5 was used to acquire fluorescence images. Psychtoolbox-3 was used for visual stimulation administration, available at http://psychtoolbox.org. All data analysis and visualization in this study are implemented based on Python 3.7, MATLAB 2021a, Origin 2020 and Image J 1.53k. The following packages and software were used: R 4.1.0, RStudio 1.4, Jupyter 1.0.0, Anaconda 4.10.3, WaveClus3 (https://github.com/csn-le/wave_clus), Leiden 0.8.2 (https://github.com/vtraag/leidenalg), UMAP 0.5.2 (https://github.com/lmcinnes/umap), AllenSDK 2.10.1 (https://github.com/AllenInstitute/AllenSDK), tensorflow 2.5 (https://www.tensorflow.org), Monocle3 (https://cole-trapnell-lab.github.io/monocle3), MountainSort 4 (https://github.com/flatironinstitute/mountainsort), SpikeInterface 0.93.0 (https://github.com/SpikeInterface), scikit-learn 0.24.2, matplotlib 3.5.1, seaborn 0.11.2, numpy 1.21.5, scipy 1.7.3, pandas 1.3.5, cmasher 1.6.3, isosplit5 0.1.3 and pickle5 0.0.12. Custom code used in this study has been deposited on GitHub (https://github.com/LiuLab-Bioelectronics-Harvard/SpikeStability) and Zenodo (https://doi.org/10.5281/zenodo.7504820).
References
Gallego, J. A., Perich, M. G., Chowdhury, R. H., Solla, S. A. & Miller, L. E. Long-term stability of cortical population dynamics underlying consistent behavior. Nat. Neurosci. 23, 260–270 (2020).

Steinmetz, N. A. et al. Neuropixels 2.0: a miniaturized high-density probe for stable, long-term brain recordings. Science 372, eabf4588 (2021).

Schoonover, C. E., Ohashi, S. N., Axel, R. & Fink, A. J. P. Representational drift in primary olfactory cortex. Nature 594, 541–546 (2021).

Dhawale, A. K. et al. Automated long-term recording and analysis of neural activity in behaving animals. eLife 6, e27702 (2017).

Dhawale, A. K., Wolff, S. B. E., Ko, R. & Ölveczky, B. P. The basal ganglia control the detailed kinematics of learned motor skills. Nat. Neurosci. 24, 1256–1269 (2021).

Wang, M. et al. Neuronal basis of age-related working memory decline. Nature 476, 210–213 (2011).

Igarashi, K. M., Lu, L., Colgin, L. L., Moser, M.-B. & Moser, E. I. Coordination of entorhinal–hippocampal ensemble activity during associative learning. Nature 510, 143–147 (2014).

Grady, C. The cognitive neuroscience of ageing. Nat. Rev. Neurosci. 13, 491–505 (2012).

Meng, G. et al. High-throughput synapse-resolving two-photon fluorescence microendoscopy for deep-brain volumetric imaging in vivo. eLife 8, e40805 (2019).

Salatino, J. W., Ludwig, K. A., Kozai, T. D. Y. & Purcell, E. K. Glial responses to implanted electrodes in the brain. Nat. Biomed. Eng. 1, 862–877 (2017).

Ji, N. The practical and fundamental limits of optical imaging in mammalian brains. Neuron 83, 1242–1245 (2014).

Yu, K. J. et al. Bioresorbable silicon electronics for transient spatiotemporal mapping of electrical activity from the cerebral cortex. Nat. Mater. 15, 782–791 (2016).

Chiang, C.-H. et al. Development of a neural interface for high-definition, long-term recording in rodents and nonhuman primates. Sci. Transl. Med. 12, eaay4682 (2020).

Liu, Y. et al. Soft and elastic hydrogel-based microelectronics for localized low-voltage neuromodulation. Nat. Biomed. Eng. 3, 58–68 (2019).

Yin, R. et al. Soft transparent graphene contact lens electrodes for conformal full-cornea recording of electroretinogram. Nat. Commun. 9, 2334 (2018).

Song, E. et al. Flexible electronic/optoelectronic microsystems with scalable designs for chronic biointegration. Proc. Natl Acad. Sci. USA 116, 15398–15406 (2019).

Liu, J. et al. Syringe-injectable electronics. Nat. Nanotechnol. 10, 629–636 (2015).

Yang, X. et al. Bioinspired neuron-like electronics. Nat. Mater. 18, 510–517 (2019).

Fu, T.-M. et al. Stable long-term chronic brain mapping at the single-neuron level. Nat. Methods 13, 875–882 (2016).

Guan, S. et al. Elastocapillary self-assembled neurotassels for stable neural activity recordings. Sci. Adv. 5, eaav2842 (2019).

Kim, T.-i et al. Injectable, cellular-scale optoelectronics with applications for wireless optogenetics. Science 340, 211–216 (2013).

He, F. et al. Multimodal mapping of neural activity and cerebral blood flow reveals long-lasting neurovascular dissociations after small-scale strokes. Sci. Adv. 6, eaba1933 (2020).

Sharp, A. A., Ortega, A. M., Restrepo, D., Curran-Everett, D. & Gall, K. In vivo penetration mechanics and mechanical properties of mouse brain tissue at micrometer scales. IEEE Trans. Biomed. Eng. 56, 45–53 (2008).

McInnes, L., Healy, J. & Melville, J. UMAP: uniform manifold approximation and projection for dimension reduction. Preprint available at arXiv https://doi.org/10.48550/arXiv.1802.03426 (2018).

Tolias, A. S. et al. Recording chronically from the same neurons in awake, behaving primates. J. Neurophysiol. 98, 3780–3790 (2007).

Chung, J. E. et al. A fully automated approach to spike sorting. Neuron 95, 1381–1394 (2017).

McMahon, D. B. T., Jones, A. P., Bondar, I. V. & Leopold, D. A. Face-selective neurons maintain consistent visual responses across months. Proc. Natl Acad. Sci. USA 111, 8251–8256 (2014).

Schmitzer-Torbert, N., Jackson, J., Henze, D., Harris, K. & Redish, A. D. Quantitative measures of cluster quality for use in extracellular recordings. Neuroscience 131, 1–11 (2005).

Nguyen, T. et al. Automatic spike sorting by unsupervised clustering with diffusion maps and silhouettes. Neurocomputing 153, 199–210 (2015).

Kozai, T. D. Y. et al. Ultrasmall implantable composite microelectrodes with bioactive surfaces for chronic neural interfaces. Nat. Mater. 11, 1065–1073 (2012).

Lu, L. et al. Soft and MRI compatible neural electrodes from carbon nanotube fibers. Nano. Lett. 19, 1577–1586 (2019).

Rousche, P. J. et al. Flexible polyimide-based intracortical electrode arrays with bioactive capability. IEEE Trans. Biomed. Eng. 48, 361–371 (2001).

Minev, I. R. et al. Electronic dura mater for long-term multimodal neural interfaces. Science 347, 159–163 (2015).

Jeong, J.-W. et al. Wireless optofluidic systems for programmable in vivo pharmacology and optogenetics. Cell 162, 662–674 (2015).

Airaghi Leccardi, M. J. I., Vagni, P. & Ghezzi, D. Multilayer 3D electrodes for neural implants. J. Neural Eng. 16, 026013 (2019).

Barrese, J. C. et al. Failure mode analysis of silicon-based intracortical microelectrode arrays in non-human primates. J. Neural Eng. 10, 066014 (2013).

Viswanathan, P. & Nieder, A. Visual receptive field heterogeneity and functional connectivity of adjacent neurons in primate frontoparietal association cortices. J. Neurosci. 37, 8919–8928 (2017).

Jia, X. et al. High-density extracellular probes reveal dendritic backpropagation and facilitate neuron classification. J. Neurophysiol. 121, 1831–1847 (2019).

Marks, T. D. & Goard, M. J. Stimulus-dependent representational drift in primary visual cortex. Nat. Commun. 12, 5169 (2021).

Lee, E. K. et al. Non-linear dimensionality reduction on extracellular waveforms reveals cell type diversity in premotor cortex. eLife 10, e67490 (2021).

Zhao, S. et al. Full activation pattern mapping by simultaneous deep brain stimulation and fMRI with graphene fiber electrodes. Nat. Commun. 11, 1788 (2020).

Hill, D. N., Mehta, S. B. & Kleinfeld, D. Quality metrics to accompany spike sorting of extracellular signals. J. Neurosci. 31, 8699–8705 (2011).

Siegle, J. H. et al. Survey of spiking in the mouse visual system reveals functional hierarchy. Nature 592, 86–92 (2021).

Cao, J. et al. The single-cell transcriptional landscape of mammalian organogenesis. Nature 566, 496–502 (2019).

Grieves, R. M. et al. The place-cell representation of volumetric space in rats. Nat. Commun. 11, 789 (2020).

Zhao, S. et al. Graphene encapsulated copper microwires as highly MRI compatible neural electrodes. Nano Lett. 16, 7731–7738 (2016).

Buccino, A. P. et al. SpikeInterface, a unified framework for spike sorting. eLife 9, e61834 (2020).

Traag, V. A., Waltman, L. & van Eck, N. J. From Louvain to Leiden: guaranteeing well-connected communities. Sci. Rep. 9, 5233 (2019).
Acknowledgements
We acknowledge the discussion and assistance from all Liu Group members, J. Salant and Prof. B.P. Ölveczky. We acknowledge the support from the Harvard University School of Engineering and Applied Sciences Startup fund and the Harvard University Faculty of Arts and Sciences Dean's Competitive Fund for Promising Scholarship. The funders had no role in study design, data collection and analysis, decision to publish or preparation of the manuscript. We thank scidraw.io for illustrations.
Ethics declarations
Competing interests
J.L. declares financial interests in Axoft, Inc. All other authors have no competing interests.
Peer review
Peer review information
Nature Neuroscience thanks Michael Okun and the other, anonymous, reviewer(s) for their contribution to the peer review of this work.
Additional information
Publisher's note Springer Nature remains neutral with regard to jurisdictional claims in published maps and institutional affiliations.
Supplementary information
Supplementary Text, Figs. 1–5, Tables 1–5 and Methods.
Statistical data for supplementary figures.
Rights and permissions
Springer Nature or its licensor (e.g. a society or other partner) holds exclusive rights to this article under a publishing agreement with the author(s) or other rightsholder(s); author self-archiving of the accepted manuscript version of this article is solely governed by the terms of such publishing agreement and applicable law.
About this article
Cite this article
Zhao, S., Tang, X., Tian, W. et al. Tracking neural activity from the same cells during the entire adult life of mice. Nat Neurosci (2023). https://doi.org/10.1038/s41593-023-01267-x
Received:

Accepted:

Published:

DOI: https://doi.org/10.1038/s41593-023-01267-x