Abstract
Synaptic pruning is a fundamental process of neuronal circuit refinement in learning and memory. Accumulating evidence suggests that glia participates in sculpting the neuronal circuits through synapse engulfment. However, whether glial involvement in synaptic pruning has a role in memory formation remains elusive. Using newly developed phagocytosis reporter mice and three-dimensional ultrastructural characterization, we found that synaptic engulfment by cerebellar Bergmann glia (BG) frequently occurred upon cerebellum-dependent motor learning in mice. We observed increases in pre- and postsynaptic nibbling by BG along with a reduction in spine volume after learning. Pharmacological blockade of engulfment with Annexin V inhibited both the spine volume reduction and overnight improvement of motor adaptation. These results indicate that BG contribute to the refinement of the mature cerebellar cortical circuit through synaptic engulfment during motor learning.
Access options
Subscribe to Nature+
Get immediate online access to Nature and 55 other Nature journal
Subscribe to Journal
Get full journal access for 1 year
$79.00
only $6.58 per issue
All prices are NET prices.
VAT will be added later in the checkout.
Tax calculation will be finalised during checkout.
Buy article
Get time limited or full article access on ReadCube.
$32.00
All prices are NET prices.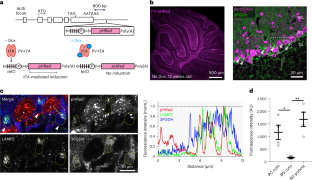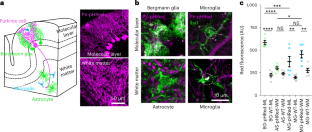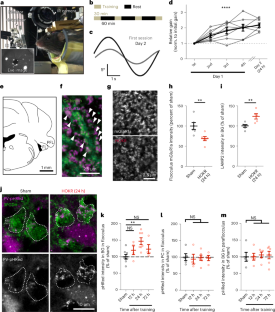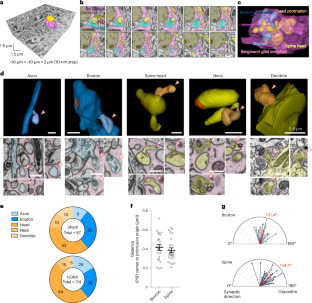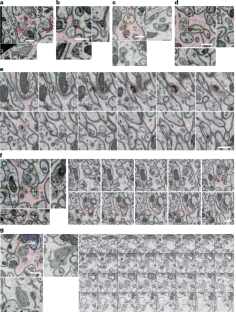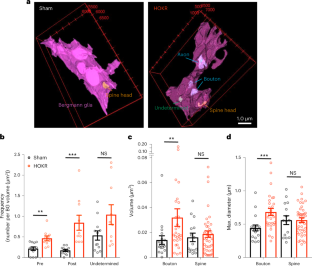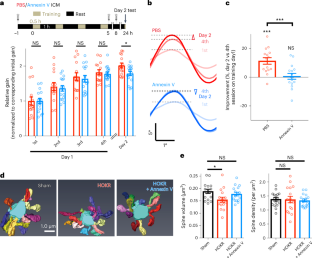 Data availability
Data and resources are available on request from the corresponding authors. Source data are provided with this paper.
Code availability
Code used to present visual stimulation for this paper is available on request from the corresponding authors.
References
Holtmaat, A. & Svoboda, K. Experience-dependent structural synaptic plasticity in the mammalian brain. Nat. Rev. Neurosci. 10, 647–658 (2009).

Caroni, P., Donato, F. & Muller, D. Structural plasticity upon learning: regulation and functions. Nat. Rev. Neurosci. 13, 478–490 (2012).

Forrest, M. P., Parnell, E. & Penzes, P. Dendritic structural plasticity and neuropsychiatric disease. Nat. Rev. Neurosci. 19, 215–234 (2018).

Kasai, H., Ziv, N. E., Okazaki, H., Yagishita, S. & Toyoizumi, T. Spine dynamics in the brain, mental disorders and artificial neural networks. Nat. Rev. Neurosci. 22, 407–422 (2021).

Ito, M. Long-term depression. Annu Rev. Neurosci. 12, 85–102 (1989).

Boyden, E. S., Katoh, A. & Raymond, J. L. Cerebellum-dependent learning: the role of multiple plasticity mechanisms. Annu. Rev. Neurosci. 27, 581–609 (2004).

Kano, M., Rexhausen, U., Dreessen, J. & Konnerth, A. Synaptic excitation produces a long-lasting rebound potentiation of inhibitory synaptic signals in cerebellar Purkinje cells. Nature 356, 601–604 (1992).

Schonewille, M. et al. Purkinje cell-specific knockout of the protein phosphatase PP2B impairs potentiation and cerebellar motor learning. Neuron 67, 618–628 (2010).

Kim, Y. G. & Kim, S. J. Decreased intrinsic excitability of cerebellar Purkinje cells following optokinetic learning in mice. Mol. Brain 13, 136 (2020).

Gutierrez-Castellanos, N. et al. Motor learning requires Purkinje cell synaptic potentiation through activation of AMPA-receptor subunit GluA3. Neuron 93, 409–424 (2017).

Wang, W. et al. Distinct cerebellar engrams in short-term and long-term motor learning. Proc. Natl Acad. Sci. USA 111, E188–E193 (2014).

Aziz, W. et al. Distinct kinetics of synaptic structural plasticity, memory formation, and memory decay in massed and spaced learning. Proc. Natl Acad. Sci. USA 111, E194–E202 (2014).

Inoshita, T. & Hirano, T. Occurrence of long-term depression in the cerebellar flocculus during adaptation of optokinetic response. eLife 7, e36209 (2018).

Kakegawa, W. et al. Optogenetic control of synaptic AMPA receptor endocytosis reveals roles of LTD in motor learning. Neuron 99, 985–998 (2018).

Chung, W. S. et al. Astrocytes mediate synapse elimination through MEGF10 and MERTK pathways. Nature 504, 394–400 (2013).

Schafer, D. P. et al. Microglia sculpt postnatal neural circuits in an activity and complement-dependent manner. Neuron 74, 691–705 (2012).

Hong, S. et al. Complement and microglia mediate early synapse loss in Alzheimer mouse models. Science 352, 712–716 (2016).

Morizawa, Y. M. et al. Reactive astrocytes function as phagocytes after brain ischemia via ABCA1-mediated pathway. Nat. Commun. 8, 28 (2017).

Lee, J. H. et al. Astrocytes phagocytose adult hippocampal synapses for circuit homeostasis. Nature 590, 612–617 (2021).

Chung, W. S. et al. Novel allele-dependent role for APOE in controlling the rate of synapse pruning by astrocytes. Proc. Natl Acad. Sci. USA 113, 10186–10191 (2016).

Rueda-Carrasco, J. et al. Microglia detect externalized phosphatidylserine on synapses for elimination via TREM2 in Alzheimer's disease models. Preprint at bioRxiv https://doi.org/10.1101/2022.04.04.486424 (2022).

Weinhard, L. et al. Microglia remodel synapses by presynaptic trogocytosis and spine head filopodia induction. Nat. Commun. 9, 1228 (2018).

Tantama, M., Hung, Y. P. & Yellen, G. Imaging intracellular pH in live cells with a genetically encoded red fluorescent protein sensor. J. Am. Chem. Soc. 133, 10034–10037 (2011).

Katayama, H., Kogure, T., Mizushima, N., Yoshimori, T. & Miyawaki, A. A sensitive and quantitative technique for detecting autophagic events based on lysosomal delivery. Chem. Biol. 18, 1042–1052 (2011).

Katayama, H. et al. Visualizing and modulating mitophagy for therapeutic studies of neurodegeneration. Cell 181, 1176–1187 (2020).

Tanaka, K. F. et al. Expanding the repertoire of optogenetically targeted cells with an enhanced gene expression system. Cell Rep. 2, 397–406 (2012).

Nitta, K., Matsuzaki, Y., Konno, A. & Hirai, H. Minimal Purkinje cell-specific PCP2/L7 promoter virally available for rodents and non-human primates. Mol. Ther. Methods Clin. Dev. 6, 159–170 (2017).

Scott-Hewitt, N. et al. Local externalization of phosphatidylserine mediates developmental synaptic pruning by microglia. EMBO J. 39, e105380 (2020).

Li, T. et al. A splicing isoform of GPR56 mediates microglial synaptic refinement via phosphatidylserine binding. EMBO J. 39, e104136 (2020).

van den Eijnde, S. M. et al. Spatiotemporal distribution of dying neurons during early mouse development. Eur. J. Neurosci. 11, 712–724 (1999).

Lu, Z. et al. Phagocytic activity of neuronal progenitors regulates adult neurogenesis. Nat. Cell Biol. 13, 1076–1083 (2011).

Hill, R. A., Damisah, E. C., Chen, F., Kwan, A. C. & Grutzendler, J. Targeted two-photon chemical apoptotic ablation of defined cell types in vivo. Nat. Commun. 8, 15837 (2017).

Nagao, S. Role of cerebellar flocculus in adaptive interaction between optokinetic eye movement response and vestibulo-ocular reflex in pigmented rabbits. Exp. Brain Res. 77, 541–551 (1989).

Palay, S. L. & Chan-Palay, V. Cerebellar Cortex: Cytology and Organization (Springer, 1974).

Spacek, J. & Harris, K. M. Trans-endocytosis via spinules in adult rat hippocampus. J. Neurosci. 24, 4233–4241 (2004).

Khaminets, A. et al. Regulation of endoplasmic reticulum turnover by selective autophagy. Nature 522, 354–358 (2015).

McArthur, K. et al. BAK/BAX macropores facilitate mitochondrial herniation and mtDNA efflux during apoptosis. Science 359, eaao6047 (2018).

Saab, A. S. et al. Bergmann glial AMPA receptors are required for fine motor coordination. Science 337, 749–753 (2012).

Xavier, A. L. et al. Cannula implantation into the cisterna magna of rodents. J. Vis. Exp. https://doi.org/10.3791/57378 (2018).

Tabula Muris, C. A single-cell transcriptomic atlas characterizes ageing tissues in the mouse. Nature 583, 590–595 (2020).

Lehrman, E. K. et al. CD47 protects synapses from excess microglia-mediated pruning during development. Neuron 100, 120–134 (2018).

Zhou, Z., Hartwieg, E. & Horvitz, H. R. CED-1 is a transmembrane receptor that mediates cell corpse engulfment in C. elegans. Cell 104, 43–56 (2001).

Moynault, A., Luciani, M. F. & Chimini, G. ABC1, the mammalian homologue of the engulfment gene ced-7, is required during phagocytosis of both necrotic and apoptotic cells. Biochem. Soc. Trans. 26, 629–635 (1998).

Hamon, Y. et al. ABC1 promotes engulfment of apoptotic cells and transbilayer redistribution of phosphatidylserine. Nat. Cell Biol. 2, 399–406 (2000).

Hamon, Y. et al. Cooperation between engulfment receptors: the case of ABCA1 and MEGF10. PLoS ONE 1, e120 (2006).

Loov, C., Mitchell, C. H., Simonsson, M. & Erlandsson, A. Slow degradation in phagocytic astrocytes can be enhanced by lysosomal acidification. Glia 63, 1997–2009 (2015).

Hayashi-Takagi, A. et al. Labelling and optical erasure of synaptic memory traces in the motor cortex. Nature 525, 333–338 (2015).

Cichon, J. & Gan, W. B. Branch-specific dendritic Ca2+ spikes cause persistent synaptic plasticity. Nature 520, 180–185 (2015).

Holler, S., Kostinger, G., Martin, K. A. C., Schuhknecht, G. F. P. & Stratford, K. J. Structure and function of a neocortical synapse. Nature 591, 111–116 (2021).

Martin, S. J. & Morris, R. G. New life in an old idea: the synaptic plasticity and memory hypothesis revisited. Hippocampus 12, 609–636 (2002).

Shutoh, F., Ohki, M., Kitazawa, H., Itohara, S. & Nagao, S. Memory trace of motor learning shifts transsynaptically from cerebellar cortex to nuclei for consolidation. Neuroscience 139, 767–777 (2006).

Boele, H. J., Koekkoek, S. K., De Zeeuw, C. I. & Ruigrok, T. J. Axonal sprouting and formation of terminals in the adult cerebellum during associative motor learning. J. Neurosci. 33, 17897–17907 (2013).

Wulff, P. et al. Synaptic inhibition of Purkinje cells mediates consolidation of vestibulo-cerebellar motor learning. Nat. Neurosci. 12, 1042–1049 (2009).

Chen, S. X., Kim, A. N., Peters, A. J. & Komiyama, T. Subtype-specific plasticity of inhibitory circuits in motor cortex during motor learning. Nat. Neurosci. 18, 1109–1115 (2015).

Becker, N., Wierenga, C. J., Fonseca, R., Bonhoeffer, T. & Nagerl, U. V. LTD induction causes morphological changes of presynaptic boutons and reduces their contacts with spines. Neuron 60, 590–597 (2008).

Li, Z. et al. Caspase-3 activation via mitochondria is required for long-term depression and AMPA receptor internalization. Cell 141, 859–871 (2010).

Jiao, S. & Li, Z. Nonapoptotic function of BAD and BAX in long-term depression of synaptic transmission. Neuron 70, 758–772 (2011).

Erturk, A., Wang, Y. & Sheng, M. Local pruning of dendrites and spines by caspase-3-dependent and proteasome-limited mechanisms. J. Neurosci. 34, 1672–1688 (2014).

Gyorffy, B. A. et al. Local apoptotic-like mechanisms underlie complement-mediated synaptic pruning. Proc. Natl Acad. Sci. USA 115, 6303–6308 (2018).

Xu, Z. X. et al. Caspase-2 promotes AMPA receptor internalization and cognitive flexibility via mTORC2–AKT–GSK3β signaling. Nat. Commun. 10, 3622 (2019).

Nicolas-Avila, J. A. et al. A network of macrophages supports mitochondrial homeostasis in the heart. Cell 183, 94–109 (2020).

Bishop, D. L., Misgeld, T., Walsh, M. K., Gan, W. B. & Lichtman, J. W. Axon branch removal at developing synapses by axosome shedding. Neuron 44, 651–661 (2004).

Han, C. Z. & Ravichandran, K. S. Metabolic connections during apoptotic cell engulfment. Cell 147, 1442–1445 (2011).

Ashley, J. et al. Retrovirus-like Gag protein Arc1 binds RNA and traffics across synaptic boutons. Cell 172, 262–274 (2018).

Aida, T. et al. Cloning-free CRISPR/Cas system facilitates functional cassette knock-in in mice. Genome Biol. 16, 87 (2015).

Sakatani, T. & Isa, T. PC-based high-speed video-oculography for measuring rapid eye movements in mice. Neurosci. Res. 49, 123–131 (2004).

Mathis, A. et al. DeepLabCut: markerless pose estimation of user-defined body parts with deep learning. Nat. Neurosci. 21, 1281–1289 (2018).
Acknowledgements
This research was supported by JSPS KAKENHI grants 16K18388, 18K06457, 18J00603 (to Y.M.M.), 18H05110, 19H03338, 20H05046, 20H05896, 22H02713 (to K.M.),16H06280, 18H05120, 19K22469 and 19H03323 (to Y.F.) by The Naito Foundation Grant (to Y.M.M.), by the Satoshi Ohmura Foundation (to Y.M.M.), by Technical support platforms for promoting research of Advanced Bioimaging Support JP16H06280 (to Y.M.M. and N.Ohono.), by Opto-Science and Technology, the NOVARTIS Foundation, Takeda Science Foundation (to K.M), by The Joint Usage/Research Program of Medical Research Institute (to T.A., K.T. and K.M.), by AMED under the Brain/MINDS project: JP21dm0207111 (to H.H.) and by a Columbia University Target of Opportunity award. We thank T. Maegawa (Fukui University), A. Imai and N. Hattori (NIPS) for their helpful technical assistance in EM data acquisition, N. Hosoi, A. Konno (Gunma University), K. Chen (Columbia University), T. Osakada and L. Weinhard (New York University) for their helpful technical discussion, WB. Gan (Peking University Shenzhen Graduate School) for critical reading of the manuscript and all the members of the Matsui lab.
Ethics declarations
Competing interests
The authors declare no competing interests.
Peer review
Peer review information
Nature Neuroscience thanks Won-Suk Chung, Cagla Eroglu and the other, anonymous, reviewer(s) for their contribution to the peer review of this work.
Additional information
Publisher's note Springer Nature remains neutral with regard to jurisdictional claims in published maps and institutional affiliations.
Supplementary information
Rights and permissions
Springer Nature or its licensor (e.g. a society or other partner) holds exclusive rights to this article under a publishing agreement with the author(s) or other rightsholder(s); author self-archiving of the accepted manuscript version of this article is solely governed by the terms of such publishing agreement and applicable law.
About this article
Cite this article
Morizawa, Y.M., Matsumoto, M., Nakashima, Y. et al. Synaptic pruning through glial synapse engulfment upon motor learning. Nat Neurosci 25, 1458–1469 (2022). https://doi.org/10.1038/s41593-022-01184-5
Received:

Accepted:

Published:

Issue Date:

DOI: https://doi.org/10.1038/s41593-022-01184-5