Abstract
Myelin plasticity occurs when newly formed and pre-existing oligodendrocytes remodel existing patterns of myelination. Myelin remodeling occurs in response to changes in neuronal activity and is required for learning and memory. However, the link between behavior-induced neuronal activity and circuit-specific changes in myelination remains unclear. Using longitudinal in vivo two-photon imaging and targeted labeling of learning-activated neurons in mice, we explore how the pattern of intermittent myelination is altered on individual cortical axons during learning of a dexterous reach task. We show that behavior-induced myelin plasticity is targeted to learning-activated axons and occurs in a staged response across cortical layers in the mouse primary motor cortex. During learning, myelin sheaths retract, which results in lengthening of nodes of Ranvier. Following motor learning, addition of newly formed myelin sheaths increases the number of continuous stretches of myelination. Computational modeling suggests that motor learning-induced myelin plasticity initially slows and subsequently increases axonal conduction speed. Finally, we show that both the magnitude and timing of nodal and myelin dynamics correlate with improvement of behavioral performance during motor learning. Thus, learning-induced and circuit-specific myelination changes may contribute to information encoding in neural circuits during motor learning.
Relevant articles
Open Access articles citing this article.
Dongfang Jiang

,

Tingting Li

…

Hongmei Liu

Cell & Bioscience Open Access 16 January 2023
Access options
Subscribe to Nature+
Get immediate online access to Nature and 55 other Nature journal
Subscribe to Journal
Get full journal access for 1 year
$79.00
only $6.58 per issue
All prices are NET prices.
VAT will be added later in the checkout.
Tax calculation will be finalised during checkout.
Buy article
Get time limited or full article access on ReadCube.
$32.00
All prices are NET prices.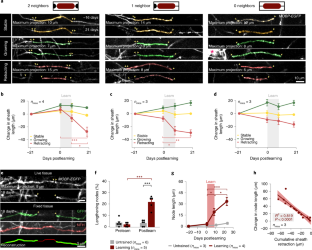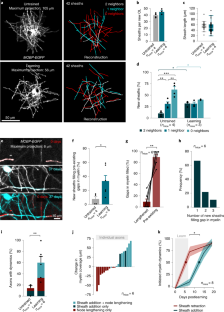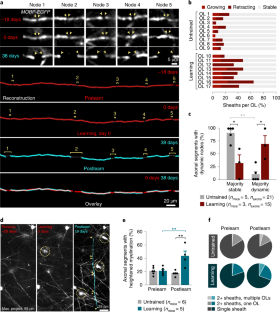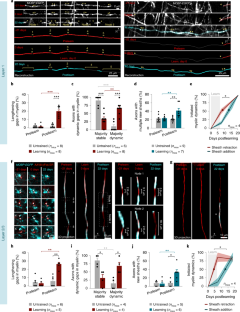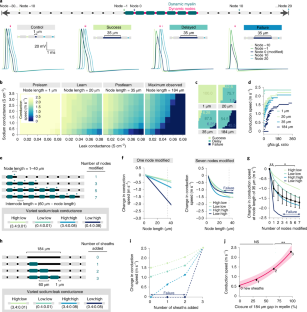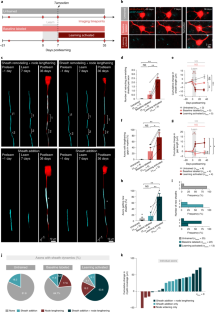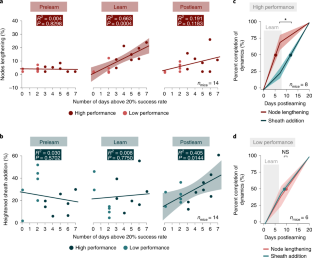 Data availability
All data that support the findings, tools and reagents will be shared on an unrestricted basis; requests should be directed to the corresponding author.
References
Lillie, R. S. Factors affecting transmission and recovery in the passive iron nerve model. J. Gen. Physiol. 7, 473–507 (1925).

Tomassy, G. S. et al. Distinct profiles of myelin distribution along single axons of pyramidal neurons in the neocortex. Science 344, 319–324 (2014).

Yakovlev, P. & Lecours, A. The myelogenetic cycles of regional maturation of the brain. In Regional Development of the Brain in Early Life (ed. Minkowski, A.) 3–70 (Blackwell Scientific Publications, 1967).

Gibson, E. M. et al. Neuronal activity promotes oligodendrogenesis and adaptive myelination in the mammalian brain. Science 344, 1252304 (2014).

Hughes, E. G., Orthmann-Murphy, J. L., Langseth, A. J. & Bergles, D. E. Myelin remodeling through experience-dependent oligodendrogenesis in the adult somatosensory cortex. Nat. Neurosci. 21, 696–706 (2018).

McKenzie, I. A. et al. Motor skill learning requires active central myelination. Science 346, 318–322 (2014).

Pan, S., Mayoral, S. R., Choi, H. S., Chan, J. R. & Kheirbek, M. A. Preservation of a remote fear memory requires new myelin formation. Nat. Neurosci. 23, 487–499 (2020).

Steadman, P. E. et al. Disruption of oligodendrogenesis impairs memory consolidation in adult mice. Neuron 105, 150–164.e6 (2020).

Hines, J. H., Ravanelli, A. M., Schwindt, R., Scott, E. K. & Appel, B. Neuronal activity biases axon selection for myelination in vivo. Nat. Neurosci. 18, 683–689 (2015).

Mensch, S. et al. Synaptic vesicle release regulates myelin sheath number of individual oligodendrocytes in vivo. Nat. Neurosci. 18, 628–630 (2015).

Mitew, S. et al. Pharmacogenetic stimulation of neuronal activity increases myelination in an axon-specific manner. Nat. Commun. 9, 306 (2018).

Baraban, M., Koudelka, S. & Lyons, D. A. Ca2+ activity signatures of myelin sheath formation and growth in vivo. Nat. Neurosci. 21, 19–23 (2018).

Krasnow, A. M., Ford, M. C., Valdivia, L. E., Wilson, S. W. & Attwell, D. Regulation of developing myelin sheath elongation by oligodendrocyte calcium transients in vivo. Nat. Neurosci. 21, 24–28 (2018).

Seidl, A. H., Rubel, E. W. & Harris, D. M. Mechanisms for adjusting interaural time differences to achieve binaural coincidence detection. J. Neurosci. 30, 70–80 (2010).

Ford, M. C. et al. Tuning of Ranvier node and internode properties in myelinated axons to adjust action potential timing. Nat. Commun. 6, 8073 (2015).

Arancibia-Cárcamo, I. L. et al. Node of Ranvier length as a potential regulator of myelinated axon conduction speed. eLife 6, e23329 (2017).

Salami, M., Itami, C., Tsumoto, T. & Kimura, F. Change of conduction velocity by regional myelination yields constant latency irrespective of distance between thalamus and cortex. Proc. Natl Acad. Sci USA 100, 6174–6179 (2003).

Auer, F., Vagionitis, S. & Czopka, T. Evidence for myelin sheath remodeling in the CNS revealed by in vivo imaging. Curr. Biol. 28, 549–559.e3 (2018).

Bacmeister, C. M. et al. Motor learning promotes remyelination via new and surviving oligodendrocytes. Nat. Neurosci. 23, 819–831 (2020).

Cullen, C. L. et al. Periaxonal and nodal plasticities modulate action potential conduction in the adult mouse brain. Cell Rep. 34, 108641 (2021).

Yang, S. M., Michel, K., Jokhi, V., Nedivi, E. & Arlotta, P. Neuron class–specific responses govern adaptive myelin remodeling in the neocortex. Science 370, eabd2109 (2020).

Bishop, D. et al. Near-infrared branding efficiently correlates light and electron microscopy. Nat. Methods 8, 568–570 (2011).

Bostock, H. & Sears, T. A. The internodal axon membrane: electrical excitability and continuous conduction in segmental demyelination. J. Physiol. 280, 273–301 (1978).

Foster, R. E., Whalen, C. C. & Waxman, S. G. Reorganization of the axon membrane in demyelinated peripheral nerve fibers: morphological evidence. Science 210, 661–663 (1980).

Rasminsky, M. & Sears, T. A. Internodal conduction in undissected demyelinated nerve fibres. J. Physiol. 227, 323–350 (1972).

Coggan, J. S., Prescott, S. A., Bartol, T. M. & Sejnowski, T. J. Imbalance of ionic conductances contributes to diverse symptoms of demyelination. Proc. Natl Acad. Sci. USA 107, 20602–20609 (2010).

Ye, L. et al. Wiring and molecular features of prefrontal ensembles representing distinct experiences. Cell 165, 1776–1788 (2016).

Papale, A. E. & Hooks, B. M. Circuit changes in motor cortex during motor skill learning. Neuroscience 368, 283–297 (2018).

Young, K. M. et al. Oligodendrocyte dynamics in the healthy adult CNS: evidence for myelin remodeling. Neuron 77, 873–885 (2013).

Hill, R. A., Li, A. M. & Grutzendler, J. Lifelong cortical myelin plasticity and age-related degeneration in the live mammalian brain. Nat. Neurosci. 21, 683–695 (2018).

Koudelka, S. et al. Individual neuronal subtypes exhibit diversity in CNS myelination mediated by synaptic vesicle release. Curr. Biol. 26, 1447–1455 (2016).

Bechler, M. E., Byrne, L. & ffrench-Constant, C. CNS myelin sheath lengths are an intrinsic property of oligodendrocytes. Curr. Biol. 25, 2411–2416 (2015).

Swire, M. et al. Oligodendrocyte HCN2 channels regulate myelin sheath length. J. Neurosci. 41, 7954–7964 (2021).

Chong, S. Y. C. et al. Neurite outgrowth inhibitor Nogo-A establishes spatial segregation and extent of oligodendrocyte myelination. Proc. Natl Acad. Sci. USA 109, 1299–1304 (2012).

Dhawale, A. K., Smith, M. A. & Ölveczky, B. P. The role of variability in motor learning. Annu. Rev. Neurosci. 40, 479–498 (2017).

Feldman, D. E. The spike-timing dependence of plasticity. Neuron 75, 556–571 (2012).

Fields, R. D. A new mechanism of nervous system plasticity: activity-dependent myelination. Nat. Rev. Neurosci. 16, 756–767 (2015).

Egger, R. et al. Local axonal conduction shapes the spatiotemporal properties of neural sequences. Cell 183, 537–548.e12 (2020).

de Waegh, S. M., Lee, V. M.-Y. & Brady, S. T. Local modulation of neurofilament phosphorylation, axonal caliber, and slow axonal transport by myelinating Schwann cells. Cell 68, 451–463 (1992).

Fünfschilling, U. et al. Glycolytic oligodendrocytes maintain myelin and long-term axonal integrity. Nature 485, 517–521 (2012).

Moore, S. et al. A role of oligodendrocytes in information processing. Nat. Commun. 11, 5497 (2020).

Harris, J. J. & Attwell, D. The energetics of CNS white matter. J. Neurosci. 32, 356–371 (2012).

Lee, Y. et al. Oligodendroglia metabolically support axons and contribute to neurodegeneration. Nature 487, 443–448 (2012).

Brown, A. M., Tekkök, S. B. & Ransom, B. R. Glycogen regulation and functional role in mouse white matter. J. Physiol. 549, 501–512 (2003).

Trevisiol, A. et al. Structural myelin defects are associated with low axonal ATP levels but rapid recovery from energy deprivation in a mouse model of spastic paraplegia. PLoS Biol. 18, e3000943 (2020).

Stedehouder, J. et al. Fast-spiking parvalbumin interneurons are frequently myelinated in the cerebral cortex of mice and humans. Cereb. Cortex 27, 5001–5013 (2017).

Sasaki, T., Matsuki, N. & Ikegaya, Y. Action-potential modulation during axonal conduction. Science 331, 599–601 (2011).

Kalish, B. T. et al. Single-nucleus RNA sequencing of mouse auditory cortex reveals critical period triggers and brakes. Proc. Natl Acad. Sci. USA 117, 11744–11752 (2020).

Cichon, J. & Gan, W.-B. Branch-specific dendritic Ca2+ spikes cause persistent synaptic plasticity. Nature 520, 180–185 (2015).

Fu, M., Yu, X., Lu, J. & Zuo, Y. Repetitive motor learning induces coordinated formation of clustered dendritic spines in vivo. Nature 483, 92–95 (2012).

Stedehouder, J., Brizee, D., Shpak, G. & Kushner, S. A. Activity-dependent myelination of parvalbumin interneurons mediated by axonal morphological plasticity. J. Neurosci. 38, 3631–3642 (2018).

Bramow, S. et al. Demyelination versus remyelination in progressive multiple sclerosis. Brain 133, 2983–2998 (2010).

Patrikios, P. et al. Remyelination is extensive in a subset of multiple sclerosis patients. Brain 129, 3165–3172 (2006).

Goldschmidt, T., Antel, J., König, F. B., Brück, W. & Kuhlmann, T. Remyelination capacity of the MS brain decreases with disease chronicity. Neurology 72, 1914–1921 (2009).

Snaidero, N. et al. Myelin replacement triggered by single-cell demyelination in mouse cortex. Nat. Commun. 11, 4901 (2020).

Orthmann-Murphy, J. et al. Remyelination alters the pattern of myelin in the cerebral cortex. eLife 9, e56621 (2020).

Hughes, E. G., Kang, S. H., Fukaya, M. & Bergles, D. E. Oligodendrocyte progenitors balance growth with self-repulsion to achieve homeostasis in the adult brain. Nat. Neurosci. 16, 668–676 (2013).

Xu, T. et al. Rapid formation and selective stabilization of synapses for enduring motor memories. Nature 462, 915–919 (2009).

Hines, M. L. & Carnevale, N. T. The NEURON Simulation Environment. Neural Comput. 9, 1179–1209 (1997).

Cohen, C. C. H. et al. Saltatory conduction along myelinated axons involves a periaxonal nanocircuit. Cell 180, 311–322.e15 (2020).

Hu, W. et al. Distinct contributions of Nav1.6 and Nav1.2 in action potential initiation and backpropagation. Nat. Neurosci. 12, 996–1002 (2009).

Mainen, Z. F., Joerges, J., Huguenard, J. R. & Sejnowski, T. J. A model of spike initiation in neocortical pyramidal neurons. Neuron 15, 1427–1439 (1995).

Hodgkin, A. L. & Huxley, A. F. A quantitative description of membrane current and its application to conduction and excitation in nerve. J. Physiol. 117, 500–544 (1952).

Huguenard, J. R., Hamill, O. P. & Prince, D. A. Developmental changes in Na+ conductances in rat neocortical neurons: appearance of a slowly inactivating component. J. Neurophysiol. 59, 778–795 (1988).

Hamill, O. P., Huguenard, J. R. & Prince, D. A. Patch-clamp studies of voltage-gated currents in identified neurons of the rat cerebral cortex. Cereb. Cortex 1, 48–61 (1991).
Acknowledgements
We thank M. Hall for machining expertise, H. Barr for the conversation that reinitiated interest in labeling activated axons, and past and current members of the Hughes and Welle labs and the CU Anschutz Myelin Group for discussions. M.A.T. is supported by the National Institutes of Health Institutional Neuroscience Graduate Training Grant (5T32NS099042-17). Funding was provided by the Boettcher Foundation Webb-Waring Biomedical Research Award, the Whitehall Foundation and the National Multiple Sclerosis Society (RG-1701–26733) and NINDS (NS115975, NS125230) to E.G.H.
Ethics declarations
Competing interests
The authors declare no competing interests.
Peer review
Peer review information
Nature Neuroscience thanks Michelle Monje and the other, anonymous, reviewer(s) for their contribution to the peer review of this work.
Additional information
Publisher's note Springer Nature remains neutral with regard to jurisdictional claims in published maps and institutional affiliations.
Supplementary information
Supplementary Tables 1–3.
Rights and permissions
Springer Nature or its licensor holds exclusive rights to this article under a publishing agreement with the author(s) or other rightsholder(s); author self-archiving of the accepted manuscript version of this article is solely governed by the terms of such publishing agreement and applicable law.
About this article
Cite this article
Bacmeister, C.M., Huang, R., Osso, L.A. et al. Motor learning drives dynamic patterns of intermittent myelination on learning-activated axons. Nat Neurosci 25, 1300–1313 (2022). https://doi.org/10.1038/s41593-022-01169-4
Received:

Accepted:

Published:

Issue Date:

DOI: https://doi.org/10.1038/s41593-022-01169-4
This article is cited by
Dongfang Jiang
Tingting Li
Hongmei Liu

Cell & Bioscience (2023)

Nature Reviews Neuroscience (2022)

Nature Neuroscience (2022)