Abstract
Regaining arm control is a top priority for people with paralysis. Unfortunately, the complexity of the neural mechanisms underlying arm control has limited the effectiveness of neurotechnology approaches. Here, we exploited the neural function of surviving spinal circuits to restore voluntary arm and hand control in three monkeys with spinal cord injury, using spinal cord stimulation. Our neural interface leverages the functional organization of the dorsal roots to convey artificial excitation via electrical stimulation to relevant spinal segments at appropriate movement phases. Stimulation bursts targeting specific spinal segments produced sustained arm movements, enabling monkeys with arm paralysis to perform an unconstrained reach-and-grasp task. Stimulation specifically improved strength, task performances and movement quality. Electrophysiology suggested that residual descending inputs were necessary to produce coordinated movements. The efficacy and reliability of our approach hold realistic promises of clinical translation.
Relevant articles
Open Access articles citing this article.
Mostafa Safaie

,

Joanna C. Chang

…

Juan A. Gallego

Nature Open Access 08 November 2023

Henri Lorach

,

Andrea Galvez

…

Grégoire Courtine

Nature Open Access 24 May 2023

Antonia Luz

,

Rüdiger Rupp

…

Norbert Weidner

Neurological Research and Practice Open Access 13 April 2023
Access options
Access Nature and 54 other Nature Portfolio journals
Get Nature+, our best-value online-access subscription
$29.99 / 30 days
cancel any time
Subscribe to this journal
Receive 12 print issues and online access
$209.00 per year
only $17.42 per issue
Rent or buy this article
Prices vary by article type
from$1.95
to$39.95
Prices may be subject to local taxes which are calculated during checkout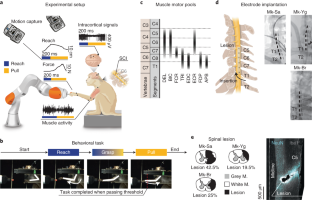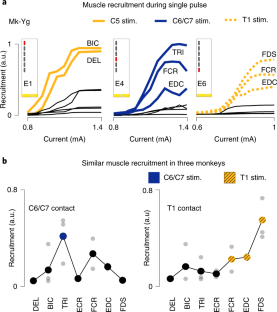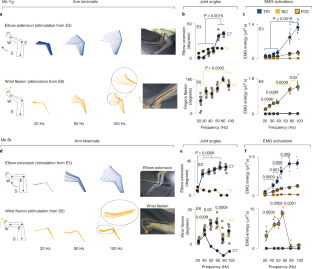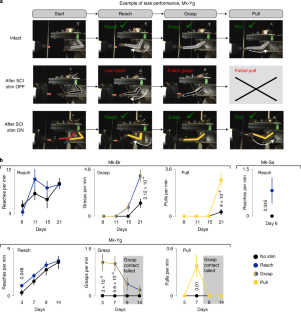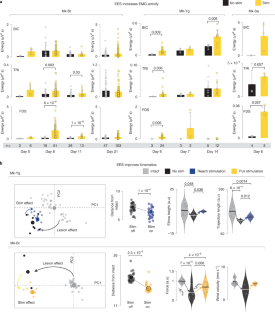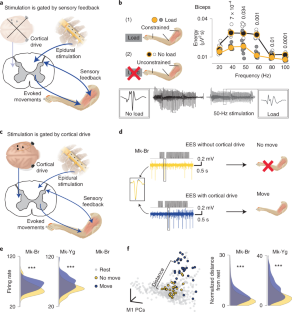 Data availability
Due to the sensitive nature of the dataset, which contains graphic information on monkeys, raw data, including videos, will be available upon reasonable request to the corresponding author and after authorization from the Swiss cantonal authorities. A set of preprocessed data will be deposited on the Open-Data Commons for Spinal Cord Injury (https://odc-sci.org). Source data are provided with this paper.
Code availability
Software routines utilized for data analysis will be deposited on GitHub under search keyword NN-A75365C.
References
ICCP. International Campaign for Cures of Spinal Cord Injury Paralysis. http://www.campaignforcure.org

Stroke Facts (National Center for Chronic Disease Prevention and Health Promotion, Division for Heart Disease and Stroke. Stroke facts, 2020); https://www.cdc.gov/stroke/facts.htm

Anderson, K. D. Targeting recovery: priorities of the spinal cord-injured population. J. Neurotrauma 21, 1371–1383 (2004).

Moreland, J. D. et al. Needs assessment of individuals with stroke after discharge from hospital stratified by acute Functional Independence Measure score. Disabil. Rehabil. 31, 2185–2195 (2009).

Lemon, R. N. Descending pathways in motor control. Annu. Rev. Neurosci. 31, 195–218 (2008).

Griffin, D. M. & Strick, P. L. The motor cortex uses active suppression to sculpt movement. Sci. Adv. 6, eabb8395 (2020).

Seki, K., Perlmutter, S. I. & Fetz, E. E. Sensory input to primate spinal cord is presynaptically inhibited during voluntary movement. Nat. Neurosci. 6, 1309–1316 (2003).

Lebedev, M. A. & Nicolelis, M. A. Brain-machine interfaces: from basic science to neuroprostheses and neurorehabilitation. Physiol. Rev. 97, 767–837 (2017).

Nishimura, Y., Perlmutter, S. I. & Fetz, E. E. Restoration of upper limb movement via artificial corticospinal and musculospinal connections in a monkey with spinal cord injury. Front. Neural Circuits 7, 57 (2013).

Shanechi, M. M., Hu, R. C. & Williams, Z. M. A cortical-spinal prosthesis for targeted limb movement in paralysed primate avatars. Nat. Commun. 5, 3237 (2014).

Zimmermann, J. B. & Jackson, A. Closed-loop control of spinal cord stimulation to restore hand function after paralysis. Front. Neurosci. 8, 87 (2014).

Ethier, C., Oby, E. R., Bauman, M. J. & Miller, L. E. Restoration of grasp following paralysis through brain-controlled stimulation of muscles. Nature 485, 368–371 (2012).

Bouton, C. E. et al. Restoring cortical control of functional movement in a human with quadriplegia. Nature https://doi.org/10.1038/nature17435 (2016).

Ajiboye, A. B. et al. Restoration of reaching and grasping movements through brain-controlled muscle stimulation in a person with tetraplegia: a proof-of-concept demonstration. Lancet https://doi.org/10.1016/S0140-6736(17)30601-3 (2017).

Giat, Y., Mizrahi, J. & Levy, M. A musculotendon model of the fatigue profiles of paralyzed quadriceps muscle under FES. IEEE Trans. Biomed. Eng. 40, 664–674 (1993).

Edgerton, V. R. et al. Training locomotor networks. Brain Res. Rev. 57, 241–254 (2008).

Holinski, B. J. et al. Intraspinal microstimulation produces over-ground walking in anesthetized cats. J. Neural Eng. 13, 056016 (2016).

Capogrosso, M. et al. A computational model for epidural electrical stimulation of spinal sensorimotor circuits. J. Neurosci. 33, 19326–19340 (2013).

Formento, E. et al. Electrical spinal cord stimulation must preserve proprioception to enable locomotion in humans with spinal cord injury. Nat. Neurosci. 21, 1728–1741 (2018).

Wagner, F. B. et al. Targeted neurotechnology restores walking in humans with spinal cord injury. Nature 563, 65–71 (2018).

Angeli, C. A., Edgerton, V. R., Gerasimenko, Y. P. & Harkema, S. J. Altering spinal cord excitability enables voluntary movements after chronic complete paralysis in humans. Brain 137, 1394–1409 (2014).

Ichiyama, R. M., Gerasimenko, Y. P., Zhong, H., Roy, R. R. & Edgerton, V. R. Hindlimb stepping movements in complete spinal rats induced by epidural spinal cord stimulation. Neurosci. Lett. 383, 339–344 (2005).

Courtine, G. et al. Transformation of nonfunctional spinal circuits into functional states after the loss of brain input. Nat. Neurosci. 12, 1333–1342 (2009).

van den Brand, R. et al. Restoring voluntary control of locomotion after paralyzing spinal cord injury. Science 336, 1182–1185 (2012).

Grahn, P. J. et al. Enabling task-specific volitional motor functions via spinal cord neuromodulation in a human with paraplegia. Mayo Clin. Proc. 92, 544–554 (2017).

Angeli, C. A. et al. Recovery of over-ground walking after chronic motor complete spinal cord injury. N. Engl. J. Med. 379, 1244–1250 (2018).

Gill, M. L. et al. Neuromodulation of lumbosacral spinal networks enables independent stepping after complete paraplegia. Nat. Med. https://doi.org/10.1038/s41591-018-0175-7 (2018).

Alam, M. et al. Evaluation of optimal electrode configurations for epidural spinal cord stimulation in cervical spinal cord injured rats. J. Neurosci. Methods 247, 50–57 (2015).

Lu, D. C. et al. Engaging cervical spinal cord networks to reenable volitional control of hand function in tetraplegic patients. Neurorehabil. Neural Repair 30, 951–962 (2016).

Inanici, F., Brighton, L. N., Samejima, S., Hofstetter, C. P. & Moritz, C. T. Transcutaneous spinal cord stimulation restores hand and arm function after spinal cord injury. IEEE Trans. Neural Syst. Rehabil. Eng. https://doi.org/10.1109/TNSRE.2021.3049133 (2021).

Kapadia, N., Zivanovic, V. & Popovic, M. Restoring voluntary grasping function in individuals with incomplete chronic spinal cord injury: pilot study. Top. Spinal Cord. Inj. Rehabil. 19, 279–287 (2013).

Grillner, S. The motor infrastructure: from ion channels to neuronal networks. Nat. Rev. Neurosci. 4, 573–586 (2003).

Giszter, S. F. Motor primitives—new data and future questions. Curr. Opin. Neurobiol. 33, 156–165 (2015).

Lemon, R. N. & Griffiths, J. Comparing the function of the corticospinal system in different species: organizational differences for motor specialization? Muscle Nerve 32, 261–279 (2005).

Kinoshita, M. et al. Genetic dissection of the circuit for hand dexterity in primates. Nature 487, 235–238 (2012).

Weiler, J., Gribble, P. L. & Pruszynski, J. A. Spinal stretch reflexes support efficient hand control. Nat. Neurosci. 22, 529–533 (2019).

Sauerbrei, B. A. et al. Cortical pattern generation during dexterous movement is input-driven. Nature 577, 386–391 (2020).

Capogrosso, M. et al. Configuration of electrical spinal cord stimulation through real-time processing of gait kinematics. Nat. Protoc. https://doi.org/10.1038/s41596-018-0030-9 (2018).

Capogrosso, M. et al. A brain–spine interface alleviating gait deficits after spinal cord injury in primates. Nature 539, 284–288 (2016).

Greiner, N. et al. Recruitment of upper-limb motoneurons with epidural electrical stimulation of the primate cervical spinal cord. Nat. Commun. 12, 1–19 (2021).

Barra, B. et al. A versatile robotic platform for the design of natural, three-dimensional reaching and grasping tasks in monkeys. J. Neural Eng. https://doi.org/10.1088/1741-2552/ab4c77 (2019).

Capogrosso, M. et al. A brain–spine interface alleviating gait deficits after spinal cord injury in primates. Nature 539, 284–288 (2016).

Schiavone, G. et al. Soft, implantable bioelectronic interfaces for translational research. Adv. Mater. 32, 1906512 (2020).

Chao, Z. C., Sawada, M., Isa, T. & Nishimura, Y. Dynamic reorganization of motor networks during recovery from partial spinal cord injury in monkeys. Cereb. Cortex https://doi.org/10.1093/cercor/bhy172 (2018).

Freund, P. et al. Nogo-A–specific antibody treatment enhances sprouting and functional recovery after cervical lesion in adult primates. Nat. Med. 12, 790–792 (2006).

Sharpe, A. N. & Jackson, A. Upper-limb muscle responses to epidural, subdural and intraspinal stimulation of the cervical spinal cord. J. Neural Eng. 11, 016005 (2014).

Gallego, J. A., Perich, M. G., Miller, L. E. & Solla, S. A. Neural manifolds for the control of movement. Neuron 94, 978–984 (2017).

Kato, K., Nishihara, Y. & Nishimura, Y. Stimulus outputs induced by subdural electrodes on the cervical spinal cord in monkeys. J. Neural Eng. 17, 016044 (2020).

de Freitas, R. M. et al. Selectivity and excitability of upper-limb muscle activation during cervical transcutaneous spinal cord stimulation in humans. J. Appl. Physiol. 131, 746–759 (2021).

Kirsch, R. & Rymer, W. Neural compensation for muscular fatigue: evidence for significant force regulation in man. J. Neurophysiol. 57, 1893–1910 (1987).

Song, S. & Geyer, H. A neural circuitry that emphasizes spinal feedback generates diverse behaviours of human locomotion. J. Physiol. https://doi.org/10.1113/JP270228 (2015).

Seáñez, I. & Capogrosso, M. Motor improvements enabled by spinal cord stimulation combined with physical training after spinal cord injury: review of experimental evidence in animals and humans. Bioelectron. Med. 7, 1–13 (2021).

Granat, M., Heller, B., Nicol, D., Baxendale, R. & Andrews, B. Improving limb flexion in FES gait using the flexion withdrawal response for the spinal cord injured person. J. Biomed. Eng. 15, 51–56 (1993).

Jenny, A. B. & Inukai, J. Principles of motor organization of the monkey cervical spinal cord. J. Neurosci. 3, 567–575 (1983).

National Research Council (US) Institute for Laboratory Animal Research. Guide for the Care and Use of Laboratory Animals (National Academies Press (US), 1996).

Mathis, A. et al. DeepLabCut: markerless pose estimation of user-defined body parts with deep learning. Nat. Neurosci. 21, 1281–1289 (2018).

Toossi, A. et al. Effect of anesthesia on motor responses evoked by spinal neural prostheses during intraoperative procedures. J. Neural Eng. 16, 036003 (2019).

Teulings, H.-L., Contreras-Vidal, J. L., Stelmach, G. E. & Adler, C. H. Parkinsonism reduces coordination of fingers, wrist, and arm in fine motor control. Exp. Neurol. 146, 159–170 (1997).

Gallego, J. A., Perich, M. G., Chowdhury, R. H., Solla, S. A. & Miller, L. E. Long-term stability of cortical population dynamics underlying consistent behavior. Nat. Neurosci. 23, 260–270 (2020).

Raspopovic, S., Capogrosso, M. & Micera, S. A computational model for the stimulation of rat sciatic nerve using a transverse intrafascicular multichannel electrode. IEEE Trans. Neural Syst. Rehabil. Eng. 19, 333–344 (2011).
Acknowledgements
We thank J. Maillard and L. Bossy for the care provided to the animals; E. Schmidlin and S. Borgognon for their help with anesthesia and surgery preparations; M. Badi for her help and advice during experiment preparations and experimental procedures; A. Zbinden for her contribution to the health survey of the monkeys; A. Gaillard and A. Francovich for their help with the implementation of the hardware; and students of the University of Fribourg A. Jeanneret, A. Jelusic, L. M. Jacquemet and S. Borra for their help in processing data. We acknowledge the financial support from the Wyss Center grant (no. WCP 008) to M.C., G.C. and T.M.; an industrial grant from GTX Medicals to G.C. and M.C; the Bertarelli Foundation (Catalyst Fund Grant to M.C. and T.M. and funds to S.L.); a Swiss National Science Foundation Ambizione Fellowship (no. 167912 to M.C.) and a Swiss National Science Foundation Doc-Mobility Grant (no. 188027 to B.B.); the European Union's Horizon 2020 research and innovation program under the Marie Skłodowska-Curie grant agreement no. 665667 (G.S.); the Swiss National Foundation grant no. BSCGI0_157800 (S.L.); a Whitaker International Scholars Program fellowship to M.G.P.; and an internal pilot grant of the University of Fribourg to M.C.
Ethics declarations
Competing interests
G.C., J.B., S.L., M.C., B.B. and K.Z. hold various patents in relation to the present work. G.C., S.L. and J.B. are founders and shareholders of Onwarrd Medical, a company developing an EES-based therapy to restore movement after spinal cord injury. M.C. is a founder and shareholder of Reach Neuro, Inc., a company developing spinal cord stimulation technologies for stroke. All other authors declare no competing interests.
Peer review
Peer review information
Nature Neuroscience thanks Sliman Bensmaia, Andrew Jackson and Arthur Prochazka for their contribution to the peer review of this work.
Additional information
Publisher's note Springer Nature remains neutral with regard to jurisdictional claims in published maps and institutional affiliations.
Supplementary information
About this article
Cite this article
Barra, B., Conti, S., Perich, M.G. et al. Epidural electrical stimulation of the cervical dorsal roots restores voluntary upper limb control in paralyzed monkeys. Nat Neurosci 25, 924–934 (2022). https://doi.org/10.1038/s41593-022-01106-5
Received:

Accepted:

Published:

Issue Date:

DOI: https://doi.org/10.1038/s41593-022-01106-5