Abstract
Characterizing cerebral contributions to individual variability in pain processing is crucial for personalized pain medicine, but has yet to be done. In the present study, we address this problem by identifying brain regions with high versus low interindividual variability in their relationship with pain. We trained idiographic pain-predictive models with 13 single-trial functional MRI datasets (n = 404, discovery set) and quantified voxel-level importance for individualized pain prediction. With 21 regions identified as important pain predictors, we examined the interindividual variability of local pain-predictive weights in these regions. Higher-order transmodal regions, such as ventromedial and ventrolateral prefrontal cortices, showed larger individual variability, whereas unimodal regions, such as somatomotor cortices, showed more stable pain representations across individuals. We replicated this result in an independent dataset (n = 124). Overall, our study identifies cerebral sources of individual differences in pain processing, providing potential targets for personalized assessment and treatment of pain.
This is a preview of subscription content
Access options
Subscribe to Nature+
Get immediate online access to the entire Nature family of 50+ journals
Subscribe to Journal
Get full journal access for 1 year
$59.00
only $4.92 per issue
All prices are NET prices.
VAT will be added later in the checkout.
Tax calculation will be finalised during checkout.
Buy article
Get time limited or full article access on ReadCube.
$32.00
All prices are NET prices.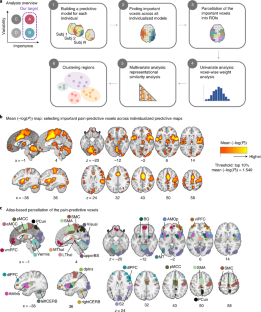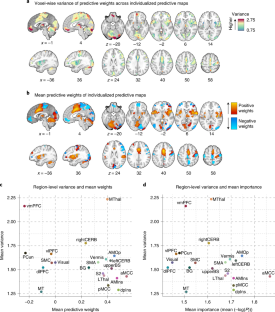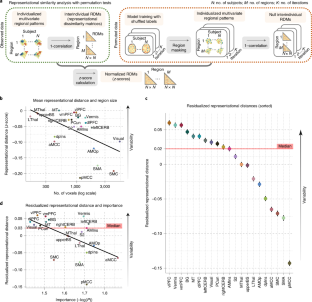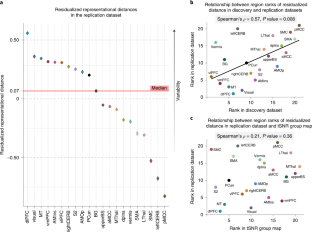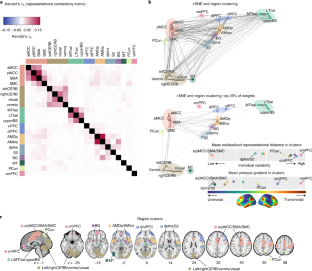 References
Coghill, R. C. The distributed nociceptive system: a framework for understanding pain. Trends Neurosci. https://doi.org/10.1016/j.tins.2020.07.004 (2020)

Tracey, I. & Mantyh, P. W. The cerebral signature for pain perception and its modulation. Neuron 55, 377–391 (2007).

Apkarian, A. V., Bushnell, M. C., Treede, R. D. & Zubieta, J. K. Human brain mechanisms of pain perception and regulation in health and disease. Eur. J. Pain 9, 463–484 (2005).

Xu, A. et al. Convergent neural representations of experimentally-induced acute pain in healthy volunteers: a large-scale fMRI meta-analysis. Neurosci. Biobehav Rev. 112, 300–323 (2020).

Kucyi, A. & Davis, K. D. The dynamic pain connectome. Trends Neurosci. 38, 86–95 (2015).

Greenspan, J. D., Lee, R. R. & Lenz, F. A. Pain sensitivity alterations as a function of lesion location in the parasylvian cortex. Pain 81, 273–282 (1999).

Greenspan, J. D. et al. Quantitative somatic sensory testing and functional imaging of the response to painful stimuli before and after cingulotomy for obsessive–compulsive disorder (OCD). Eur. J. Pain 12, 990–999 (2008).

Valet, M. et al. Distraction modulates connectivity of the cingulo-frontal cortex and the midbrain during. Pain 109, 399–408 (2004).

Berna, C. et al. Induction of depressed mood disrupts emotion regulation neurocircuitry and enhances pain unpleasantness. Biol. Psychiatry 67, 1083–1090 (2010).

López-Solà, M., Koban, L. & Wager, T. D. Transforming pain with prosocial meaning: an fMRI study. Psychosom. Med. 80, 814 (2018).

Losin, E. A. R. et al. Neural and sociocultural mediators of ethnic differences in pain. Nat. Hum. Behav. https://doi.org/10.1038/s41562-020-0819-8 (2020).

Hashmi, J. A. & Davis, K. D. Deconstructing sex differences in pain sensitivity. Pain 155, 10–13 (2014).

Raja, S. N. et al. The revised International Association for the Study of Pain definition of pain: concepts, challenges, and compromises. Pain 161, 1976–1982 (2020).

Gordon, E. M. et al. Precision functional mapping of individual human brains. Neuron 95, 791–807 (2017).

Laumann, T. O. et al. Functional system and areal organization of a highly sampled individual human brain. Neuron 87, 657–670 (2015).

Davis, K. D. et al. Discovery and validation of biomarkers to aid the development of safe and effective pain therapeutics: challenges and opportunities. Nat. Rev. Neurol. 16, 381–400 (2020).

Wager, T. D. et al. An fMRI-based neurologic signature of physical pain. N. Engl. J. Med. 368, 1388–1397 (2013).

Lee, J. J. et al. A neuroimaging biomarker for sustained experimental and clinical pain. Nat. Med. 27, 174–182 (2021).

Woo, C.-W. et al. Quantifying cerebral contributions to pain beyond nociception. Nat. Commun. 8, 14211 (2017).

Yeo, B. T. et al. The organization of the human cerebral cortex estimated by intrinsic functional connectivity. J. Neurophysiol. 106, 1125–1165 (2011).

Kragel, P. A., Koban, L., Barrett, L. F. & Wager, T. D. Representation, pattern information, and brain signatures: from neurons to neuroimaging. Neuron 99, 257–273 (2018).

Hong, Y. W., Yoo, Y., Han, J., Wager, T. D. & Woo, C. W. False-positive neuroimaging: undisclosed flexibility in testing spatial hypotheses allows presenting anything as a replicated finding. NeuroImage 195, 384–395 (2019).

Kriegeskorte, N., Mur, M. & Bandettini, P. Representational similarity analysis–connecting the branches of systems neuroscience. Front. Systems Neurosci. https://doi.org/10.3389/neuro.06.004.2008 (2008).

Margulies, D. S. et al. Situating the default-mode network along a principal gradient of macroscale cortical organization. Proc. Natl Acad. Sci. USA 113, 12574–12579 (2016).

Favilla, S. et al. Ranking brain areas encoding the perceived level of pain from fMRI data. NeuroImage 90, 153–162 (2014).

Kong, J. et al. Exploring the brain in pain: activations, deactivations and their relation. Pain 148, 257–267 (2010).

Senkowski, D., Hofle, M. & Engel, A. K. Crossmodal shaping of pain: a multisensory approach to nociception. Trends Cogn. Sci. 18, 319–327 (2014).

Elkhetali, A. S., Vaden, R. J., Pool, S. M. & Visscher, K. M. Early visual cortex reflects initiation and maintenance of task set. NeuroImage 107, 277–288 (2015).

Seminowicz, D. A. & Davis, K. D. Interactions of pain intensity and cognitive load: the brain stays on task. Cereb. Cortex 17, 1412–1422 (2007).

Dum, R. P., Levinthal, D. J. & Strick, P. L. The spinothalamic system targets motor and sensory areas in the cerebral cortex of monkeys. J. Neurosci. 29, 14223–14235 (2009).

Almeida, T. F., Roizenblatt, S. & Tufik, S. Afferent pain pathways: a neuroanatomical review. Brain Res. 1000, 40–56 (2004).

Shackman, A. J. et al. The integration of negative affect, pain and cognitive control in the cingulate cortex. Nat. Rev. Neurosci. 12, 154–167 (2011).

Tan, L. L. et al. A pathway from midcingulate cortex to posterior insula gates nociceptive hypersensitivity. Nat. Neurosci. 20, 1591–1601 (2017).

Kulkarni, B. et al. Attention to pain localization and unpleasantness discriminates the functions of the medial and lateral pain systems. Eur. J. Neurosci. 21, 3133–3142 (2005).

Hutchison, W. D., Davis, K. D., Lozano, A. M., Tasker, R. R. & Dostrovsky, J. O. Pain-related neurons in the human cingulate cortex. Nat. Neurosci. 2, 403–405 (1999).

Kragel, P. A. et al. Generalizable representations of pain, cognitive control, and negative emotion in medial frontal cortex. Nat. Neurosci. 21, 283 (2018).

Segerdahl, A. R., Mezue, M., Okell, T. W., Farrar, J. T. & Tracey, I. The dorsal posterior insula subserves a fundamental role in human pain. Nat. Neurosci. 18, 499–500 (2015).

Kross, E., Berman, M. G., Mischel, W., Smith, E. E. & Wager, T. D. Social rejection shares somatosensory representations with physical pain. Proc. Natl Acad. Sci. USA 108, 6270–6275 (2011).

Evrard, H. C., Logothetis, N. K. & Craig, A. D. Modular architectonic organization of the insula in the macaque monkey. J. Comp. Neurol. 522, 64–97 (2014).

Ashar, Y. K., Chang, L. J. & Wager, T. D. Brain mechanisms of the placebo effect: an affective appraisal account. Annu. Rev. Clin. Psychol. 13, 73–98 (2017).

Woo, C.-W., Roy, M., Buhle, J. T. & Wager, T. D. Distinct brain systems mediate the effects of nociceptive input and self-regulation on pain. PLoS Biol. 13, e1002036 (2015).

Seminowicz, D. A. & Davis, K. D. Cortical responses to pain in healthy individuals depends on pain catastrophizing. Pain 120, 297–306 (2006).

Tinnermann, A., Geuter, S., Sprenger, C., Finsterbusch, J. & Buchel, C. Interactions between brain and spinal cord mediate value effects in nocebo hyperalgesia. Science 358, 105–108 (2017).

Bonnici, H. M. & Maguire, E. A. Two years later—revisiting autobiographical memory representations in vmPFC and hippocampus. Neuropsychologia 110, 159–169 (2018).

Ciaramelli, E., De Luca, F., Monk, A. M., McCormick, C. & Maguire, E. A. What 'wins' in VMPFC: scenes, situations, or schema? Neurosci. Biobehav. Rev. 100, 208–210 (2019).

Zunhammer, M., Spisak, T., Wager, T. D. & Bingel, U., Placebo Imaging Consortium. Meta-analysis of neural systems underlying placebo analgesia from individual participant fMRI data. Nat. Commun. 12, 1391 (2021).

Claassen, J. et al. Cerebellum is more concerned about visceral than somatic pain. J. Neurol. Neurosurg. Psychiatry 91, 218–219 (2020).

Huntenburg, J. M., Bazin, P. L. & Margulies, D. S. Large-scale gradients in human cortical organization. Trends Cogn. Sci. 22, 21–23 (2018).

Finn, E. S. et al. Functional connectome fingerprinting: identifying individuals using patterns of brain connectivity. Nat. Neurosci. 18, 1664 (2015).

Farrell, S. M., Green, A. & Aziz, T. The current state of deep brain stimulation for chronic pain and its context in other forms of neuromodulation. Brain Sci. 8, 158https://doi.org/10.3390/brainsci8080158 (2018).

Yang, S. & Chang, M. C. Effect of repetitive transcranial magnetic stimulation on pain management: a systematic narrative review. Front. Neurol. 11, 114 (2020).

Zhang, S. et al. Pain control by co-adaptive learning in a brain-machine interface. Curr. Biol. 30, 3935–3944.e3937 (2020).

Meloto, C. B. et al. Human pain genetics database: a resource dedicated to human pain genetics research. Pain 159, 749–763 (2018).

Kohl, A., Rief, W. & Glombiewski, J. A. Acceptance, cognitive restructuring, and distraction as coping strategies for acute pain. J. Pain 14, 305–315 (2013).

Coghill, R. C., McHaffie, J. G. & Yen, Y. F. Neural correlates of interindividual differences in the subjective experience of pain. Proc. Natl Acad. Sci. USA 100, 8538–8542 (2003).

Mehta, S. et al. Identification and characterization of unique subgroups of chronic pain individuals with dispositional personality traits. Pain Res. Manag. https://doi.org/10.1155/2016/5187631 (2016).

Haxby, J. V. et al. A common, high-dimensional model of the representational space in human ventral temporal cortex. Neuron 72, 404–416 (2011).

Coghill, R. C., Gilron, I. & Iadarola, M. J. Hemispheric lateralization of somatosensory processing. J. Neurophysiol. 85, 2602–2612 (2001).

Pruim, R. H. R. et al. ICA-AROMA: a robust ICA-based strategy for removing motion artifacts from fMRI data. NeuroImage 112, 267–277 (2015).

Atlas, L. Y., Bolger, N., Lindquist, M. A. & Wager, T. D. Brain mediators of predictive cue effects on perceived pain. J. Neurosci. 30, 12964–12977 (2010).

Atlas, L. Y., Lindquist, M. A., Bolger, N. & Wager, T. D. Brain mediators of the effects of noxious heat on pain. Pain 155, 1632–1648 (2014).

Wager, T. D. & Nichols, T. E. Optimization of experimental design in fMRI: a general framework using a genetic algorithm. NeuroImage 18, 293–309 (2003).

Lindquist, M. A. & Gelman, A. Correlations and multiple comparisons in functional imaging: a statistical perspective (Commentary on Vul et al., 2009). Perspect. Psychol. Sci. 4, 310–313 (2009).

Diedrichsen, J., Balsters, J. H., Flavell, J., Cussans, E. & Ramnani, N. A probabilistic MR atlas of the human cerebellum. NeuroImage 46, 39–46 (2009).

Shattuck, D. W. et al. Construction of a 3D probabilistic atlas of human cortical structures. NeuroImage 39, 1064–1080 (2008).

Wager, T. D., Scott, D. J. & Zubieta, J. K. Placebo effects on human mu-opioid activity during pain. Proc. Natl Acad. Sci. USA 104, 11056–11061 (2007).

Wager, T. D., Davidson, M. L., Hughes, B. L., Lindquist, M. A. & Ochsner, K. N. Prefrontal–subcortical pathways mediating successful emotion regulation. Neuron 59, 1037–1050 (2008).

Szucs, D. & Ioannidis, J. P. Sample size evolution in neuroimaging research: an evaluation of highly-cited studies (1990–2012) and of latest practices (2017–2018) in high-impact journals. NeuroImage 221, 117164 (2020).
Acknowledgements
This work was supported by a grant from the Institute for Basic Science (no. IBS-R015-D1 to C.W.W.), the National Research Foundation of Korea (grant nos. 2019R1C1C1004512, 2021M3E5D2A01022515 and 2021M3A9E4080780 to C.W.W.), the KIST Institutional Program (grant no. 2E30410-20-085 to C.-W.W.) and grant nos. NIMH R01 MH076136, NIDA R01 DA046064, NIBIB R01EB026549 and NIDA R01DA035484 to T.D.W.
Ethics declarations
Competing interests
The authors declare no competing interests.
Peer review
Peer review information
Nature Neuroscience thanks Anthony Jones, Markus Ploner and Monica Rosenberg for their contribution to the peer review of this work.
Additional information
Publisher's note Springer Nature remains neutral with regard to jurisdictional claims in published maps and institutional affiliations.
Supplementary information
Supplementary Figs. 1–5, Tables 1–4.
About this article
Cite this article
Kohoutová, L., Atlas, L.Y., Büchel, C. et al. Individual variability in brain representations of pain. Nat Neurosci 25, 749–759 (2022). https://doi.org/10.1038/s41593-022-01081-x
Received:

Accepted:

Published:

Issue Date:

DOI: https://doi.org/10.1038/s41593-022-01081-x