Abstract
Sleep disturbances frequently occur in neurodevelopmental disorders such as autism, but the developmental role of sleep is largely unexplored, and a causal relationship between developmental sleep defects and behavioral consequences in adulthood remains elusive. Here, we show that in mice, sleep disruption (SD) in adolescence, but not in adulthood, causes long-lasting impairment in social novelty preference. Furthermore, adolescent SD alters the activation and release patterns of dopaminergic neurons in the ventral tegmental area (VTA) in response to social novelty. This developmental sleep function is mediated by balanced VTA activity during adolescence; chemogenetic excitation mimics, whereas silencing rescues, the social deficits of adolescent SD. Finally, we show that in Shank3-mutant mice, improving sleep or rectifying VTA activity during adolescence ameliorates adult social deficits. Together, our results identify a critical role of sleep and dopaminergic activity in the development of social interaction behavior.
This is a preview of subscription content
Access options
Subscribe to Nature+
Get immediate online access to the entire Nature family of 50+ journals
Subscribe to Journal
Get full journal access for 1 year
$59.00
only $4.92 per issue
All prices are NET prices.
VAT will be added later in the checkout.
Tax calculation will be finalised during checkout.
Buy article
Get time limited or full article access on ReadCube.
$32.00
All prices are NET prices.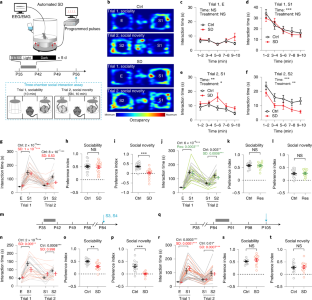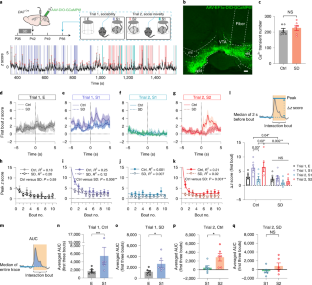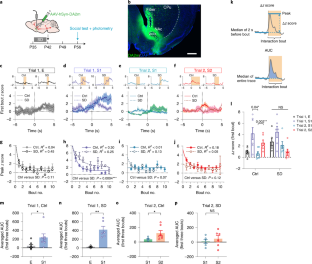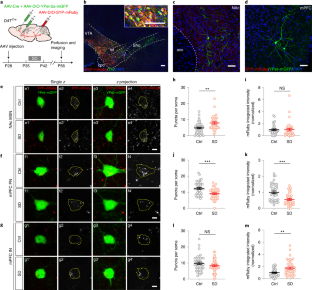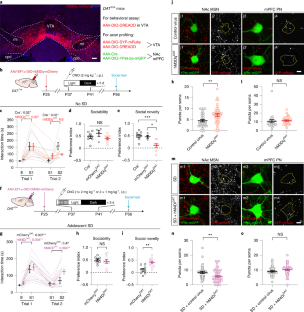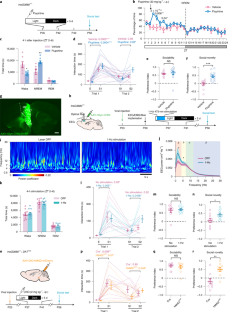 Data availability
The data that support the findings of this study are available within this paper and its Supplementary Information. Source data are provided with this paper.
Code availability
All custom code used in this study is available from the corresponding authors upon reasonable request.
References
Frank, M. G. & Heller, H. C. The function(s) of sleep. Handb. Exp. Pharmacol. 253, 3–34 (2019).

Anafi, R. C., Kayser, M. S. & Raizen, D. M. Exploring phylogeny to find the function of sleep. Nat. Rev. Neurosci. 20, 109–116 (2019).

Tononi, G. & Cirelli, C. Sleep and the price of plasticity: from synaptic and cellular homeostasis to memory consolidation and integration. Neuron 81, 12–34 (2014).

Huber, R. & Born, J. Sleep, synaptic connectivity, and hippocampal memory during early development. Trends Cogn. Sci. 18, 141–152 (2014).

Campbell, I. G. & Feinberg, I. Longitudinal trajectories of non-rapid eye movement delta and theta EEG as indicators of adolescent brain maturation. Proc. Natl Acad. Sci. USA 106, 5177–5180 (2009).

de Vivo, L. et al. Developmental patterns of sleep slow wave activity and synaptic density in adolescent mice. Sleep 37, 689–700 (2014).

Timofeev, I. et al. Spatio-temporal properties of sleep slow waves and implications for development. Curr. Opin. Physiol. 15, 172–182 (2020).

Frank, M. G., Issa, N. P. & Stryker, M. P. Sleep enhances plasticity in the developing visual cortex. Neuron 30, 275–287 (2001).

Dumoulin Bridi, M. C. et al. Rapid eye movement sleep promotes cortical plasticity in the developing brain. Sci. Adv. 1, e1500105 (2015).

Shaffery, J. P., Lopez, J., Bissette, G. & Roffwarg, H. P. Rapid eye movement sleep deprivation revives a form of developmentally regulated synaptic plasticity in the visual cortex of post-critical period rats. Neurosci. Lett. 391, 96–101 (2006).

Shaffery, J. P., Sinton, C. M., Bissette, G., Roffwarg, H. P. & Marks, G. A. Rapid eye movement sleep deprivation modifies expression of long-term potentiation in visual cortex of immature rats. Neuroscience 110, 431–443 (2002).

Maret, S., Faraguna, U., Nelson, A. B., Cirelli, C. & Tononi, G. Sleep and waking modulate spine turnover in the adolescent mouse cortex. Nat. Neurosci. 14, 1418–1420 (2011).

Yang, G. et al. Sleep promotes branch-specific formation of dendritic spines after learning. Science 344, 1173–1178 (2014).

Li, W., Ma, L., Yang, G. & Gan, W. B. REM sleep selectively prunes and maintains new synapses in development and learning. Nat. Neurosci. 20, 427–437 (2017).

de Vivo, L. et al. Ultrastructural evidence for synaptic scaling across the wake/sleep cycle. Science 355, 507–510 (2017).

Kaskie, R. E., Graziano, B. & Ferrarelli, F. Schizophrenia and sleep disorders: links, risks, and management challenges. Nat. Sci. Sleep. 9, 227–239 (2017).

Veatch, O. J. et al. Shorter sleep duration is associated with social impairment and comorbidities in ASD. Autism Res. 10, 1221–1238 (2017).

Mattai, A. A. et al. Sleep disturbances in childhood-onset schizophrenia. Schizophr. Res. 86, 123–129 (2006).

Robinson-Shelton, A. & Malow, B. A. Sleep disturbances in neurodevelopmental disorders. Curr. Psychiatry Rep. 18, 6 (2016).

Carmassi, C. et al. Systematic review of sleep disturbances and circadian sleep desynchronization in autism spectrum disorder: toward an integrative model of a self-reinforcing loop. Front. Psychiatry 10, 366 (2019).

Esbensen, A. J. & Schwichtenberg, A. J. Sleep in neurodevelopmental disorders. Int. Rev. Res. Dev. Disabil. 51, 153–191 (2016).

Bissonette, G. B. & Roesch, M. R. Development and function of the midbrain dopamine system: what we know and what we need to. Genes Brain Behav. 15, 62–73 (2016).

Marotta, R. et al. The neurochemistry of autism. Brain Sci. 10, 163 (2020).

Chevallier, C., Kohls, G., Troiani, V., Brodkin, E. S. & Schultz, R. T. The social motivation theory of autism. Trends Cogn. Sci. 16, 231–239 (2012).

Paval, D. A dopamine hypothesis of autism spectrum disorder. Dev. Neurosci. 39, 355–360 (2017).

Ernst, M., Zametkin, A. J., Matochik, J. A., Pascualvaca, D. & Cohen, R. M. Low medial prefrontal dopaminergic activity in autistic children. Lancet 350, 638 (1997).

Eban-Rothschild, A., Rothschild, G., Giardino, W. J., Jones, J. R. & de Lecea, L. VTA dopaminergic neurons regulate ethologically relevant sleep-wake behaviors. Nat. Neurosci. 19, 1356–1366 (2016).

Lena, I. et al. Variations in extracellular levels of dopamine, noradrenaline, glutamate, and aspartate across the sleep–wake cycle in the medial prefrontal cortex and nucleus accumbens of freely moving rats. J. Neurosci. Res. 81, 891–899 (2005).

Dahan, L. et al. Prominent burst firing of dopaminergic neurons in the ventral tegmental area during paradoxical sleep. Neuropsychopharmacology 32, 1232–1241 (2007).

Yu, X. et al. GABA and glutamate neurons in the VTA regulate sleep and wakefulness. Nat. Neurosci. 22, 106–119 (2019).

Oishi, Y. et al. Activation of ventral tegmental area dopamine neurons produces wakefulness through dopamine D2-like receptors in mice. Brain Struct. Funct. 222, 2907–2915 (2017).

Bariselli, S. et al. Role of VTA dopamine neurons and neuroligin 3 in sociability traits related to nonfamiliar conspecific interaction. Nat. Commun. 9, 3173 (2018).

Gunaydin, L. A. et al. Natural neural projection dynamics underlying social behavior. Cell 157, 1535–1551 (2014).

Zimprich, A. et al. A robust and reliable non-invasive test for stress responsivity in mice. Front. Behav. Neurosci. 8, 125 (2014).

Nakajima, M., Gorlich, A. & Heintz, N. Oxytocin modulates female sociosexual behavior through a specific class of prefrontal cortical interneurons. Cell 159, 295–305 (2014).

Li, K., Nakajima, M., Ibanez-Tallon, I. & Heintz, N. A cortical circuit for sexually dimorphic oxytocin-dependent anxiety behaviors. Cell 167, 60–72 (2016).

Cao, W. et al. Gamma oscillation dysfunction in mPFC leads to social deficits in neuroligin 3 R451C knockin mice. Neuron 97, 1253–1260 (2018).

Liu, L. et al. Cell type-differential modulation of prefrontal cortical GABAergic interneurons on low gamma rhythm and social interaction. Sci. Adv. 6, eaay4073 (2020).

Huang, W. C., Zucca, A., Levy, J. & Page, D. T. Social behavior is modulated by valence-encoding mPFC–amygdala sub-circuitry. Cell Rep. 32, 107899 (2020).

Yamamuro, K. et al. A prefrontal–paraventricular thalamus circuit requires juvenile social experience to regulate adult sociability in mice. Nat. Neurosci. 23, 1240–1252 (2020).

Dolen, G., Darvishzadeh, A., Huang, K. W. & Malenka, R. C. Social reward requires coordinated activity of nucleus accumbens oxytocin and serotonin. Nature 501, 179–184 (2013).

Sun, F. et al. Next-generation GRAB sensors for monitoring dopaminergic activity in vivo. Nat. Methods 17, 1156–1166 (2020).

Liu, C., Goel, P. & Kaeser, P. S. Spatial and temporal scales of dopamine transmission. Nat. Rev. Neurosci. 22, 345–358 (2021).

Wiedenmann, B. & Franke, W. W. Identification and localization of synaptophysin, an integral membrane glycoprotein of Mr 38,000 characteristic of presynaptic vesicles. Cell 41, 1017–1028 (1985).

Zhou, Y. et al. Mice with Shank3 mutations associated with ASD and schizophrenia display both shared and distinct defects. Neuron 89, 147–162 (2016).

Szelenyi, I. Flupirtine, a re-discovered drug, revisited. Inflamm. Res. 62, 251–258 (2013).

Li, S. B. et al. Hyperexcitable arousal circuits drive sleep instability during aging. Science 375, eabh3021 (2022).

Li, S. B., Nevarez, N., Giardino, W. J. & de Lecea, L. Optical probing of orexin/hypocretin receptor antagonists. Sleep 41, zsy141 (2018).

Adamantidis, A. R., Zhang, F., Aravanis, A. M., Deisseroth, K. & de Lecea, L. Neural substrates of awakening probed with optogenetic control of hypocretin neurons. Nature 450, 420–424 (2007).

Li, S. B., Giardino, W. J. & de Lecea, L. in Current Topics in Behavioral Neurosciences, Vol. 33 (eds Lawrence, A. & de Lecea, L.) 93–104 (Springer, 2016).

Schoch, S. F. et al. Across-night dynamics in traveling sleep slow waves throughout childhood. Sleep 41, zsy165 (2018).

Wisor, J. P., Rempe, M. J., Schmidt, M. A., Moore, M. E. & Clegern, W. C. Sleep slow-wave activity regulates cerebral glycolytic metabolism. Cereb. Cortex 23, 1978–1987 (2013).

Bhatt, D. H., Zhang, S. & Gan, W. B. Dendritic spine dynamics. Annu. Rev. Physiol. 71, 261–282 (2009).

Bian, W. J., Miao, W. Y., He, S. J., Qiu, Z. & Yu, X. Coordinated spine pruning and maturation mediated by inter-spine competition for cadherin/catenin complexes. Cell 162, 808–822 (2015).

Moyer, C. E. & Zuo, Y. Cortical dendritic spine development and plasticity: insights from in vivo imaging. Curr. Opin. Neurobiol. 53, 76–82 (2018).

Laviola, G., Macri, S., Morley-Fletcher, S. & Adriani, W. Risk-taking behavior in adolescent mice: psychobiological determinants and early epigenetic influence. Neurosci. Biobehav. Rev. 27, 19–31 (2003).

Kurth, S. et al. Traveling slow oscillations during sleep: a marker of brain connectivity in childhood. Sleep 40, zsx121 (2017).

Buchmann, A. et al. EEG sleep slow-wave activity as a mirror of cortical maturation. Cereb. Cortex 21, 607–615 (2011).

Kim, H. J. et al. Systematic analysis of expression signatures of neuronal subpopulations in the VTA. Mol. Brain 12, 110 (2019).

Krishnan, V. et al. Autism gene Ube3a and seizures impair sociability by repressing VTA Cbln1. Nature 543, 507–512 (2017).

Woolley, C. S. & McEwen, B. S. Roles of estradiol and progesterone in regulation of hippocampal dendritic spine density during the estrous cycle in the rat. J. Comp. Neurol. 336, 293–306 (1993).

Makinodan, M., Rosen, K. M., Ito, S. & Corfas, G. A critical period for social experience-dependent oligodendrocyte maturation and myelination. Science 337, 1357–1360 (2012).

Li, S. B. et al. Hypothalamic circuitry underlying stress-induced insomnia and peripheral immunosuppression. Sci. Adv. 6, eabc2590 (2020).

Beier, K. T. et al. Circuit architecture of VTA dopamine neurons revealed by systematic input–output mapping. Cell 162, 622–634 (2015).

Yu, H. et al. Social touch-like tactile stimulation activates a tachykinin 1–oxytocin pathway to promote social interactions. Neuron 110, 1051–1067 (2022).

Nguyen, A. W. & Daugherty, P. S. Evolutionary optimization of fluorescent proteins for intracellular FRET. Nat. Biotechnol. 23, 355–360 (2005).

Zacharias, D. A., Violin, J. D., Newton, A. C. & Tsien, R. Y. Partitioning of lipid-modified monomeric GFPs into membrane microdomains of live cells. Science 296, 913–916 (2002).

Chan, K. Y. et al. Engineered AAVs for efficient noninvasive gene delivery to the central and peripheral nervous systems. Nat. Neurosci. 20, 1172–1179 (2017).

Gomez, J. L. et al. Chemogenetics revealed: DREADD occupancy and activation via converted clozapine. Science 357, 503–507 (2017).

Kaidanovich-Beilin, O., Lipina, T., Vukobradovic, I., Roder, J. & Woodgett, J. R. Assessment of social interaction behaviors. J. Vis. Exp. https://doi.org/10.3791/2473 (2011).

Winslow, J. T. Mouse social recognition and preference. Curr. Protoc. Neurosci. Chapter 8, Unit 8.16 (2003).

Rolls, A. et al. Optogenetic disruption of sleep continuity impairs memory consolidation. Proc. Natl Acad. Sci. USA 108, 13305–13310 (2011).

Walf, A. A. & Frye, C. A. The use of the elevated plus maze as an assay of anxiety-related behavior in rodents. Nat. Protoc. 2, 322–328 (2007).

Giardino, W. J. et al. Parallel circuits from the bed nuclei of stria terminalis to the lateral hypothalamus drive opposing emotional states. Nat. Neurosci. 21, 1084–1095 (2018).

Ungless, M. A. & Grace, A. A. Are you or aren't you? Challenges associated with physiologically identifying dopamine neurons. Trends Neurosci. 35, 422–430 (2012).

Olivier Friard, M. G. BORIS: a free, versatile open-source event-logging software for video/audio coding and live observations. Methods Ecol. Evolution 7, 1325–1330 (2016).

Scheffzuk, C. et al. Selective coupling between theta phase and neocortical fast gamma oscillations during REM-sleep in mice. PLoS ONE 6, e28489 (2011).

Hung, L. W. et al. Gating of social reward by oxytocin in the ventral tegmental area. Science 357, 1406–1411 (2017).

Sgritta, M. et al. Mechanisms underlying microbial-mediated changes in social behavior in mouse models of autism spectrum disorder. Neuron 101, 246–259 (2019).
Acknowledgements
We thank G. Feng and J. Ding for transgenic mice and X. Yu for constructs. We thank A. Khan, K.J. Jennings, K.R. Murphy and Y. Sun for assistance. We thank A. Olson and G. Wang and the Stanford Wu Tsai Neuroscience Microscopy Service (NIH NS069375) for technical support. We thank Merck for providing the DORA12 compound. We acknowledge all lab members of the L.d.L. lab for critical feedback. This work was supported by Human Frontier Science Program fellowship LT000338/2017-L (W.-J.B.), Brain & Behavior Research Foundation NARSAD Young Investigator grant 29952 (W.-J.B.) and National Institutes of Health grants R01 MH102638 (L.d.L.), R01 MH087592 (L.d.L.), R01 MH116470 (L.d.L.), R01 DA011289 (J.A.K.), F32 NS123008 (C.L.B) and 5T32DA035165-08 (C.L.B).
Ethics declarations
Competing interests
The authors declare no competing interests.
Peer review
Peer review information
Nature Neuroscience thanks Shlomo Wagner, William Wisden, and the other, anonymous, reviewer(s) for their contribution to the peer review of this work.
Additional information
Publisher's note Springer Nature remains neutral with regard to jurisdictional claims in published maps and institutional affiliations.
Supplementary information
Supplementary Table 1. Statistical details of tests used in Figs. 1–6.
About this article
Cite this article
Bian, WJ., Brewer, C.L., Kauer, J.A. et al. Adolescent sleep shapes social novelty preference in mice. Nat Neurosci (2022). https://doi.org/10.1038/s41593-022-01076-8
Received:

Accepted:

Published:

DOI: https://doi.org/10.1038/s41593-022-01076-8
Further reading
Nature Neuroscience (2022)