Abstract
Microglial function declines during aging. The interaction of microglia with the gut microbiota has been well characterized during development and adulthood but not in aging. Here, we compared microglial transcriptomes from young-adult and aged mice housed under germ-free and specific pathogen-free conditions and found that the microbiota influenced aging associated-changes in microglial gene expression. The absence of gut microbiota diminished oxidative stress and ameliorated mitochondrial dysfunction in microglia from the brains of aged mice. Unbiased metabolomic analyses of serum and brain tissue revealed the accumulation of N6-carboxymethyllysine (CML) in the microglia of the aging brain. CML mediated a burst of reactive oxygen species and impeded mitochondrial activity and ATP reservoirs in microglia. We validated the age-dependent rise in CML levels in the sera and brains of humans. Finally, a microbiota-dependent increase in intestinal permeability in aged mice mediated the elevated levels of CML. This study adds insight into how specific features of microglia from aged mice are regulated by the gut microbiota.
Relevant articles
Open Access articles citing this article.
Tatsuyuki Matsudaira

,

Sosuke Nakano

…

Eiji Hara

Communications Biology Open Access 23 June 2023

Ignazio Antignano

,

Yingxiao Liu

…

Melania Capasso

Cellular and Molecular Life Sciences Open Access 21 April 2023

Xulei Yuan

,

Fuyuan Zhou

…

Jinlin Song

International Journal of Oral Science Open Access 12 January 2023
Access options
Access Nature and 54 other Nature Portfolio journals
Get Nature+, our best-value online-access subscription
$29.99 / 30 days
cancel any time
Subscribe to this journal
Receive 12 print issues and online access
$209.00 per year
only $17.42 per issue
Rent or buy this article
Prices vary by article type
from$1.95
to$39.95
Prices may be subject to local taxes which are calculated during checkout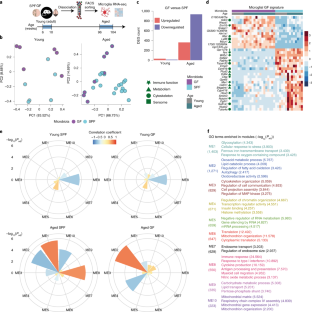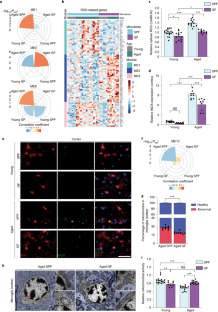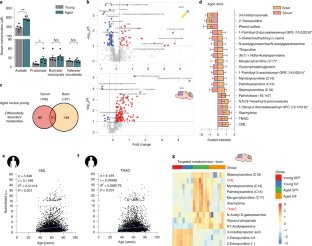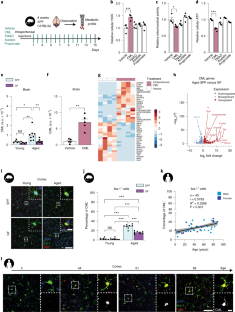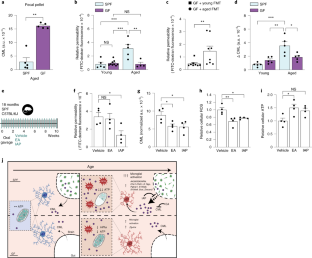 References
Prinz, M., Masuda, T., Wheeler, M. A. & Quintana, F. J. Microglia and central nervous system-associated macrophages—from origin to disease modulation. Annu. Rev. Immunol. 39, 251–277 (2021).

Salter, M. W. & Beggs, S. Sublime microglia: expanding roles for the guardians of the CNS. Cell 158, 15–24 (2014).

Streit, W. J., Sammons, N. W., Kuhns, A. J. & Sparks, D. L. Dystrophic microglia in the aging human brain. Glia 45, 208–212 (2004).

Johnson, K. V. & Foster, K. R. Why does the microbiome affect behaviour? Nat. Rev. Microbiol. 16, 647–655 (2018).

Erny, D. et al. Host microbiota constantly control maturation and function of microglia in the CNS. Nat. Neurosci. 18, 965–977 (2015).

Matcovitch-Natan, O. et al. Microglia development follows a stepwise program to regulate brain homeostasis. Science 353, aad8670 (2016).

Thion, M. S. et al. Microbiome influences prenatal and adult microglia in a sex-specific manner. Cell 172, 500–516.e516 (2018).

Abdel-Haq, R., Schlachetzki, J. C. M., Glass, C. K. & Mazmanian, S. K. Microbiome–microglia connections via the gut–brain axis. J. Exp. Med. 216, 41–59 (2019).

Mossad, O. & Blank, T. Getting on in old age: how the gut microbiota interferes with brain innate immunity. Front. Cell. Neurosci. 15, 698126 (2021).

Lakshminarayanan, B., Stanton, C., O'Toole, P. W. & Ross, R. P. Compositional dynamics of the human intestinal microbiota with aging: implications for health. J. Nutr. Health Aging 18, 773–786 (2014).

O'Toole, P. W. & Jeffery, I. B. Gut microbiota and aging. Science 350, 1214–1215 (2015).

Langille, M. G. et al. Microbial shifts in the aging mouse gut. Microbiome 2, 50 (2014).

Boehme, M. et al. Microbiota from young mice counteracts selective age-associated behavioral deficits. Nat. Aging 1, 666–676 (2021).

Mossad, O. et al. Microbiota-dependent increase in δ-valerobetaine alters neuronal function and is responsible for age-related cognitive decline. Nat. Aging 1, 1127–1136 (2021).

Uchimura, Y. et al. Antibodies set boundaries limiting microbial metabolite penetration and the resultant mammalian host response. Immunity 49, 545–559.e5 (2018).

Tremblay, M.-È., Zettel, M. L., Ison, J. R., Allen, P. D. & Majewska, A. K. Effects of aging and sensory loss on glial cells in mouse visual and auditory cortices. Glia 60, 541–558 (2012).

Langfelder, P. & Horvath, S. WGCNA: an R package for weighted correlation network analysis. BMC Bioinformatics 9, 559 (2008).

Baker, D. J. et al. Clearance of p16Ink4a-positive senescent cells delays ageing-associated disorders. Nature 479, 232–236 (2011).

Streit, W. J. Microglial senescence: does the brain's immune system have an expiration date? Trends Neurosci. 29, 506–510 (2006).

Sun, J., Druhan, L. J. & Zweier, J. L. Reactive oxygen and nitrogen species regulate inducible nitric oxide synthase function shifting the balance of nitric oxide and superoxide production. Arch. Biochem. Biophys. 494, 130–137 (2010).

Zhao, K., Huang, Z., Lu, H., Zhou, J. & Wei, T. Induction of inducible nitric oxide synthase increases the production of reactive oxygen species in RAW264.7 macrophages. Biosci. Rep. 30, 233–241 (2010).

Stefanatos, R. & Sanz, A. The role of mitochondrial ROS in the aging brain. FEBS Lett. 592, 743–758 (2018).

Gomes, A. P. et al. Declining NAD+ induces a pseudohypoxic state disrupting nuclear-mitochondrial communication during aging. Cell 155, 1624–1638 (2013).

López-Otín, C., Blasco, M. A., Partridge, L., Serrano, M. & Kroemer, G. The hallmarks of aging. Cell 153, 1194–1217 (2013).

Shi, H. et al. A fiber-deprived diet causes cognitive impairment and hippocampal microglia-mediated synaptic loss through the gut microbiota and metabolites. Microbiome 9, 223 (2021).

Thangthaeng, N., Sumien, N. & Forster, M. J. Dissociation of functional status from accrual of CML and RAGE in the aged mouse brain. Exp. Gerontol. 43, 1077–1085 (2008).

Ke, Y. et al. Gut flora-dependent metabolite trimethylamine-N-oxide accelerates endothelial cell senescence and vascular aging through oxidative stress. Free Radic. Biol. Med. 116, 88–100 (2018).

Colombo, A. V. et al. Microbiota-derived short chain fatty acids modulate microglia and promote Aβ plaque deposition. eLife 10, e59826 (2021).

Erny, D. et al. Microbiota-derived acetate enables the metabolic fitness of the brain innate immune system during health and disease. Cell Metab. 33, 2260–2276.e7 (2021).

Mezö, C. et al. Different effects of constitutive and induced microbiota modulation on microglia in a mouse model of Alzheimer's disease. Acta Neuropathol. Commun. 8, 119 (2020).

Tessier, F. J. et al. Quantitative assessment of organ distribution of dietary protein-bound 13C-labeled Nɛ-carboxymethyllysine after a chronic oral exposure in mice. Mol. Nutr. Food Res. 60, 2446–2456 (2016).

Mariat, D. et al. The Firmicutes/Bacteroidetes ratio of the human microbiota changes with age. BMC Microbiol. 9, 123 (2009).

Hayes, C. L. et al. Commensal microbiota induces colonic barrier structure and functions that contribute to homeostasis. Sci. Rep. 8, 14184 (2018).

Thevaranjan, N. et al. Age-associated microbial dysbiosis promotes intestinal permeability, systemic inflammation, and macrophage dysfunction. Cell Host Microbe 21, 455–466.e4 (2017).

Raghu, G., Jakhotia, S., Yadagiri Reddy, P., Kumar, P. A. & Bhanuprakash Reddy, G. Ellagic acid inhibits non-enzymatic glycation and prevents proteinuria in diabetic rats. Food Funct. 7, 1574–1583 (2016).

Kühn, F. et al. Intestinal alkaline phosphatase targets the gut barrier to prevent aging. JCI Insight 5, e134049 (2020).

Singh, S. B., Carroll-Portillo, A., Coffman, C., Ritz, N. L. & Lin, H. C. Intestinal alkaline phosphatase exerts anti-inflammatory effects against lipopolysaccharide by inducing autophagy. Sci. Rep. 10, 3107 (2020).

Grabert, K. et al. Microglial brain region-dependent diversity and selective regional sensitivities to aging. Nat. Neurosci. 19, 504–516 (2016).

Hammond, T. R. et al. Single-cell RNA sequencing of microglia throughout the mouse lifespan and in the injured brain reveals complex cell-state changes. Immunity 50, 253–271.e6 (2019).

Koellhoffer, E. C., McCullough, L. D. & Ritzel, R. M. Old maids: aging and its impact on microglia function. Int. J. Mol. Sci. 18, 769 (2017).

Kettenmann, H., Kirchhoff, F. & Verkhratsky, A. Microglia: new roles for the synaptic stripper. Neuron 77, 10–18 (2013).

Guo, C., Sun, L., Chen, X. & Zhang, D. Oxidative stress, mitochondrial damage and neurodegenerative diseases. Neural Regen. Res. 8, 2003–2014 (2013).

Enciu, A.-M., Gherghiceanu, M. & Popescu, B. O. Triggers and effectors of oxidative stress at blood–brain barrier level: relevance for brain ageing and neurodegeneration. Oxid. Med. Cell. Longev. 2013, 297512 (2013).

Luceri, C. et al. Aging related changes in circulating reactive oxygen species (ROS) and protein carbonyls are indicative of liver oxidative injury. Toxicol. Rep. 5, 141–145 (2018).

Cramer, T. et al. HIF-1α is essential for myeloid cell-mediated inflammation. Cell 112, 645–657 (2003).

Wenzel, T. J., Gates, E. J., Ranger, A. L. & Klegeris, A. Short-chain fatty acids (SCFAs) alone or in combination regulate select immune functions of microglia-like cells. Mol. Cell. Neurosci. 105, 103493 (2020).

Basta, G. et al. Advanced glycation end products activate endothelium through signal-transduction receptor RAGE: a mechanism for amplification of inflammatory responses. Circulation 105, 816–822 (2002).

Dyer, D. G. et al. Accumulation of Maillard reaction products in skin collagen in diabetes and aging. J. Clin. Invest. 91, 2463–2469 (1993).

Gironès, X. et al. Nϵ-carboxymethyllysine in brain aging, diabetes mellitus, and Alzheimer's disease. Free Radic. Biol. Med. 36, 1241–1247 (2004).

Wong, A. et al. Advanced glycation endproducts co-localize with inducible nitric oxide synthase in Alzheimer's disease. Brain Res. 920, 32–40 (2001).

Xue, J. et al. Advanced glycation end product recognition by the receptor for AGEs. Structure 19, 722–732 (2011).

Spychala, M. S. et al. Age-related changes in the gut microbiota influence systemic inflammation and stroke outcome. Ann. Neurol. 84, 23–36 (2018).

Vaiserman, A. et al. Differences in the gut Firmicutes to Bacteroidetes ratio across age groups in healthy Ukrainian population. BMC Microbiol. 20, 221 (2020).

Hu, S. et al. Anti-inflammation effects of fucosylated chondroitin sulphate from Acaudina molpadioides by altering gut microbiota in obese mice. Food Funct. 10, 1736–1746 (2019).

Long, T. et al. Whole-genome sequencing identifies common-to-rare variants associated with human blood metabolites. Nat. Genet. 49, 568–578 (2017).

Afgan, E. et al. The Galaxy platform for accessible, reproducible and collaborative biomedical analyses: 2018 update. Nucleic Acids Res. 46, W537–W544 (2018).

Jordão, M. J. C. et al. Single-cell profiling identifies myeloid cell subsets with distinct fates during neuroinflammation. Science 363, eaat7554 (2019).

Yilmaz, B. et al. Microbial network disturbances in relapsing refractory Crohn's disease. Nat. Med. 25, 323–336 (2019).

Caporaso, J. G. et al. QIIME allows analysis of high-throughput community sequencing data. Nat. Methods 7, 335–336 (2010).

McMurdie, P. J. & Holmes, S. Phyloseq: a Bioconductor package for handling and analysis of high-throughput phylogenetic sequence data. Pac. Symp. Biocomput. 235–246 (2012).

Callahan, B. J., Sankaran, K., Fukuyama, J. A., McMurdie, P. J. & Holmes, S. P. Bioconductor workflow for microbiome data analysis: from raw reads to community analyses. F1000Res. 5, 1492 (2016).

Evans, A. M., DeHaven, C. D., Barrett, T., Mitchell, M. & Milgram, E. Integrated, nontargeted ultrahigh performance liquid chromatography/electrospray ionization tandem mass spectrometry platform for the identification and relative quantification of the small-molecule complement of biological systems. Anal. Chem. 81, 6656–6667 (2009).

Harris, D. C. Quantitative Chemical Analysis 6th edn (W H Freeman and Co., 2003).

Mossad, O., Yilmaz, B. & Blank, T. Dataset for gut microbiota drives age-related oxidative stress and mitochondrial damage in microglia via the metabolite N(6)-carboxymethyllysine. https://doi.org/10.6084/m9.figshare.15179775.v1 (2022).
Acknowledgements
We thank E. Barleon and K. Seidel for helping with IHC and electron microscopy. J. Bodinek-Wersing (Core Facility, University of Freiburg) was responsible for cell sorting. We thank the Metabolomics Core Facility (University of Freiburg) and in particular D. Pan for technical assistance. TwinsUK is funded by the Wellcome Trust, Medical Research Council, European Union, National Institute for Health Research-funded BioResource, Clinical Research Facility and Biomedical Research Centre based at Guy's and St. Thomas' NHS Foundation Trust in partnership with King's College London. We thank C. Moehle and T. Stempfl (University of Regensburg) for technical assistance with the RNA-seq experiments. We thank M. Havermans for providing the BMDMs. We thank A. Dumas for proofreading the manuscript. This study was funded by the Deutsche Forschungsgemeinschaft (DFG) SFB/TRR 167 to T.B., T.L., D.E., R.B. and M.P. D.E. was further supported by the Berta Ottenstein Program for Advanced Clinician Scientists. M.P. was further supported by the Sobek Foundation, Ernst-Jung Foundation, DFG (SFB 992, SFB1160, Reinhart Koselleck Grant, Gottfried Wilhelm Leibniz-Prize), Alzheimer Forschung Initiative and the Ministry of Science, Research and Arts, Baden-Württemberg ('Neuroinflammation' specialization). This study was supported by the DFG under Germany's Excellence Strategy (CIBSS, EXC-2189; project ID 390939984).
Ethics declarations
Competing interests
The authors declare no competing interests.
Peer review
Peer review information
Nature Neuroscience thanks John Cryan, Sarkis Mazmanian, and the other, anonymous, reviewer(s) for their contribution to the peer review of this work.
Additional information
Publisher's note Springer Nature remains neutral with regard to jurisdictional claims in published maps and institutional affiliations.
Supplementary information
About this article
Cite this article
Mossad, O., Batut, B., Yilmaz, B. et al. Gut microbiota drives age-related oxidative stress and mitochondrial damage in microglia via the metabolite N6-carboxymethyllysine. Nat Neurosci 25, 295–305 (2022). https://doi.org/10.1038/s41593-022-01027-3
Received:

Accepted:

Published:

Issue Date:

DOI: https://doi.org/10.1038/s41593-022-01027-3