Abstract
Benzodiazepines are widely administered drugs to treat anxiety and insomnia. In addition to tolerance development and abuse liability, their chronic use may cause cognitive impairment and increase the risk for dementia. However, the mechanism by which benzodiazepines might contribute to persistent cognitive decline remains unknown. Here we report that diazepam, a widely prescribed benzodiazepine, impairs the structural plasticity of dendritic spines, causing cognitive impairment in mice. Diazepam induces these deficits via the mitochondrial 18 kDa translocator protein (TSPO), rather than classical γ-aminobutyric acid type A receptors, which alters microglial morphology, and phagocytosis of synaptic material. Collectively, our findings demonstrate a mechanism by which TSPO ligands alter synaptic plasticity and, as a consequence, cause cognitive impairment.
Relevant articles
Open Access articles citing this article.
Erik Nutma

,

Nurun Fancy

…

David R. Owen

Nature Communications Open Access 28 August 2023

Johannes Gnörich

,

Anika Reifschneider

…

Matthias Brendel

Journal of Neuroinflammation Open Access 24 February 2023

Min-Jung You

,

Chan Rim

…

Min-Soo Kwon

Translational Psychiatry Open Access 07 February 2023
Access options
Access Nature and 54 other Nature Portfolio journals
Get Nature+, our best-value online-access subscription
$29.99 / 30 days
cancel any time
Subscribe to this journal
Receive 12 print issues and online access
$209.00 per year
only $17.42 per issue
Rent or buy this article
Prices vary by article type
from$1.95
to$39.95
Prices may be subject to local taxes which are calculated during checkout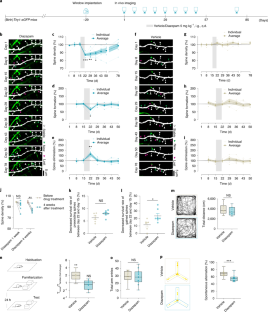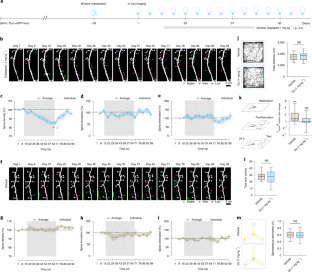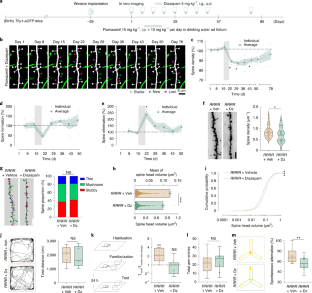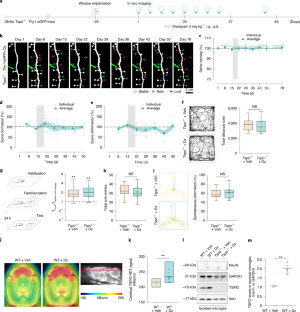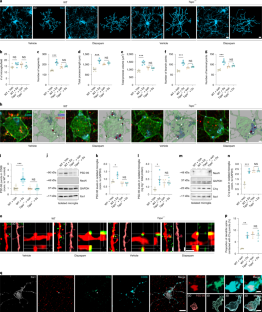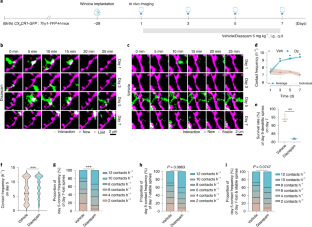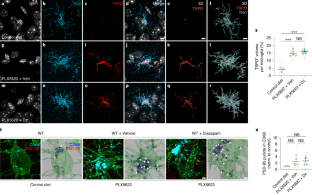 Data availability
Raw data that support the findings of this study are available from the corresponding authors upon reasonable request. Source data are provided with this paper.
References
Rudolph, U. & Knoflach, F. Beyond classical benzodiazepines: novel therapeutic potential of GABAA receptor subtypes. Nat. Rev. Drug Discov. 10, 685–697 (2011).

Rupprecht, R. et al. Translocator protein (18 kDa) (TSPO) as a therapeutic target for neurological and psychiatric disorders. Nat. Rev. Drug Discov. 9, 971–988 (2010).

Papadopoulos, V. et al. Translocator protein (18 kDa): new nomenclature for the peripheral-type benzodiazepine receptor based on its structure and molecular function. Trends Pharmacol. Sci. 27, 402–409 (2006).

Liu, G.-J. et al. Functional gains in energy and cell metabolism after TSPO gene insertion. Cell Cycle 16, 436–447 (2017).

Gut, P., Zweckstetter, M. & Banati, R. B. Lost in translocation: the functions of the 18-kD translocator protein. Trends Endocrinol. Metab. 26, 349–356 (2015).

Barker, M. J., Greenwood, K. M., Jackson, M. & Crowe, S. F. Cognitive effects of long-term benzodiazepine use. CNS Drugs 18, 37–48 (2004).

Arolfo, M. P. & Brioni, J. D. Diazepam impairs place learning in the Morris water maze. Behav. Neural Biol. 55, 131–136 (1991).

Gallacher, J. et al. Benzodiazepine use and risk of dementia: evidence from the Caerphilly Prospective Study (CaPS). J. Epidemiol. Community Health 66, 869–873 (2012).

de Gage, S. B. et al. Benzodiazepine use and risk of Alzheimer's disease: case–control study. BMJ 349, g5205 (2014).

Penninkilampi, R. & Eslick, G. D. A systematic review and meta-analysis of the risk of dementia associated with benzodiazepine use, after controlling for protopathic bias. CNS Drugs 32, 485–497 (2018).

Gray, S. L. et al. Benzodiazepine use and risk of incident dementia or cognitive decline: prospective population based study. BMJ 352, i90 (2016).

Biétry, F. A., Pfeil, A. M., Reich, O., Schwenkglenks, M. & Meier, C. R. Benzodiazepine use and risk of developing Alzheimer's disease: a case–control study based on Swiss claims data. CNS Drugs 31, 245–251 (2017).

Kasai, H., Fukuda, M., Watanabe, S., Hayashi-Takagi, A. & Noguchi, J. Structural dynamics of dendritic spines in memory and cognition. Trends Neurosci. 33, 121–129 (2010).

Zou, C. et al. Neuroinflammation impairs adaptive structural plasticity of dendritic spines in a preclinical model of Alzheimer's disease. Acta Neuropathol. 131, 235–246 (2016).

Zuo, Y., Lin, A., Chang, P. & Gan, W.-B. Development of long-term dendritic spine stability in diverse regions of cerebral cortex. Neuron 46, 181–189 (2005).

Grutzendler, J., Kasthuri, N. & Gan, W.-B. Long-term dendritic spine stability in the adult cortex. Nature 420, 812–816 (2002).

Feng, G. et al. Imaging neuronal subsets in transgenic mice expressing multiple spectral variants of GFP. Neuron 28, 41–51 (2000).

Rudolph, U. et al. Benzodiazepine actions mediated by specific γ-aminobutyric acidA receptor subtypes. Nature 401, 796–800 (1999).

Richter, L. et al. Diazepam-bound GABAA receptor models identify new benzodiazepine binding-site ligands. Nat. Chem. Biol. 8, 455–464 (2012).

Ralvenius, W. T., Benke, D., Acuna, M. A., Rudolph, U. & Zeilhofer, H. U. Analgesia and unwanted benzodiazepine effects in point-mutated mice expressing only one benzodiazepine-sensitive GABAA receptor subtype. Nat. Commun. 6, 6803 (2015).

Sohal, V. S., Zhang, F., Yizhar, O. & Deisseroth, K. Parvalbumin neurons and gamma rhythms enhance cortical circuit performance. Nature 459, 698–702 (2009).

Hu, H., Gan, J. & Jonas, P. Fast-spiking, parvalbumin+ GABAergic interneurons: from cellular design to microcircuit function. Science 345, 1255263 (2014).

Pritchett, D. B. & Seeburg, P. H. γ‐Aminobutyric acidA receptor α5‐subunit creates novel type II benzodiazepine receptor pharmacology. J. Neurochem. 54, 1802–1804 (1990).

Romeo, E. et al. 2-Aryl-3-indoleacetamides (FGIN-1): a new class of potent and specific ligands for the mitochondrial DBI receptor (MDR). J. Pharmacol. Exp. Ther. 262, 971–978 (1992).

Löw, K. et al. Molecular and neuronal substrate for the selective attenuation of anxiety. Science 290, 131–134 (2000).

Crestani, F. et al. Trace fear conditioning involves hippocampal α5 GABAA receptors. Proc. Natl Acad. Sci. USA 99, 8980–8985 (2002).

Banati, R. B. et al. Positron emission tomography and functional characterization of a complete PBR/TSPO knockout. Nat. Commun. 5, 5452 (2014).

Brendel, M. et al. Glial activation and glucose metabolism in a transgenic amyloid mouse model: a triple-tracer PET study. J. Nucl. Med. 57, 954–960 (2016).

Kreisl, W. C. et al. In vivo radioligand binding to translocator protein correlates with severity of Alzheimer's disease. Brain 136, 2228–2238 (2013).

Cagnin, A. et al. In-vivo measurement of activated microglia in dementia. Lancet 358, 461–467 (2001).

Wolf, L. et al. Enhancing neurosteroid synthesis—relationship to the pharmacology of translocator protein (18 kDa)(TSPO) ligands and benzodiazepines. Pharmacopsychiatry 48, 72–77 (2015).

Salter, M. W. & Stevens, B. Microglia emerge as central players in brain disease. Nat. Med. 23, 1018–1027 (2017).

Wake, H., Moorhouse, A. J., Miyamoto, A. & Nabekura, J. Microglia: actively surveying and shaping neuronal circuit structure and function. Trends Neurosci. 36, 209–217 (2013).

Hong, S. et al. Complement and microglia mediate early synapse loss in Alzheimer mouse models. Science 352, 712–716 (2016).

Chung, W.-S., Welsh, C. A., Barres, B. A. & Stevens, B. Do glia drive synaptic and cognitive impairment in disease? Nat. Neurosci. 18, 1539–1545 (2015).

Elmore, M. R. et al. Colony-stimulating factor 1 receptor signaling is necessary for microglia viability, unmasking a microglia progenitor cell in the adult brain. Neuron 82, 380–397 (2014).

Paolicelli, R. C. et al. Synaptic pruning by microglia is necessary for normal brain development. Science 333, 1456–1458 (2011).

Neniskyte, U. & Gross, C. T. Errant gardeners: glial-cell-dependent synaptic pruning and neurodevelopmental disorders. Nat. Rev. Neurosci. 18, 658–670 (2017).

Dejanovic, B. et al. Changes in the synaptic proteome in tauopathy and rescue of tau-induced synapse loss by C1q antibodies. Neuron 100, 1322–1336 (2018).

Liu, Y. U. et al. Neuronal network activity controls microglial process surveillance in awake mice via norepinephrine signaling. Nat. Neurosci. 22, 1771–1781 (2019).

Umpierre, A. D. & Wu, L. J. How microglia sense and regulate neuronal activity. Glia 69, 1637–1653 (2021).

Zhang, Y., Zhou, X.-h, Meranus, D. H., Wang, L. & Kukull, W. A. Benzodiazepine use and cognitive decline in elderly with normal cognition. Alzheimer Dis. Assoc. Disord. 30, 113–117 (2016).

Pariente, A., de Gage, S. B., Moore, N. & Bégaud, B. The benzodiazepine–dementia disorders link: current state of knowledge. CNS Drugs 30, 1–7 (2016).

Filipello, F. et al. The microglial innate immune receptor TREM2 is required for synapse elimination and normal brain connectivity. Immunity 48, 979–991 (2018).

Paolicelli, R. C. et al. TDP-43 depletion in microglia promotes amyloid clearance but also induces synapse loss. Neuron 95, 297–308 (2017).

Lechin, F. et al. Peripheral blood immunological parameters in long-term benzodiazepine users. Clin. Neuropharmacol. 17, 63–72 (1994).

Covelli, V. et al. Effects of benzodiazepines on the immune system. Acta Neurologica 13, 418–423 (1991).

Colasanti, A. et al. Bipolar disorder is associated with the rs6971 polymorphism in the gene encoding 18 kDa translocator protein (TSPO). Psychoneuroendocrinology 38, 2826–2829 (2013).

Jung, S. et al. Analysis of fractalkine receptor CX3CR1 function by targeted deletion and green fluorescent protein reporter gene insertion. Mol. Cell. Biol. 20, 4106–4114 (2000).

Fuhrmann, M., Mitteregger, G., Kretzschmar, H. & Herms, J. Dendritic pathology in prion disease starts at the synaptic spine. J. Neurosci. 27, 6224–6233 (2007).

Mrsic-Flogel, T. D. et al. Homeostatic regulation of eye-specific responses in visual cortex during ocular dominance plasticity. Neuron 54, 961–972 (2007).

Deussing, M. et al. Coupling between physiological TSPO expression in brain and myocardium allows stabilization of late-phase cerebral [18F]GE180 PET quantification. Neuroimage 165, 83–91 (2018).

Kleinberger, G. et al. The FTD‐like syndrome causing TREM2 T66M mutation impairs microglia function, brain perfusion, and glucose metabolism. EMBO J. 36, 1837–1853 (2017).

Leger, M. et al. Object recognition test in mice. Nat. Protoc. 8, 2531–2537 (2013).
Acknowledgements
We would like to thank G. Mitteregger, M. Miller, A. von Thaden, M. Schneider, C. Ihbe, E. Göcmenoglu, N. Lachner, F. Zhang, M. Matt and R. Trevisi for their technical support and animal care. We also thank A. Giese for support in discussing and preparing this manuscript. The DZNE Brain Bank provided advice on human tissue use. We appreciate the help of S. Reinert and T. Bonhoeffer in establishing in vivo imaging using microprism. We are grateful to B. von Ungern-Sternberg and K. Bormann-Giglmaier for technical assistance in PET scanning. The authors thank Plexxikon Inc. for providing PLX5622. This work was funded by Deutsche Forschungsgemeinschaft grants (FOR 2858 / ID 422181340 to J.H. and M.M.D., ID 420462116 to R.R. and EXC 2145 / ID 390857198 to J.H.).
Ethics declarations
Competing interests
The authors declare no competing financial interests.
Peer review
Peer review information
Nature Neuroscience thanks Graziano Pinna, Long-Jun Wu and the other, anonymous, reviewer(s) for their contribution to the peer review of this work.
Additional information
Publisher's note Springer Nature remains neutral with regard to jurisdictional claims in published maps and institutional affiliations.
Supplementary information
Supplementary Figs. 1 and 2 and Supplementary Methods
About this article
Cite this article
Shi, Y., Cui, M., Ochs, K. et al. Long-term diazepam treatment enhances microglial spine engulfment and impairs cognitive performance via the mitochondrial 18 kDa translocator protein (TSPO). Nat Neurosci 25, 317–329 (2022). https://doi.org/10.1038/s41593-022-01013-9
Received:

Accepted:

Published:

Issue Date:

DOI: https://doi.org/10.1038/s41593-022-01013-9