Abstract
Social interactions are motivated behaviors that, in many species, facilitate learning. However, how the brain encodes the reinforcing properties of social interactions remains unclear. In this study, using in vivo recording in freely moving mice, we show that dopamine (DA) neurons of the ventral tegmental area (VTA) increase their activity during interactions with an unfamiliar conspecific and display heterogeneous responses. Using a social instrumental task, we then show that VTA DA neuron activity encodes social prediction error and drives social reinforcement learning. Thus, our findings suggest that VTA DA neurons are a neural substrate for a social learning signal that drives motivated behavior.
This is a preview of subscription content
Access options
Subscribe to Nature+
Get immediate online access to the entire Nature family of 50+ journals
Subscribe to Journal
Get full journal access for 1 year
$59.00
only $4.92 per issue
All prices are NET prices.
VAT will be added later in the checkout.
Tax calculation will be finalised during checkout.
Buy article
Get time limited or full article access on ReadCube.
$32.00
All prices are NET prices.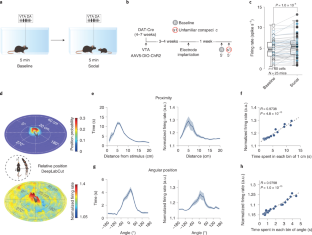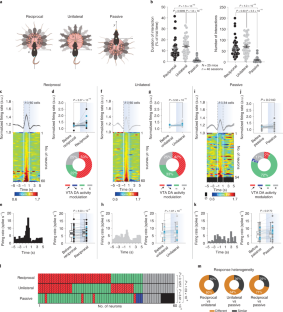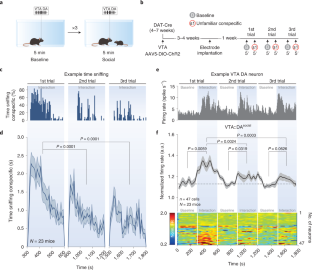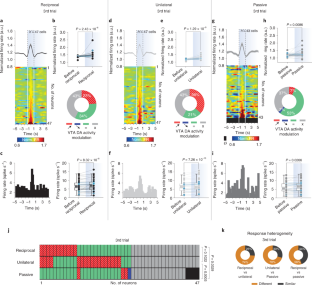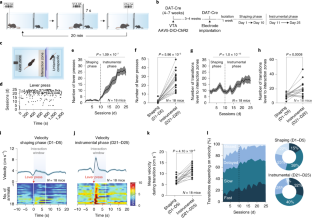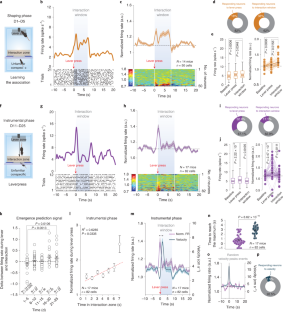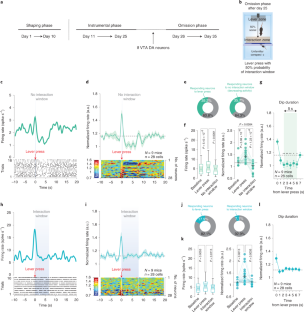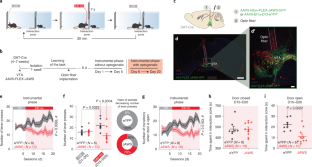 Data availability
Original data used in this study are available at https://doi.org/10.5281/zenodo.5564893. The dataset contains spiking activity of VTA DA neurons in mice and event timing during social free interaction and the social instrumental task, corresponding to Figs. 1–4, 6 and 7 and Extended Data Figs. 1–4, 6 and 7. Additional data supporting the findings are available upon reasonable request. Source data are provided with this paper.
References
Chen, P. & Hong, W. Neural circuit mechanisms of social behavior. Neuron 98, 16–30 (2018).

Berridge, K. C. & Kringelbach, M. L. Affective neuroscience of pleasure: reward in humans and animals. Psychopharmacology 199, 457–480 (2008).

Alhadeff, A. L. et al. Natural and drug rewards engage distinct pathways that converge on coordinated hypothalamic and reward circuits. Neuron 103, 891–908 (2019).

Panksepp, J. B. & Lahvis, G. P. Social reward among juvenile mice. Genes Brain Behav. 6, 661–671 (2007).

Dölen, G., Darvishzadeh, A., Huang, K. W. & Malenka, R. C. Social reward requires coordinated activity of nucleus accumbens oxytocin and serotonin. Nature 501, 179–184 (2013).

Gunaydin, L. A. et al. Natural neural projection dynamics underlying social behavior. Cell 157, 1535–1551 (2014).

Tamir, D. I. & Hughes, B. L. Social rewards: from basic social building blocks to complex social behavior. Perspect. Psychol. Sci. 13, 700–717 (2018).

Hu, R. K. et al. An amygdala-to-hypothalamus circuit for social reward. Nat. Neurosci. 24, 831–842 (2021).

Izuma, K., Saito, D. N. & Sadato, N. Processing of social and monetary rewards in the human striatum. Neuron 58, 284–294 (2008).

Bariselli, S. et al. Role of VTA dopamine neurons and neuroligin 3 in sociability traits related to nonfamiliar conspecific interaction. Nat. Commun. 9, 3173 (2018).

Schultz, W., Dayan, P. & Montague, P. R. A neural substrate of prediction and reward. Science 275, 1593–1599 (1997).

Eshel, N. et al. Arithmetic and local circuitry underlying dopamine prediction errors. Nature 525, 243–246 (2015).

Roesch, M. R., Calu, D. J. & Schoenbaum, G. Dopamine neurons encode the better option in rats deciding between differently delayed or sized rewards. Nat. Neurosci. 10, 1615–1624 (2007).

Waelti, P., Dickinson, A. & Schultz, W. Dopamine responses comply with basic assumptions of formal learning theory. Nature 412, 43–48 (2001).

Schultz, W. Reward prediction error. Curr. Biol. 27, R369–R371 (2017).

Sharpe, M. J. et al. Lateral hypothalamic GABAergic neurons encode reward predictions that are relayed to the ventral tegmental area to regulate learning. Curr. Biol. 27, 2089–2100 (2017).

Takahashi, Y. K. et al. Dopamine neurons respond to errors in the prediction of sensory features of expected rewards. Neuron 95, 1395–1405 (2017).

Engelhard, B. et al. Specialized coding of sensory, motor and cognitive variables in VTA dopamine neurons. Nature 570, 509–513 (2019).

Kremer, Y., Flakowski, J., Rohner, C. & Lüscher, C. Context-dependent multiplexing by individual VTA dopamine neurons. J. Neurosci. 40, JN-RM-0502-20 (2020).

Bariselli, S., Contestabile, A., Tzanoulinou, S., Musardo, S. & Bellone, C. SHANK3 downregulation in the ventral tegmental area accelerates the extinction of contextual associations induced by juvenile non-familiar conspecific interaction. Front. Mol. Neurosci. 11, 360 (2018).

Cohen, J. Y., Haesler, S., Vong, L., Lowell, B. B. & Uchida, N. Neuron-type-specific signals for reward and punishment in the ventral tegmental area. Nature 482, 85–88 (2012).

Starkweather, C. K., Gershman, S. J. & Uchida, N. The medial prefrontal cortex shapes dopamine reward prediction errors under state uncertainty. Neuron 98, 616–629 (2018).

Mathis, A. et al. DeepLabCut: markerless pose estimation of user-defined body parts with deep learning. Nat. Neurosci. 21, 1281–1289 (2018).

Lisman, J. E. & Grace, A. A. The hippocampal-VTA loop: controlling the entry of information into long-term memory. Neuron 46, 703–713 (2005).

Bromberg-Martin, E. S., Matsumoto, M. & Hikosaka, O. Dopamine in motivational control: rewarding, aversive, and alerting. Neuron 68, 815–834 (2010).

Tapper, A. R. & Molas, S. Midbrain circuits of novelty processing. Neurobiol. Learn. Mem. 176, 107323 (2020).

Berridge, K. C. 'Liking' and 'wanting' food rewards: brain substrates and roles in eating disorders. Physiol. Behav. 97, 537–550 (2009).

Meye, F. J. & Adan, R. A. H. Feelings about food: the ventral tegmental area in food reward and emotional eating. Trends Pharmacol. Sci. 35, 31–40 (2014).

Menegas, W., Akiti, K., Amo, R., Uchida, N. & Watabe-Uchida, M. Dopamine neurons projecting to the posterior striatum reinforce avoidance of threatening stimuli. Nat. Neurosci. 21, 1421–1430 (2018).

Ljungberg, T., Apicella, P. & Schultz, W. Responses of monkey dopamine neurons during learning of behavioral reactions. J. Neurophysiol. 67, 145–163 (1992).

Berke, J. D. What does dopamine mean? Nat. Neurosci. 21, 787–793 (2018).

Sharpe, M. J. et al. Dopamine transients do not act as model-free prediction errors during associative learning. Nat. Commun. 11, 106 (2020).

Geugies, H. et al. Impaired reward-related learning signals in remitted unmedicated patients with recurrent depression. Brain 142, 2510–2522 (2019).

Chevrier, A. et al. Disrupted reinforcement learning during post-error slowing in ADHD. PLoS ONE 14, e0206780 (2019).

Sinha, P. et al. Autism as a disorder of prediction. Proc. Natl Acad. Sci. USA 111, 15220–15225 (2014).

Mosner, M. G. et al. Neural mechanisms of reward prediction error in autism spectrum disorder. Autism Res. Treat. 2019, 5469191 (2019).

Chevallier, C., Kohls, G., Troiani, V., Brodkin, E. S. & Schultz, R. T. The social motivation theory of autism. Trends Cogn. Sci. 16, 231–239 (2012).

Kinard, J. L. et al. Neural mechanisms of social and nonsocial reward prediction errors in adolescents with autism spectrum disorder. Autism Res. 13, 715–728 (2020).

Storey, G. P. et al. Nicotine modifies corticostriatal plasticity and amphetamine rewarding behaviors in mice. eNeuro 3, ENEURO.0095-15.2015 (2016).

Prusky, G. T., Alam, N. M. & Douglas, R. M. Enhancement of vision by monocular deprivation in adult mice. J. Neurosci. 26, 11554–11561 (2006).

Matsumoto, H., Tian, J., Uchida, N. & Watabe-Uchida, M. Midbrain dopamine neurons signal aversion in a reward-context-dependent manner. eLife 5, e1728 (2016).

Tian, J. & Uchida, N. Habenula lesions reveal that multiple mechanisms underlie dopamine prediction errors. Neuron 87, 1304–1316 (2015).
Acknowledgements
We would like to thank C. Lüscher, M. Mameli, P. Faure, J. Naudé and S. Bariselli for comments on the manuscript. We would also like to thank S. Pellat and L. Jourdain for technical support. This work is supported by the Swiss National Science Foundation (31003A_182326) and the NCCR Synapsy from the Swiss National Science Foundation. C.B. is also supported by the ERC Consolidator Grant (864552).
Ethics declarations
Competing interests
The authors declare no competing interests.
Additional information
Peer review information Nature Neuroscience thanks Melissa Sharpe and the other, anonymous, reviewer(s) for their contribution to the peer review of this work.
Publisher's note Springer Nature remains neutral with regard to jurisdictional claims in published maps and institutional affiliations.
Supplementary information
Supplementary Tables 1 and 2
About this article
Cite this article
Solié, C., Girard, B., Righetti, B. et al. VTA dopamine neuron activity encodes social interaction and promotes reinforcement learning through social prediction error. Nat Neurosci 25, 86–97 (2022). https://doi.org/10.1038/s41593-021-00972-9
Received:

Accepted:

Published:

Issue Date:

DOI: https://doi.org/10.1038/s41593-021-00972-9
Further reading
Jessica J. Walsh
Daniel J. Christoffel
Robert C. Malenka

Neuropsychopharmacology (2022)