Abstract
Viewing behavior provides a window into many central aspects of human cognition and health, and it is an important variable of interest or confound in many functional magnetic resonance imaging (fMRI) studies. To make eye tracking freely and widely available for MRI research, we developed DeepMReye, a convolutional neural network (CNN) that decodes gaze position from the magnetic resonance signal of the eyeballs. It performs cameraless eye tracking at subimaging temporal resolution in held-out participants with little training data and across a broad range of scanning protocols. Critically, it works even in existing datasets and when the eyes are closed. Decoded eye movements explain network-wide brain activity also in regions not associated with oculomotor function. This work emphasizes the importance of eye tracking for the interpretation of fMRI results and provides an open source software solution that is widely applicable in research and clinical settings.
This is a preview of subscription content
Access options
Subscribe to Nature+
Get immediate online access to the entire Nature family of 50+ journals
Subscribe to Journal
Get full journal access for 1 year
$59.00
only $4.92 per issue
All prices are NET prices.
VAT will be added later in the checkout.
Tax calculation will be finalised during checkout.
Buy article
Get time limited or full article access on ReadCube.
$32.00
All prices are NET prices.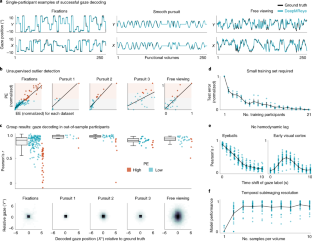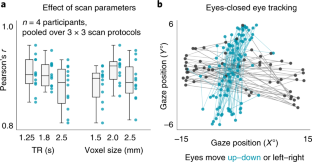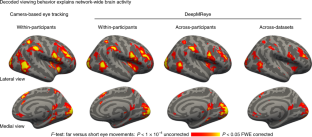 Data availability
We analyzed data of multiple previous reports, which can be requested from the respective authors. Dataset 1 is part of a larger data-sharing initiative and can be downloaded at http://fcon_1000.projects.nitrc.org. We further share online on Open Science Framework (https://doi.org/10.17605/OSF.IO/MRHK9) exemplary data to illustrate our pipeline (also see 'Code availability' statement) as well as the source data for Figs. 1–4 and Extended Data Figs. 1–10. Moreover, we share pretrained model weights estimated on the datasets used in the present work. These model weights allow for decoding of viewing behavior without retraining the model in certain scenarios (see online documentation for more details at https://github.com/DeepMReye). Source data are provided with this paper.
Code availability
The DeepMReye model code can be found on GitHub (https://github.com/DeepMReye), along with user documentation and a frequently asked questions page. Moreover, we share Colab notebooks that illustrate the use of DeepMReye using exemplary data. Finally, we share exemplary eye-tracking calibration scripts that can be easily adapted to acquire training data for DeepMReye.
References
Anderson, T. J. & MacAskill, M. R. Eye movements in patients with neurodegenerative disorders. Nat. Rev. Neurol. 9, 74–85 (2013).

Morrone, M. C., Ross, J. & Burr, D. Saccadic eye movements cause compression of time as well as space. Nat. Neurosci. 8, 950–954 (2005).

Berman, R. A. et al. Cortical networks subserving pursuit and saccadic eye movements in humans: an fMRI study. Hum. Brain Mapp. 8, 209–225 (1999).

Petit, L. & Haxby, J. V. Functional anatomy of pursuit eye movements in humans as revealed by fMRI. J. Neurophysiol. 82, 463–471 (1999).

McNabb, C. B. et al. Inter-slice leakage and intra-slice aliasing in simultaneous multi-slice echo-planar images. Brain Struct. Funct. 225, 1153–1158 (2020).

Voss, J. L., Bridge, D. J., Cohen, N. J. & Walker, J. A. A closer look at the hippocampus and memory. Trends Cogn. Sci. 21, 577–588 (2017).

Tregellas, J. R., Tanabe, J. L., Miller, D. E. & Freedman, R. Monitoring eye movements during fMRI tasks with echo planar images. Hum. Brain Mapp. 17, 237–243 (2002).

Beauchamp, M. S. Detection of eye movements from fMRI data. Magn. Reson. Med. 49, 376–380 (2003).

Heberlein, K., Hu, X., Peltier, S. & LaConte, S. Predictive eye estimation regression (PEER) for simultaneous eye tracking and fMRI. In Proc. 14th Scientific Meeting, International Society for Magnetic Resonance in Medicine 14, 2808 (2006).

Son, J. et al. Evaluating fMRI-based estimation of eye gaze during naturalistic viewing. Cereb. Cortex 30, 1171–1184 (2020).

Alexander, L. M. et al. An open resource for transdiagnostic research in pediatric mental health and learning disorders. Sci. Data 4, 170181 (2017).

Nau, M., Schindler, A. & Bartels, A. Real-motion signals in human early visual cortex. Neuroimage 175, 379–387 (2018).

Polti, I., Nau, M., Kaplan, R., van Wassenhove, V. & Doeller, C. F. Hippocampus and striatum encode distinct task regularities that guide human timing behavior. Preprint at bioRxiv https://doi.org/10.1101/2021.08.03.454928 (2021).

Nau, M., Navarro Schröder, T., Bellmund, J. L. & Doeller, C. F. Hexadirectional coding of visual space in human entorhinal cortex. Nat. Neurosci. 21, 188–190 (2018).

Julian, J. B., Keinath, A. T., Frazzetta, G. & Epstein, R. A. Human entorhinal cortex represents visual space using a boundary-anchored grid. Nat. Neurosci. 21, 191–194 (2018).

Ehinger, K. A., Hidalgo-Sotelo, B., Torralba, A. & Oliva, A. Modelling search for people in 900 scenes: a combined source model of eye guidance. Vis. Cogn. 17, 945–978 (2009).

Wolfe, J. M. Visual search: how do we find what we are looking for? Annu. Rev. Vis. Sci. 6, 539–562 (2020).

Hebart, M. N. et al. THINGS: a database of 1,854 object concepts and more than 26,000 naturalistic object images. PLoS ONE 14, e0223792 (2019).

Duchowski, A. T Eye Tracking Methodology: Theory and Practice 3rd edn (Springer International Publishing, 2017).

Brodoehl, S., Witte, O. W. & Klingner, C. M. Measuring eye states in functional MRI. BMC Neurosci. 17, 48 (2016).

Coiner, B. et al. Functional neuroanatomy of the human eye movement network: a review and atlas. Brain Struct. Funct. 224, 2603–2617 (2019).

Keck, I. R., Fischer, V., Puntonet, C. G. & Lang, E. W. Eye Movement Quantification in Functional MRI Data by Spatial Independent Component Analysis. In International Conference on Independent Component Analysis and Signal Separation Vol. 5441 (eds Adali, T., Jutten, C., Romano, J. M. T. & Barros, A. K.) 435-442 (Springer Berlin Heidelberg, 2009).

Franceschiello, B. et al. 3-Dimensional magnetic resonance imaging of the freely moving human eye. Prog. Neurobiol. 194, 101885 (2020).

LaConte, S. M. & Glielmi, C. B. Verifying visual fixation to improve fMRI with predictive eye estimation regression (PEER). In Proc. 15th Scientific Meeting, International Society for Magnetic Resonance in Medicine, Berlin 3438 (2007).

Sathian, K. et al. Dual pathways for haptic and visual perception of spatial and texture information. Neuroimage 57, 462–475 (2011).

O'Connell, T. P. & Chun, M. M. Predicting eye movement patterns from fMRI responses to natural scenes. Nat. Commun. 9, 5159 (2018).

Esteban, O. et al. fMRIPrep: a robust preprocessing pipeline for functional MRI. Nat. Methods 16, 111–116 (2019).

Tagliazucchi, E. & Laufs, H. Decoding wakefulness levels from typical fMRI resting-state data reveals reliable drifts between wakefulness and sleep. Neuron 82, 695–708 (2014).

Naselaris, T., Kay, K. N., Nishimoto, S. & Gallant, J. L. Encoding and decoding in fMRI. Neuroimage 56, 400–410 (2011).

Kriegeskorte, N. & Douglas, P. K. Interpreting encoding and decoding models. Curr.Opin. Neurobiol. 55, 167–179 (2019).

Sonkusare, S., Breakspear, M. & Guo, C. Naturalistic stimuli in neuroscience: critically acclaimed. Trends Cogn. Sci. 23, 699–714 (2019).

Lim, S.-L., O'Doherty, J. P. & Rangel, A. The decision value computations in the vmPFC and striatum use a relative value code that is guided by visual attention. J. Neurosci. 31, 13214–13223 (2011).

Koba, C., Notaro, G., Tamm, S., Nilsonne, G. & Hasson, U. Spontaneous eye movements during eyes-open rest reduce resting-state-network modularity by increasing visual-sensorimotor connectivity. Netw. Neurosci. 5, 451–476 (2021).

Murphy, K., Birn, R. M. & Bandettini, P. A. Resting-state fMRI confounds and cleanup. Neuroimage 80, 349–359 (2013).

Frey, M. et al. Interpreting wide-band neural activity using convolutional neural networks. eLife 10, e66551 (2021).

Shen, D., Wu, G. & Suk, H. I. Deep learning in medical image analysis. Annu. Rev. Biomed. Eng. 19, 221–248 (2017).

Misra, D. Mish: a self regularized non-monotonic neural activation function. Preprint available at https://arxiv.org/abs/1908.08681 (2019).

Biewald, L. Experiment tracking with weights & biases. http://wandb.com/ (2020).

Kingma, D. P. & Ba, J. L. Adam: a method for stochastic optimization. Preprint at https://arxiv.org/abs/1412.6980 (2014).

Pedregosa, F. et al. Scikit-learn: machine learning in Python. J. Mach. Learn. Res. 12, 2825–2830 (2011).
Acknowledgements
We thank I. Polti, J.B. Julian, R. Epstein and A. Bartels for providing imaging and eye-tracking data that were used in the present work. We further thank C.I. Baker and C. Barry for helpful discussions and J.B. Julian and C.I. Baker for comments on an earlier version of this manuscript. This work is supported by the European Research Council (ERC-CoG GEOCOG 724836). C.F.D.'s research is further supported by the Max Planck Society, the Kavli Foundation, the Centre of Excellence scheme of the Research Council of Norway, Centre for Neural Computation (223262/F50), The Egil and Pauline Braathen and Fred Kavli Centre for Cortical Microcircuits and the National Infrastructure scheme of the Research Council of Norway, NORBRAIN (197467/F50).
Ethics declarations
Competing interests
The authors declare no competing interests.
Additional information
Peer review information Nature Neuroscience thanks the anonymous reviewers for their contribution to the peer review of this work.
Publisher's note Springer Nature remains neutral with regard to jurisdictional claims in published maps and institutional affiliations.
Supplementary information
Supplementary Figs. 1–5 and Tables 1 and 2.
About this article
Cite this article
Frey, M., Nau, M. & Doeller, C.F. Magnetic resonance-based eye tracking using deep neural networks. Nat Neurosci 24, 1772–1779 (2021). https://doi.org/10.1038/s41593-021-00947-w
Received:

Accepted:

Published:

Issue Date:

DOI: https://doi.org/10.1038/s41593-021-00947-w
Further reading
Nature Neuroscience (2021)