Abstract
Amyotrophic lateral sclerosis (ALS) is a devastating disorder in which motor neurons degenerate, the causes of which remain unclear. In particular, the basis for selective vulnerability of spinal motor neurons (sMNs) and resistance of ocular motor neurons to degeneration in ALS has yet to be elucidated. Here, we applied comparative multi-omics analysis of human induced pluripotent stem cell-derived sMNs and ocular motor neurons to identify shared metabolic perturbations in inherited and sporadic ALS sMNs, revealing dysregulation in lipid metabolism and its related genes. Targeted metabolomics studies confirmed such findings in sMNs of 17 ALS (SOD1, C9ORF72, TDP43 (TARDBP) and sporadic) human induced pluripotent stem cell lines, identifying elevated levels of arachidonic acid. Pharmacological reduction of arachidonic acid levels was sufficient to reverse ALS-related phenotypes in both human sMNs and in vivo in Drosophila and SOD1G93A mouse models. Collectively, these findings pinpoint a catalytic step of lipid metabolism as a potential therapeutic target for ALS.
Relevant articles
Open Access articles citing this article.
Yurika Shimizu

,

Srinivas Bandaru

…

Tatsuo Ito

Scientific Reports Open Access 27 June 2023

Oliver J. Ziff

,

Jacob Neeves

…

Rickie Patani

Nature Communications Open Access 20 April 2023

Translational Neurodegeneration Open Access 26 December 2022
Access options
Access Nature and 54 other Nature Portfolio journals
Get Nature+, our best-value online-access subscription
$29.99 / 30 days
cancel any time
Subscribe to this journal
Receive 12 print issues and online access
$209.00 per year
only $17.42 per issue
Rent or buy this article
Prices vary by article type
from$1.95
to$39.95
Prices may be subject to local taxes which are calculated during checkout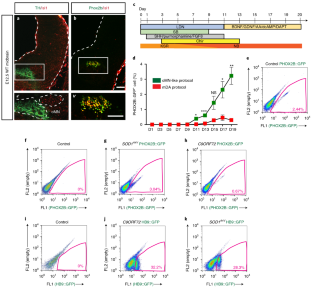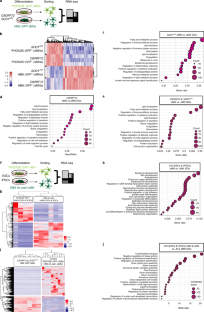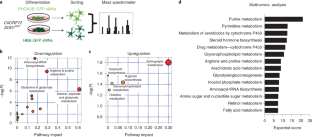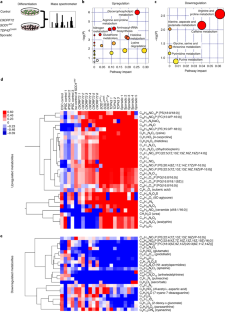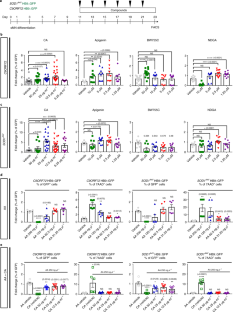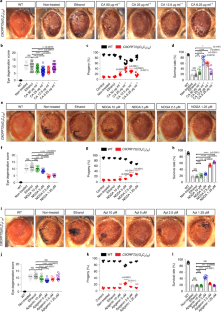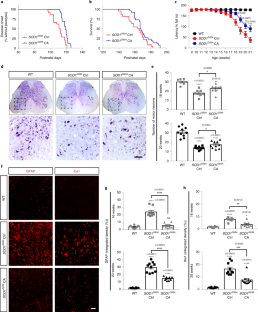 Code availability
The R code used to analyze RNA-seq datasets is available from the corresponding authors on reasonable request.
References
Taylor, J. P., Brown, R. H. Jr & Cleveland, D. W. Decoding ALS: from genes to mechanism. Nature 539, 197–206 (2016).

Tandan, R. & Bradley, W. G. Amyotrophic lateral sclerosis: part 1. Clinical features, pathology, and ethical issues in management. Ann. Neurol. 18, 271–280 (1985).

Saxena, S. & Caroni, P. Selective neuronal vulnerability in neurodegenerative diseases: from stressor thresholds to degeneration. Neuron 71, 35–48 (2011).

Fujimori, K. et al. Modeling sporadic ALS in iPSC-derived motor neurons identifies a potential therapeutic agent. Nat. Med. 24, 1579–1589 (2018).

Kiskinis, E. et al. Pathways disrupted in human ALS motor neurons identified through genetic correction of mutant SOD1. Cell Stem Cell 14, 781–795 (2014).

Klim, J. R. et al. ALS-implicated protein TDP-43 sustains levels of STMN2, a mediator of motor neuron growth and repair. Nat. Neurosci. 22, 167–179 (2019).

Melamed, Z. et al. Premature polyadenylation-mediated loss of stathmin-2 is a hallmark of TDP-43-dependent neurodegeneration. Nat. Neurosci. 22, 180–190 (2019).

Kaminski, H. J., Richmonds, C. R., Kusner, L. L. & Mitsumoto, H. Differential susceptibility of the ocular motor system to disease. Ann. N. Y. Acad. Sci. 956, 42–54 (2002).

Cleveland, D. W. & Rothstein, J. D. From Charcot to Lou Gehrig: deciphering selective motor neuron death in ALS. Nat. Rev. Neurosci. 2, 806–819 (2001).

Kaplan, A. et al. Neuronal matrix metalloproteinase-9 is a determinant of selective neurodegeneration. Neuron 81, 333–348 (2014).

Allodi, I. et al. Differential neuronal vulnerability identifies IGF-2 as a protective factor in ALS. Sci. Rep. 6, 25960 (2016).

Mazzoni, E. O. et al. Synergistic binding of transcription factors to cell-specific enhancers programs motor neuron identity. Nat. Neurosci. 16, 1219–1227 (2013).

Allodi, I. et al. Modeling motor neuron resilience in ALS using stem cells. Stem Cell Reports 12, 1329–1341 (2019).

Cutler, R. G., Pedersen, W. A., Camandola, S., Rothstein, J. D. & Mattson, M. P. Evidence that accumulation of ceramides and cholesterol esters mediates oxidative stress-induced death of motor neurons in amyotrophic lateral sclerosis. Ann. Neurol. 52, 448–457 (2002).

Theofilopoulos, S. et al. Cholestenoic acids regulate motor neuron survival via liver X receptors. J. Clin. Invest. 124, 4829–4842 (2014).

Pattyn, A., Hirsch, M., Goridis, C. & Brunet, J.-F. Control of hindbrain motor neuron differentiation by the homeobox gene Phox2b. Development 127, 1349–1358 (2000).

Prakash, N. et al. Nkx6-1 controls the identity and fate of red nucleus and oculomotor neurons in the mouse midbrain. Development 136, 2545–2555 (2009).

Hasan, K. B., Agarwala, S. & Ragsdale, C. W. PHOX2A regulation of oculomotor complex nucleogenesis. Development 137, 1205–1213 (2010).

Deng, Q. et al. Specific and integrated roles of Lmx1a, Lmx1b and Phox2a in ventral midbrain development. Development 138, 3399–3408 (2011).

Nakano, M. et al. Homozygous mutations in ARIX (PHOX2A) result in congenital fibrosis of the extraocular muscles type 2. Nat. Genet. 29, 315–320 (2001).

Oh, Y. et al. Functional coupling with cardiac muscle promotes maturation of hPSC-derived sympathetic neurons. Cell Stem Cell 19, 95–106 (2016).

Kriks, S. et al. Dopamine neurons derived from human ES cells efficiently engraft in animal models of Parkinson's disease. Nature 480, 547–551 (2011).

Tang, M., Luo, S. X., Tang, V. & Huang, E. J. Temporal and spatial requirements of Smoothened in ventral midbrain neuronal development. Neural Dev. 8, 8 (2013).

Danielian, P. S. & McMahon, A. P. Engrailed-1 as a target of the Wnt-1 signalling pathway in vertebrate midbrain development. Nature 383, 332–334 (1996).

Tsarovina, K. et al. Essential role of Gata transcription factors in sympathetic neuron development. Development 131, 4775–4786 (2004).

Thaler, J. et al. Active suppression of interneuron programs within developing motor neurons revealed by analysis of homeodomain factor HB9. Neuron 23, 675–687 (1999).

Song, M.-R. et al. Islet-to-LMO stoichiometries control the function of transcription complexes that specify motor neuron and V2a interneuron identity. Development 136, 2923–2932 (2009).

Lewcock, J. W., Genoud, N., Lettieri, K. & Pfaff, S. L. The ubiquitin ligase Phr1 regulates axon outgrowth through modulation of microtubule dynamics. Neuron 56, 604–620 (2007).

Guidato, S., Barrett, C. & Guthrie, S. Patterning of motor neurons by retinoic acid in the chick embryo hindbrain in vitro. Mol. Cell. Neurosci. 23, 81–95 (2003).

Calder, E. L. et al. Retinoic acid-mediated regulation of GLI3 enables efficient motoneuron derivation from human ESCs in the absence of extrinsic SHH activation. J. Neurosci. 35, 11462–11481 (2015).

Hedlund, E., Karlsson, M., Osborn, T., Ludwig, W. & Isacson, O. Global gene expression profiling of somatic motor neuron populations with different vulnerability identify molecules and pathways of degeneration and protection. Brain 133, 2313–2330 (2010).

Valbuena, G. N. et al. Metabolomic analysis reveals increased aerobic glycolysis and amino acid deficit in a cellular model of amyotrophic lateral sclerosis. Mol. Neurobiol. 53, 2222–2240 (2016).

Xia, J. & Wishart, D. S. Using MetaboAnalyst 3.0 for comprehensive metabolomics data analysis. Curr. Protoc. Bioinformatics 55, 14.10.1–14.10.91 (2016).

Lawton, K. A. et al. Plasma metabolomic biomarker panel to distinguish patients with amyotrophic lateral sclerosis from disease mimics. Amyotroph. Lateral Scler. Frontotemporal Degener. 15, 362–370 (2014).

Jatana, M. et al. Inhibition of NF-κB activation by 5-lipoxygenase inhibitors protects brain against injury in a rat model of focal cerebral ischemia. J. Neuroinflammation 3, 12 (2006).

Häfner, A.-K., Kahnt, A. S. & Steinhilber, D. Beyond leukotriene formation–the noncanonical functions of 5-lipoxygenase. Prostaglandins Other Lipid Mediat. 142, 24–32 (2019).

Cao, Y., Pearman, A. T., Zimmerman, G. A., McIntyre, T. M. & Prescott, S. M. Intracellular unesterified arachidonic acid signals apoptosis. Proc. Natl Acad. Sci. USA 97, 11280–11285 (2000).

Rizzo, M. T. et al. Induction of apoptosis by arachidonic acid in chronic myeloid leukemia cells. Cancer Res. 59, 5047–5053 (1999).

Yang, J. Q., Zhou, Q. X., Liu, B. Z. & He, B. C. Protection of mouse brain from aluminum‐induced damage by caffeic acid. CNS Neurosci. Ther. 14, 10–16 (2008).

Bishayee, K. & Khuda-Bukhsh, A. R. 5-lipoxygenase antagonist therapy: a new approach towards targeted cancer chemotherapy. Acta Biochim. Biophys. Sin. 45, 709–719 (2013).

Pergola, C. & Werz, O. 5-Lipoxygenase inhibitors: a review of recent developments and patents. Expert Opin. Therapeutic Pat. 20, 355–375 (2010).

Xu, Z. et al. Expanded GGGGCC repeat RNA associated with amyotrophic lateral sclerosis and frontotemporal dementia causes neurodegeneration. Proc. Natl Acad. Sci. USA 110, 7778–7783 (2013).

Abdel-Khalik, J. et al. Defective cholesterol metabolism in amyotrophic lateral sclerosis. J. Lipid Res. 58, 267–278 (2017).

An, D. et al. Stem cell-derived cranial and spinal motor neurons reveal proteostatic differences between ALS resistant and sensitive motor neurons. eLife 8, e44423 (2019).

Kuehne, A. et al. Acute activation of oxidative pentose phosphate pathway as first-line response to oxidative stress in human skin cells. Mol. Cell 59, 359–371 (2015).

Patra, K. C. & Hay, N. The pentose phosphate pathway and cancer. Trends Biochem. Sci. 39, 347–354 (2014).

Lopez-Gonzalez, R. et al. Poly (GR) in C9ORF72-related ALS/FTD compromises mitochondrial function and increases oxidative stress and DNA damage in iPSC-derived motor neurons. Neuron 92, 383–391 (2016).

Andrus, P. K., Fleck, T. J., Gurney, M. E. & Hall, E. D. Protein oxidative damage in a transgenic mouse model of familial amyotrophic lateral sclerosis. J. Neurochem. 71, 2041–2048 (1998).

Dodge, J. C. et al. Glycosphingolipids are modulators of disease pathogenesis in amyotrophic lateral sclerosis. Proc. Natl Acad. Sci. USA 112, 8100–8105 (2015).

Dodge, J. C. et al. Neutral lipid cacostasis contributes to disease pathogenesis in amyotrophic lateral sclerosis. J. Neurosci. 40, 9137–9147 (2020).

Andrés‐Benito, P. et al. Lipid alterations in human frontal cortex in ALS‐FTLD‐TDP43 proteinopathy spectrum are partly related to peroxisome impairment. Neuropathol. Appl. Neurobiol. 47, 544–563 (2021).

Mohassel, P. et al. Childhood amyotrophic lateral sclerosis caused by excess sphingolipid synthesis. Nat. Med. 27, 1197–1204 (2021).

Das, U. N. Arachidonic acid in health and disease with focus on hypertension and diabetes mellitus: a review. J. Adv. Res. 11, 43–55 (2018).

Solomonov, Y., Hadad, N. & Levy, R. Reduction of cytosolic phospholipase A2α upregulation delays the onset of symptoms in SOD1G93A mouse model of amyotrophic lateral sclerosis. J. Neuroinflammation 13, 1–12 (2016).

Tallima, H. & El Ridi, R. Arachidonic acid: physiological roles and potential health benefits—a review. J. Adv. Res. 11, 33–41 (2018).

Blasco, H. et al. Lipidomics reveals cerebrospinal-fluid signatures of ALS. Sci. Rep. 7, 1–10 (2017).

Chaves-Filho, A. B. et al. Alterations in lipid metabolism of spinal cord linked to amyotrophic lateral sclerosis. Sci. Rep. 9, 1–14 (2019).

West, M. et al. The arachidonic acid 5-lipoxygenase inhibitor nordihydroguaretic acid inhibits tumor necrosis factor-α activation of microglia and extends survival of G93A-SOD1 transgenic mice. J. Neurochem. 91, 133–143 (2004).

Ran, F. A. et al. Genome engineering using the CRISPR–Cas9 system. Nat. Protoc. 8, 2281–2308 (2013).

Hockemeyer, D. et al. Genetic engineering of human pluripotent cells using TALE nucleases. Nat. Biotechnol. 29, 731–734 (2011).

Mali, P. et al. RNA-guided human genome engineering via Cas9. Science 339, 823–826 (2013).

Gendron, T. F. et al. Poly (GP) proteins are a useful pharmacodynamic marker for C9ORF72-associated amyotrophic lateral sclerosis. Sci. Transl. Med. 9, eaai7866 (2017).

Almad, A. A. et al. Connexin 43 in astrocytes contributes to motor neuron toxicity in amyotrophic lateral sclerosis. Glia 64, 1154–1169 (2016).

Choi, I. Y. et al. Concordant but varied phenotypes among Duchenne muscular dystrophy patient-specific myoblasts derived using a human iPSC-based model. Cell Rep. 15, 2301–2312 (2016).

Thomson, J. A. et al. Embryonic stem cell lines derived from human blastocysts. Science 282, 1145–1147 (1998).

Riera, M. et al. Establishment and characterization of an iPSC line (FRIMOi001-A) derived from a retinitis pigmentosa patient carrying PDE6A mutations. Stem Cell Res. 35, 101385 (2019).

Coyne, A. N. et al. G4C2 repeat RNA initiates a POM121-mediated reduction in specific nucleoporins in C9orf72 ALS/FTD. Neuron 107, 1124–1140 (2020).

Lee, G. et al. Modelling pathogenesis and treatment of familial dysautonomia using patient-specific iPSCs. Nature 461, 402–406 (2009).

Chambers, S. M. et al. Highly efficient neural conversion of human ES and iPS cells by dual inhibition of SMAD signaling. Nat. Biotechnol. 27, 275–280 (2009).

Qi, Y. et al. Combined small-molecule inhibition accelerates the derivation of functional cortical neurons from human pluripotent stem cells. Nat. Biotechnol. 35, 154–163 (2017).

Lee, H. et al. Slit and Semaphorin signaling governed by Islet transcription factors positions motor neuron somata within the neural tube. Exp. Neurol. 269, 17–27 (2015).

Pattyn, A., Morin, X., Cremer, H., Goridis, C. & Brunet, J.-F. Expression and interactions of the two closely related homeobox genes Phox2a and Phox2b during neurogenesis. Development 124, 4065–4075 (1997).

Ng, S.-Y. et al. Genome-wide RNA-seq of human motor neurons implicates selective ER stress activation in spinal muscular atrophy. Cell Stem Cell 17, 569–584 (2015).

Dobin, A. et al. STAR: ultrafast universal RNA-seq aligner. Bioinformatics 29, 15–21 (2013).

Robinson, M. D., McCarthy, D. J. & Smyth, G. K. edgeR: a Bioconductor package for differential expression analysis of digital gene expression data. Bioinformatics 26, 139–140 (2010).

Law, C. W., Chen, Y., Shi, W. & Smyth, G. K. voom: precision weights unlock linear model analysis tools for RNA-seq read counts. Genome Biol. 15, R29 (2014).

McCarthy, D. J. & Smyth, G. K. Testing significance relative to a fold-change threshold is a TREAT. Bioinformatics 25, 765–771 (2009).

Subramanian, A. et al. Gene-set enrichment analysis: a knowledge-based approach for interpreting genome-wide expression profiles. Proc. Natl Acad. Sci. USA 102, 15545–15550 (2005).

Yu, G., Wang, L.-G., Han, Y. & He, Q.-Y. clusterProfiler: an R package for comparing biological themes among gene clusters. OMICS 16, 284–287 (2012).

Eoh, H. & Rhee, K. Y. Multifunctional essentiality of succinate metabolism in adaptation to hypoxia in Mycobacterium tuberculosis. Proc. Natl Acad. Sci. USA 110, 6554–6559 (2013).

Lee, S.-K., Jurata, L. W., Funahashi, J., Ruiz, E. C. & Pfaff, S. L. Analysis of embryonic motoneuron gene regulation: derepression of general activators function in concert with enhancer factors. Development 131, 3295–3306 (2004).

Bai, G. et al. Presenilin-dependent receptor processing is required for axon guidance. Cell 144, 106–118 (2011).

Ludolph, A. C. et al. Guidelines for preclinical animal research in ALS/MND: a consensus meeting. Amyotroph. Lateral Scler. 11, 38–45 (2010).

Kim, K.-T. et al. ISL1-based LIM complexes control Slit2 transcription in developing cranial motor neurons. Sci. Rep. 6, 36491 (2016).

Ritson, G. P. et al. TDP-43 mediates degeneration in a novel Drosophila model of disease caused by mutations in VCP/p97. J. Neurosci. 30, 7729–7739 (2010).

Xia, J. & Wishart, D. S. MetPA: a web-based metabolomics tool for pathway analysis and visualization. Bioinformatics 26, 2342–2344 (2010).
Acknowledgements
The authors thank H. Zhang at the Flow Cytometry Core Facility (JHSPH) and H. Hao and C. Talbot at the Deep Sequencing Core Facility (JHU) for RNA-seq data analysis. We also thank the Developmental Studies Hybridoma Bank for antibodies and K. Eggan (Harvard university) for sharing the isogenic control line. This work was supported by grants from the Donald E. & Delia B. Baxter Foundation (to H.E.), Department of Molecular Microbiology and Immunology KSOM, USC (to H.E.), Robert Packard Center for ALS Research (to G.L.), the (R01NS093213 to G.L.), the Global Research Development Center Program from the National Research Foundation (NRF) of Korea (2017K1A4A3014959 to G.L.), NIH/NINDS (1R01NS117604-01 to N.J.M., Basic Research Program of the NRF (2021R1A2C1007793 to Y.B.H) and the Medical Research Center program (2016R1A5A2007009 to Y.B.H.) from the NRF.
Ethics declarations
Competing interests
The authors declare no competing interests.
Additional information
Peer review information Nature Neuroscience thanks the anonymous reviewers for their contribution to the peer review of this work.
Publisher's note Springer Nature remains neutral with regard to jurisdictional claims in published maps and institutional affiliations.
Supplementary information
About this article
Cite this article
Lee, H., Lee, J.J., Park, N.Y. et al. Multi-omic analysis of selectively vulnerable motor neuron subtypes implicates altered lipid metabolism in ALS. Nat Neurosci 24, 1673–1685 (2021). https://doi.org/10.1038/s41593-021-00944-z
Received:

Accepted:

Published:

Issue Date:

DOI: https://doi.org/10.1038/s41593-021-00944-z