Abstract
Amyotrophic lateral sclerosis (ALS) is a relentless neurodegenerative disease of the human motor neuron system, where variability in progression rate limits clinical trial efficacy. Therefore, better prognostication will facilitate therapeutic progress. In this study, we investigated the potential of plasma cell-free microRNAs (miRNAs) as ALS prognostication biomarkers in 252 patients with detailed clinical phenotyping. First, we identified, in a longitudinal cohort, miRNAs whose plasma levels remain stable over the course of disease. Next, we showed that high levels of miR-181, a miRNA enriched in neurons, predicts a greater than two-fold risk of death in independent discovery and replication cohorts (126 and 122 patients, respectively). miR-181 performance is similar to neurofilament light chain (NfL), and when combined together, miR-181 + NfL establish a novel RNA–protein biomarker pair with superior prognostication capacity. Therefore, plasma miR-181 alone and a novel miRNA–protein biomarker approach, based on miR-181 + NfL, boost precision of patient stratification. miR-181-based ALS biomarkers encourage additional validation and might enhance the power of clinical trials.
Your institute does not have access to this article
Relevant articles
Open Access articles citing this article.
Naoki Suzuki

,

Ayumi Nishiyama

…

Masashi Aoki

Journal of Human Genetics Open Access 13 June 2022
Access options
Subscribe to Nature+
Get immediate online access to the entire Nature family of 50+ journals
Subscribe to Journal
Get full journal access for 1 year
$59.00
only $4.92 per issue
All prices are NET prices.
VAT will be added later in the checkout.
Tax calculation will be finalised during checkout.
Buy article
Get time limited or full article access on ReadCube.
$32.00
All prices are NET prices.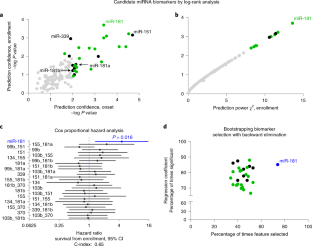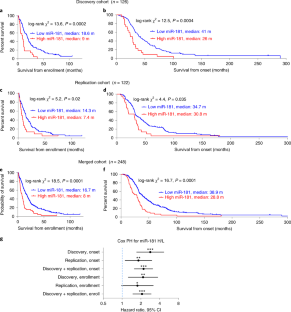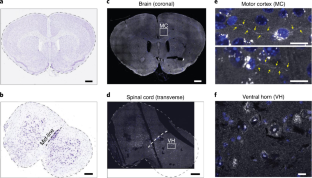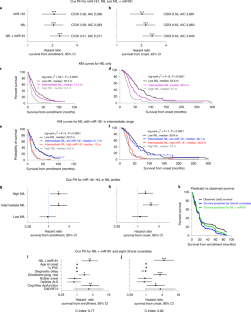 Data availability
Source data for figures are provided in supplementary tables. FASTQ.gz files with raw sequencing data, text files with raw read counts, Excel files with processed read counts and R codes are available as GSE168714 in the Gene Expression Omnibus. Source data are provided with this paper.
References
Munsat, T. L., Andres, P. L., Finison, L., Conlon, T. & Thibodeau, L. The natural history of motoneuron loss in amyotrophic lateral sclerosis. Neurology 38, 409–413 (1988).

Ravits, J. M. & La Spada, A. R. ALS motor phenotype heterogeneity, focality, and spread: deconstructing motor neuron degeneration. Neurology 73, 805–811 (2009).

Benatar, M. et al. ALS biomarkers for therapy development: state of the field and future directions. Muscle Nerve 53, 169–182 (2016).

Chipika, R. H., Finegan, E., Li Hi Shing, S., Hardiman, O. & Bede, P. Tracking a fast-moving disease: longitudinal markers, monitoring, and clinical trial endpoints in ALS. Front. Neurol. 10, 229 (2019).

Verber, N. S. et al. Biomarkers in motor neuron disease: a state of the art review. Front. Neurol. 10, 291 (2019).

Rossi, D. et al. CSF neurofilament proteins as diagnostic and prognostic biomarkers for amyotrophic lateral sclerosis. J. Neurol. 265, 510–521 (2018).

Goncalves, M. et al. Phosphoneurofilament heavy chain and vascular endothelial growth factor as cerebrospinal fluid biomarkers for ALS. Amyotroph. Lateral Scler. Frontotemporal Degener. 18, 134–136 (2017).

Lu, C. H. et al. Plasma neurofilament heavy chain levels and disease progression in amyotrophic lateral sclerosis: insights from a longitudinal study. J. Neurol. Neurosurg. Psychiatry 86, 565–573 (2015).

Gonzalez-Garza, M. T., Martinez, H. R., Cruz-Vega, D. E., Hernandez-Torre, M. & Moreno-Cuevas, J. E. Adipsin, MIP-1b, and IL-8 as CSF biomarker panels for ALS diagnosis. Dis. Markers 2018, 3023826 (2018).

Prado, L. G. R. et al. Longitudinal assessment of clinical and inflammatory markers in patients with amyotrophic lateral sclerosis. J. Neurol. Sci. 394, 69–74 (2018).

Lu, C. H. et al. Systemic inflammatory response and neuromuscular involvement in amyotrophic lateral sclerosis. Neurol. Neuroimmunol. Neuroinflamm. 3, e244 (2016).

Haramati, S. et al. miRNA malfunction causes spinal motor neuron disease. Proc. Natl Acad. Sci. USA 107, 13111–13116 (2010).

Emde, A. et al. Dysregulated miRNA biogenesis downstream of cellular stress and ALS-causing mutations: a new mechanism for ALS. EMBO J. 34, 2633–2651 (2015).

Eitan, C. & Hornstein, E. Vulnerability of microRNA biogenesis in FTD–ALS. Brain Res. 1647, 105–111 (2016).

Takahashi, I. et al. Identification of plasma microRNAs as a biomarker of sporadic amyotrophic lateral sclerosis. Mol. Brain 8, 67 (2015).

de Andrade, H. M. et al. MicroRNAs-424 and 206 are potential prognostic markers in spinal onset amyotrophic lateral sclerosis. J. Neurol. Sci. 368, 19–24 (2016).

Sheinerman, K. S. et al. Circulating brain-enriched microRNAs as novel biomarkers for detection and differentiation of neurodegenerative diseases. Alzheimers Res. Ther. 9, 89 (2017).

Dobrowolny, G. et al. A longitudinal study defined circulating microRNAs as reliable biomarkers for disease prognosis and progression in ALS human patients. Cell Death Discov. 7, 4 (2021).

Benigni, M. et al. Identification of miRNAs as potential biomarkers in cerebrospinal fluid from amyotrophic lateral sclerosis patients. Neuromolecular Med. 18, 551–560 (2016).

Coenen-Stass, A. M. L. et al. Evaluation of methodologies for microRNA biomarker detection by next generation sequencing. RNA Biol. 15, 1133–1145 (2018).

Ogłuszka, M., Orzechowska, M., Jędroszka, D., Witas, P. & Bednarek, A. K. Evaluate Cutpoints: adaptable continuous data distribution system for determining survival in Kaplan–Meier estimator. Comput. Methods Prog. Biomed. 177, 133–139 (2019).

Austin, P. C. & Tu, J. V. Bootstrap methods for developing predictive models. Am. Statistician 58, 131–137 (2004).

Westeneng, H. J. et al. Prognosis for patients with amyotrophic lateral sclerosis: development and validation of a personalised prediction model. Lancet Neurol. 17, 423–433 (2018).

Steinbach, R. et al. Disease aggressiveness signatures of amyotrophic lateral sclerosis in white matter tracts revealed by the D50 disease progression model. Hum. Brain Mapp. 42, 737–752 (2021).

Reichenstein, I. et al. Human genetics and neuropathology suggest a link between miR-218 and amyotrophic lateral sclerosis pathophysiology. Sci. Transl. Med. 11, eaav5264 (2019).

Ludwig, N. et al. Distribution of miRNA expression across human tissues. Nucleic Acids Res. 44, 3865–3877 (2016).

Khalil, M. et al. Neurofilaments as biomarkers in neurological disorders. Nat. Rev. Neurol. 14, 577–589 (2018).

Lu, C. H. et al. Neurofilament light chain: a prognostic biomarker in amyotrophic lateral sclerosis. Neurology 84, 2247–2257 (2015).

Poesen, K. & Van Damme, P. Diagnostic and prognostic performance of neurofilaments in ALS. Front. Neurol. 9, 1167 (2018).

Benatar, M. et al. Validation of serum neurofilaments as prognostic and potential pharmacodynamic biomarkers for ALS. Neurology 95, e59–e69 (2020).

Corradi, E. et al. Axonal precursor miRNAs hitchhike on endosomes and locally regulate the development of neural circuits. EMBO J. 39, e102513 (2020).

Chen, C.-Z., Li, L., Lodish, H. F. & Bartel, D. P. MicroRNAs modulate hematopoietic lineage differentiation. Science 303, 83 (2004).

Benatar, M., Wuu, J., Andersen, P. M., Lombardi, V. & Malaspina, A. Neurofilament light: a candidate biomarker of presymptomatic amyotrophic lateral sclerosis and phenoconversion. Ann. Neurol. 84, 130–139 (2018).

Puentes, F. et al. Immune reactivity to neurofilaments and dipeptide repeats in ALS progression. Preprint at https://www.biorxiv.org/content/10.1101/2020.02.25.965236v1 (2020).

Puentes, F. et al. Immune reactivity to neurofilament proteins in the clinical staging of amyotrophic lateral sclerosis. J. Neurol. Neurosurg. Psychiatry 85, 274–278 (2014).

Brooks, B. R., Miller, R. G., Swash, M., Munsat, T. L. & World Federation of Neurology Research Group on Motor Neuron Diseases. El Escorial revisited: revised criteria for the diagnosis of amyotrophic lateral sclerosis. Amyotroph. Lateral Scler. Other Mot. Neuron Disord. 1, 293–299 (2000).

Cedarbaum, J. M. et al. The ALSFRS-R: a revised ALS functional rating scale that incorporates assessments of respiratory function. BDNF ALS Study Group (Phase III). J. Neurol. Sci. 169, 13–21 (1999).

Poesen, K. et al. Neurofilament markers for ALS correlate with extent of upper and lower motor neuron disease. Neurology 88, 2302–2309 (2017).

Prell, T. et al. Reaction to endoplasmic reticulum stress via ATF6 in amyotrophic lateral sclerosis deteriorates with aging. Front. Aging Neurosci. 11, 5 (2019).

Kohen, R. et al. UTAP: user-friendly transcriptome analysis pipeline. BMC Bioinformatics 24, 154 (2019).

Kozomara, A. & Griffiths-Jones, S. miRBase: annotating high confidence microRNAs using deep sequencing data. Nucleic Acids Res. 42, D68–D73 (2014).

Love, M. I., Huber, W. & Anders, S. Moderated estimation of fold change and dispersion for RNA-seq data with DESeq2. Genome Biol. 15, 550 (2014).

Lombardi, V. et al. Muscle and not neuronal biomarkers correlate with severity in spinal and bulbar muscular atrophy. Neurology 92, e1205–e1211 (2019).

Peng, T. et al. A BaSiC tool for background and shading correction of optical microscopy images. Nat. Commun. 8, 14836 (2017).

Anders, S. & Huber, W. Differential expression analysis for sequence count data. Genome Biol. 11, R106 (2010).

Benjamini, Y., Drai, D., Elmer, G., Kafkafi, N. & Golani, I. Controlling the false discovery rate in behavior genetics research. Behav. Brain Res. 125, 279–284 (2001).

Harrell, F. E. Jr., Lee, K. L., Califf, R. M., Pryor, D. B. & Rosati, R. A. Regression modelling strategies for improved prognostic prediction. Stat. Med. 3, 143–152 (1984).

Grubbs, F. E. Procedures for detecting outlying observations in samples. Technometrics 11, 1–21 (1969).

R Core Team. R: A Language and Environment for Statistical Computing (R Foundation for Statistical Computing, 2015).
Acknowledgements
We thank V. Lombardi (University College London) for technical assistance and I. Ben-Dov (Hadassah Hebrew University Medical Center) for advice on statistics. We acknowledge patients for their contributions and all ALS biomarker study coworkers and their contributions to the biobanking project, which made this study possible (REC 09/H0703/27). We also thank the North Thames Local Research Network for its support and life science editors for editorial assistance. E.H. is the Mondry Family Professorial Chair and Head of the Nella and Leon Benoziyo Center for Neurological Diseases. Imaging was performed at the de Picciotto Cancer Cell Observatory, in memory of Wolfgang and Ruth Lesser. Funding: this research was supported by the following grants: Motor Neurone Disease Association (MNDA no. 839-791), Redhill Foundation – Sam and Jean Rothberg Charitable Trust and J. and E. Moravitz. Research at the Hornstein lab is supported by the CReATe Consortium and ALSA (program: 'Prognostic value of miRNAs in biofluids from ALS patients'); the RADALA Foundation; AFM Telethon (20576); Weizmann - Brazil Center for Research on Neurodegeneration at the Weizmann Institute of Science; the Minerva Foundation, with funding from the Federal German Ministry for Education and Research; the ISF Legacy Heritage Fund 828/17; the Israel Science Foundation 135/16 and ISF IPMP 3497/21; Target ALS 118945; the Thierry Latran Foundation for ALS Research; the European Research Council, under the European Union's Seventh Framework Programme (FP7/2007–2013)/ERC grant agreement no. 617351; ERA-Net for Research Programmes on Rare Diseases (eRARE FP7), via the Israel Ministry of Health; Dr. Sydney Brenner and friends; A. Alfred Taubman through IsrALS; Yeda-Sela; Yeda-CEO; the Israel Ministry of Trade and Industry; the Y. Leon Benoziyo Institute for Molecular Medicine; the Kekst Family Institute for Medical Genetics; the David and Fela Shapell Family Center for Genetic Disorders Research; the Crown Human Genome Center; the Nathan, Shirley, Philip and Charlene Vener New Scientist Fund; the Julius and Ray Charlestein Foundation; the Fraida Foundation; the Wolfson Family Charitable Trust; the Adelis Foundation; Merck (United Kingdom); M. Halphen; and the estates of F. Sherr, L. Asseof and L. Fulop. P.F. is supported by a Medical Research Council Senior Clinical Fellowship and the Lady Edith Wolfson Fellowship scheme (MR/M008606/1 and MR/S006508/1). J.G. was supported in the JPND framework ONWebDUALS, and L.G. is the Graeme Watts Senior Research Fellow supported by the Brain Research Trust. N.S.Y. was supported by the Israeli Council for Higher Education via the Weizmann Data Science Research Center, by a research grant from the Estate of Tully and Michele Plesser and by Maccabim Foundation. I.M. was supported by Teva Pharmaceutical Industries as part of the Israeli National Network of Excellence in Neuroscience (fellowship no. 117941).
Ethics declarations
Competing interests
The authors declare no competing interests.
Additional information
Peer review information Nature Neuroscience thanks the anonymous reviewers for their contribution to the peer review of this work.
Publisher's note Springer Nature remains neutral with regard to jurisdictional claims in published maps and institutional affiliations.
Supplementary information
About this article
Cite this article
Magen, I., Yacovzada, N.S., Yanowski, E. et al. Circulating miR-181 is a prognostic biomarker for amyotrophic lateral sclerosis. Nat Neurosci 24, 1534–1541 (2021). https://doi.org/10.1038/s41593-021-00936-z
Received:

Accepted:

Published:

Issue Date:

DOI: https://doi.org/10.1038/s41593-021-00936-z
Further reading
Naoki Suzuki
Ayumi Nishiyama
Masashi Aoki

Journal of Human Genetics (2022)