Abstract
Dopamine plays a central role in motivating and modifying behavior, serving to invigorate current behavioral performance and guide future actions through learning. Here we examine how this single neuromodulator can contribute to such diverse forms of behavioral modulation. By recording from the dopaminergic reinforcement pathways of the Drosophila mushroom body during active odor navigation, we reveal how their ongoing motor-associated activity relates to goal-directed behavior. We found that dopaminergic neurons correlate with different behavioral variables depending on the specific navigational strategy of an animal, such that the activity of these neurons preferentially reflects the actions most relevant to odor pursuit. Furthermore, we show that these motor correlates are translated to ongoing dopamine release, and acutely perturbing dopaminergic signaling alters the strength of odor tracking. Context-dependent representations of movement and reinforcement cues are thus multiplexed within the mushroom body dopaminergic pathways, enabling them to coordinately influence both ongoing and future behavior.
Access options
Subscribe to Nature+
Get immediate online access to the entire Nature family of 50+ journals
Subscribe to Journal
Get full journal access for 1 year
$99.00
only $8.25 per issue
All prices are NET prices.
VAT will be added later in the checkout.
Tax calculation will be finalised during checkout.
Buy article
Get time limited or full article access on ReadCube.
$32.00
All prices are NET prices.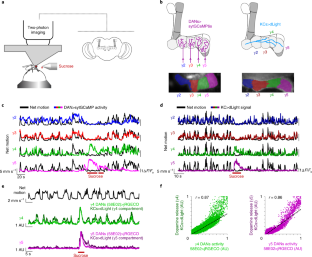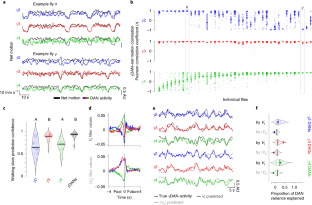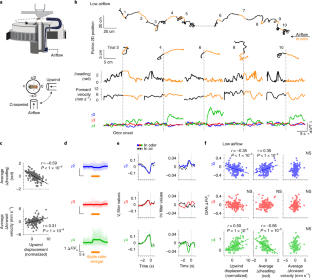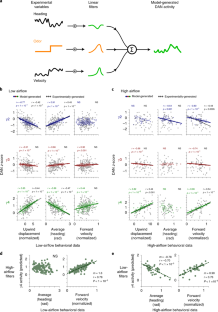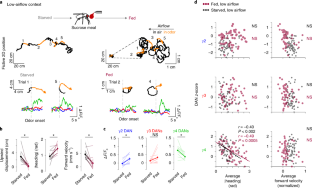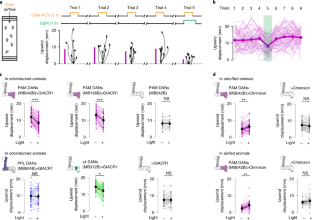 References
Bargmann, C. I. & Marder, E. From the connectome to brain function. Nat. Methods 10, 483–490 (2013).

Schultz, W., Dayan, P. & Montague, P. R. A neural substrate of prediction and reward. Science 275, 1593–1599 (1997).

Watabe-Uchida, M., Eshel, N. & Uchida, N. Neural circuitry of reward prediction error. Annu. Rev. Neurosci. 40, 373–394 (2017).

Waddell, S. Reinforcement signalling in Drosophila; dopamine does it all after all. Curr. Opin. Neurobiol. 23, 324–329 (2013).

Da Silva, J. A., Tecuapetla, F., Paixão, V. & Costa, R. M. Dopamine neuron activity before action initiation gates and invigorates future movements. Nature 554, 244–248 (2018).

Howe, M. W. & Dombeck, D. A. Rapid signalling in distinct dopaminergic axons during locomotion and reward. Nature 535, 505–510 (2016).

Panigrahi, B. et al. Dopamine is required for the neural representation and control of movement vigor. Cell 162, 1418–1430 (2015).

Salamone, J. D. & Correa, M. The mysterious motivational functions of mesolimbic dopamine. Neuron 76, 470–485 (2012).

Beierholm, U. et al. Dopamine modulates reward-related vigor. Neuropsychopharmacology 38, 1495–1503 (2013).

Parker, N. F. et al. Reward and choice encoding in terminals of midbrain dopamine neurons depends on striatal target. Nat. Neurosci. 19, 845–854 (2016).

Engelhard, B. et al. Specialized coding of sensory, motor and cognitive variables in VTA dopamine neurons. Nature 570, 509–513 (2019).

Yves, K., Jérôme, F., Clément, R. & Christian, L. Context-dependent multiplexing by individual VTA dopamine neurons. J. Neurosci. 40, 7489–7509 (2020).

Coddington, L. T. & Dudman, J. T. Review learning from action: reconsidering movement signaling in midbrain dopamine. Neuron Act. Neuron 104, 63–77 (2019).

Berke, J. D. What does dopamine mean? Nat. Neurosci. 21, 787–793 (2018).

Watabe-Uchida, M. & Uchida, N. Multiple dopamine systems: weal and woe of dopamine. Cold Spring Harb. Symp. Quant. Biol. LXXXIII, 037648 (2019).

Aso, Y. et al. The neuronal architecture of the mushroom body provides a logic for associative learning. eLife 3, e04577 (2014).

Claridge-Chang, A. et al. Writing memories with light-addressable reinforcement circuitry. Cell 139, 405–415 (2009).

Liu, C. et al. A subset of dopamine neurons signals reward for odour memory in Drosophila. Nature 488, 512–516 (2012).

Aso, Y. et al. Specific dopaminergic neurons for the formation of labile aversive memory. Curr. Biol. 20, 1445–1451 (2010).

Yamagata, N. et al. Distinct dopamine neurons mediate reward signals for short- and long-term memories. Proc. Natl Acad. Sci. USA 112, 578–583 (2015).

Aso, Y. et al. Three dopamine pathways induce aversive odor memories with different stability. PLoS Genet. 8, e1002768 (2012).

Aso, Y. & Rubin, G. M. Dopaminergic neurons write and update memories with cell-type-specific rules. eLife 5, 1–15 (2016).

Aso, Y. et al. Mushroom body output neurons encode valence and guide memory-based action selection in Drosophila. eLife 3, e04580 (2014).

Burke, C. J. et al. Layered reward signalling through octopamine and dopamine in Drosophila. Nature 492, 433–437 (2012).

Hige, T., Aso, Y., Modi, M. N., Rubin, G. M. & Turner, G. C. Heterosynaptic plasticity underlies aversive olfactory learning in Drosophila. Neuron 88, 985–998 (2015).

Cohn, R., Morantte, I. & Ruta, V. Coordinated and compartmentalized neuromodulation shapes sensory processing in Drosophila. Cell 163, 1742–1755 (2015).

Waddell, S. Neural plasticity: dopamine tunes the mushroom body output network. Curr. Biol. 26, R109–R112 (2016).

Handler, A. et al. Distinct dopamine receptor pathways underlie the temporal sensitivity of associative learning. Cell 178, 60–75 (2019).

Berry, J. A., Cervantes-Sandoval, I., Chakraborty, M. & Davis, R. L. Sleep facilitates memory by blocking dopamine neuron-mediated forgetting. Cell 161, 1656–1667 (2015).

Aimon, S. et al. Fast near-whole–brain imaging in adult Drosophila during responses to stimuli and behavior. PLoS Biol. 17, e2006732 (2019).

Siju, K. P. et al. Valence and state-dependent population coding in dopaminergic neurons in the fly mushroom body. Curr. Biol. 30, 809277 (2020).

Li, F. et al. The connectome of the adult Drosophila mushroom body provides insights into function. eLife 9, e62576 (2020).

Pnevmatikakis, E. A. et al. Simultaneous denoising, deconvolution, and demixing of calcium imaging data. Neuron 89, 285–299 (2016).

Patriarchi, T. et al. Ultrafast neuronal imaging of dopamine dynamics with designed genetically encoded sensors. Science 360, eaat4422 (2018).

Dana, H. et al. Sensitive red protein calcium indicators for imaging neural activity. eLife 5, e12727 (2016).

Hamid, A. A. et al. Mesolimbic dopamine signals the value of work. Nat. Neurosci. 19, 117–126 (2015).

Coddington, L. T. & Dudman, J. T. The timing of action determines reward prediction signals in identified midbrain dopamine neurons. Nat. Neurosci. 21, 1563–1573 (2018).

Saunders, B. T., Richard, J. M., Margolis, E. B. & Janak, P. H. Dopamine neurons create Pavlovian conditioned stimuli with circuit-defined motivational properties. Nat. Neurosci. 21, 1072–1083 (2018).

Hughes, R. N. et al. Ventral tegmental dopamine neurons control the impulse vector during motivated behavior. Curr. Biol. 30, 2681–2694 (2020).

Syed, E. C. J. et al. Action initiation shapes mesolimbic dopamine encoding of future rewards. Nat. Neurosci. 19, 34–36 (2016).

Baker, K. L. et al. Algorithms for olfactory search across species. J. Neurosci. 38, 9383–9389 (2018).

Bell, W. J. & Kramer, E. Sex pheromone-stimulated orientation of the American cockroach on a servosphere apparatus. J. Chem. Ecol. 6, 287–295 (1980).

Tsao, C. H., Chen, C. C., Lin, C. H., Yang, H. Y. & Lin, S. Drosophila mushroom bodies integrate hunger and satiety signals to control innate food-seeking behavior. eLife 7, 1–35 (2018).

Sayin, S. et al. A neural circuit arbitrates between persistence and withdrawal in hungry Drosophila. Neuron 104, 544–558 (2019).

Yu, Y. et al. Regulation of starvation-induced hyperactivity by insulin and glucagon signaling in adult Drosophila. eLife 5, 1–19 (2016).

Landayan, D., Feldman, D. S. & Wolf, F. W. Satiation state-dependent dopaminergic control of foraging in Drosophila. Sci. Rep. 8, 5777 (2018).

Dayan, P. & Balleine, B. W. Reward, motivation, and reinforcement learning. Neuron 36, 285–298 (2002).

Pang, R., van Breugel, F., Dickinson, M., Riffell, J. A. & Fairhall, A. History dependence in insect flight decisions during odor tracking. PLoS Comput. Biol. 14, 1–26 (2018).

Jiang, L. & Litwin-Kumar, A. Models of heterogeneous dopamine signaling in an insect learning and memory center. PLoS Comput. Biol. 17, e1009205 (2021).

Takemura, S. et al. A connectome of a learning and memory center in the adult Drosophila brain. eLife 6, e26975 (2017).

Yamamoto, K. & Vernier, P. The evolution of dopamine systems in chordates. Front. Neuroanat. 5, 1–21 (2011).

Barron, A. B., Søvik, E. & Cornish, J. L. The roles of dopamine and related compounds in reward-seeking behavior across animal phyla. Front. Behav. Neurosci. 4, 163 (2010).

Green, J. et al. A neural circuit architecture for angular integration in Drosophila. Nature 546, 101–106 (2017).

Moore, R. J. D. et al. FicTrac: a visual method for tracking spherical motion and generating fictive animal paths. J. Neurosci. Methods 225, 106–119 (2014).

Pnevmatikakis, E. A. & Giovannucci, A. NoRMCorre: an online algorithm for piecewise rigid motion correction of calcium imaging data. J. Neurosci. Methods 291, 83–94 (2017).

Giovannucci, A. et al. CaImAn an open source tool for scalable calcium imaging data analysis. eLife 8, e38173 (2019).

Meissner, G. W. et al. An image resource of subdivided Drosophila GAL4-driver expression patterns for neuron-level searches. Preprint at https://www.biorxiv.org/content/10.1101/2020.05.29.080473v1 (2020).

Clements, J. et al. neuPrint: analysis tools for EM connectomics. Preprint at https://www.biorxiv.org/content/10.1101/2020.01.16.909465v1 (2020).
Acknowledgements
We thank S. R. Datta, B. Noro, A. Handler and members of the Ruta lab for valuable discussions and comments on the manuscript. We also thank C. Dan, V. Jayaraman and L. Tian for developing the dLight sensor flies and J. Petrillo and P. Stock for technical advice. Stocks from the Bloomington Drosophila Stock Center (NIH P40OD018537) were used in this study. This work was supported by the National Institutes of Health (R01NS113103 and DP2NS087942 (to V.R) and T32GM007739 to the Weill Cornell/Rockefeller/Sloan Kettering Tri-Institutional MD-PhD Program (to A.Z. and A.S.)); by a Kavli Neural Systems Institute Fellowship (to A.S.); and by the Simons Collaboration on the Global Brain (to V.R. and A.F.).
Ethics declarations
Competing interests
The authors declare no competing interests.
Additional information
Peer review information Nature Neuroscience thanks Bernardo Sabatini and the other, anonymous, reviewer(s) for their contribution to the peer review of this work.
Publisher's note Springer Nature remains neutral with regard to jurisdictional claims in published maps and institutional affiliations.
Supplementary information
About this article
Cite this article
Zolin, A., Cohn, R., Pang, R. et al. Context-dependent representations of movement in Drosophila dopaminergic reinforcement pathways. Nat Neurosci 24, 1555–1566 (2021). https://doi.org/10.1038/s41593-021-00929-y
Received:

Accepted:

Published:

Issue Date:

DOI: https://doi.org/10.1038/s41593-021-00929-y