Abstract
The basolateral amygdala (BLA) plays essential roles in behaviors motivated by stimuli with either positive or negative valence, but how it processes motivationally opposing information and participates in establishing valence-specific behaviors remains unclear. Here, by targeting Fezf2-expressing neurons in the BLA, we identify and characterize two functionally distinct classes in behaving mice, the negative-valence neurons and positive-valence neurons, which innately represent aversive and rewarding stimuli, respectively, and through learning acquire predictive responses that are essential for punishment avoidance or reward seeking. Notably, these two classes of neurons receive inputs from separate sets of sensory and limbic areas, and convey punishment and reward information through projections to the nucleus accumbens and olfactory tubercle, respectively, to drive negative and positive reinforcement. Thus, valence-specific BLA neurons are wired with distinctive input–output structures, forming a circuit framework that supports the roles of the BLA in encoding, learning and executing valence-specific motivated behaviors.
Access options
Subscribe to Journal
Get full journal access for 1 year
$59.00
only $4.92 per issue
All prices are NET prices.
VAT will be added later in the checkout.
Tax calculation will be finalised during checkout.
Rent or Buy article
Get time limited or full article access on ReadCube.
from$8.99
All prices are NET prices.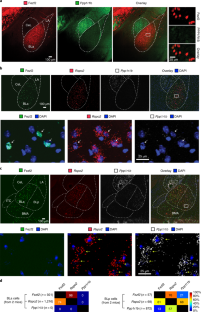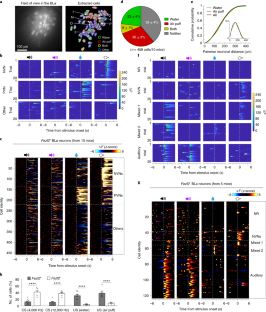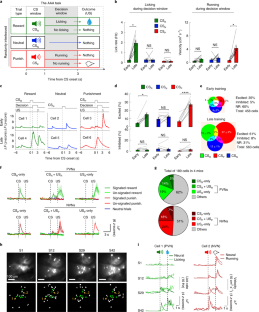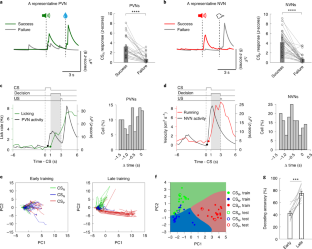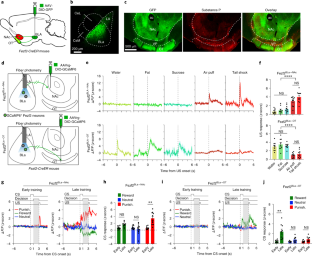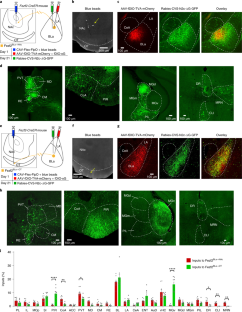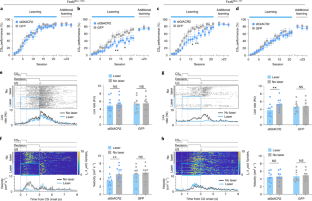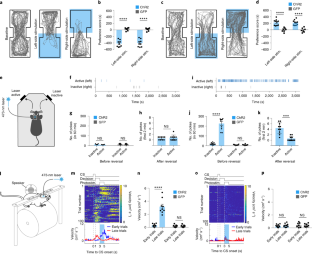 References
1.

Gore, F. et al. Neural representations of unconditioned stimuli in basolateral amygdala mediate innate and learned responses. Cell 162, 134–145 (2015).

2.

O'Neill, P. K., Gore, F. & Salzman, C. D. Basolateral amygdala circuitry in positive and negative valence. Curr. Opin. Neurobiol. 49, 175–183 (2018).

3.

Pignatelli, M. & Beyeler, A. Valence coding in amygdala circuits. Curr. Opin. Behav. Sci. 26, 97–106 (2019).

4.

Redondo, R. L. et al. Bidirectional switch of the valence associated with a hippocampal contextual memory engram. Nature 513, 426–430 (2014).

5.

Kim, J., Pignatelli, M., Xu, S., Itohara, S. & Tonegawa, S. Antagonistic negative and positive neurons of the basolateral amygdala. Nat. Neurosci. 19, 1636–1646 (2016).

6.

Shen, C. J. et al. Cannabinoid CB1 receptors in the amygdalar cholecystokinin glutamatergic afferents to nucleus accumbens modulate depressive-like behavior. Nat. Med. 25, 337–349 (2019).

7.

Zhang, X., Kim, J. & Tonegawa, S. Amygdala reward neurons form and store fear extinction memory. Neuron 105, 1077–1093 (2020).

8.

Fusi, S., Miller, E. K. & Rigotti, M. Why neurons mix: high dimensionality for higher cognition. Curr. Opin. Neurobiol. 37, 66–74 (2016).

9.

Kyriazi, P., Headley, D. B. & Pare, D. Multidimensional coding by basolateral amygdala neurons. Neuron 99, 1315–1328 (2018).

10.

Stuber, G. D. et al. Excitatory transmission from the amygdala to nucleus accumbens facilitates reward seeking. Nature 475, 377–380 (2011).

11.

Namburi, P. et al. A circuit mechanism for differentiating positive and negative associations. Nature 520, 675–678 (2015).

12.

Britt, J. P. et al. Synaptic and behavioral profile of multiple glutamatergic inputs to the nucleus accumbens. Neuron 76, 790–803 (2012).

13.

Beyeler, A. et al. Organization of valence-encoding and projection-defined neurons in the basolateral amygdala. Cell Rep. 22, 905–918 (2018).

14.

Beyeler, A. et al. Divergent routing of positive and negative information from the amygdala during memory retrieval. Neuron 90, 348–361 (2016).

15.

Lodato, S. et al. Gene co-regulation by Fezf2 selects neurotransmitter identity and connectivity of corticospinal neurons. Nat. Neurosci. 17, 1046–1054 (2014).

16.

Tantirigama, M. L., Oswald, M. J., Duynstee, C., Hughes, S. M. & Empson, R. M. Expression of the developmental transcription factor Fezf2 identifies a distinct subpopulation of layer 5 intratelencephalic-projection neurons in mature mouse motor cortex. J. Neurosci. 34, 4303–4308 (2014).

17.

Harris, K. D. & Shepherd, G. M. The neocortical circuit: themes and variations. Nat. Neurosci. 18, 170–181 (2015).

18.

Hirata-Fukae, C. & Hirata, T. The zinc finger gene Fezf2 is required for the development of excitatory neurons in the basolateral complex of the amygdala. Dev. Dyn. 243, 1030–1036 (2014).

19.

Carlsen, J. & Heimer, L. The basolateral amygdaloid complex as a cortical-like structure. Brain Res. 441, 377–380 (1988).

20.

Matho, K. S. et al. Genetic dissection of glutamatergic neuron subpopulations and developmental trajectories in the cerebral cortex. Preprint at bioRxiv https://www.biorxiv.org/content/10.1101/2020.04.22.054064v1; Nature, in press (2021).

21.

Madisen, L. et al. A robust and high-throughput Cre reporting and characterization system for the whole mouse brain. Nat. Neurosci. 13, 133–140 (2010).

22.

He, M. et al. Cell-type-based analysis of microRNA profiles in the mouse brain. Neuron 73, 35–48 (2012).

23.

McDonald, A. J., Muller, J. F. & Mascagni, F. GABAergic innervation of alpha type II calcium/calmodulin-dependent protein kinase immunoreactive pyramidal neurons in the rat basolateral amygdala. J. Comp. Neurol. 446, 199–218 (2002).

24.

Chen, T. W. et al. Ultrasensitive fluorescent proteins for imaging neuronal activity. Nature 499, 295–300 (2013).

25.

Kim, J., Zhang, X., Muralidhar, S., LeBlanc, S. A. & Tonegawa, S. Basolateral to central amygdala neural circuits for appetitive behaviors. Neuron 93, 1464–1479 (2017).

26.

Fenno, L. E. et al. Targeting cells with single vectors using multiple-feature Boolean logic. Nat. Methods 11, 763–772 (2014).

27.

Gallistel, C. R., Fairhurst, S. & Balsam, P. The learning curve: implications of a quantitative analysis. Proc. Natl Acad. Sci. USA 101, 13124–13131 (2004).

28.

Paton, J. J., Belova, M. A., Morrison, S. E. & Salzman, C. D. The primate amygdala represents the positive and negative value of visual stimuli during learning. Nature 439, 865–870 (2006).

29.

Cunningham, J. P. & Yu, B. M. Dimensionality reduction for large-scale neural recordings. Nat. Neurosci. 17, 1500–1509 (2014).

30.

de Olmos, J. S. & Heimer, L. The concepts of the ventral striatopallidal system and extended amygdala. Ann. N. Y. Acad. Sci. 877, 1–32 (1999).

31.

Wesson, D. W. & Wilson, D. A. Sniffing out the contributions of the olfactory tubercle to the sense of smell: hedonics, sensory integration, and more? Neurosci. Biobehav. Rev. 35, 655–668 (2011).

32.

Petreanu, L., Mao, T., Sternson, S. M. & Svoboda, K. The subcellular organization of neocortical excitatory connections. Nature 457, 1142–1145 (2009).

33.

Yu, K., Garcia da Silva, P., Albeanu, D. F. & Li, B. Central amygdala somatostatin neurons gate passive and active defensive behaviors. J. Neurosci. 36, 6488–6496 (2016).

34.

Xiao, X. et al. A genetically defined compartmentalized striatal direct pathway for negative reinforcement. Cell 183, 211–227 (2020).

35.

Schwarz, L. A. et al. Viral-genetic tracing of the input–output organization of a central noradrenaline circuit. Nature 524, 88–92 (2015).

36.

Reardon, T. R. et al. Rabies virus CVS-N2cΔG strain enhances retrograde synaptic transfer and neuronal viability. Neuron 89, 711–724 (2016).

37.

Schiff, H. C. et al. An insula-central amygdala circuit for guiding tastant-reinforced choice behavior. J. Neurosci. 38, 1418–1429 (2018).

38.

Stephenson-Jones, M. et al. Opposing contributions of GABAergic and glutamatergic ventral pallidal neurons to motivational behaviors. Neuron 105, 921–933 (2020).

39.

Stephenson-Jones, M. et al. A basal ganglia circuit for evaluating action outcomes. Nature 539, 289–293 (2016).

40.

Vardy, E. et al. A new DREADD facilitates the multiplexed chemogenetic interrogation of behavior. Neuron 86, 936–946 (2015).

41.

Govorunova, E. G., Sineshchekov, O. A., Janz, R., Liu, X. & Spudich, J. L. NEUROSCIENCE. Natural light-gated anion channels: a family of microbial rhodopsins for advanced optogenetics. Science 349, 647–650 (2015).

42.

Mahn, M. et al. High-efficiency optogenetic silencing with soma-targeted anion-conducting channelrhodopsins. Nat. Commun. 9, 4125 (2018).

43.

Lang, P. J. & Davis, M. Emotion, motivation, and the brain: reflex foundations in animal and human research. Prog. Brain Res. 156, 3–29 (2006).

44.

Russell, J. A. A circumplex model of affect. J. Pers. Soc. Psychol. 39, 1161–1178 (1980).

45.

Tye, K. M. Neural circuit motifs in valence processing. Neuron 100, 436–452 (2018).

46.

Choi, J. S., Cain, C. K. & LeDoux, J. E. The role of amygdala nuclei in the expression of auditory signaled two-way active avoidance in rats. Learn Mem. 17, 139–147 (2010).

47.

Ramirez, F., Moscarello, J. M., LeDoux, J. E. & Sears, R. M. Active avoidance requires a serial basal amygdala to nucleus accumbens shell circuit. J. Neurosci. 35, 3470–3477 (2015).

48.

Janak, P. H. & Tye, K. M. From circuits to behaviour in the amygdala. Nature 517, 284–292 (2015).

49.

Fitzgerald, B. J., Richardson, K. & Wesson, D. W. Olfactory tubercle stimulation alters odor preference behavior and recruits forebrain reward and motivational centers. Front. Behav. Neurosci. 8, 81 (2014).

50.

Ikemoto, S. Involvement of the olfactory tubercle in cocaine reward: intracranial self-administration studies. J. Neurosci. 23, 9305–9311 (2003).

51.

Ikemoto, S., Qin, M. & Liu, Z. H. The functional divide for primary reinforcement of d-amphetamine lies between the medial and lateral ventral striatum: is the division of the accumbens core, shell, and olfactory tubercle valid? J. Neurosci. 25, 5061–5065 (2005).

52.

Zhang, Z. et al. Activation of the dopaminergic pathway from VTA to the medial olfactory tubercle generates odor-preference and reward. Elife 6, e25423 (2017).

53.

Grundemann, J. & Luthi, A. Ensemble coding in amygdala circuits for associative learning. Curr. Opin. Neurobiol. 35, 200–206 (2015).

54.

Mogenson, G. J., Jones, D. L. & Yim, C. Y. From motivation to action: functional interface between the limbic system and the motor system. Prog. Neurobiol. 14, 69–97 (1980).

55.

Taniguchi, H. et al. A resource of Cre driver lines for genetic targeting of GABAergic neurons in cerebral cortex. Neuron 71, 995–1013 (2011).

56.

He, M. et al. Strategies and tools for combinatorial targeting of GABAergic neurons in mouse cerebral cortex. Neuron 91, 1228–1243 (2016).

57.

Yu, K. et al. The central amygdala controls learning in the lateral amygdala. Nat. Neurosci. 20, 1680–1685 (2017).

58.

Zhang, X. & Li, B. Population coding of valence in the basolateral amygdala. Nat. Commun. 9, 5195 (2018).

59.

Zhou, P. et al. Efficient and accurate extraction of in vivo calcium signals from microendoscopic video data. Elife 7, e28728 (2018).

60.

Pnevmatikakis, E. A. et al. Simultaneous denoising, deconvolution, and demixing of calcium imaging data. Neuron 89, 285–299 (2016).

61.

Sheintuch, L. et al. Tracking the same neurons across multiple days in Ca2+ imaging data. Cell Rep. 21, 1102–1115 (2017).

62.

Li, H. et al. Experience-dependent modification of a central amygdala fear circuit. Nat. Neurosci. 16, 332–339 (2013).

63.

Watabe-Uchida, M., Zhu, L., Ogawa, S. K., Vamanrao, A. & Uchida, N. Whole-brain mapping of direct inputs to midbrain dopamine neurons. Neuron 74, 858–873 (2012).

64.

Lerner, T. N. et al. Intact-brain analyses reveal distinct information carried by SNc dopamine subcircuits. Cell 162, 635–647 (2015).

65.

Beier, K. T. et al. Circuit architecture of VTA dopamine neurons revealed by systematic input–output mapping. Cell 162, 622–634 (2015).
Acknowledgements
We thank T. Russo and R. Sharma for technical assistance, and members of the laboratory of B.L. for helpful discussions. This work was supported by grants from NARSAD (28229, to X.Z.; 27820, to K.Y.), EMBO (ALTF 458-2017, to A.F.), the Swedish Research Council (2017-00333, to A.F.), the NIH (R01MH101214, R01MH108924, R01NS104944 and R01DA050374, to B.L.; R01MH101268, to Z.J.H.), the Human Frontier Science Program (RGP0015/2016, to B.L.), the Stanley Family Foundation (to B.L.), the Simons Foundation (344904, to B.L.), the Wodecroft Foundation (to B.L.), the CSHL and Northwell Health Affiliation (to B.L.), Feil Family Neuroscience Endowment (to B.L.) and the Shanghai Rising-Star Program (18QA1400600, to M.H.).
Ethics declarations
Competing interests
The authors declare no competing interests.
Additional information
Peer review information Nature Neuroscience thanks Anna Beyeler, Sabine Krabbe, and the other, anonymous, reviewer(s) for their contribution to the peer review of this work.
Publisher's note Springer Nature remains neutral with regard to jurisdictional claims in published maps and institutional affiliations.
Supplementary information
Extraction of the spatial and temporal components of GCaMP6 signals from individual neurons with CNMF-E. Shown are videos of GCaMP6 signals from Fezf2+ BLA neurons imaged through a GRIN lens in a representative mouse (the same mouse as that in Fig. 2a) receiving water and air-puff presentations. These videos are short clips of movies stitched together, with each clip representing a trial (200 frames). These videos are played in synchrony, and represent the following contents: 'raw data', GCaMP6 signals without any processing; 'denoised', the remaining signals after subtraction of the background from the raw data; 'demixed', the deconvolved spatiotemporal activity for each neuron using CNMF-E. In the 'demixed' video, the contours of four representative neurons are traced and numbered. The temporal activities of these four neurons are displayed in the bottom, in which the moving line indicates the passage of time synchronized with all the videos, and the dashed green and red lines denote the onset of water and air puff, respectively. Neurons 1 and 2 are water-responsive neurons, whereas neurons 3 and 4 are air-puff-responsive neurons. The scale bar beside each of the videos or response traces denotes ΔF values. These four neurons are also identified and labeled in Fig. 2a. See Methods for more information.
About this article
Cite this article
Zhang, X., Guan, W., Yang, T. et al. Genetically identified amygdala–striatal circuits for valence-specific behaviors. Nat Neurosci 24, 1586–1600 (2021). https://doi.org/10.1038/s41593-021-00927-0
Received:

Accepted:

Published:

Issue Date:
Further reading
Nature Neuroscience (2021)