Abstract
Spatial memories that can last a lifetime are thought to be encoded during 'online' periods of exploration and subsequently consolidated into stable cognitive maps through their 'offline' reactivation. However, the mechanisms and computational principles by which offline reactivation stabilize long-lasting spatial representations remain poorly understood. Here, we employed simultaneous fast calcium imaging and electrophysiology to track hippocampal place cells over 2 weeks of online spatial reward learning behavior and offline resting. We describe that recruitment to persistent network-level offline reactivation of spatial experiences in mice predicts the future representational stability of place cells days in advance of their online reinstatement. Moreover, while representations of reward-adjacent locations are generally more stable across days, offline-reactivation-related stability is, conversely, most prominent for reward-distal locations. Thus, while occurring on the tens of milliseconds timescale, offline reactivation is uniquely associated with the stability of multiday representations that counterbalance the overall reward-adjacency bias, thereby predicting the stabilization of cognitive maps that comprehensively reflect entire underlying spatial contexts. These findings suggest that post-learning offline-related memory consolidation plays a complimentary and computationally distinct role in learning compared to online encoding.
This is a preview of subscription content
Access options
Subscribe to Journal
Get full journal access for 1 year
$59.00
only $4.92 per issue
All prices are NET prices.
VAT will be added later in the checkout.
Tax calculation will be finalised during checkout.
Rent or Buy article
Get time limited or full article access on ReadCube.
from$8.99
All prices are NET prices.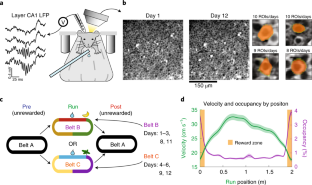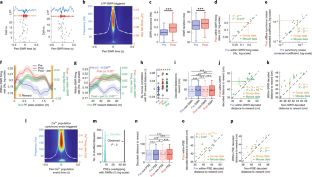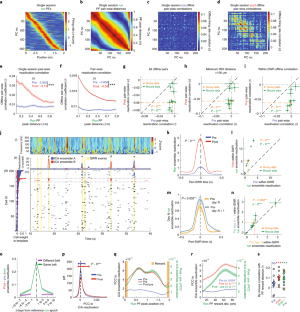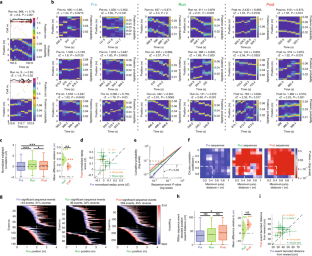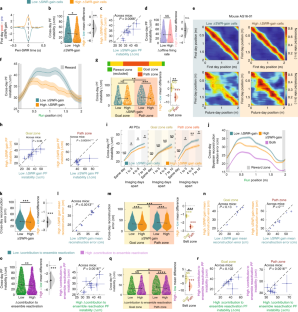 Data availability
Source data are provided with this paper. All data supporting the findings of this study are available from the corresponding author upon reasonable request.
References
1.

Tolman, E. C. Cognitive maps in rats and men. Psychol. Rev. 55, 189–208 (1948).

2.

O'Keefe, J. & Recce, M. L. Phase relationship between hippocampal place units and the EEG theta rhythm. Hippocampus 3, 317–330 (1993).

3.

Dupret, D., O'Neill, J., Pleydell-Bouverie, B. & Csicsvari, J. The reorganization and reactivation of hippocampal maps predict spatial memory performance. Nat. Neurosci. 13, 995–1002 (2010).

4.

Buzsáki, G., Horváth, Z., Urioste, R., Hetke, J. & Wise, K. High-frequency network oscillation in the hippocampus. Science 256, 1025–1027 (1992).

5.

Lee, A. K. & Wilson, M. A. Memory of sequential experience in the hippocampus during slow wave sleep. Neuron 36, 1183–1194 (2002).

6.

Vaz, A. P., Wittig, J. H., Inati, S. K. & Zaghloul, K. A. Replay of cortical spiking sequences during human memory retrieval. Science 367, 1131–1134 (2020).

7.

Buzsáki, G. Two-stage model of memory trace formation: a role for 'noisy' brain states. Neuroscience 31, 551–570 (1989).

8.

Girardeau, G., Benchenane, K., Wiener, S. I., Buzsáki, G. & Zugaro, M. B. Selective suppression of hippocampal ripples impairs spatial memory. Nat. Neurosci. 12, 1222–1223 (2009).

9.

Roux, L., Hu, B., Eichler, R., Stark, E. & Buzsáki, G. Sharp wave ripples during learning stabilize the hippocampal spatial map. Nat. Neurosci. 20, 845–853 (2017).

10.

van de Ven, G. M., Trouche, S., McNamara, C. G., Allen, K. & Dupret, D. Hippocampal offline reactivation consolidates recently formed cell assembly patterns during sharp wave-ripples. Neuron 92, 968–974 (2016).

11.

Zaremba, J. D. et al. Impaired hippocampal place cell dynamics in a mouse model of the 22q11.2 deletion. Nat. Neurosci. 20, 1612–1623 (2017).

12.

Ziv, Y. et al. Long-term dynamics of CA1 hippocampal place codes. Nat. Neurosci. 16, 264–266 (2013).

13.

Malvache, A., Reichinnek, S., Villette, V., Haimerl, C. & Cossart, R. Awake hippocampal reactivations project onto orthogonal neuronal assemblies. Science 353, 1280–1283 (2016).

14.

Grosmark, A. D. & Buzsáki, G. Diversity in neural firing dynamics supports both rigid and learned hippocampal sequences. Science 351, 1440–1443 (2016).

15.

Lopes-dos-Santos, V., Ribeiro, S. & Tort, A. B. L. Detecting cell assemblies in large neuronal populations. J. Neurosci. Methods 220, 149–166 (2013).

16.

Peyrache, A., Khamassi, M., Benchenane, K., Wiener, S. I. & Battaglia, F. P. Replay of rule-learning related neural patterns in the prefrontal cortex during sleep. Nat. Neurosci. 12, 919–926 (2009).

17.

Davidson, T. J., Kloosterman, F. & Wilson, M. A. Hippocampal replay of extended experience. Neuron 63, 497–507 (2009).

18.

Foster, D. J. & Wilson, M. A. Reverse replay of behavioural sequences in hippocampal place cells during the awake state. Nature 440, 680–683 (2006).

19.

Wu, X. & Foster, D. J. Hippocampal replay captures the unique topological structure of a novel environment. J. Neurosci. 34, 6459–6469 (2014).

20.

Diba, K. & Buzsáki, G. Forward and reverse hippocampal place-cell sequences during ripples. Nat. Neurosci. 10, 1241–1242 (2007).

21.

Kim, J. J. & Fanselow, M. S. Modality-specific retrograde amnesia of fear. Science 256, 675–677 (1992).

22.

Scoville, W. B. & Milner, B. Loss of recent memory after bilateral hippocampal lesions. J. Neurol. Neurosurg. Psychiatry 20, 11–21 (1957).

23.

Tse, D. et al. Schemas and memory consolidation. Science 316, 76–82 (2007).

24.

Squire, L. R. & Alvarez, P. Retrograde amnesia and memory consolidation: a neurobiological perspective. Curr. Opin. Neurobiol. 5, 169–177 (1995).

25.

Winocur, G. Anterograde and retrograde amnesia in rats with dorsal hippocampal or dorsomedial thalamic lesions. Behav. Brain Res. 38, 145–154 (1990).

26.

Mankin, E. A. et al. Neuronal code for extended time in the hippocampus. Proc. Natl Acad. Sci. USA 109, 19462–19467 (2012).

27.

Cai, D. J. et al. A shared neural ensemble links distinct contextual memories encoded close in time. Nature 534, 115–118 (2016).

28.

Josselyn, S. A. & Frankland, P. W. Memory allocation: mechanisms and function. Annu. Rev. Neurosci. 41, 389–413 (2018).

29.

Tononi, G. & Cirelli, C. Sleep and synaptic down-selection. Eur. J. Neurosci. 51, 413–421 (2020).

30.

Bittner, K. C., Milstein, A. D., Grienberger, C., Romani, S. & Magee, J. C. Behavioral time scale synaptic plasticity underlies CA1 place fields. Science 357, 1033–1036 (2017).

31.

Grosmark, A. D., Mizuseki, K., Pastalkova, E., Diba, K. & Buzsáki, G. REM sleep reorganizes hippocampal excitability. Neuron 75, 1001–1007 (2012).

32.

Cheng, S. & Frank, L. M. New experiences enhance coordinated neural activity in the hippocampus. Neuron 57, 303–313 (2008).

33.

Morris, R. G. M., Garrud, P., Rawlins, J. N. P. & O'Keefe, J. Place navigation impaired in rats with hippocampal lesions. Nature 297, 681–683 (1982).

34.

Atherton, L. A., Dupret, D. & Mellor, J. R. Memory trace replay: the shaping of memory consolidation by neuromodulation. Trends Neurosci. 38, 560–570 (2015).

35.

Kaufman, A. M., Geiller, T. & Losonczy, A. A role for the locus coeruleus in hippocampal CA1 place cell reorganization during spatial reward learning. Neuron 105, 1018–1026.e4 (2020).

36.

English, D. F. et al. Excitation and inhibition compete to control spiking during hippocampal ripples: intracellular study in behaving mice. J. Neurosci. 34, 16509–16517 (2014).

37.

Zhou, H. et al. Cholinergic modulation of hippocampal calcium activity across the sleep-wake cycle. eLife 8, e39777 (2019).

38.

Dragoi, G. & Tonegawa, S. Distinct preplay of multiple novel spatial experiences in the rat. Proc. Natl Acad. Sci. USA 110, 9100–9105 (2013).

39.

Mizuseki, K. & Buzsáki, G. Preconfigured, skewed distribution of firing rates in the hippocampus and entorhinal cortex. Cell Rep. 4, 1010–1021 (2013).

40.

Peyrache, A., Benchenane, K., Khamassi, M., Wiener, S. I. & Battaglia, F. P. Sequential reinstatement of neocortical activity during slow oscillations depends on cells' global activity. Front. Syst. Neurosci. 3, 18 (2010).

41.

Kudrimoti, H. S., Barnes, C. A. & McNaughton, B. L. Reactivation of hippocampal cell assemblies: effects of behavioral state, experience, and EEG dynamics. J. Neurosci. 19, 4090–4101 (1999).

42.

Sanhueza, M. & Lisman, J. The CaMKII/NMDAR complex as a molecular memory. Mol. Brain 6, 10 (2013).

43.

Giri, B., Miyawaki, H., Mizuseki, K., Cheng, S. & Diba, K. Hippocampal reactivation extends for several hours following novel experience. J. Neurosci. 39, 866–875 (2019).

44.

Foster, D. J. & Knierim, J. J. Sequence learning and the role of the hippocampus in rodent navigation. Curr. Opin. Neurobiol. 22, 294–300 (2012).

45.

Dragoi, G. & Tonegawa, S. Preplay of future place cell sequences by hippocampal cellular assemblies. Nature 469, 397–401 (2011).

46.

Ólafsdóttir, H. F., Barry, C., Saleem, A. B. & Spiers, H. J. Hippocampal place cells construct reward related sequences through unexplored space. eLife 4, e06063 (2015).

47.

Silva, D., Feng, T. & Foster, D. J. Trajectory events across hippocampal place cells require previous experience. Nat. Neurosci. https://doi.org/10.1038/nn.4151 (2015).

48.

Ambrose, R. E., Pfeiffer, B. E. & Foster, D. J. Reverse replay of hippocampal place cells is uniquely modulated by changing reward. Neuron 91, 1124–1136 (2016).

49.

Carey, A. A., Tanaka, Y. & van der Meer, M. A. A. Reward revaluation biases hippocampal replay content away from the preferred outcome. Nat. Neurosci. 22, 1450–1459 (2019).

50.

Stella, F., Baracskay, P., O'Neill, J. & Csicsvari, J. Hippocampal reactivation of random trajectories resembling brownian diffusion. Neuron 102, 450–461.e7 (2019).

51.

Gupta, A. S., van der Meer, M. A. A., Touretzky, D. S. & Redish, A. D. Hippocampal replay is not a simple function of experience. Neuron 65, 695–705 (2010).

52.

Michon, F., Sun, J.-J., Kim, C. Y., Ciliberti, D. & Kloosterman, F. Post-learning hippocampal replay selectively reinforces spatial memory for highly rewarded locations. Curr. Biol. 29, 1436–1444.e5 (2019).

53.

Chang, H. et al. Coordinated activities of retrosplenial ensembles during resting-state encode spatial landmarks. Philos. Trans. R. Soc. Lond. B Biol. Sci. 375, 20190228 (2020).

54.

Norimoto, H. et al. Hippocampal ripples down-regulate synapses. Science 359, 1524–1527 (2018).

55.

Kovács, K. A. et al. Optogenetically blocking sharp wave ripple events in sleep does not interfere with the formation of stable spatial representation in the CA1 area of the hippocampus. PLoS ONE 11, e0164675 (2016).

56.

Gridchyn, I., Schoenenberger, P., O'Neill, J. & Csicsvari, J. Assembly-specific disruption of hippocampal replay leads to selective memory deficit. Neuron 106, 291–300.e6 (2020).

57.

Buzsáki, G., Leung, L. W. & Vanderwolf, C. H. Cellular bases of hippocampal EEG in the behaving rat. Brain Res. 287, 139–171 (1983).

58.

Ólafsdóttir, H. F., Carpenter, F. & Barry, C. Task demands predict a dynamic switch in the content of awake hippocampal replay. Neuron 96, 925–935.e6 (2017).

59.

Stickgold, R. Parsing the role of sleep in memory processing. Curr. Opin. Neurobiol. 23, 847–853 (2013).

60.

Hull, C. L. The goal-gradient hypothesis and maze learning. Psychol. Rev. 39, 25–43 (1932).

61.

Dragatsis, I. & Zeitlin, S. CaMKIIα-Cre transgene expression and recombination patterns in the mouse brain. Genesis 26, 133–135 (2000).

62.

Kaifosh, P., Lovett-Barron, M., Turi, G. F., Reardon, T. R. & Losonczy, A. Septo-hippocampal GABAergic signaling across multiple modalities in awake mice. Nat. Neurosci. 16, 1182–1184 (2013).

63.

Lovett-Barron, M. et al. Dendritic inhibition in the hippocampus supports fear learning. Science 343, 857–863 (2014).

64.

Danielson, N. B. et al. Sublayer-specific coding dynamics during spatial navigation and learning in hippocampal area CA1. Neuron 91, 652–665 (2016).

65.

Pachitariu, M. et al. Suite2p: beyond 10,000 neurons with standard two-photon microscopy. Preprint at bioRxiv https://doi.org/10.1101/061507 (2016).

66.

Sheintuch, L. et al. Tracking the same neurons across multiple days in Ca2+ imaging data. Cell Rep. 21, 1102–1115 (2017).

67.

Friedrich, J., Zhou, P. & Paninski, L. Fast online deconvolution of calcium imaging data. PLoS Comput. Biol. 13, e1005423 (2017).

68.

Skaggs, W. E., McNaughton, B. L., Wilson, M. A. & Barnes, C. A. Theta phase precession in hippocampal neuronal populations and the compression of temporal sequences. Hippocampus 6, 149–172 (1996).

69.

Sheffield, M. E. J., Adoff, M. D. & Dombeck, D. A. Increased prevalence of calcium transients across the dendritic arbor during place field formation. Neuron 96, 490–504.e5 (2017).

70.

Hyvärinen, A. & Oja, E. A fast fixed-point algorithm for independent component analysis. Neural Comput. 9, 1483–1492 (1997).

71.

van der Meer, M. A. A., Kemere, C. & Diba, K. Progress and issues in second-order analysis of hippocampal replay. Philos. Trans. R. Soc. B Biol. Sci. 375, 20190238 (2020).
Acknowledgements
We thank G. Buzsáki, J. Magee, D. Levenstein, J. Priestley, K. Kay and S. Tuncdemir for invaluable comments and discussions on the analysis and the manuscript. We thank J. Bowler for the behavioral software used in these experiments. This work was supported by the Brain Initiative Grant NIH U19NS104590 (to A.L.) and by the Charles H. Revson Senior Fellowship in Biomedical Science (to A.D.G.).
Ethics declarations
Competing interests
The authors declare no competing interests.
Additional information
Peer review information Nature Neuroscience thanks Kamran Diba and the other, anonymous, reviewer(s) for their contribution to the peer review of this work.
Publisher's note Springer Nature remains neutral with regard to jurisdictional claims in published maps and institutional affiliations.
Supplementary information
Supplementary Figs. 1–5 and Supplementary Tables 1–4.
About this article
Cite this article
Grosmark, A.D., Sparks, F.T., Davis, M.J. et al. Reactivation predicts the consolidation of unbiased long-term cognitive maps. Nat Neurosci 24, 1574–1585 (2021). https://doi.org/10.1038/s41593-021-00920-7
Received:

Accepted:

Published:

Issue Date: